The NEW Rogue River Thrill Seeker is the best way to experience the incredible variety of options on our beautiful River. In the morning paddle yourself in an inflatable kayak through the pristine pools in the bottom of Hellgate Canyon. Paddle next to turtles and float under the osprey as they soar over the river fishing. Take on some adventure and paddle yourself through the class II rapids of the Rogue River in your own inflatable kayak! Our guides will teach you the skills and show you the lines, but paddling through will be all you, and you can certainly do it! Our custom designed kayaks and knowledgable guides will help make sure you have the tools you need to become an inflatable kayaker.
Mid-day you will retreat from the river back to our place where you will enjoy lunch on our patio perhaps between games of ladder golf. After you have had your fill we load in the van for a short drive to the put-in for the Nugget Falls section of the Rogue River. This section of the river has much bigger whitewater so we load into a paddle raft where you paddle as part of a team through the frothing torrents. The afternoon section builds in difficulty, culminating in the famous Tilomikh falls, a combination of two drops plummeting over 10 feet in total.
The Rogue River thrill seeker is the trip for the group who can't decide on the experience they want so they choose to do it all. Sign up today and come out to experience the best parts of all of our single day trips on the Rogue River, sign up for the Rogue River Thrill Seeker!
Trip at a glance
Who is this trip for?
Anyone looking for an active adventurous day.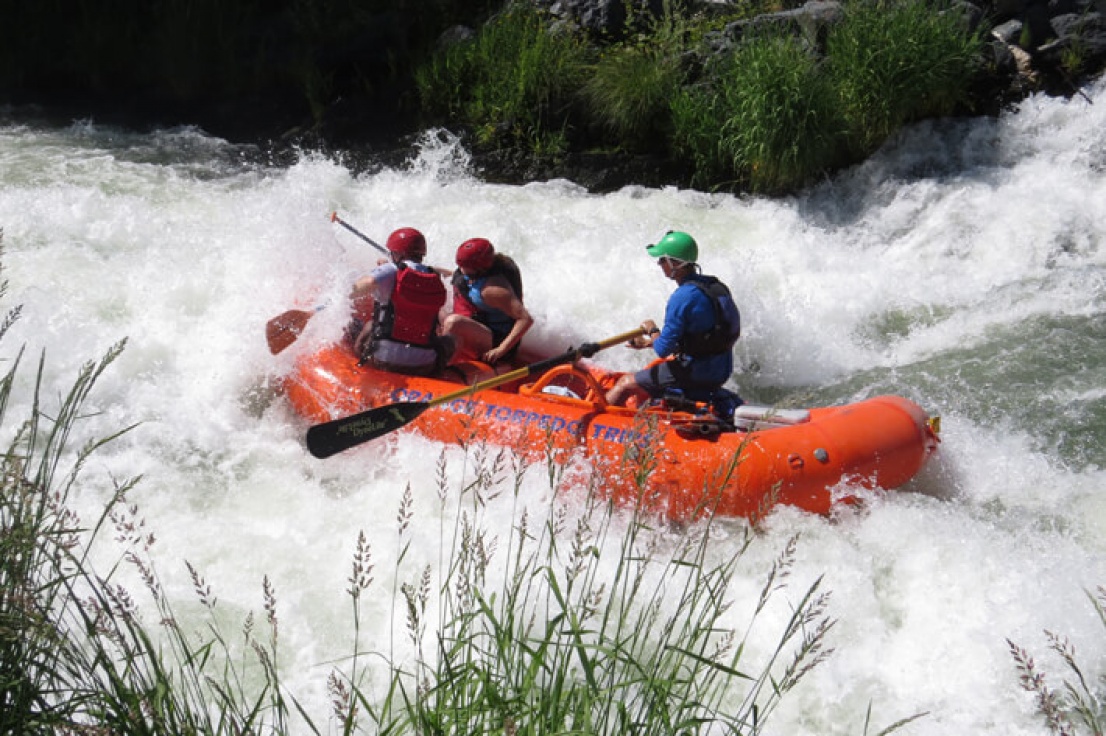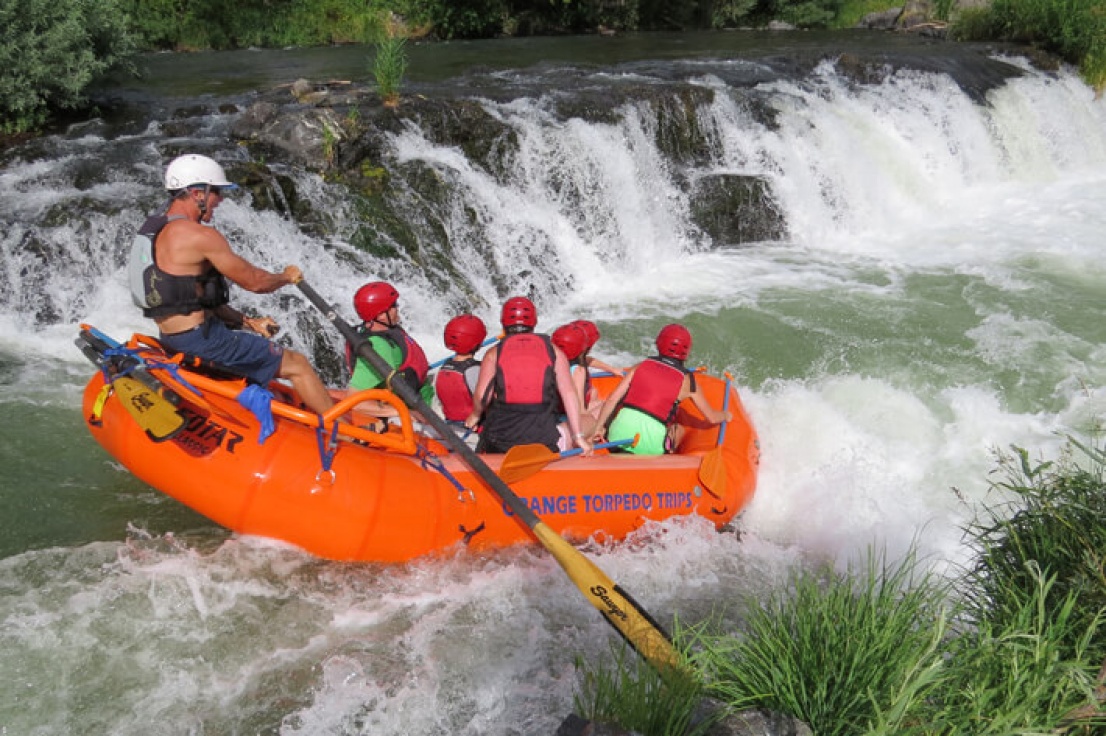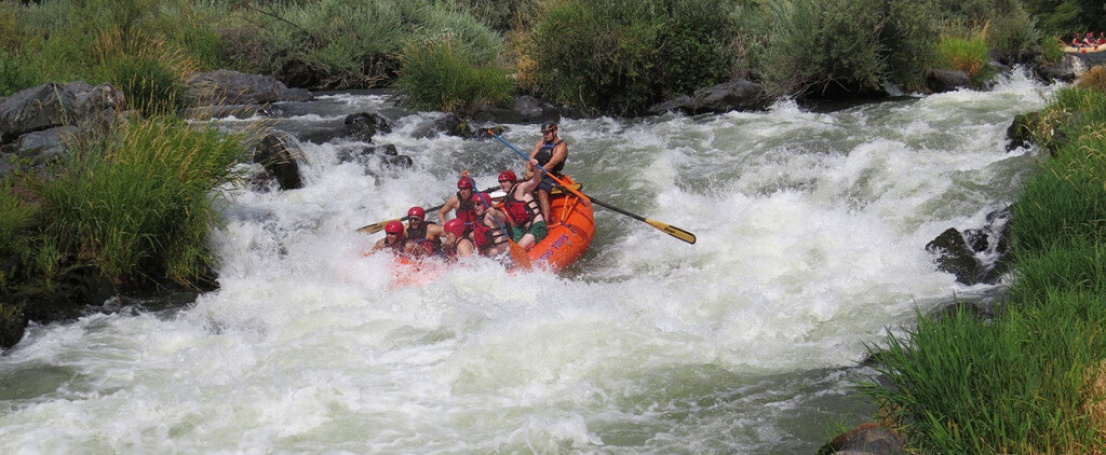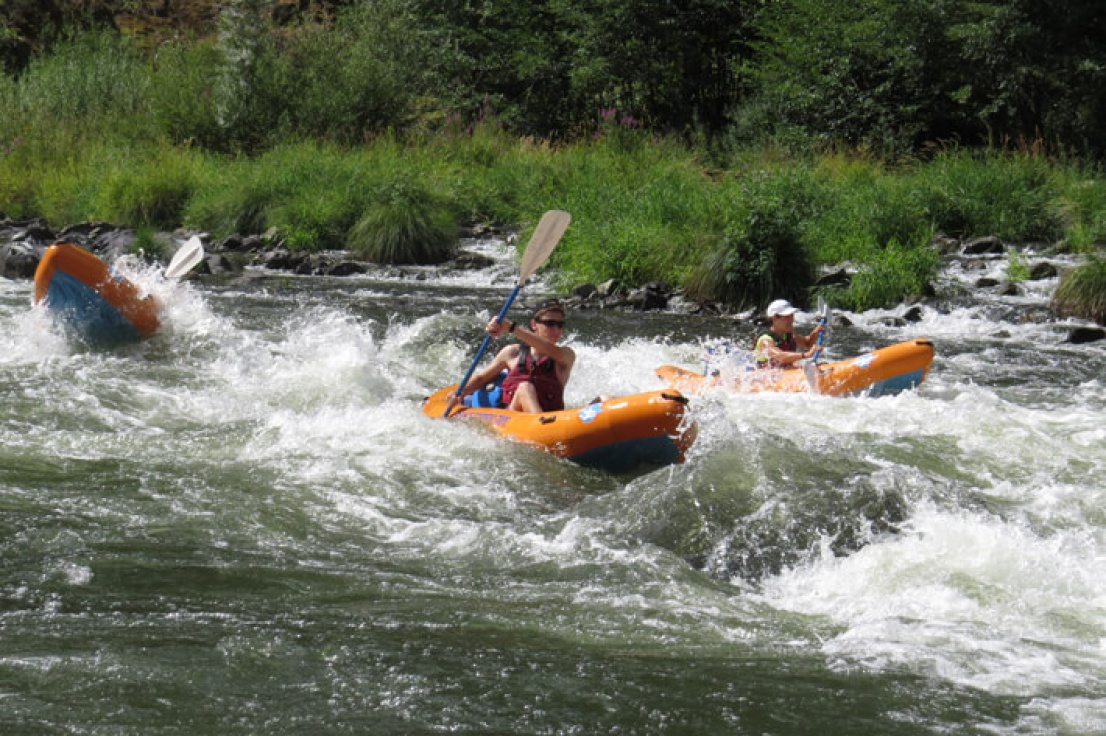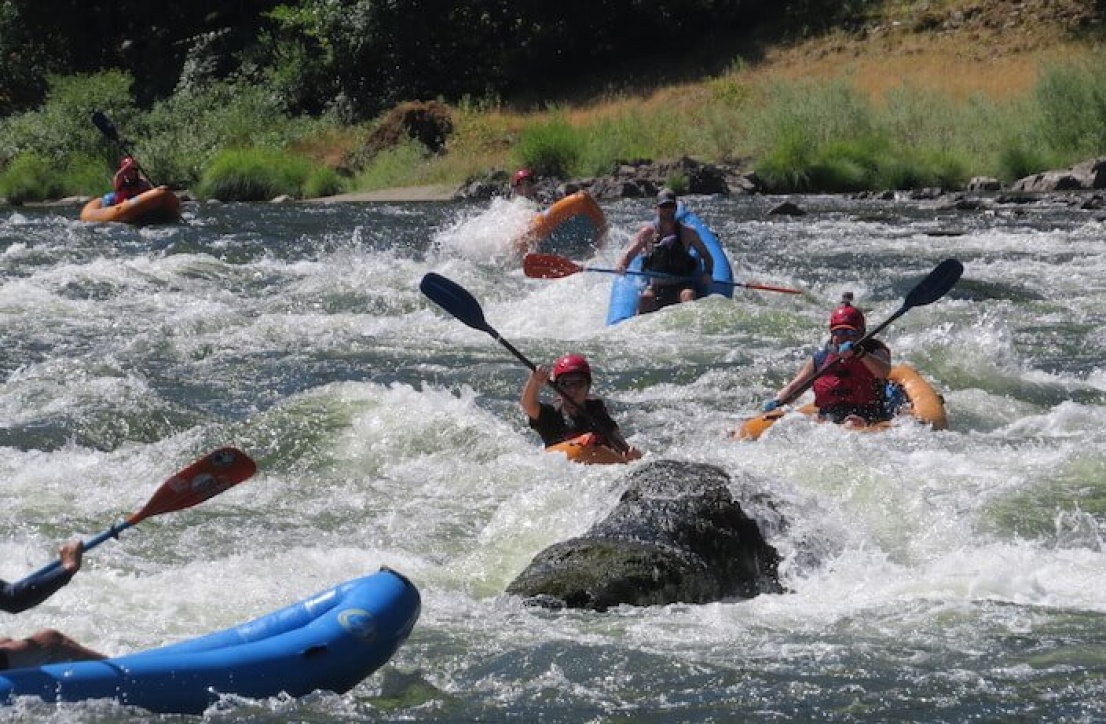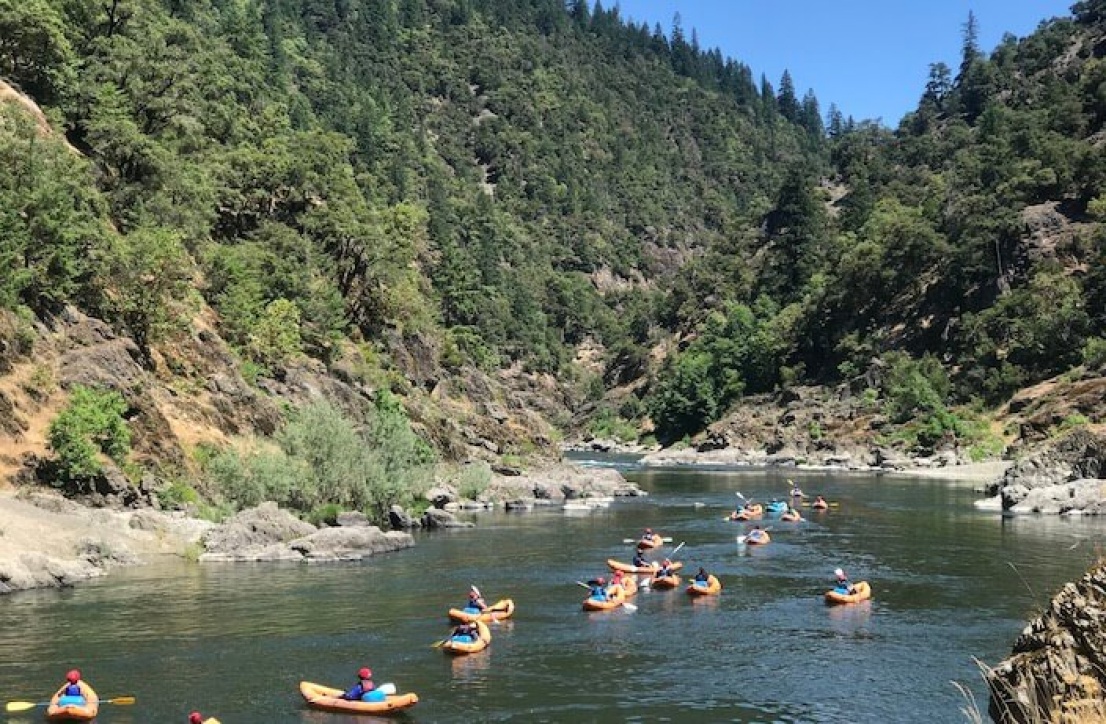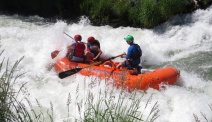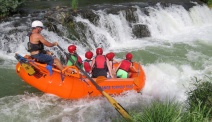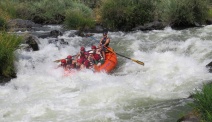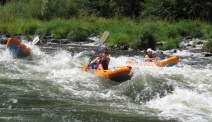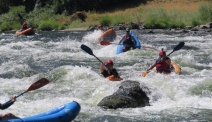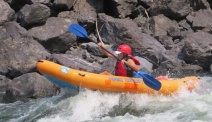 Dates / Rates
Rogue River Thrill-seeker rafting trip
Price:
Sunday-Friday
Adult: - $139
Youth: - $129
Saturday and Holiday
Adult: $149
Youth: $139
Trip Start Dates:
Trips run daily - May 15-Sept 15
Meeting Location
Meeting Location:
Our store is located at:
210 Merlin Rd.
Merlin, OR. 97532
This trip combines the AM section of our Rogue River Hellgate Tour with our half-day Rogue River Nugget Falls trip. So for those who cannot decide which trip they wanted, no problem because you can now do them both! Between the trips we will serve you lunch at the Torpedo Bar/Pub located at our shop.
Times: This trip meets at 8am and concludes around 5:30pm
Rogue River Hellgate Tour – Inflatable kayaking portion.
Meet in our shop in Merlin just a little before 8AM. We are located at 210 Merlin Rd, Merlin Oregon. Exit Interstate 5 at exit 61 and drive 3.2 miles west. We are on the right hand side of the road. At our store you will meet your guides and get fitted for PFD's before having the chance to buy any last minute items like sunscreen or straps for your sunglasses. When everyone has everything the group will load into the vans for the short 10 minute ride to the famous Rogue River.
When we arrive at the put-in you can take a few minutes to get your sunscreen loaded on while the guides get all of the boats ready to go. When the boats are ready the head guide will do a quick but thorough orientation on the inflatable kayaks and the skills you will need to paddle the river. When everyone is geared up it's time to load in and start rafting the Rogue River. The adventure starts right away with the swift water leading into Hellgate Canyon, a scenic wonderland with forbidding cliffs rising from the water on both shores.
At the conclusion of the canyon is the groups first class II, Dunn Riffle, which is followed quickly by another fun class II rooster tail. After some splashing it will feel good to kick back and dry off in between the many riffles during the float towards upper and Lower Galice, two more thrilling class II rapids, back to back. After lower Galice rapid we meet the van for a shuttle back to the Torpedo Bar for lunch.
Lunch is served on the patio at the Torpedo Bar. Enjoy street tacos along with a variety of snacks while perhaps getting in a game of ladder golf with your fellow travelers.
Nugget Falls – the afternoon portion of the trip.
When everyone has their sunscreen and is geared up for the afternoon the group will load into the paddle rafts and head downstream. A great feature to this run is that it builds in difficulty so the group starts off with several class I and II rapids to practice their paddling skills before getting to the first class III rapids. As the group floats through this initial section you can expect to see great wildlife including bald eagles, osprey, and deer.
After about an hour the rafts arrive at lineman's and the raft surfing begins. After splashing through the rapid we will pull into the eddy next to this famous Rogue River kayaking spot. If there are any kayakers we will hop in line and watch them try to surf and do some tricks while we wait for our chance to get onto the wave and hang ten. Surfing a raft is like it sounds, we will aim upstream and paddle the raft out into the current and try to catch the surfing wave. If we do it right the people in the front will get very wet and will be able to sit on the wave in the middle of the rapid without paddling. It is a very unique and fun feeling.
When the group is thoroughly wet and ready to hit some big waves we will float down stream to our first class IV rapids, Nugget Falls. At Nugget Falls the river squeezes the river into a narrow chute where the raft is forced to navigate the "monkeys fist" and two LARGE holes. Hold on tight this is always an adventure. Assuming the group is all still in the boat and the boat is bottom down we pull over and enjoy a quick snack riverside. This is a great spot for family pictures in front of your first class IV waterfall.
After snacks it's back to the boat where we soak in some sunshine as we float the final flat above our second class IV, Powerhouse rapid. At Powerhouse the team will navigate some rocks and drop over a bouncy ledge into the top pool before making a turn and dropping over the bottom 8-10 foot pour-over into the bottom pool. After Powerhouse your sure to have a smile on your face as we float to the boat ramp, vans, and the end of your Rogue River rafting trip.
Where to Meet Orange Torpedo Trips
We meet at our store at:
210 Merlin Rd.
Merlin, OR.
97532
Accommodations
Camping
Camping options exist all over. The closest to this specific trip is Valley of the Rogue State Park
Flying In
The closest commercial airport is in Medford, Oregon (airport code MFR)
Typical Weather
Southern Oregon is known for our wonderful summertime weather.
Averages are:
May · High (F) 73 Low (F) 46 - Avg. rainfall 1.31 in
June · High (F) 82 Low (F) 52 - Avg. rainfall 0.62 in
July · High (F) 91 Low (F) 57 - Avg. rainfall 0.28 in
August · High (F) 91 Low (F) 57 - Avg. rainfall 0.4 in
September · High (F) 84 Low (F) 50 - Avg. rainfall 0.57 in
You don't need much for these day trips, but these are the things you certainly DO want.
What to pack
Swimwear (Non-Cotton)
Water Shoes or sports sandals (Flip Flops are not ideal)
Water bottle (1-liter min and attachable to board.)
Waterproof sunscreen
Sunglasses with chums/croakies
FAQs
Rivers by nature are dynamic environments and class IV rapids are rated at that difficulty for a reason. It's extremely rare, but rafts have flipped on this trip and it's virtually impossibly to guarantee that it will not happen.
Gratuity is certainly appreciated but by no means required. At the conclusion of a trip please just give any gratuity to the head guide who will divide it evenly among the crew.
Because of the inflatable kayaking this trip is reserved for those kids 12 and up.
While the trip is designed as a kayak trip in the morning on certain trips we can accommodate this. Just give us a call to talk about it.