This section of the Rogue River is known for its thrilling two class IV whitewater rapids, Nugget Falls and Til'omikh Falls. The 4 hour whitewater trip is only 15 minutes from Medford and starts out with multiple class II and III warm up rapids before building to an exciting climax with the final two adrenaline pumping rapids. Trips leave daily from our Merlin store at 8:30 AM and 1:30 PM or meet us in Gold Hill at 9AM or 2PM.
Nugget Falls is a sight to see, the river funnels into a tight channel before descending over the main drop and into two thrilling waves sure to cool you off on a hot summer day. Til'omikh Falls, a place revered in local indigenous culture for its power and beauty, is the final rapid on this section of the Rogue River. It is an adventurous climax as the group descends two pour-overs before plunging into the final hole at the bottom waterfall channel. When the group arrives at both class IV rapids you have the option to walk around if you choose making this a great day for any family with kids 8 and older looking for a little sunshine, water, and adrenaline. 4 hour trips leave twice daily and include snacks. This trip is only available in Paddle Rafts.
Trip Photos
There is a photographer who is often shooting pictures from the bank during one of the big rapids on this trip. If she is out on your trip day you will be able to purchase some awesome pictures of your group on the river from her website. After your trip check out her website at: https://www.rogueriverphotos.com
Trip at a glance
Who is this trip for?
Anyone looking for a quick adrenaline rush or wanting to get some time on the river while doing other things in Southern Oregon. This fits great with seeing plays in Ashland, visiting Crater Lake, or just driving through on I-5.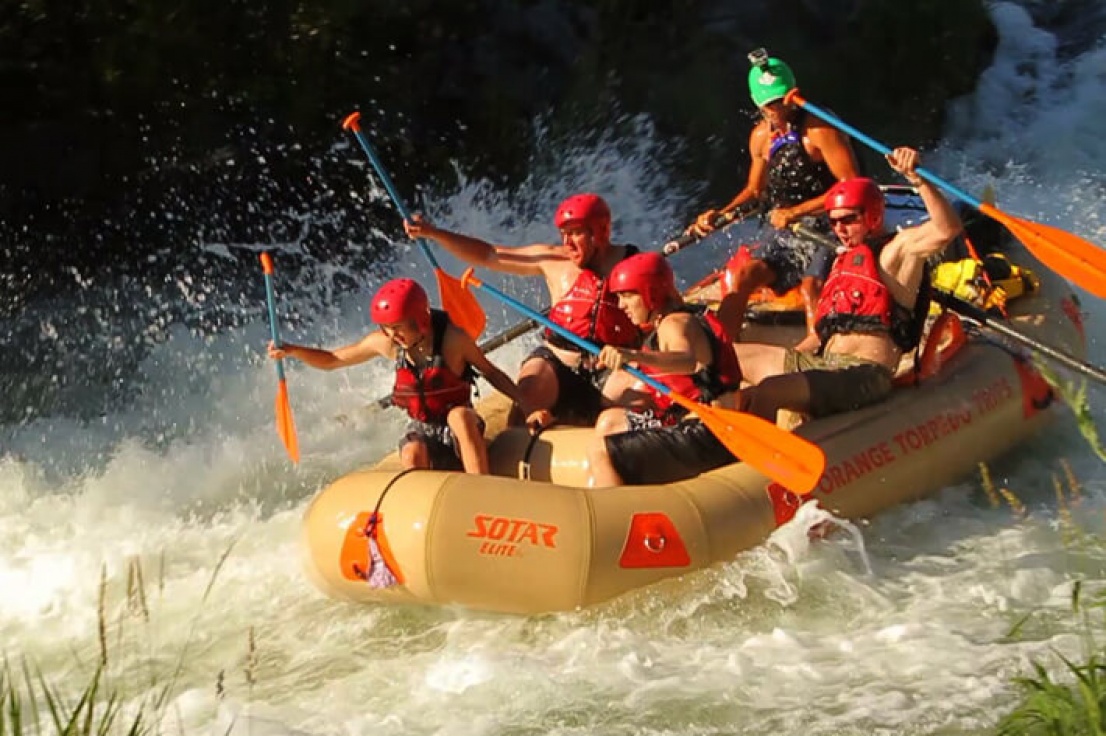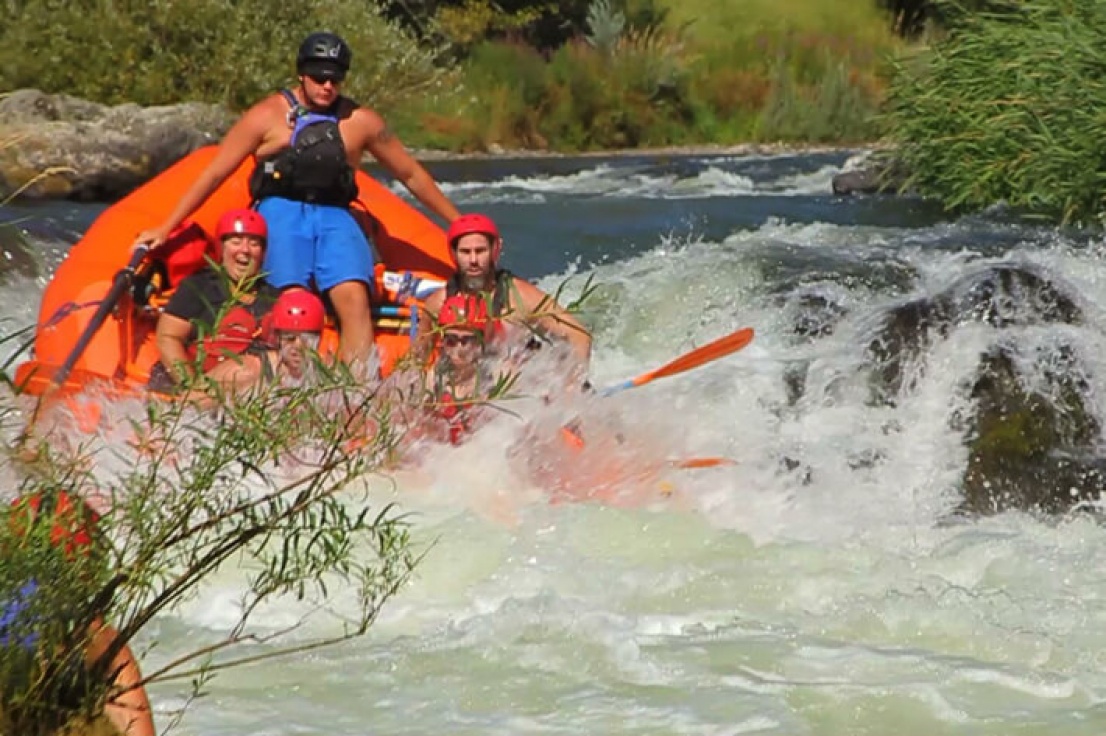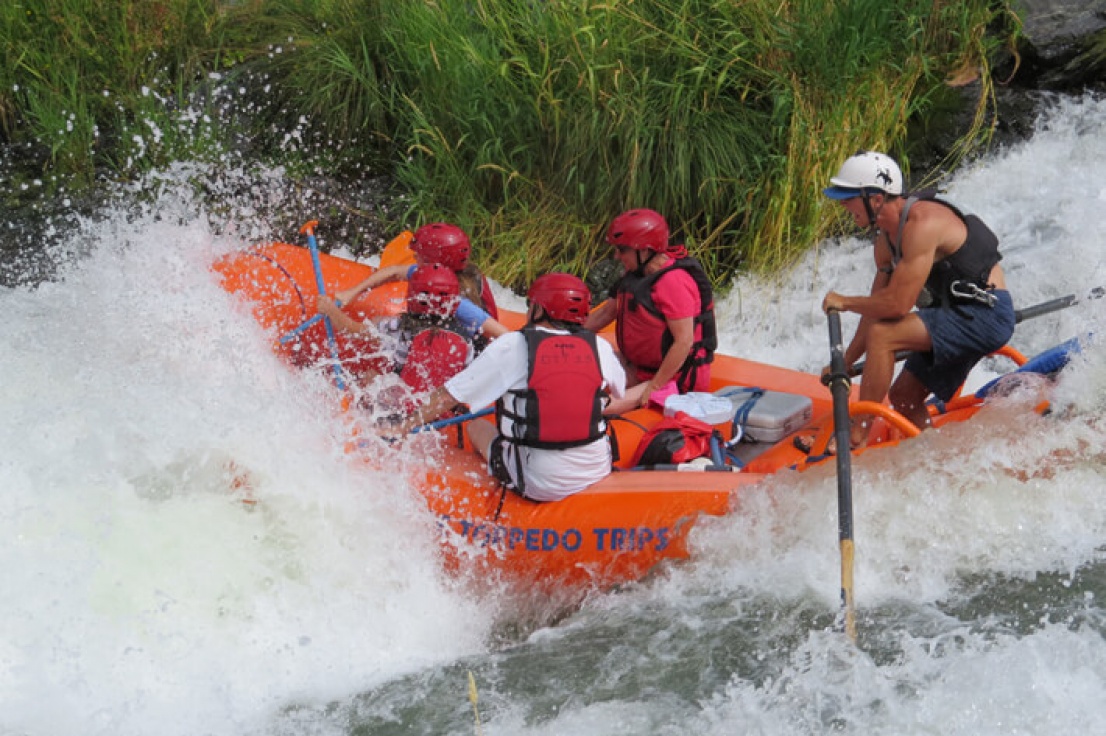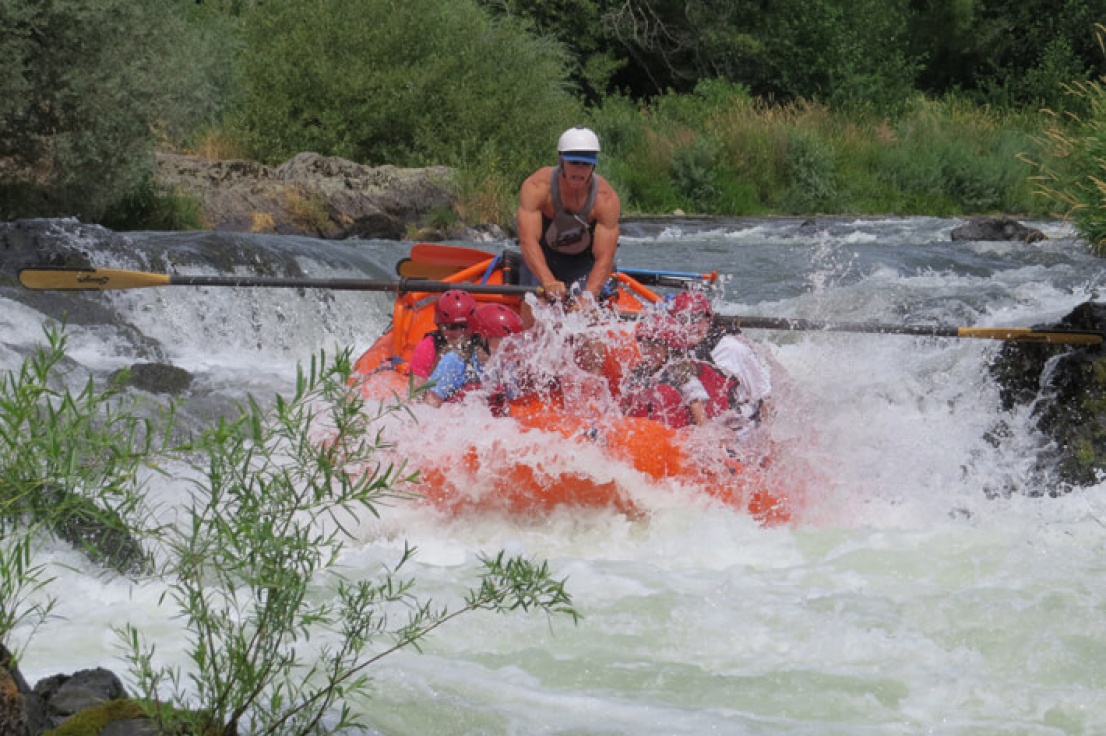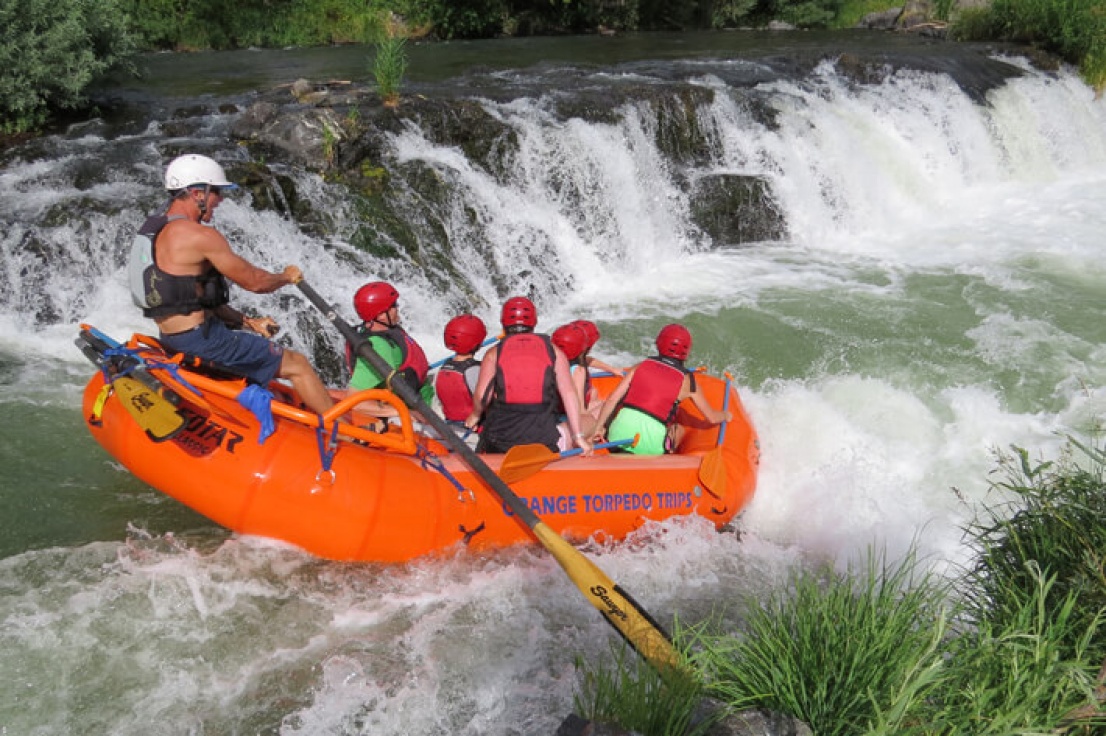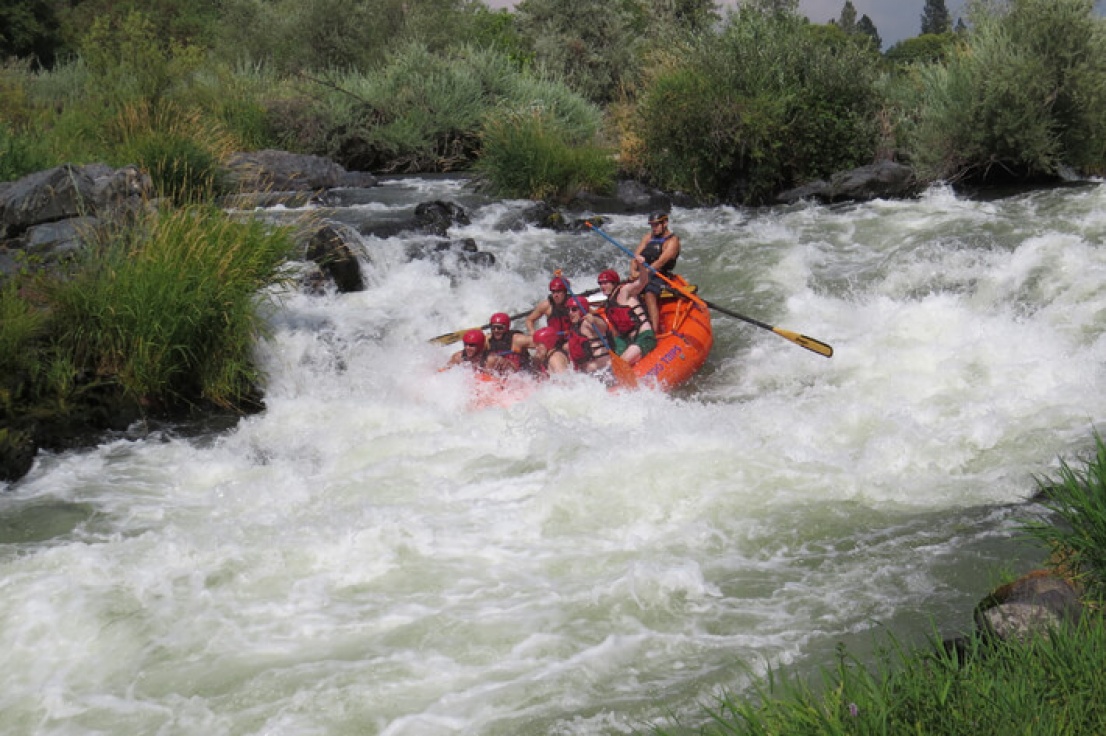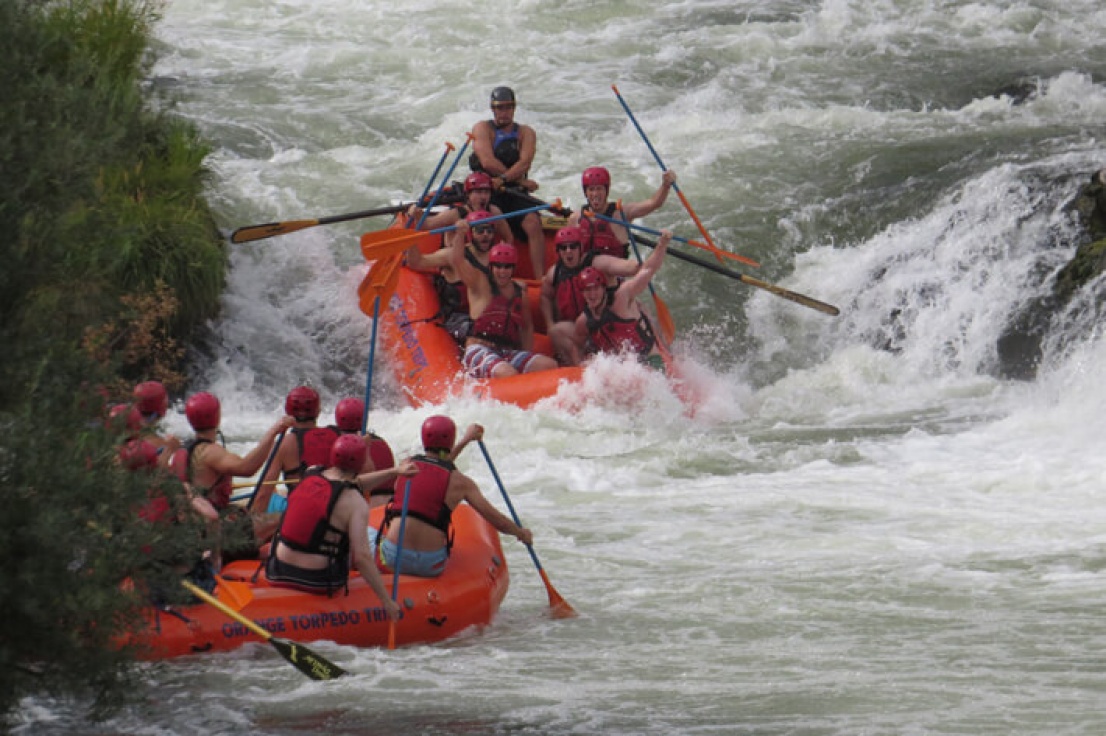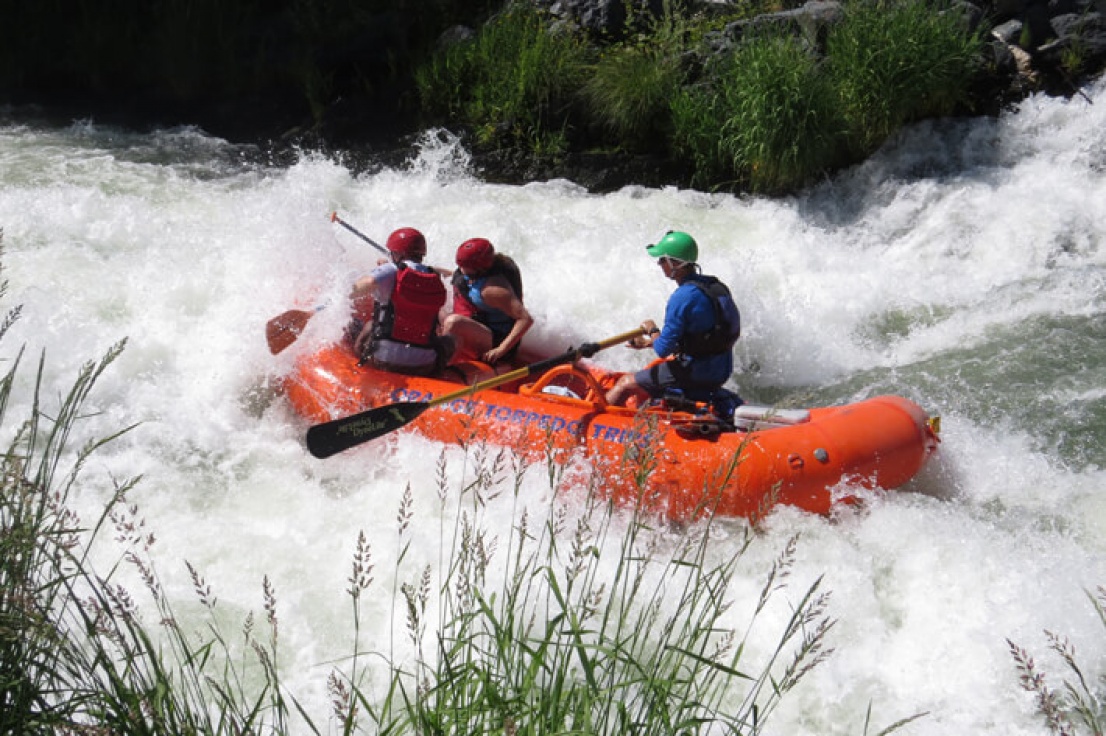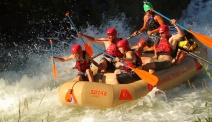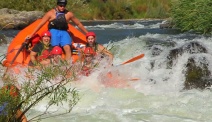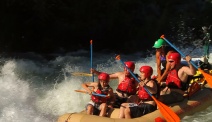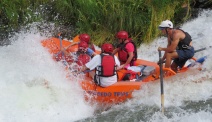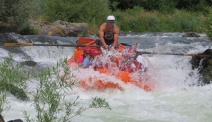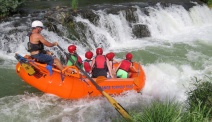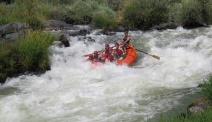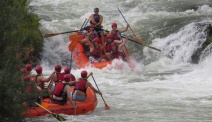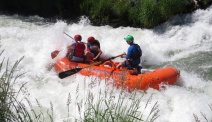 Dates / Rates
Nugget Falls Half-day Trips
Price:
Adult: $99
Youth: $84
Trip Start Dates:
May 1 - September 30 (water levels allowing)
AM Trip Starts:
8:15am – Merlin Store
9:00am – Gold Hill Sports Park
PM Trip Starts:
1:15pm – Merlin Store
2:00pm – Gold Hill Sports Park
Trip Logistics Overview
For the Nugget Falls trip you can meet us in one of two locations: our shop in Merlin Oregon or the Gold Hill Sports Park boat ramp. Depending on where you are coming from and going to after will dictate which is a better choice.
We launch at a spot called Fishers Ferry and then float the 7 miles back to the Gold Hill Sports Park boat ramp where your car will be waiting if you met us there. Trip takes about 4 hours, Merlin to Merlin and is actually floating on the river around 2.5 hours.
Detailed Itinerary for the Rogue Nugget Falls 1/2-Day Trip
The Nugget Falls section of the Rogue River is a perfect, quick, rafting addition to anyone traveling through Southern Oregon. It is especially perfect for anyone wanting to visit Crater Lake as it is right on the way. Depending on where you are coming from you can opt to meet your guides in one of two places. See the Travel Information page for details on meeting locations.
After meeting your guides the group will load into the vans and head for the put-in at Fishers Ferry boat ramp on the Rogue River. At the put-in the guides will get the rafts ready while the head guide fits everyone for helmets, pfd's, and optional wet-suits or splash tops. Before putting on the river the guide will give a thorough paddling orientation as well as offer use of our day dry-bag to anyone needing to store some items on the raft during the trip.
When everyone has their sunscreen and is geared up the group will load into the paddle rafts and head downstream. A great feature to this run is that it builds in difficulty so the group starts off with several class I and II rapids to practice their paddling skills before getting to the first class III rapids. As the group floats through this initial section you can expect to see great wildlife including bald eagles, osprey, and deer.
After about an hour the rafts arrive at lineman's and the raft surfing begins. After splashing through the rapid we will pull into the eddy next to this famous Rogue River kayaking spot. If there are any kayakers we will hop in line and watch them try to surf and do some tricks while we wait for our chance to get onto the wave and hang ten. Surfing a raft is like it sounds, we will aim upstream and paddle the raft out into the current and try to catch the surfing wave. If we do it right the people in the front will get very wet and will be able to sit on the wave in the middle of the rapid without paddling. It is a very unique and fun feeling.
When the group is thoroughly wet and ready to hit some big waves we will float down stream to our first class IV rapids, Nugget Falls. At Nugget Falls the river squeezes the river into a narrow chute where the raft is forced to navigate the "monkeys fist" and two LARGE holes. Hold on tight this is always an adventure. Assuming the group is all still in the boat and the boat is bottom down we pull over and enjoy a quick snack riverside. This is a great spot for family pictures in front of your first class IV waterfall.
After snacks it's back to the boat where we soak in some sunshine as we float the final flat above our second class IV, Til'omikh falls rapid. At Til'omikh the team will navigate some rocks and drop over a bouncy ledge into the top pool before making a turn and dropping over the bottom 8-10 foot pour-over into the bottom pool. After Til'omikh your sure to have a smile on your face as we float to the boat ramp, vans, and the end of your Rogue River rafting trip.
Where to Meet Orange Torpedo Trips
You can meet us at one of two locations:
1. Our shop in Merlin Oregon.
Address: 210 Merlin RD. Merlin, OR. 97532
Directions: Exit I-5 at Exit 61. Turn left (west) and go 3.2 miles on Merlin Rd. We are on the right hand side just before the lil Pantry market.
2. Gold Hill Sports Park Boat Ramp.
Address: 14745 OR-234, Gold Hill, OR 97525
Directions: Take I-5 to exit 40 at Gold Hill. If driving north on I-5 turn right when exiting Interstate, if south take a left when exiting. At first stop sign, (Blackwell Rd – hwy 99) turn left and cross the river. Follow road .4 miles to first right at Dardanelles st. Cross railroad tracks and follow road to the right at the stop sign. Follow Road 1/2 mile until you see a boat ramp sign on your left, then turn to your right. We will meet you in the parking lot. If you pass a baseball field you have gone 1/10th of a mile too far.
Accommodations
There are a number of great places to stay in Southern Oregon. Here are just a few of our favorites.
Camping
Camping options exist all over. The closest to this specific trip is Valley of the Rogue State Park
Flying In
The closest commercial airport is in Medford, Oregon (airport code MFR), 34 miles southeast of our shop in Merlin. In the Medford Airport there are four car rental companies (Budget, Avis, National, Enterprise, and Hertz). At this time we do not offer transportation to or from the airport, but we can pickup and drop off at any Grants Pass Hotel the morning of a trip and at the conclusion of a trip. If you plan to not rent a car, you can call Double D Shuttles at 541-476-7773 and hire them to transport you from the Medford Airport to a Grants Pass Hotel. Please note: Our trips return too late in the day for us to ensure you will make a flight out of Medford same day. We suggest making reservations for the next day after the trip concludes.
Typical Weather
Typical weather in Southern Oregon in the summers is perfect for rafting trips. May and June can occasionally have a little wetter weather but it's not a problem. We have all the gear to make even the rainiest of days a great trip.
Averages are:
May · High (F) 73 Low (F) 46 - Avg. rainfall 1.31 in
June · High (F) 82 Low (F) 52 - Avg. rainfall 0.62 in
July · High (F) 91 Low (F) 57 - Avg. rainfall 0.28 in
August · High (F) 91 Low (F) 57 - Avg. rainfall 0.4 in
September · High (F) 84 Low (F) 50 - Avg. rainfall 0.57 in
The Class IV half-day trip on the Rogue River is a quick get wet trip, but having the right gear just makes it that much more fun.
What to pack
Swim attire (ideally not cotton) shorts and shirt.
Water shoes or sandals
Water Bottle
Sunscreen
Sunglasses with croakies or chums
FAQs
Due to the dynamic nature of class IV whitewater we generally do not take kids under eight years old on this trip
Rivers by nature are dynamic environments and class IV rapids are rated at that difficulty for a reason. It's extremely rare, but rafts have flipped on this trip and it's virtually impossibly to guarantee that it will not happen.
This trip is offered exclusively in Paddle rafts. Everyone paddles and the guide steers from the rear.
Gratuity is certainly appreciated but by no means required. At the conclusion of a trip please just give any gratuity to the head guide who will divide it evenly among the crew.