The Usumacinta is an incredibly unique OTT adventure and will be the perfect jumping off point for anyone looking to start international whitewater inflatable kayaking. A big volume river filled with mostly class II and III rapids, this trip has enough adventure to make it a fun whitewater trip, while being perfect for our OTT inflatable kayaks. If you have done the Lower Salmon with us, this will be a similar adventure. Adding to the fun whitewater, incredible scenery, and amazing camping, this trip visits tour two major Mayan sites that are only accessible from the river (Yaxchilán and Piedras Negras). From our riverside camps guests will walk through the jungle back to these incredible Mayan ruins and often have them to ourselves.
When floating the Usumacinta the group is floating through a jungle rainforest with the highest concentration of howler monkeys in the world (which is the reason the Mayan named it "Usumacinta" which means " Sacred Monkey River"), and it is the biggest river in all of Mexico/CentralAmerica. Because of the warm, easy and relatively comfortable nature of the trip and length (142 km/88 miles; 7 days; class III max), this the perfect trip for your first international rafting expedition. OTT will be bringing OTT guides and IK's and working with highly experienced local guides to run this trip. So join us for 7 days in February floating in a warm jungle climate, past howler monkeys, toucans, big beaches, Mayan ruins and enjoying the generally comfortable camping and paddling conditions.
Trip at a glance
Who is this trip for?
Anyone looking for a mid-winter warm water river escape.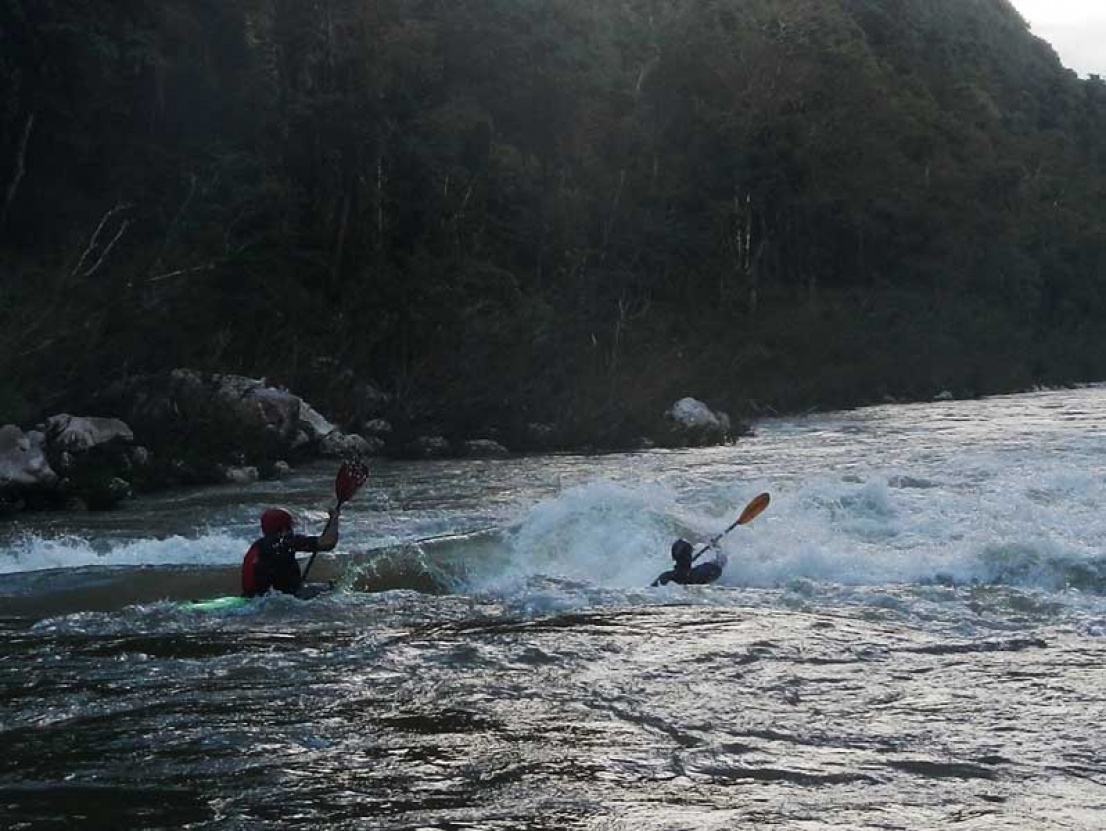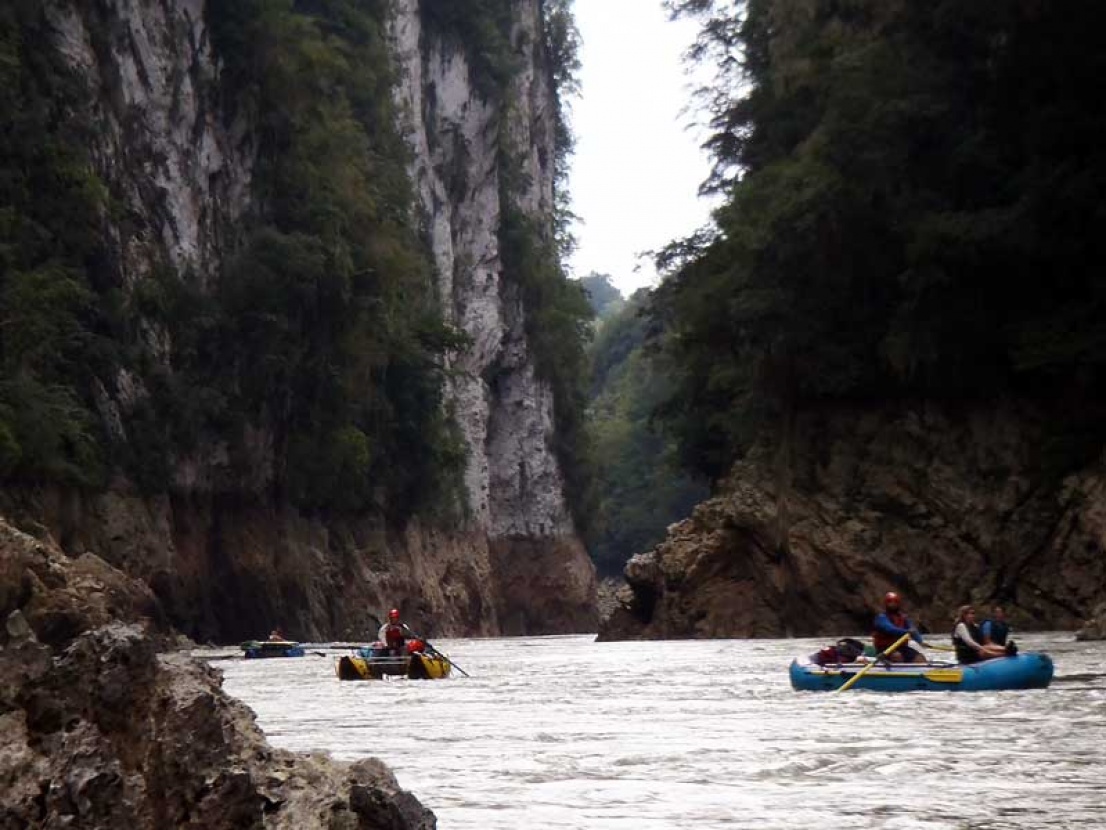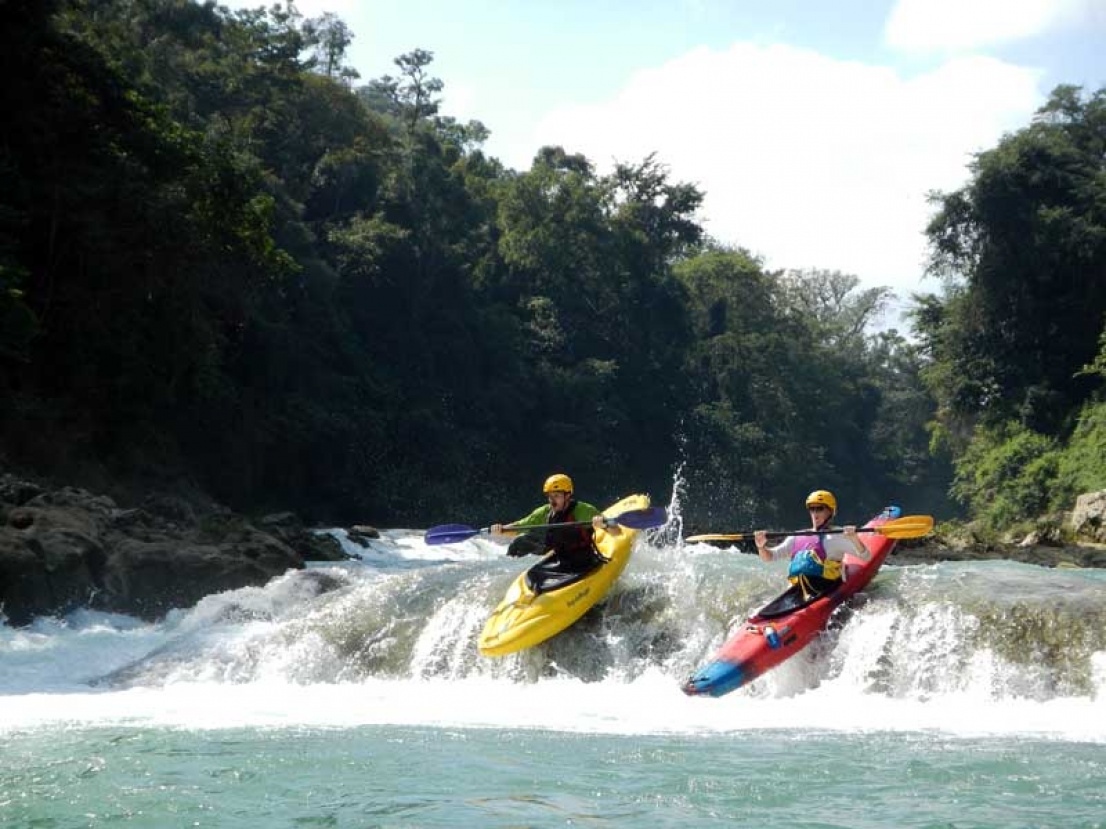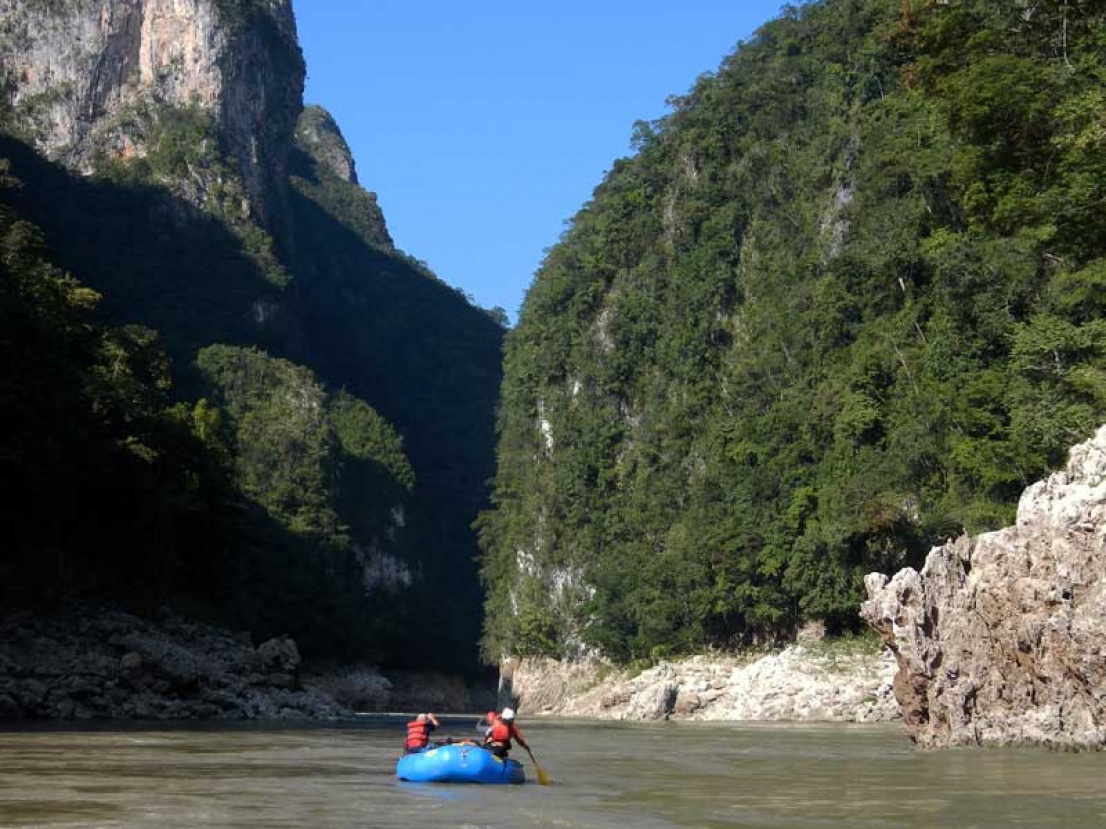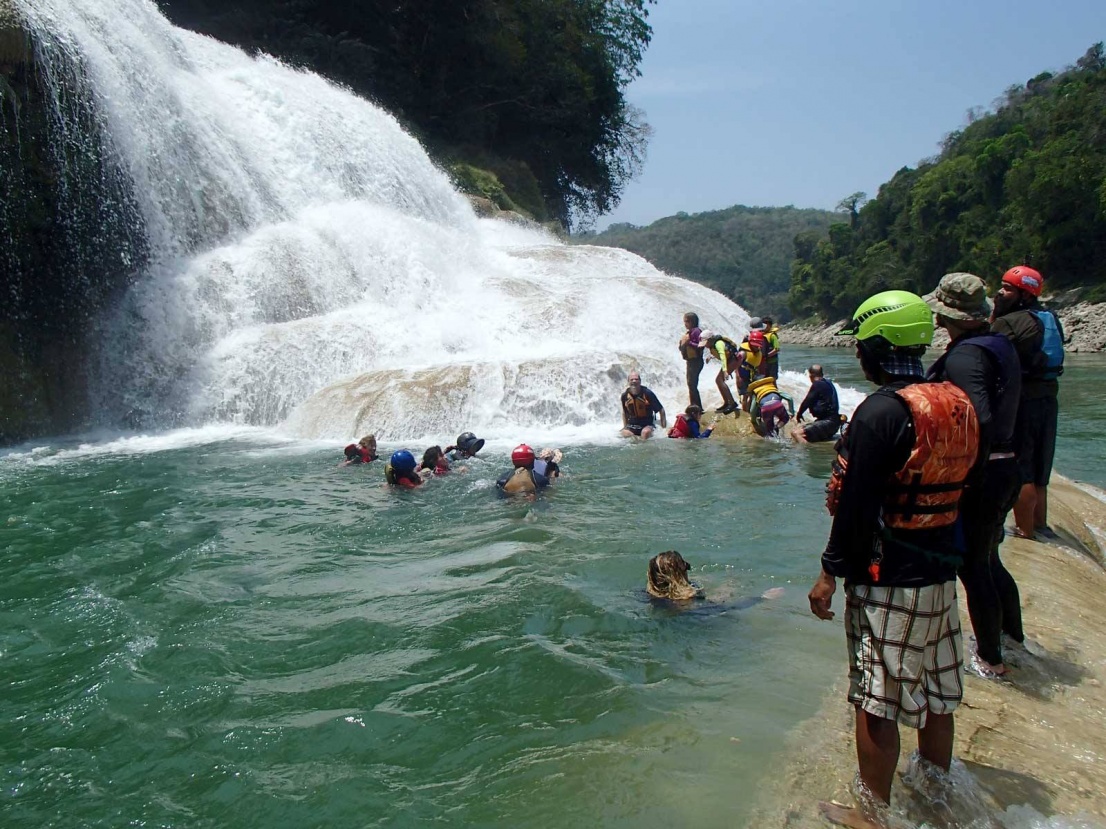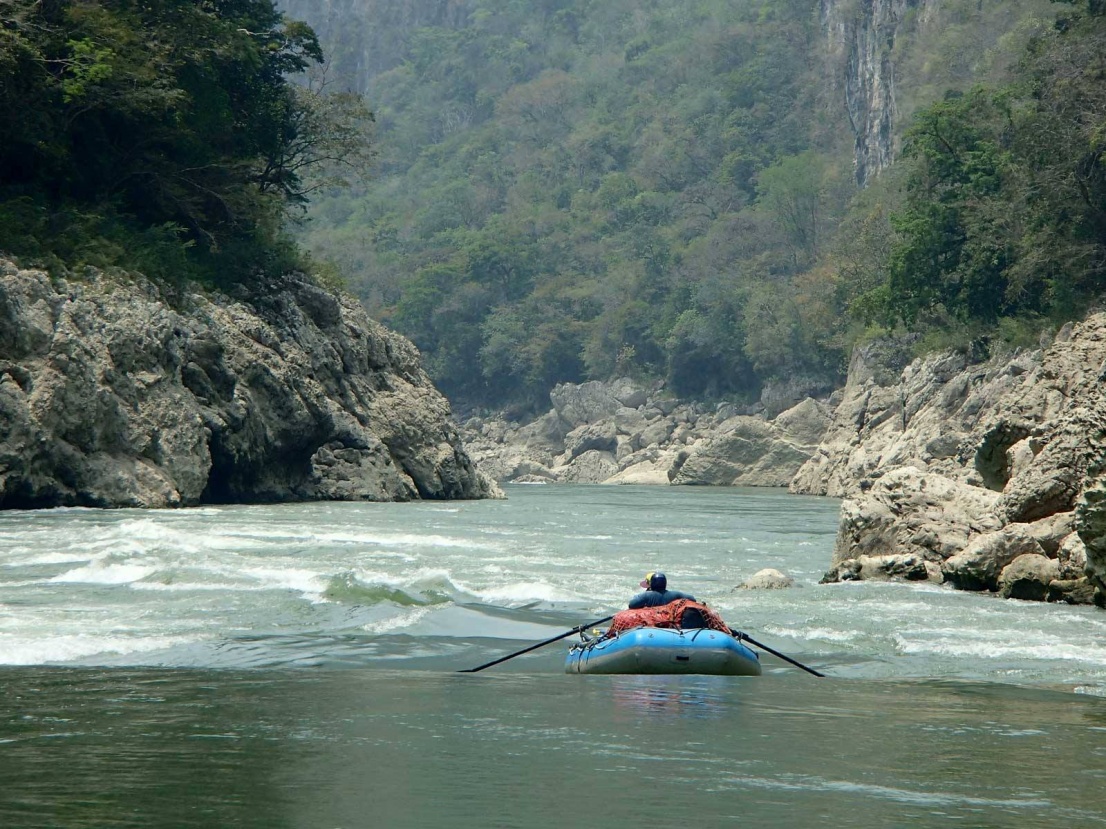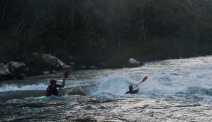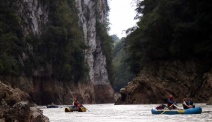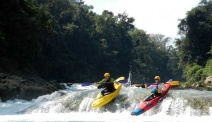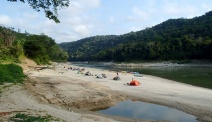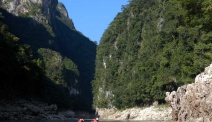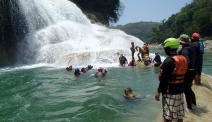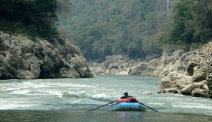 Dates / Rates
2024
Feb 6-16, 2024
$2999 per adult
Feb6 Day0: Arrival to Palenque. Make sure you get to Palenque this day. From Villahermosa, could be in bus/taxi/van. Hotel in Palenque.
Feb7 Day1 Rendezvous morning in Palenque. Drive to Bonampak & visit (~3.5 hr). Continue to Frontera, finish rigging, orientation, cabin. Frontera (km0)
Feb8 Day2: Morning paddle to Yaxchilán (~3 hr); lunch, then set up camp and visit the ruins. Yaxchilán (km20)
Feb9 Day3: Paddle through Chicozapote (II-III) to Big Springs and to El Playón. El Playón (km 65)
Feb10 Day4: Lagoon hike in morning; lunch, then Arroyo Jersalén, Caribe (II+), and Cenote Tumbado. Piedras Negras (km79)
Feb11 Day5: LAYOVER DAY. Morning hike through Piedras Negras. Then additional hiking or relaxing/swimming at beach camp. Piedras Negras (km79)
Feb12 Day6: Cascada Busiljá; Cola del Diablo (II-III); Chocoljá; Gran Cañón (class IIIs): LaLinea, Baluarte, Whirlpool. Whirlpool (km120).
Feb13 Day7: Finish Gran Cañón de San José (class IIIs): SanJosecito, SanJosé. To BocaDelCerro (km144). Hotel in Palenque
Feb14 PALENQUE RUINS: After breakfast, head to Palenque archeological zone. Done usually around 2 pm. Dinner at Don Mucho's with fire show. Hotel in Palenque
Feb15 AGUA AZUL/SHUMULJÁ (optional): Raft the Shumuljá and see the magnificent final Cascadas Agua Azul (option to kayak AguaAzul). Hotel in Palenque
Feb16 Flights out of VSA: Transfer to Villahermosa for flights out.
Here is a great video showcasing a day-to-day itinerary as well as showing the river. https://youtu.be/rD8GtMjLjnU
This Usumacinta trip will be run as an all-inclusive package that includes the standard main trip (transport, rafts+group gear, food, guides, permits, security) with 4 nights hotel in Palenque (w/breakfast; double occupancy), three restaurant dinners, the bungalow first night in Frontera (+restaurant dinner), river gear, food on the river, up to 5 canned beverage per day (chilled), airport transfers, and the day trips to Palenque ruins and to AguaAzul/Shumuljá.
Getting to Palenque: You are responsible for booking your flights and getting to Palenque. The largest airport close-by is Villahermosa (VSA), which is 1.6-hour drive from Palenque. The general way to get to Palenque from VSA airport is on one of the ADO buses that departs usually every hour (350MXP/$19USD) or alternatively, to take a taxi (~1400MXP/$75USD; one car can fit up to 4 folks). There are taxis waiting at the airport upon arrival, and you can contract one from within the airport and pay with a credit card there. Staying in Villahermosa is not generally recommended even for early morning departures - it's easier to just get a cab direclty to the airport from Palenque.
The ALL-INCLUSIVE package includes 4 nights hotel stay in Palenque at one of the nicest hotels - usually Hotel Chablis or comparable hotel such a Maya Tulipanes (double occupancy; single supplement possible). This will be automatically booked and paid for you; rooms generally have two queen beds; hotel has a pool and hot tub (breakfast included). These hotels are located in the La Cañada part of town in easy walking distance of the centro and plaza.
MEXICO ENTRY & VISA: All international visitors to Mexico must have a valid passport with expiration date >6 months after entry to Mexico. Mexico welcomes tourists from the USA and Europe and issues temporary tourist visas upon arrival good for up to 180 days at a cost of ~$30USD. The tourist visa charge is usually included with international flight tickets if arriving from another country. Tourist visas are picked up upon arrival at the first international airport in Mexico. You are allowed to enter the country with personal items without any duty, including 1 set of sporting goods and a personal set of electronic items (laptop, cell phone, etc)
On this trip everything used on the river portion of the trip will go down the river with us. So for the main portion of the trip everything will need to fit into a drybag that will be supplied (or bring your own). Things you want to travel with but not take down the river can be securely stored at the hotel while we are on the river.
Sleeping bag (on warm trips, a 40°F or sometimes 50°F bag is fine
1 pants
3 shorts (cotton types are fine)
5 shirt - light long-sleeve button-down (good to keep bugs off and not too hot - e.g. BuzzOff)1 T-shirt (cotton based is fine)1 Fleece/sweater3 Underwear
2 Sock pair (use if you end up being cold - or to protect from bug bites; or if you have dry shoes)
1 Camp shoes (these can be the same as your river shoes or a different dry shoe) [river shoes generally can be used on hikes]
1 Headlamp (plus extra set of batteries)
1 Toiletries pouch (with toothbrush, toothpaste, floss, nail clippers, comb, razor, deodorant, shampoo, lotion)
1 Ziplock with TP/tissue/lighter
1 Medicine bag (any special items for you: anti-fungal cream, anti-flue, antibiotics, anti-malarials)
1 Pocket-knife (remember to check it if flying)
1 Book (something to read or write like a journal; Kindle works well)
1 Camera or smart phone with charger
1 Sunscreen (SPF 10 or above - to protect skin from sunburn)
1 Repellent (REPEL recommended; important for comfort in some camps)
Tents are provided but if you have a small one you like, bring it.