2019 - The year of the snow!
2019 - The Year of the Snow = The year for rafting! As February comes to a close, here in Idaho we have had 300% of normal snowfall for this month.
Snowpacks in Idaho look are as good as we have seen them in a decade.
The Salmon River drainage is at almost 110% of normal and the Payette River drainage is at almost 120%.
July and August trips on the
Salmon River
are going to be amazing with higher water, bigger waves, and great weather.
For those looking for some high water adventure, middle and late June trips on the
Riggins
day section are going to be all-time!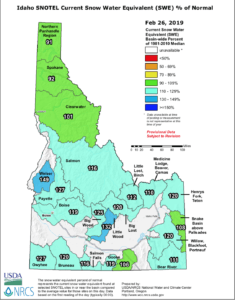 In Oregon the
Rogue
and
Umpqua
Drainages are at 106%, the
Klamath
drainage is 105%, the
Grande Ronde
is 126% and the
Owyhee
is at an AMAZING 127% of normal.
These are the kinds of numbers we have not seen in recent memory.
So what does all of this mean for the summer?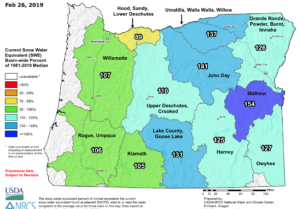 There is still plenty of time between now and and the start of the season and things could change somewhat but here are some of the things we love about a big snowpack.
We will have ample amounts of water late into the season.

 

Big snowpacks mean big water reserves so we should have higher than normal flows all summer.

 

This means bigger, splashier waves and generally more fun all summer long, especially on late season trips.

 

These will be some of the best August trips on the Salmon River, Umpqua River, Klamath River and Rogue River we have had in years.
Snowpack helps significantly with fire danger.

 

More snow usually correlates to fewer and less significant fires.

 

So if you have been worried about late season trips and fires, All signs are it should not be a huge deal this year.

 

Even the rivers that are great all season, on low snow years they sometimes do not have the uniquely adventurous high water early seasons when water is being held back in reservoirs.

  However this year, it looks like 

June trips on the Klamath and North Umpqua are going to be amazing with bigger water than we have seen in years.
Rivers that either have a short season or no season will have a great season this year.

  

This is likely going to be the best Owyhee season we have seen in a decade so you should sign up ASAP!