First Rivers | An OTT Guide Series | Initiated on the Stan by "Stich\
Guides' First Rivers Series
River guides are notorious storytellers—and whether they be true or tall or somewhere in-between, the stories we tell about the river are a part and reflection of our own story. They are a part of who we are and we will be. (Deep water, brother...)
So, in this spirit of storytelling and in homage to rivers everywhere, we've asked our guides to recall a notable "first" paddling experience, broadly defined, and to tell a story about that experience. 
Initiated on the Stan
by Stich Tichenor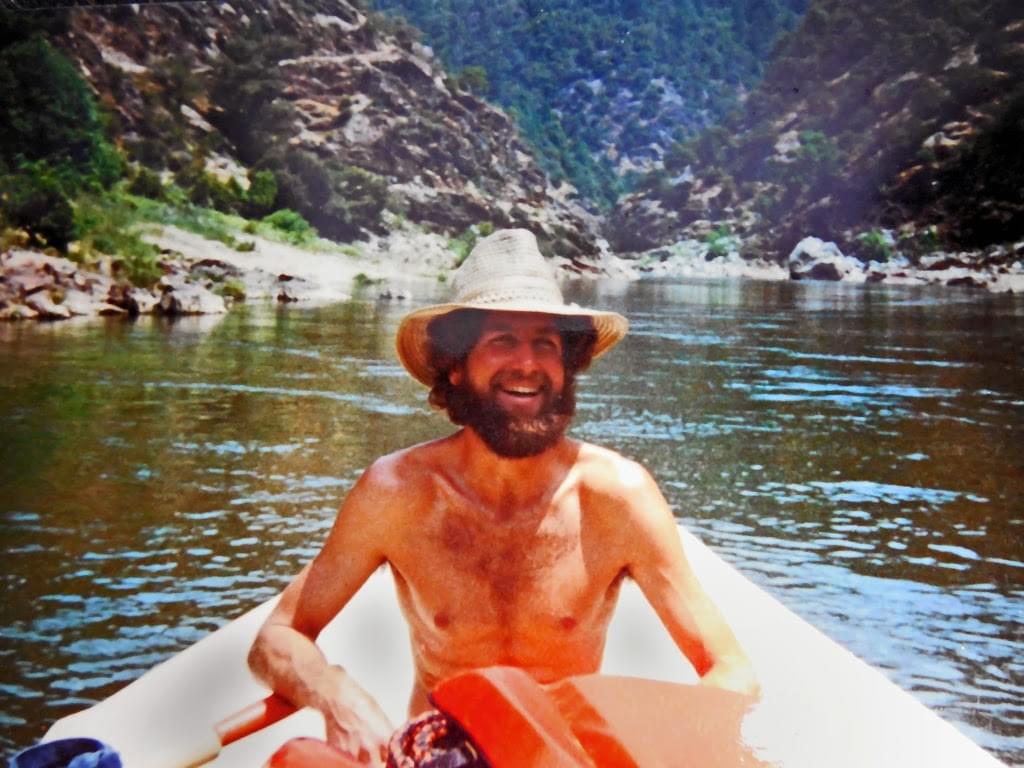 Stich on the Rogue in 1983
No shit, there I was... (That's how river guide fairy tales start.) 
However, most of this story is true, because most of my memory is intact. 
I was at Camp Nine put-in on the Stanislaus River in September 1973 with a borrowed fiberglass kayak. "Uncle" Don Ahlert, a river guide friend, was going to teach me how to kayak. The guides on the "Stan" called Don "Uncle" because he was about four years older than us, and he had been kayaking for two years. That is a lot of experience to a twenty-something river guide. 
I had met Uncle Don the year before when I was hired to guide on the Stanislaus. At Camp Nine put-in, Uncle Don gave me 10 or 15 minutes of instruction about how to roll the kayak if I went upside-down. Then he said, "OK, you know how to run the rapids. Let's go!" Away we went. We had to weave our way through the channels and waves in Rock Garden. Uncle Don showed me how to surf the smaller waves. Suspension Bridge Rapid had an old log cabin near the left end of the bridge, and I remember there was a beautiful, vintage, cast-iron wood cook stove in the cabin at that time. Next, Class III Death Rock was known to flip boats. Devil's Staircase was a fun, bouncy series of waves and pools. We were able to catch eddies and surf waves. Bailey Falls, a Class III rapid, had a limestone cliff and a large hole. Fortunately, our narrow kayaks slid through the channels and the hole. 
Widow Maker was one of the scariest rapids. It was difficult to row in a raft, which made me very anxious as I paddled my kayak into it, toward the rocks and the cliff. So here is where my memory fails me. Our brains have a way of deleting the most terrifying experiences from our memory to protect us and let us live the rest of our lives in a fairly normal manner. Did I flip and swim or did I slide past the rocks and the cliff? I think that my brain is protecting me from a traumatic experience. There is a good chance that I flipped and swam since I still didn't know how to roll a kayak. All I know is that I survived and that I have lived a fairly normal life since then, if you give me lots of leeway on what is "fairly normal."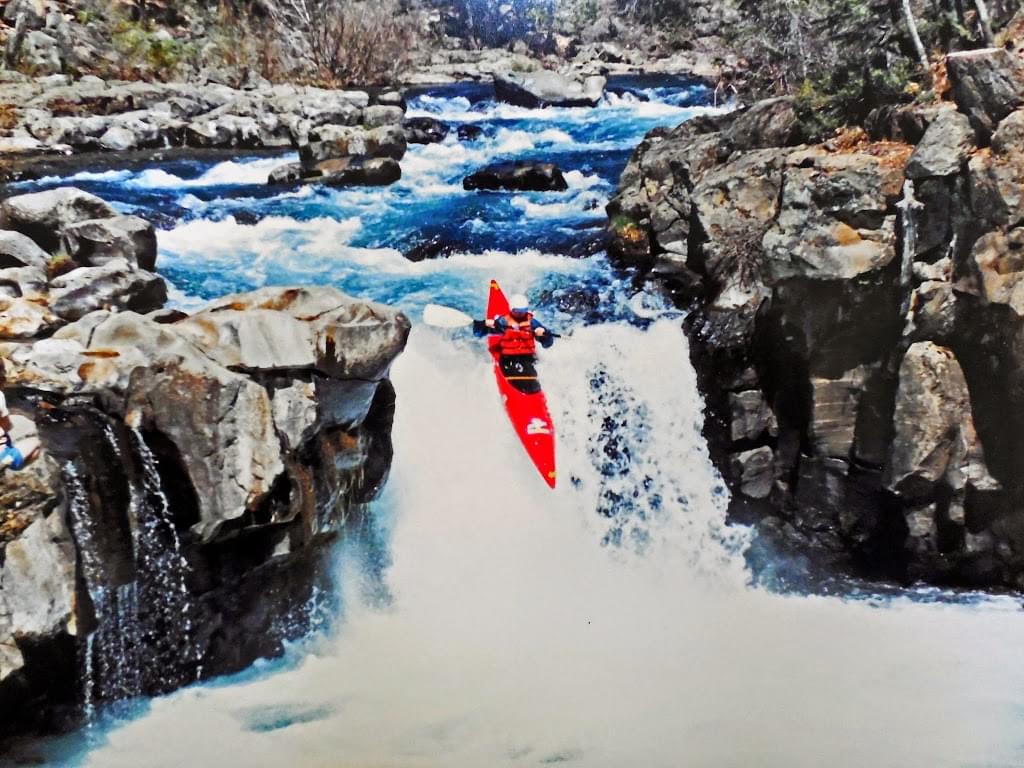 Stich running McCloud Falls in May 1986
We stopped at Rose Creek for rest and lunch. Rose Creek was a favorite side-hike, with lots of rocks to jump from plus clear, beautiful pools to float in and slowly swim through. It was a favorite stop for all of the commercial trips, too. 
After the break, we were back on the river. We stopped at the huge fig tree on China Bar and ate ripe Black Mission Figs. There were several limestone caves in the area, which we would explore when we had guests on commercial trips. We boated past beautifully carved granite rocks in crystal clear water. There were rusty gold-ore stamp mills along the shore among the tall, scraggly pines with their huge cones full of pine nuts. There were more Class II and III rapids with descriptive names like Mother, Razorback, Chinese Dog Leg, and Chicken Falls. Each rapid provided fun challenges to me as a neophyte kayaker.
Finally, we reached Parrott's Ferry Bridge take-out at the old Melones Reservoir. Uncle Don gave me more instruction about how to roll the kayak, and I was able to do my first roll! I feel very fortunate to have guided on the Stan before this stretch was covered by the New Melones Reservoir. 
The next year in April 1974, twelve guides built Lettman Mark IV fiberglass kayaks in the warehouse of the outfitter before the river season became busy with commercial trips. If we weren't guiding a trip with clients, we would throw our kayaks on the equipment truck at 6 AM to get a ride to Camp Nine. We would kayak all day until 4 PM when we would arrive at take out. There we would help load rafts onto the take-out truck and get a ride back to the 5-acre river commune of our outfitter. Life as a river guide was good! In fact, life as a guide is still good with Orange Torpedo Trips!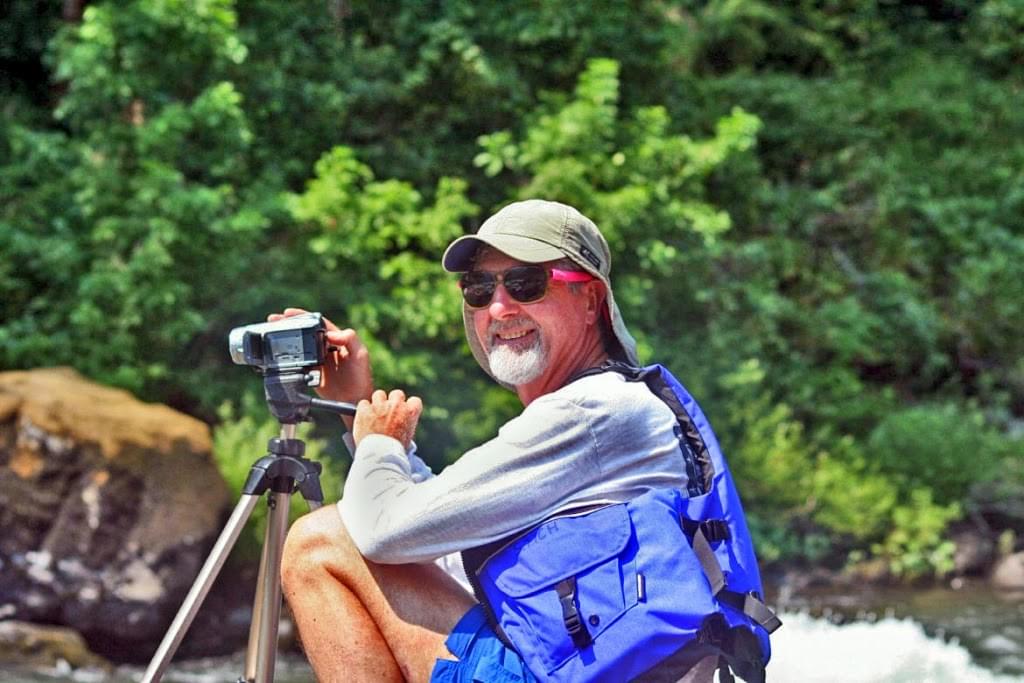 Stich filming the fun at Mary's Pothole on the Rogue River in 2012