The Salmon River flows past the front door of beautiful Riggins, Idaho. This is one of the few sections of the mighty Salmon one can float in a single day and coincidentally also one of the most fun sections of whitewater.
On our float trips we offer a variety of river crafts allowing for us to uniquely meet the adventure desires of anyone in your group, all while you travel together down the river. For the adrenaline seeking teenager we have our custom designed inflatable kayaks. We will have a guide in an inflatable kayak teaching them the skills needed to successfully navigate the towering waves and crashing holes of this section of river. For those wanting more of a tight-knit group experience we have the more traditional paddle raft. With your family or group you will work as a team with a guide steering to take on the Salmon River rapids such as timezone and traps. Choose your river craft and prepare for a day of crashing, splashing, hooting and hollering through the exciting rapids of the Salmon River.
On our full day of whitewater rafting the Salmon River near Riggins Idaho our mid-day stop is actually back at our shop for a BBQ lunch, no cold cuts here. We float into our riverside shop, walk up to our grassy lunch area and enjoy a nice hot lunch off the grill.
If you are staying in McCall we are a scenic 40 minutes away and offer a wonderful addition to any summer family vacation so come down to Riggins and join us today.
Trip at a glance
Who is this trip for?
If you are in the central Idaho area and looking for a day on the water to escape the heat this is the perfect trip.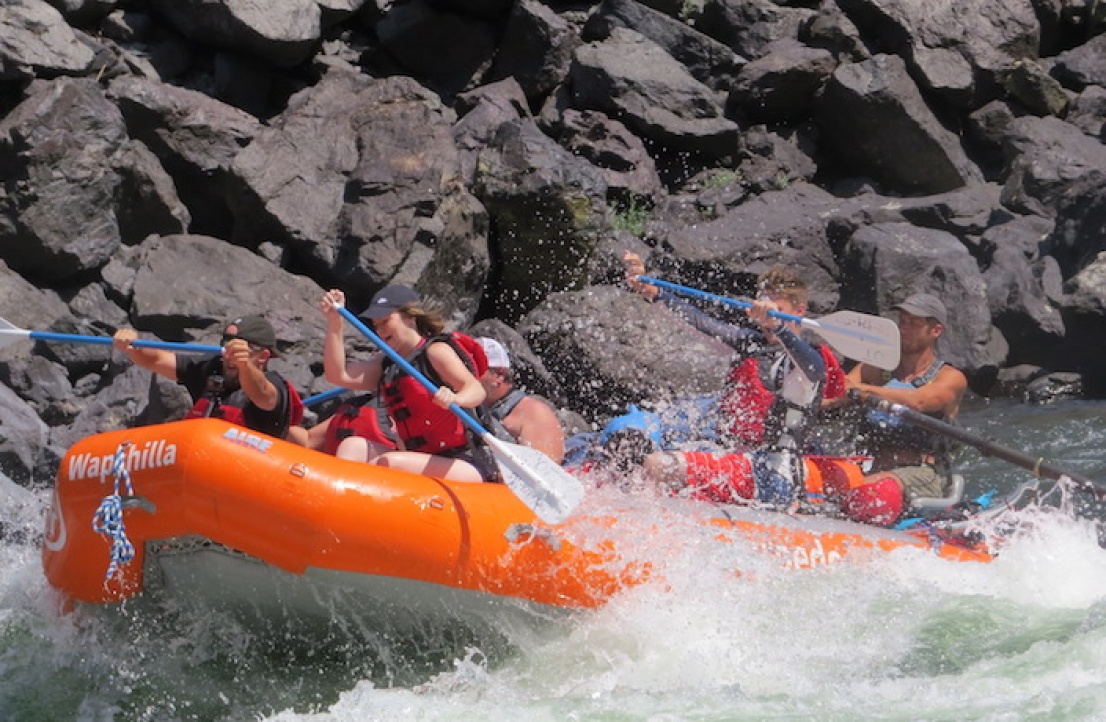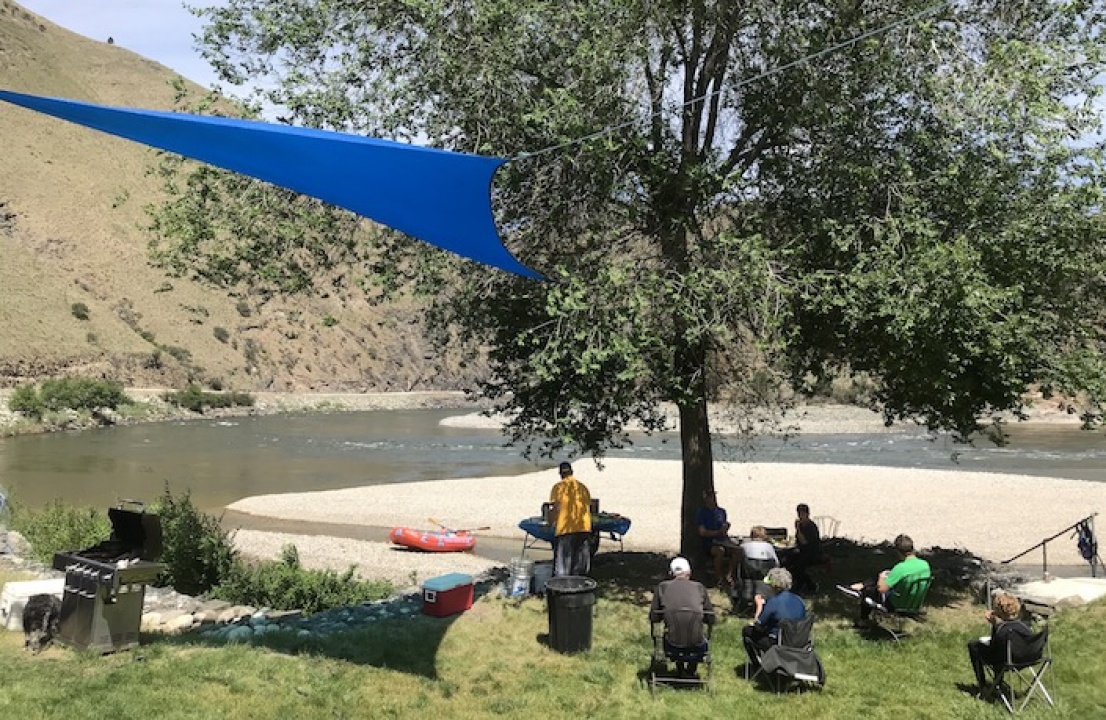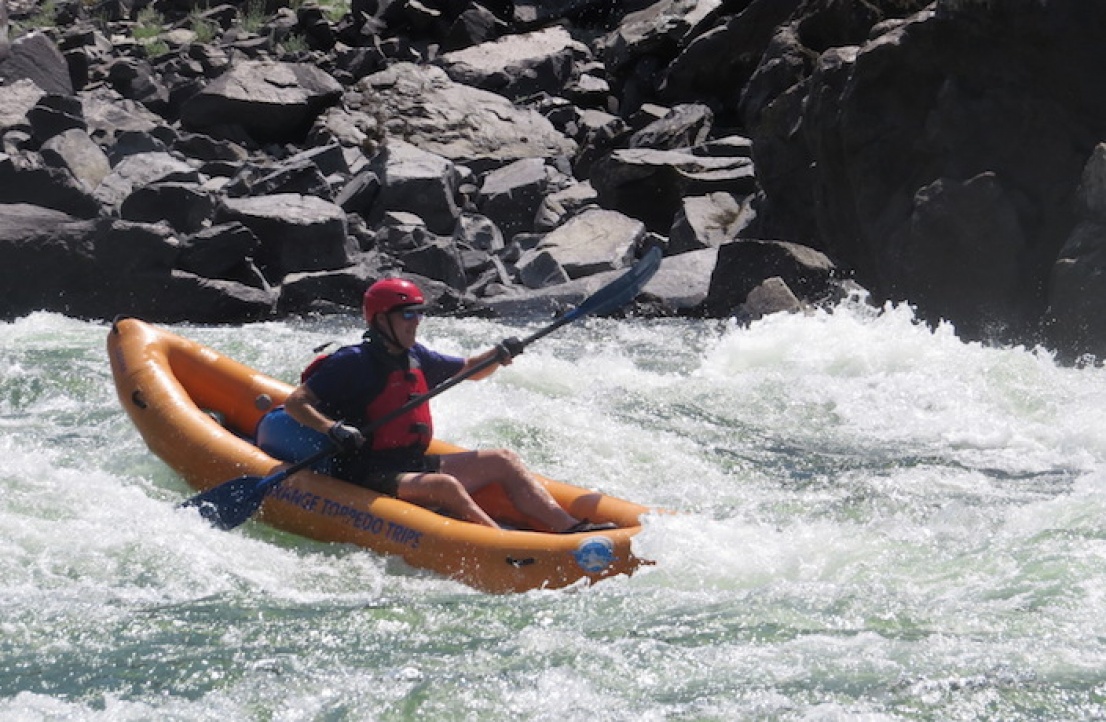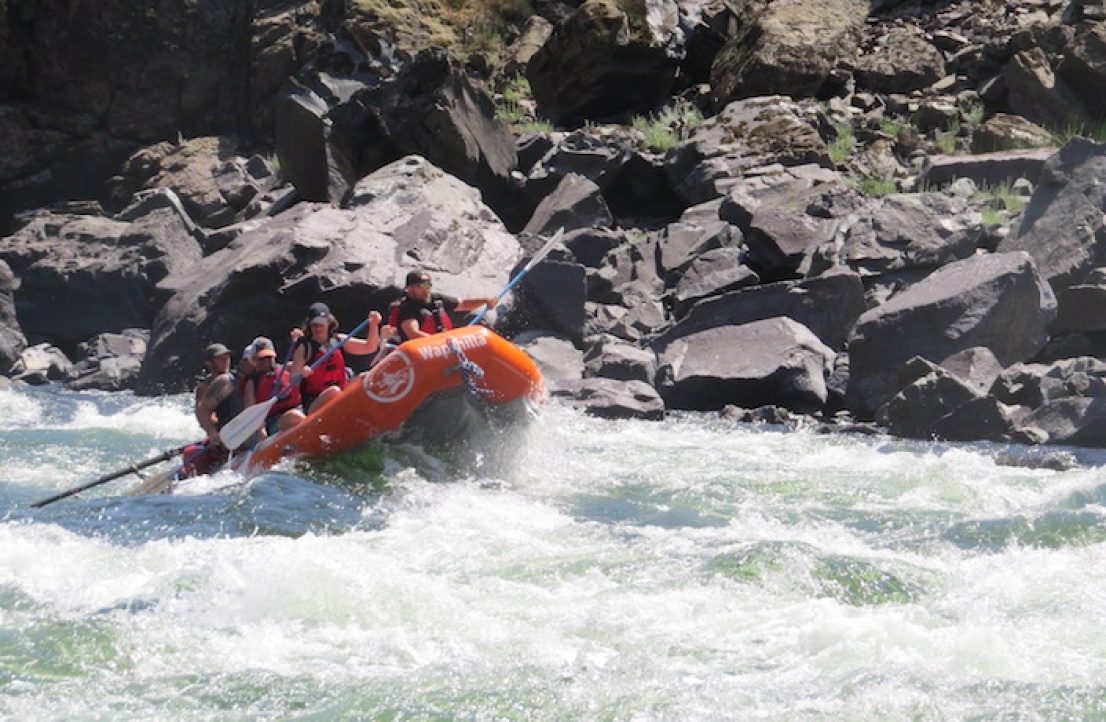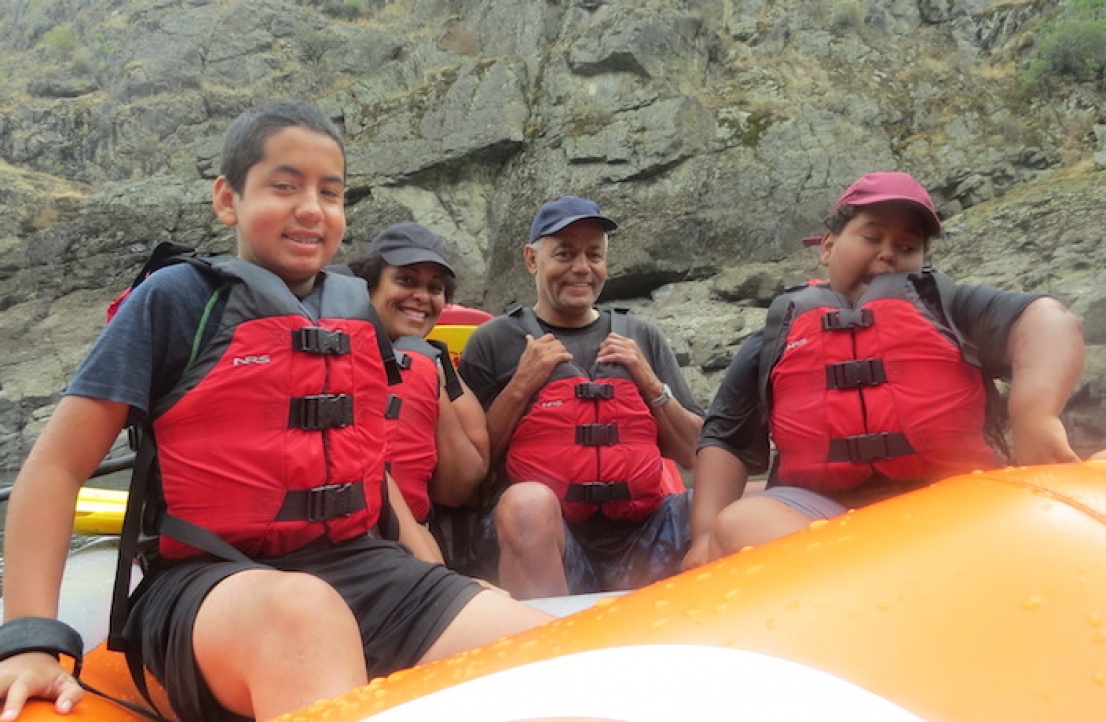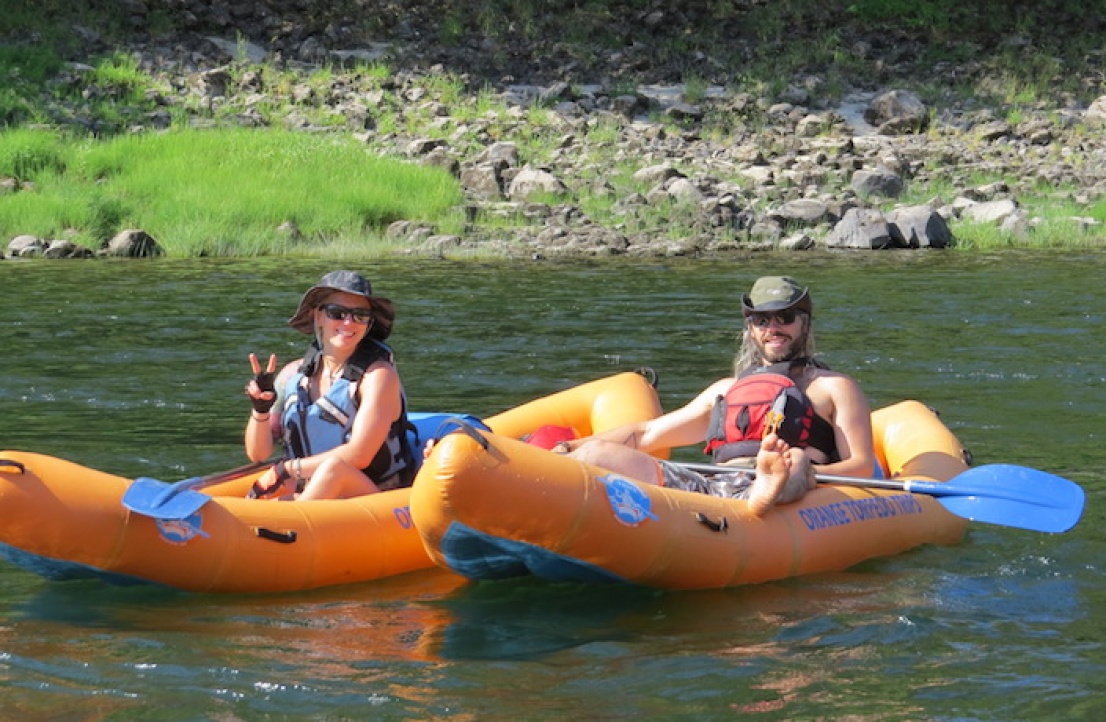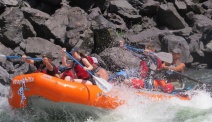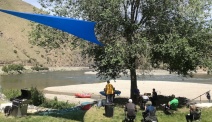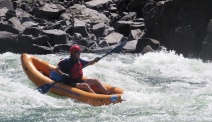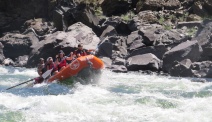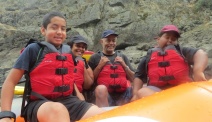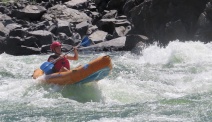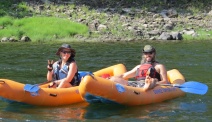 Dates / Rates
Salmon River Full Day
Adult $119
Youth $99
Groups of 10 or more will get a 10% group discount
Time Zone
The Full Day whitewater rafting trip on the Salmon River near Riggins Idaho makes for a great family or friends one-day adventure. Our trips meet at 8:30am MOUNTAIN STANDARD TIME and conclude around 4pm.
Trip Logistics Overview
Full Day Itinerary:
Full day trip is available in rafts OR inflatable kayaks. Meet at 8:30 am Mountain Standard Time at our store in Riggins. From the meeting spot in Riggins we load the group into the van and it's a 15 minute drive up river to our put-in location. Before we drive up river everyone will get their gear at the shop including PFD's, helmets (optional in come crafts) and possible web suits or splash gear. After getting everyone geared up and we have driven up river the group will receive a thorough paddling orientation ensuring you have all the info you need to be successful during your river day. Apply the sunscreen and it's time to start floating.
The day starts off with some mild whitewater to build those paddling skills and learn the techniques you will need later in the day. Prior to lunch the group will see one class III rapid with some big waves to start testing those paddling skills. Sometime around lunch time we will float back to our shop where we walk up to our park-like setting overlooking the river for a BBQ lunch.
After lunch it's back to the river for the whitewater filled afternoon. After floating past Riggins the whitewater picks up starting with Timezone Rapid. This thrilling bit of whitewater has a few holes and waves so big you want to try and miss them while navigating through the exciting medium sized waves. After timezone it is straight into Tight Squeeze which can have one of the biggest waves of the day. More class III rapids lead to Trapps which later in the summer can be a class IV, requiring paddle boats to work together to maneuver around the many holes and waves.
Finally as the afternoon winds down with some tired arms, big smiles, and with lots of great rapids behind us, the group pulls into the takeout and the waiting van. The guides will quickly pack up all the gear and it's into the van for a 10 minute ride back to your waiting car and the conclusion of the trip.
Where to Meet Orange Torpedo Trips
We meet at our shop in Riggins Idaho. We are at:
1512 N. Main Street, Riggins, ID. 83549.
Directions: We are in a blue building in the northern most part of town on the river side of the road.
All meeting times are MOUNTAIN STANDARD TIME.
Accommodations
In Riggins Idaho we recommend a couple of different lodging options.
Camping
Numerous camping options exist near the Riggins Idaho area
Spring bar campground is one option but you are near the Seven Devils Wilderness which hosts numerous great camping options.
Flying In
The closest airport options to Riggins Idaho are Boise Idaho which is about 3.5 hours away and the Lewiston Idaho airport which is about 2.5 hours away.
Typical Weather
Summer time weather in Riggins Idaho is typically hot. In late July and August we start to see a few more afternoon thunderstorms, but generally the weather is perfect for going rafting.
On trips of only a day it's not critical to have all the gear, but having some of the right things will help you enjoy your experience that much more.
What to pack
Swim attire shorts and shirt (ideally not cotton)
Water shoes or sandals
water bottle - 1 liter
Ball cap or wide brimmed hat
sunscreen
Sunglasses with croakies or chums
Camera to capture the memories.
FAQs
As on most of our trips we offer a variety of river craft to choose from. Orange Torpedo Trips is best known for inflatable kayaking with 80% of our customers choosing this as the way to go down the river, but on this trip we offer 3 types of river craft on this trip. Watch the video to learn more about our 3-boats.
Orange Torpedo
Learn to paddle your own inflatable kayak (Torpedo). We have guides in Torpedo's teaching you how to paddle and leading you through the rapids in a 4 to 1 ratio. If you happen to fall out the guides have you out of the river in seconds. 45+ years of doing it on the Rogue River and tens of thousands of satisfied returning customers prove that it is extremely fun.
Paddle Raft
A more traditional type of rafting, paddle rafts are a great way to go if you still want to do some work, but think the torpedo is just a little to much. Work with a team of your friends paddling the big boat through the rapids as the guide sits in the back to help navigate.
Oared Raft
Hop on an oared raft and ride in luxury. This is the relaxed way to travel. If taking in the scenery and letting the guide do the work is how you vacation then hop on board. This is how kids 4-11 years old will usually travel.
An Orange Torpedo is our custom-designed inflatable kayak.
Gratuity is certainly appreciated by all the guides but is by no means required.
This trip includes a riverside picnic lunch
While we cannot accommodate all food requests we happily provide, vegitarian, vegan, glutten free, and peanut free meals upon request. Just let us know and we will work
Orange Torpedo Trips was founded on the Rogue River in 1969 by rafting visionary, Jerry Bentley. Within just a few years OTT had spread to numerous rivers throughout the Northwest including the Klamath River, the Main Salmon River and Snake Rivers.