The Main Salmon River or, "River of No Return" as it is known; is the perfect juxtaposition of relaxing vacation and thrilling adventure. The numerous class III and occasional class IV rapids are certainly exciting for anyone, but they are also manageable for the first time inflatable kayaker or rafter. The charter plane flight into small-town Idaho add's a unique sense of adventure. Floating through the continental United States largest wilderness area and second deepest canyon gives an unparalleled feeling of escape and remoteness not attainable in most other places of the country.
Simply everything about the Main Salmon River makes it America's premier rafting vacation. On a typical trip it's common to see big horn sheep, deer, black bears, and even the occasional moose. We hike trails near side streams full of fishing opportunities, we explore historic homesteads and enjoy fruit from their feral orchards, we sleep on large beaches under bright stars and all of this while we travel down a beautiful wilderness river. Nestled in the canyon of the, "River of No Return" you will find new friends, connect with old friends, bond with your kids, and ultimately go home rejuvenated from your time in the wilds of Idaho. Sign up today and join us on this river that holds a very special place in our hearts.
Like on all of our trips you can choose to inflatable kayak, paddle in a paddle raft, or bring your own kayak. We also have a "row your own" option for those with their own gear.
Trip at a glance
Who is this trip for?
Anyone who loves wilderness rivers, wildlife, and scenery. Simply put, you can't go wrong with the Main Salmon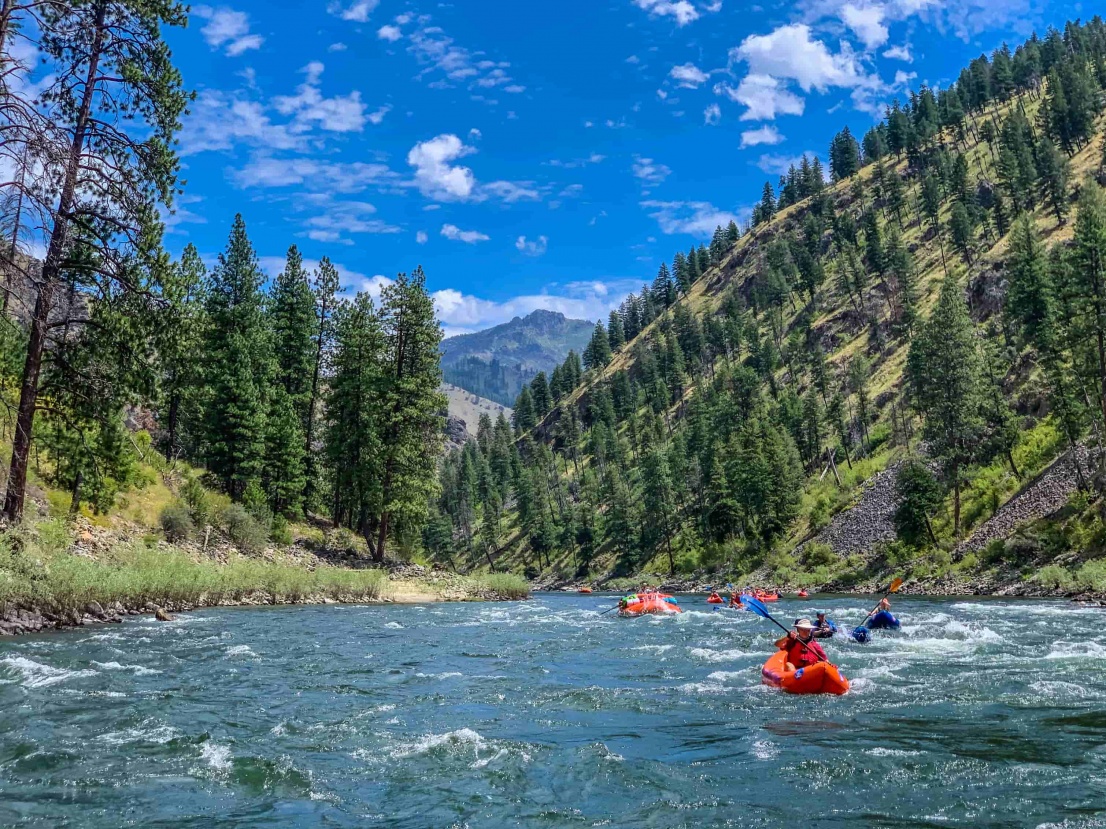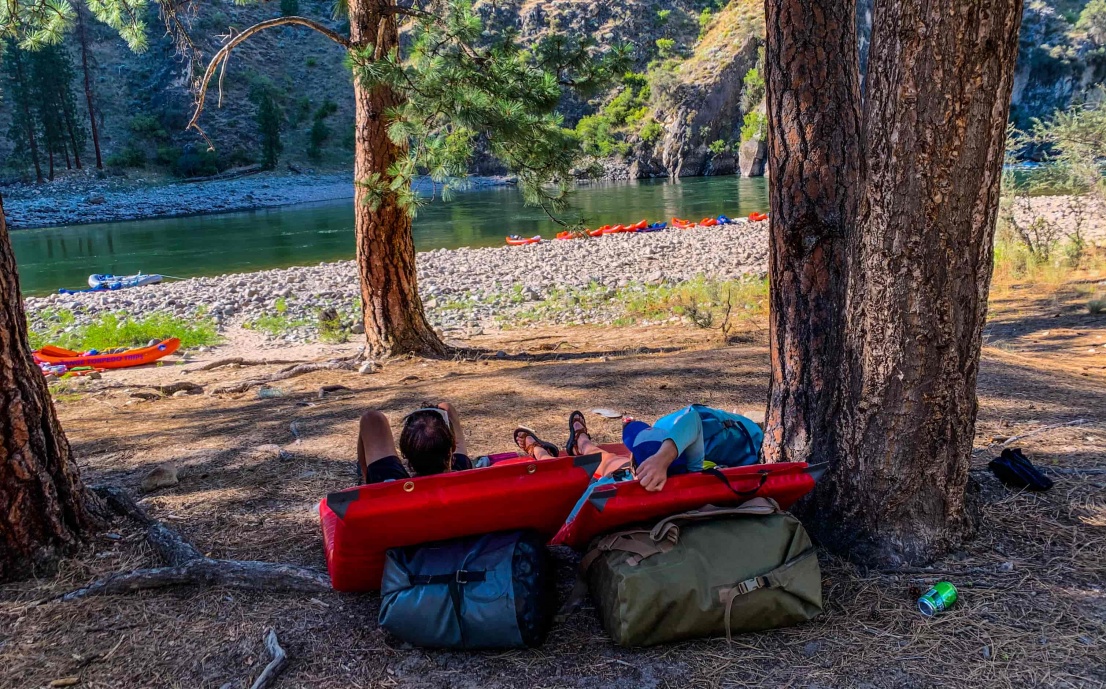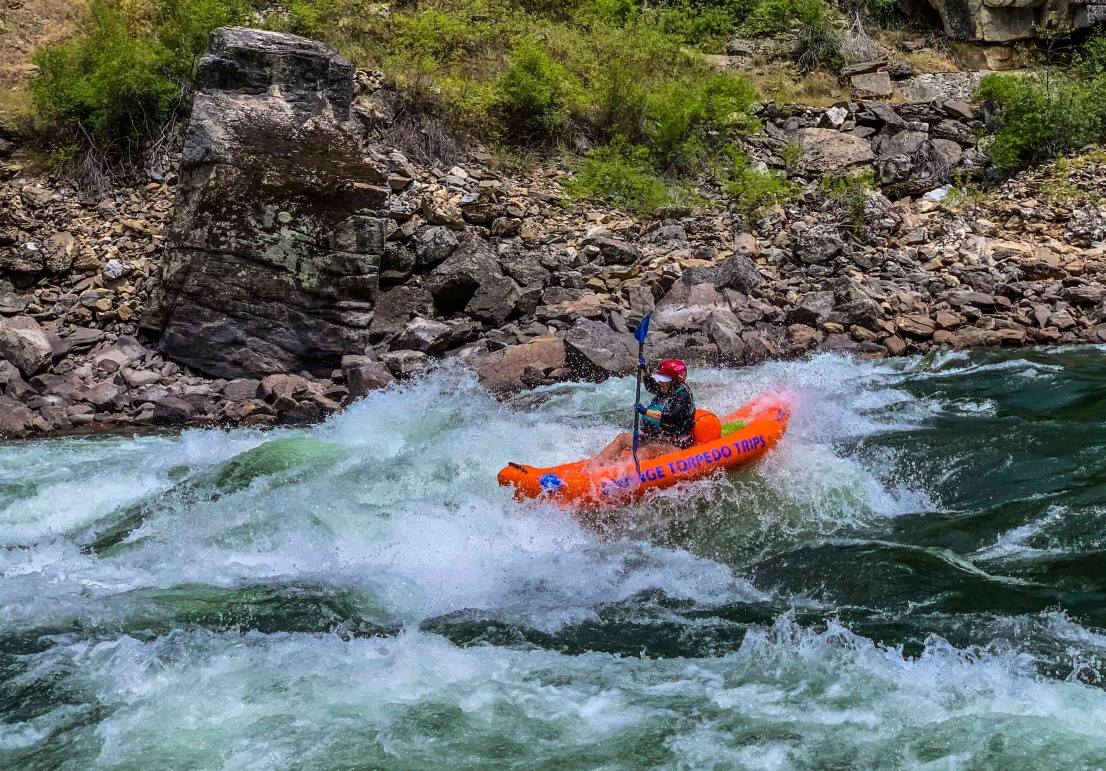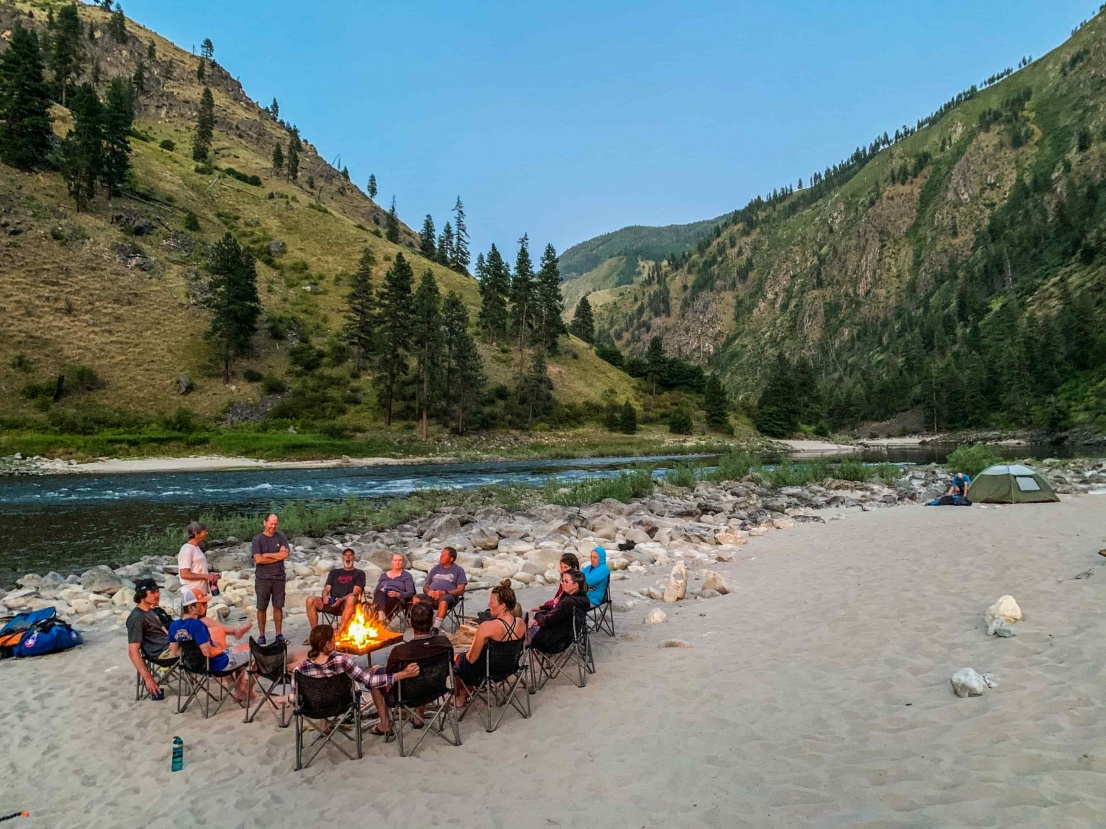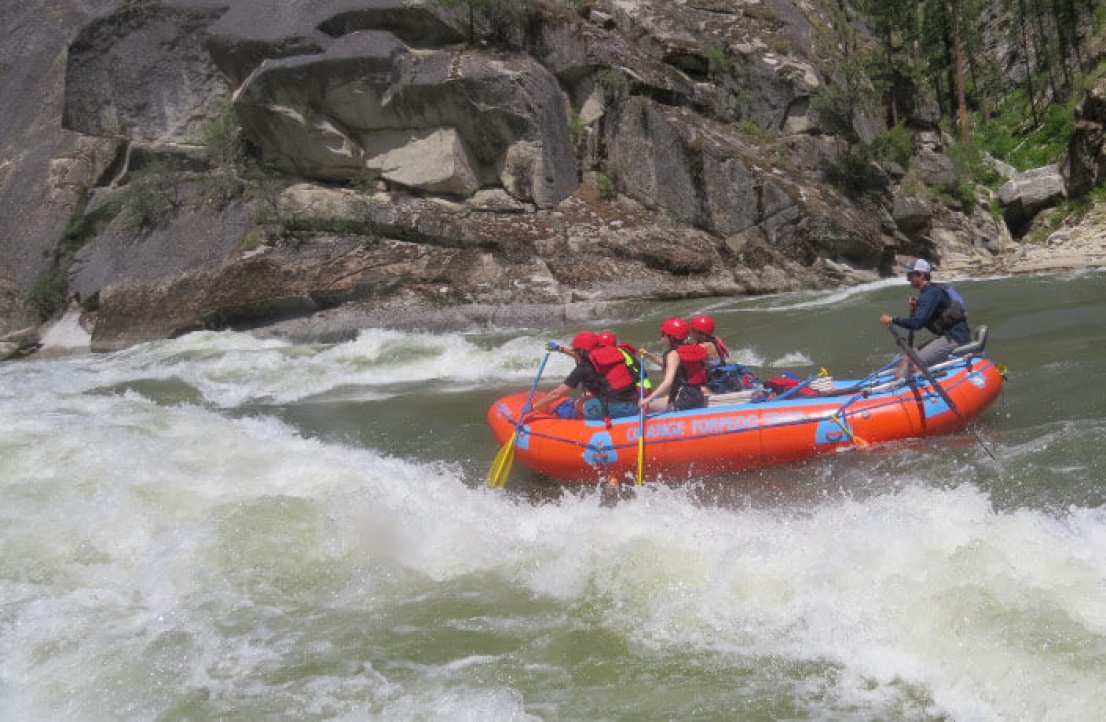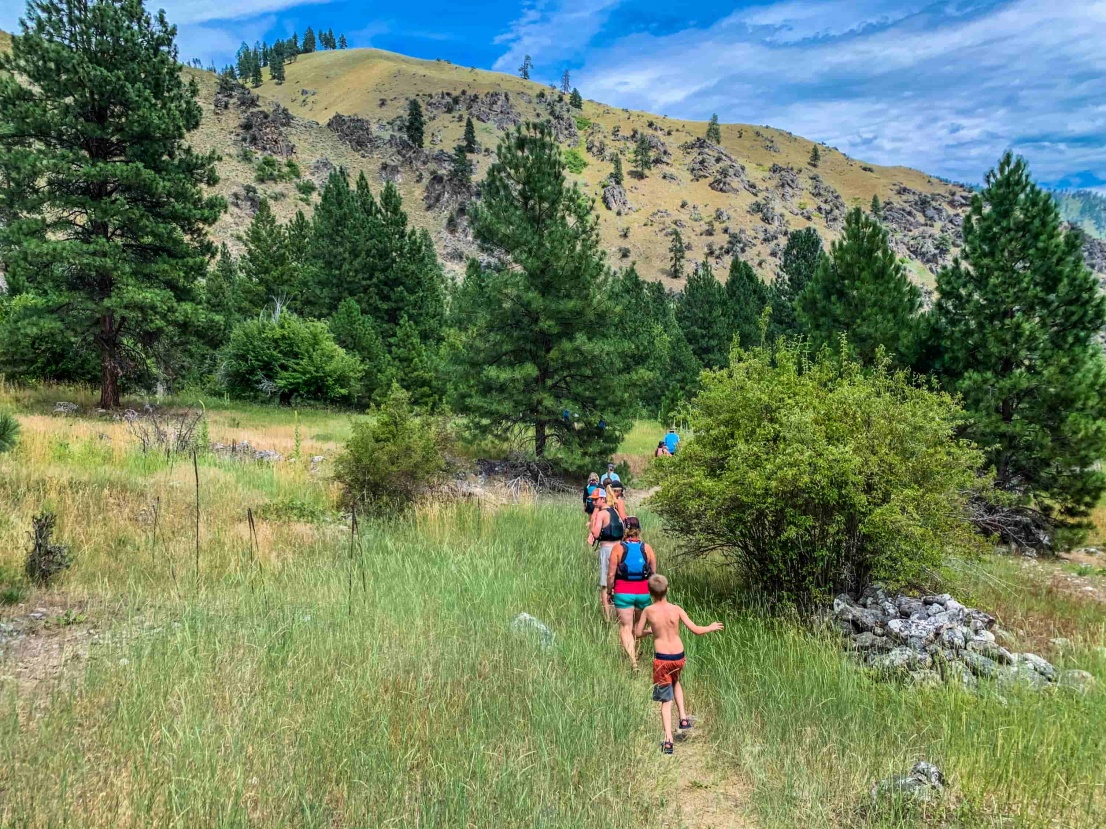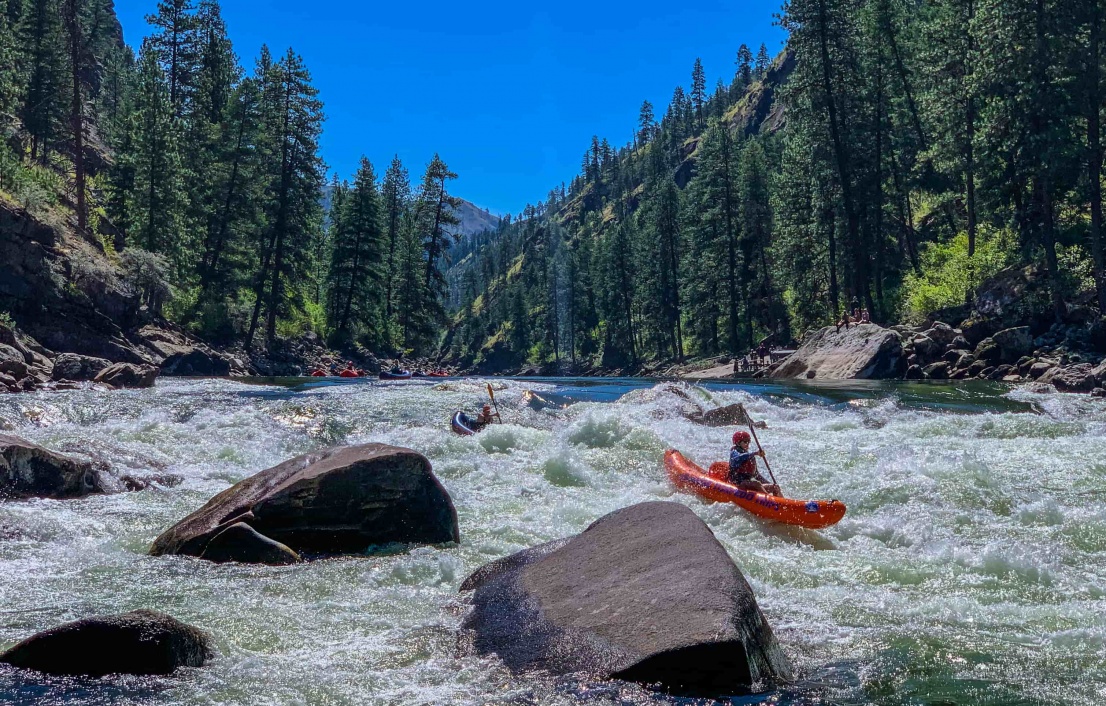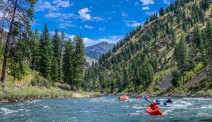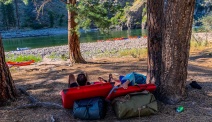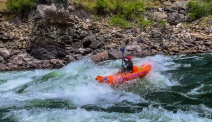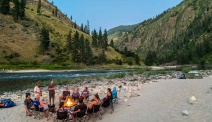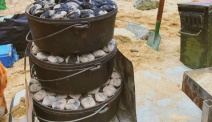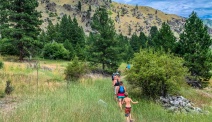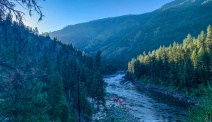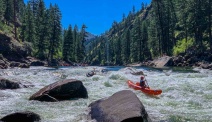 Dates / Rates
6-day Main Salmon Trips - Same dates every year.
Price:
Adult - $2199
Youth - $2199
June 23rd - High Water, Adults only
July 1-6
July 9-14
July 17-22 (2024 - Sold out)
July 25-30 (2024 - Sold out)
August 2-7 (2024 - Sold Out)
August 10-15
August 18-23 (2024 - Sold Out)
August 26-31 (2024 - Sold Out)
September 3-8
Trip Start Dates:
All June – August trips require a charter flight from Boise to Salmon if doing the Boise to Boise itinerary. There is an additional $210 per person fee for this flight. If you are interested in driving to either Corn Creek or North Fork and having your vehicle shuttled just call to talk about those options which can save some money.
Custom trips in June or Sept/October are available. Call for details.
Standard Summer Trip: For the full Main Salmon Trip your travel from Boise and back to Boise Idaho is arranged. We will arrange your flight from Boise to Salmon around 1pm the DAY BEFORE your trip launch. So if you have a July 9th trip you need to be at the Boise airport on July 8th. That night in Salmon you need to arrange a hotel stay at the Stagecoach Hotel in Salmon: (208) 756-2919. Tell them you are with Orange Torpedo Trips. The morning of the trip launch we will provide transportation from the hotel to the put-in at Corn Creek. From the takeout at Carrey Creek we will provide transportation to the Boise Airport. The final day you will not get to Boise until sometime around 7pm so we recommend not trying to fly out that evening. Depending on where you are coming from the same basic logistics can be applied to a McCall to McCall option for this trip. Fly from McCall before the trip and be dropped off in McCall at the end.
Your luggage will come with you to the put-in. At the hotel the night before we start floating you will be supplied with a drybag to pack in for the trip. Everything going on the trip will go into this drybag. Your luggage will then be stored in our vehicle which will meet us at the takeout at the conclusion of the trip.
The Salt Lake City Special: If you are coming from Salt Lake City it is just a short five hour drive to Salmon Idaho so come and meet us there. We will meet you at the stagecoach hotel. At the conclusion of the trip we will transport you the 2 hours to McCall Idaho where we will have a charter flight ready to fly you back to Salmon where your car is waiting. If you live in Salt Lake City, Utah this is a better logistics option.
All Trips
Arrive at the Boise Idaho airport the day BEFORE your trip launch and meet at the GEM AIR desk at 1:45 PM MST. We will have a charter flight to fly you from Boise to Salmon which takes about 1.5 hours and is a beautiful flight over the sawtooth mountains. When you land in Salmon the Stagecoach Motel (where you should have booked a room for the night) will transport you to their hotel. That night we will have a group orientation to prep you for the trip at the Motel. The next morning there is about a 2 hour bus ride paralleling the Salmon River the entire way. The bus will make one stop at the North Fork store for any last minute provisions and bathroom stops. The store does have a small liquore store for those last minute needs (liquor portion not open on Sundays). The group will drive past the point where Lewis and Clark left the river and headed north deciding the river was too treacherous.
When you arrive at Corn Creek the guides will be waiting for you to prepare to float down the river.
Detailed Itinerary for 6-day Camp trip
This is a great way to experience the river. Stay at the lodge the night before the trip launch and then camp the rest of the trip. Below is a rough description of the trip as where groups will camp exactly varies on available sites, water levels, weather, group size etc.
Day 1: Launch from corn creek and look forward to a GREAT DAY of warm up rapids. Floating away from Corn Creek into the rugged and foreboding landscape of the Salmon River Canyon one cannot help feeling the excitement of heading into the wilderness and away from civilization. There is something special about this canyon that overtakes people at this moment. Around the first couple corners brings the group to Killum Rapid and the first whitewater challenge of the Salmon River. This class III is mostly down the big waves in the middle and leads to lots of hooting and hollering. This will set the tone for the thrilling river challenges for the next couple of days. Day one continues with Alder Creek, Lance Bar, Devils teeth and and a number of other thrilling whitewater challenges. Most trips break up the day with a stop at Lance bar to walk amongst the homesteader cabins and roam through the orchard. Try and picture living here, alone, 70 years ago. Look around and feel the isolation and the independence. It's an experience hard to picture in our modern world.
Sometime in the afternoon the group will float into a riverside camp on a big beach with opportunities for swimming, relaxing, and possibly hiking. Guides will show the group how to set up their tents and begin making appetizers and preparing dinner. Grab a beverage, kick back and enjoy just being away from your phone, your work, your tv. Enjoy being with your friends and family in the middle of the lower 48's largest wilderness area.
Day 2: Start off with some Native American pictographs and then more rapids and beautiful scenery. Probably just before lunch the group will arrive at Black Creek rapid in the heart of the black canyon of the Salmon River. This granite gorge is a beautiful part of the river that culminates in one of the premier rapids of the trip. Black Creek is a newer rapid created by a land slide in 2011 which damned the river and created what is now the steepest drop on the river. Shortly after everyone paddles this exciting rapid Barth Hotsprings arrives on river left and it's time to soak for a bit.
When everyone is done soaking in this scenic hotsprings it's down river towards camp. The afternoon likely includes a couple great rapids and maybe a few hikes if the group is up for it.
Day 3: Whitewater Day: Today may include a hike or two, but it's primarily about running rapids. Today will have some of the greats of the river including Bailey, Five Mile, Split Rock (A favorite rapid of numerous guides when asked for favorite rapid from any river) and the exciting Big Mallard. These rapids combine to make day three a highlight day on the Main Salmon combining great scenery with plenty of excitement. At the end of day three the group will float into another amazing camp.
Day 4: Today starts off with a bang. Another of the great rapids of the Salmon River is just around the corner. Elk Horn rapid is the longest rapid on the river at almost a mile in length. At any river flow this rapid is a highlight of the trip sure to challenge everyone in it's 3 different sections. Pass the winebego rock and it's home free and onto more relaxing rapids for the rest of the day.
The afternoon brings the group into a favorite trip stopping point, Buckskin Bills. Buckskin was one of the last great american mountain men this was his homestead on the river. The group will watch the short documentary highlighting the weapons he made by hand before taking time to sit in his cabin and climb his turret which he made to fight off the government. It's also a great place to grab an ice cream, sit in the shade and watch the river float slowly past. After buckskin bills it's probably not far to another great riverside camp.
Day 5: Into the heart of the Grand Canyon of the Salmon River. The second deepest canyon in the United States, deeper then the Grand Canyon of the Colorado. The Salmon River canyon is an ideal place to put your feet up and float while taking in the steep rock walls and the mountain sheep climbing the pinnacles above you. Whitewater is reasonably mellow today but swimming holes are abundant as the group floats to a wonderful, white sand beach camp for the night. Tonight will be a delicious dinner to celebrate a wonderful trip down the beautiful Salmon River. Stay up late and take in the stars, because you won't see them anywhere else like you will see them on the Salmon River.
Day 6: End the trip with a bang. This morning is great! Rapids including Dried Meat, Chittum, Vinegar, and Carry Creek Falls to bring the group to the trip takeout sometime around mid-day for a late lunch. After transferring your gear from our drybags back to your suitcase it's into the van for the ride out to Boise. This ride takes a little over 5 hours, but the scenery is incredible. You will be returned to the Boise airport or a nearby hotel sometime typically between 6 and 7 pm.




Where to Meet Orange Torpedo Trips
Standard Trip: You need to check into the GEM air desk at the Boise Airport at 1:45 pm MST the day BEFORE your trip launch. Their desk is the baggage claim terminal outside of airport security. When you land in Salmon, the Stagecoach Motel (where you need to have booked a room) will pick you up and transport you to the motel. We will have a pre-trip meeting at the motel that night which is where an OTT guide will meet you. Note from GEM Air: "We ask that each customer come with no more than one medium- or two small-sized bags that weigh no more than a total of 35 lbs. Large hard-sided luggage will not fit."
Salt Lake City Special: Coming from Salt Lake City? Drive the 5 beautiful hours to Salmon and meet us at the Stagecoach Motel. We will fly you back to Salmon after the trip and you can start the easy drive home.
Accommodations
If you fly in the night before you need to meet us or decide to stay the night trip concludes there are a variety of hotels near the Boise airport that offer complimentary shuttles.
The night in Salmon Idaho
Please book your room at the Stagecoach Motel as soon as you book your trip. Please tell them you are with Orange Torpedo Trips.
Camping
No great camping options exist right in the Boise area.
Flying In
Please fly into and out of the Boise Idaho airport.
Typical Weather
Averages are:
June · High 75 F Low 45F
July · High 90 F Low 60 F
August · High 88 F Low 58 F
You will be able to leave your luggage and any unwanted items in our vehicle which will be shuttled around from the put-in to the takeout. Everything going downriver will go into the supplied dry bag. The dry bag (18″x36″), is about the size of a medium duffle. This is where all of your personal items for the trip will go, including your sleeping bag (on camping trips), so pack conservatively. When sealed correctly, they will not leak. However, if sealed incorrectly, they may let water in. We strongly suggest that all items of significant value, such as expensive jewelry, be left at home. We will also supply a day bag to store items like cameras for easy access during the day.
Also, when packing please remember this note from Salmon Air: Note from Salmon Air: "We ask that each customer come with no more than one medium- or two small-sized bags that weigh no more than a total of 35 lbs. Large hard-sided luggage will not fit."
What to pack
On the River
2 or 3 swimsuits or shorts and top (cotton not recommended)
Sports sandals or hard-soled wetsuit booties
Synthetic paddling gloves
Wide rimmed hat or ball cap (ball cap fits well under helmet)
Polypro, synthetic or hydro-skin shirt (nice for mornings and chilly days)
Water Bottle (1 liter) with carabiner
Waterproof sunscreen
Sunglasses with strap (consider bringing two pairs)
OTT will supply wetsuits and splash-tops for chilly mornings
In Camp
Your preferred beverages. We provide roughly 2 beers and one glass of wine per day, per adult. Please plan on bringing any additional beverages you might want.
2 pair pants & shorts
3 shirts
Fleece jacket or sweatshirt
Light rain jacket
Sleeping bag (synthetic material recommended - rated to 45F - not needed on all lodge trips)
Pack Pillow
Small towel
Headlamp or flashlight
Beanie
Camera with extra film or memory cards and batteries
A good book
Personal hygiene items
FAQs
On this trip you will be required to sign an acknowledgement of risk form. You can find a copy of form here: Acknowledgement of Risk
Gratuity is certainly appreciated but by no means required. At the conclusion of a trip please just give any gratuity to the head guide who will divide it evenly among the crew. Standard restaurant gratuity percentages tend not apply on these trips, so what we have seen over the years on the Main Salmon is an average of approx: $75-$100 per person in a group. So a group of four would be about $300-$400. That is what we typically see on this trip as an average, please don't feel obligated. Also, when thinking about gratuities, please feel free to tip the staff at the lodges during your stay.
As on all OTT trips, this trip requires a 30% deposit. The remaining balance is due 30 days before the trip launches. Upon making your reservation you have the option to set up your credit card to automatically run the balance on the due date.
Yes, but with some limitation. If you start in an inflatable kayak and decide quickly that it's not for you. We will get you out of the kayak. If you start in a raft and decide you want to kayak, we cannot always guarantee that ability. Based on what people tell us they want to do we pack a specific amount of equipment and bring an appropriate number of guides for a trip. Sometimes that does not leave much room to add kayakers mid-trip. People will often be willing to switch out throughout the trip, but if someone signs up to tackle the river in an inflatable kayak, we want to make sure they have chance to paddle the entire trip if they want.
Any group of 10 or more gets 10% off.
Everything for the trip will go down the river. When you pack a dry bag at the put-in, that will be all of your stuff for the duration of the trip. All food, drinks, and camping equipment will be transported on our rafts for the entirety of the trip.
Orange Torpedo Trips was founded on the Rogue River in 1969 by rafting visionary, Jerry Bentley. Within just a few years OTT had spread to numerous rivers throughout the Northwest including the Klamath River, the Main Salmon River and Snake Rivers.
An Orange Torpedo is our custom-designed inflatable kayak. We have brought our 45 years of guided inflatable kayaking experience into our partnership with world renown raft builder SOTAR to introduce an industry leading high performance, beginner friendly inflatable kayak which we exclusively use.
Unlike many, we basically package everything together into one trip fee so you don't have anything else added. From Boise to Boise all transportation, lodging, food and drink, is covered under one low all inclusive fee.
We are proud to have one of the highest head guide tenure's in the industry. The majority of our multi-day trip guides are teachers in the off-season. This off river profession makes them naturally great guides with a desire to teach our customers about the rivers, but it also makes them stable year to year guides. The average tenure, with our company, of our head guides is 29 years.
As on most of our trips we offer a variety of river craft to choose from. Orange Torpedo Trips is best known for inflatable kayaking with 80% of our customers choosing this as the way to go down the river, but on this trip we offer 3 types of river craft on this trip. Watch the video to learn more about our 3-boats.
Orange Torpedo
Learn to paddle your own inflatable kayak (Torpedo). We have guides in Torpedo's teaching you how to paddle and leading you through the rapids in a 4 to 1 ratio. If you happen to fall out the guides have you out of the river in seconds. 45+ years of doing it on the Rogue River and tens of thousands of satisfied returning customers prove that it is extremely fun.
Paddle Raft
A more traditional type of rafting, paddle rafts are a great way to go if you still want to do some work, but think the torpedo is just a little to much. Work with a team of your friends paddling the big boat through the rapids as the guide sits in the back to help navigate.
Oared Raft
Hop on an oared raft and ride in luxury. This is the relaxed way to travel. If taking in the scenery and letting the guide do the work is how you vacation then hop on board. This is how kids 4-11 years old will usually travel.