The Lower Salmon River is known for big white sand beaches, warm water for swimming and large roller coaster rapids that are not overly technical. It is an ideal river for any rower and paddler looking to move up from the John Day, Grand Ronde, Deschutes or something similar to a trip with a little more challenge. This is also an incredible family river trip with amazing beaches for kids to play on and warm water to swim in. If you are looking for the ideal family rafting trip, the Lower Salmon is it. This section of the Salmon is also great for inflatable kayakers, SUP's, and kayaks for those looking to paddle a smaller craft.
Over 4 days the group will travel through 4 distinct river canyons, each with some exciting and unique whitewater. Generally the rapids are big water class III with a few rapids that can be in the low level class IV range. For most of the rapids our boat will be out front showing you the line we like but you are free to to read and run as well. For the big rapids we will stop and look at them as appropriate or just give you the line beta and encourage you to follow us.
When we arrive in camp, the evening is yours. Our guides will get appetizers out, cook a delicious dinner and finish off the evening with a dessert fresh out of the Dutch oven. We take all of the "work" part out of the river trip so you can relax and enjoy relaxing on a white sand beach next to the amazing Salmon River. Finally, when the group arrives at the confluence of the Snake and Salmon you are going to be able to avoid rowing the famous "Snake Lake" as we will strap the boats together and drop a motor to motor out.
So bring your gear and let us treat you to a vacation on the Lower Salmon. Row your boat, paddle your kayak, swim next to your SUP, whatever your river craft of choice; we will pack all of the group gear, cook the meals and help you have a wonderful vacation on the Lower Salmon River. Also, if you don't want to travel with your gear we have rentals available.
Trip at a glance
Hammer Creek / Heller Bar
Who is this trip for?
Any rafter, cat boater, kayaker, SUPer, Inflatable kayaker or pack rafter who wants to enjoy traveling the river but not deal with all the headaches of a river trip.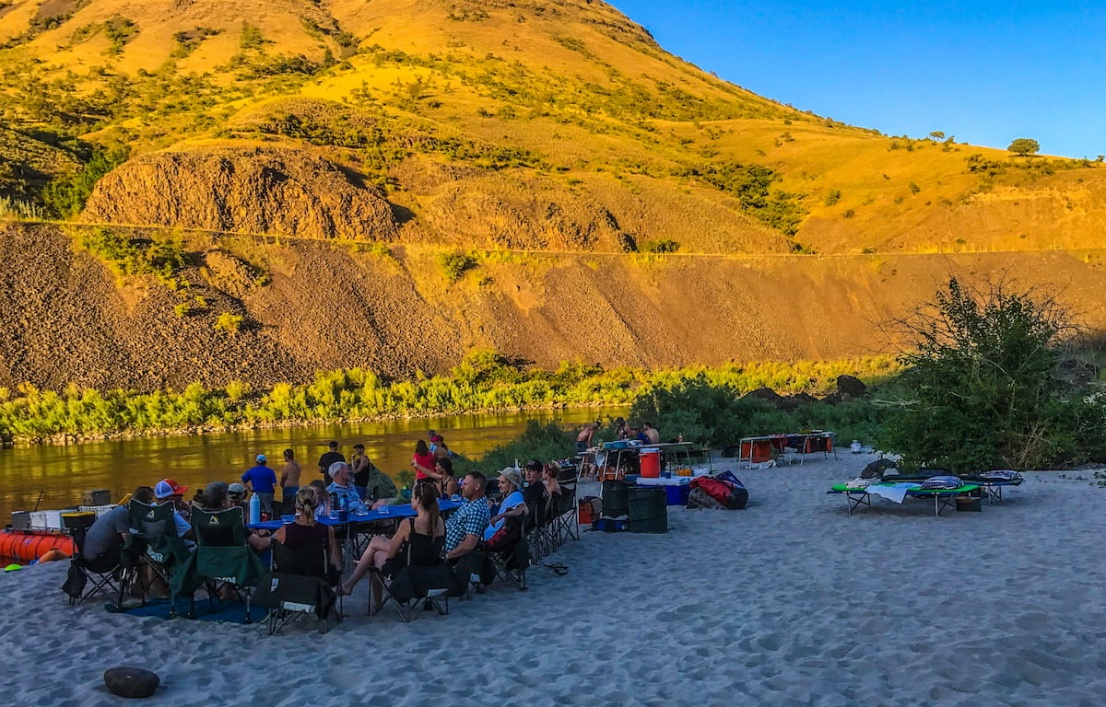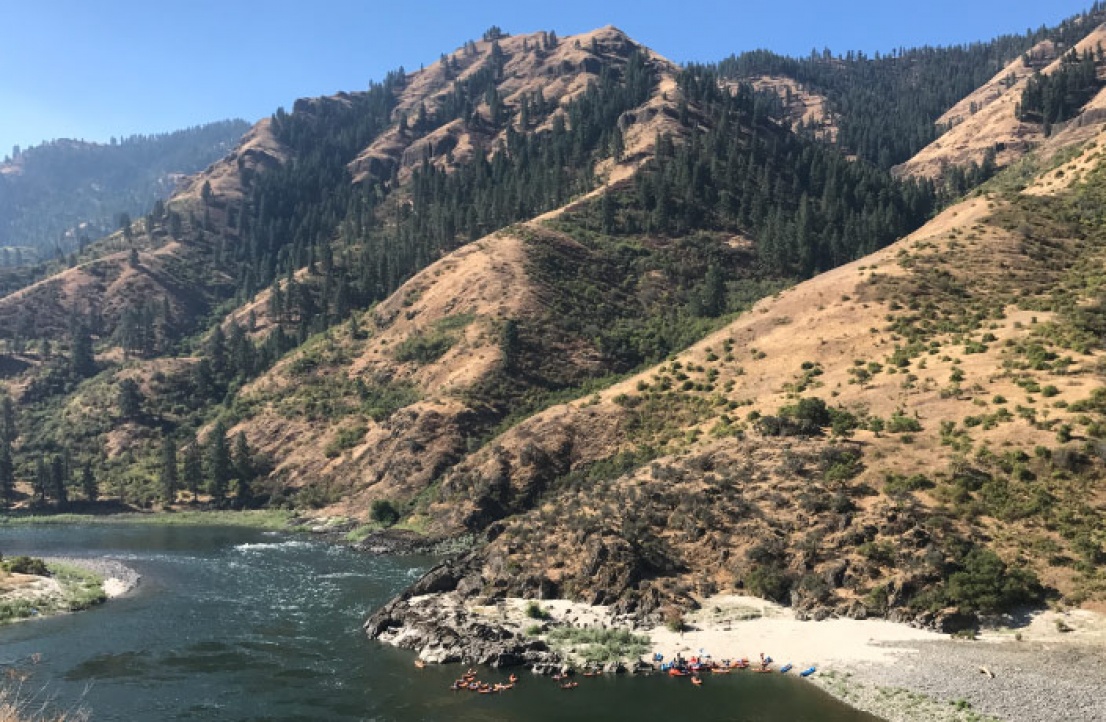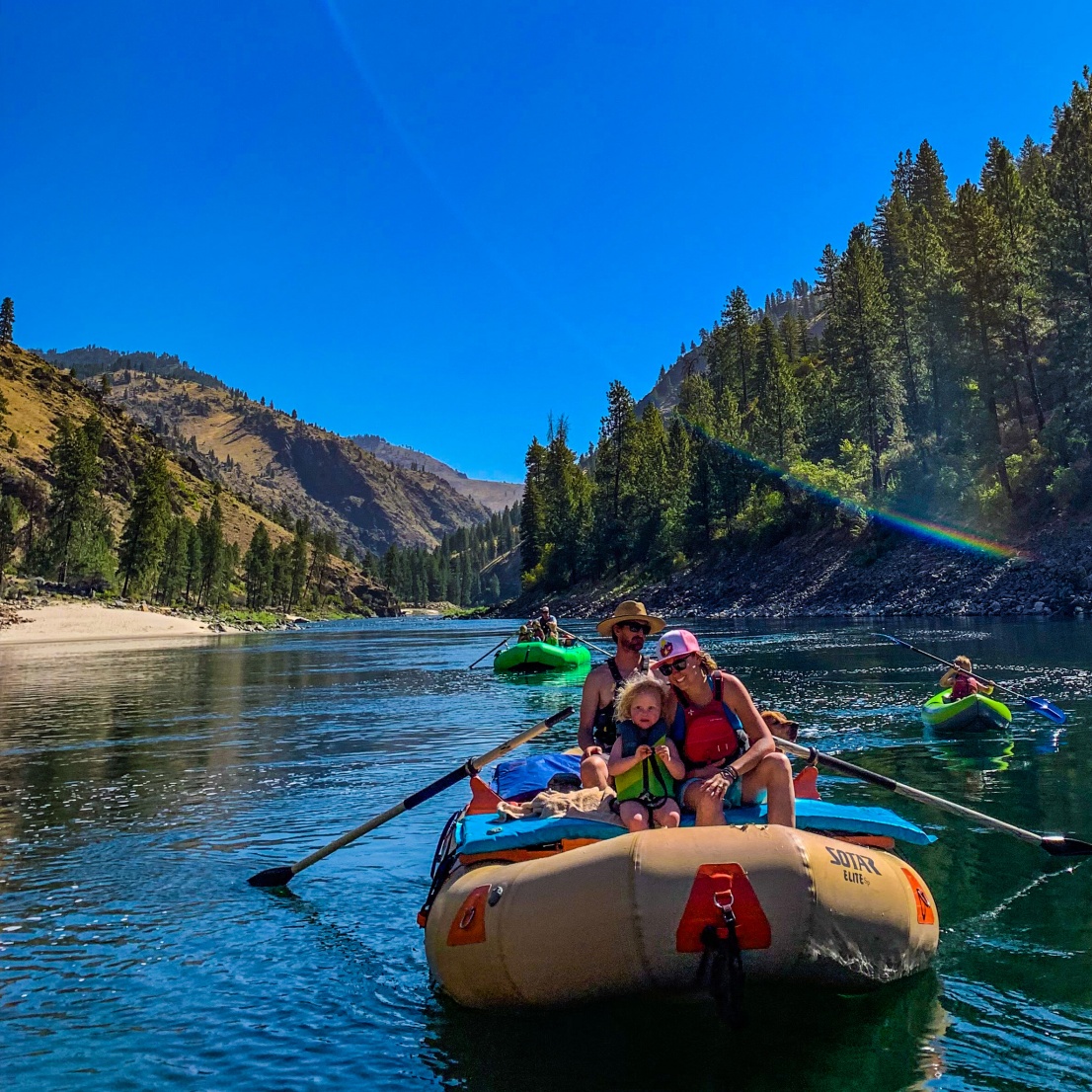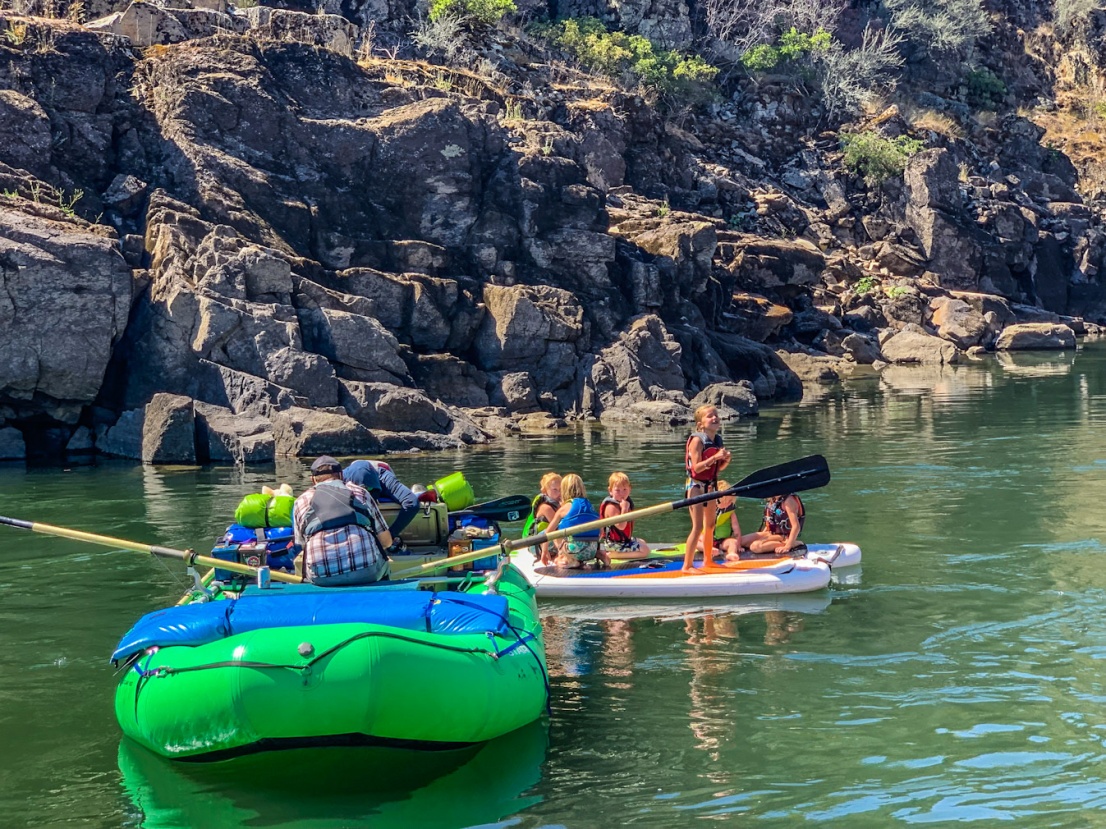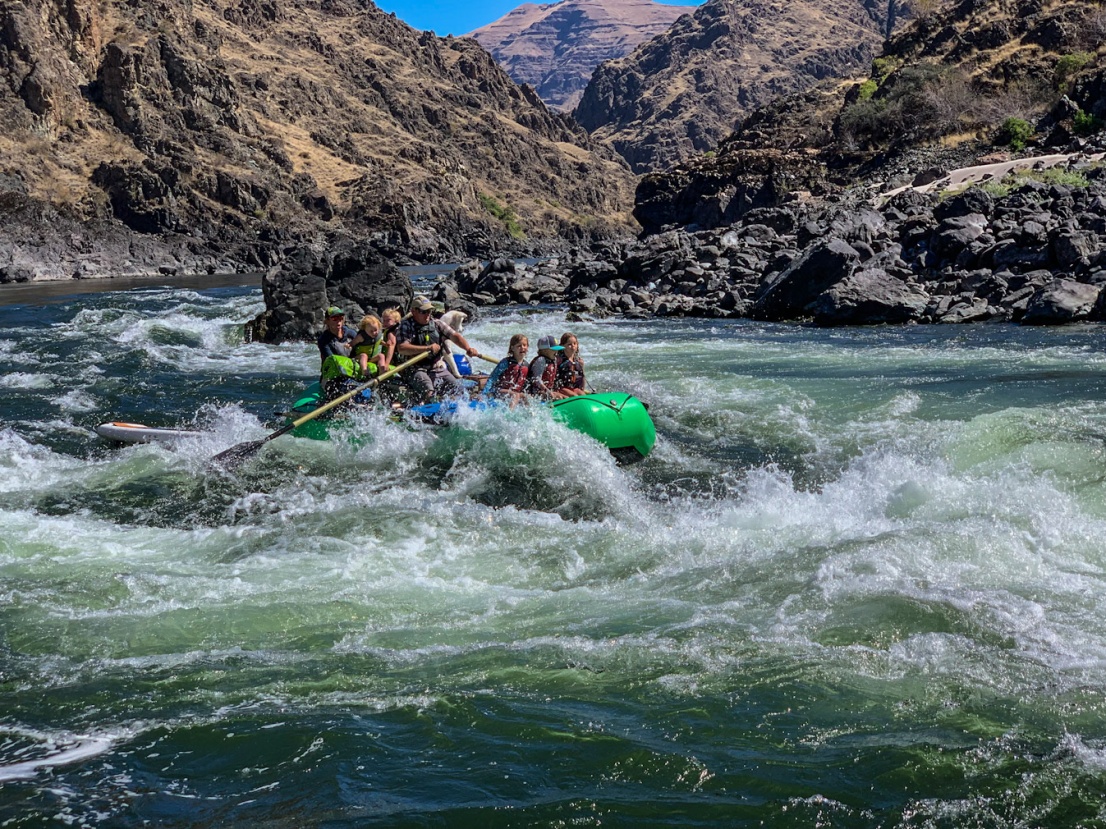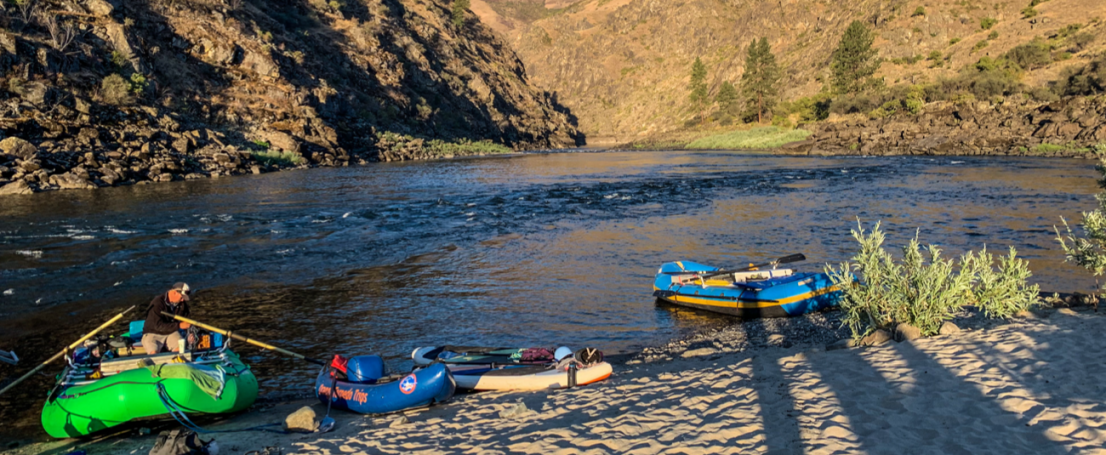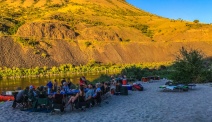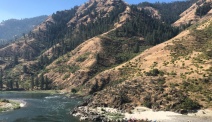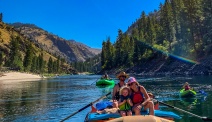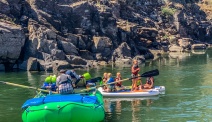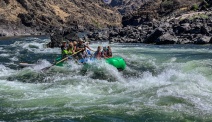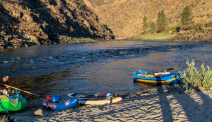 Dates / Rates
4-day Lower Salmon Row Your Own
2024
$899 Adult
$499 Youth
July 15-18
July 22-25
August 19-22
Pre-launch day:
Some folks choose to arrive at Hammer Creek the night before the launch to get their boats in the water. Hammer Creek does have a campground but it also fills up quick.
Launch day:
Meet the guides up under the trees in the middle of the parking lot at 9:30am PACIFIC STANDARD TIME for introductions and the trip orientation. Please be float away ready prior to the meeting.
After the meeting everyone can hop in their boats and the group will start floating. We will have one of our boats out front and one of our boats bringing up the tail. The rapids start off pretty easy but fun with Roller Coaster which provides a great sample of the big rolling waves to come. Big Foot Island is the first real test with some minor moving around required. After lunch (remember to pack your own lunch and drinks) the group floats into the first of the four canyons of the trip, cougar canyon. In the canyon are a number of fun rapids including right way drop and demons drop. After we exit the canyon the guides will help the group find one of the incredible camps in this section. When we arrive in camp please help fire-line the kitchen gear off the big boats and then you are free to go unload your gear and find your spot for the night. After that, fish, swim, nap, read, or just hangout while the guides get appetizers out before dinner and eventually dessert.
Day 2:
Wake up to hot coffee and around 8am, a hot breakfast with fresh cinnamon rolls from the Dutch ovens. After breakfast the group will pack up for our second canyon of the trip and a few fun rapids. Today is arguably the most relaxed whitewater day. If we get our ideal camp, we will have a good surf wave for the IK and kayakers just above camp and an early end at white house beach.
Day 3:
Snowhole canyon. So many fun rapids today in an impressive gorge. Highlights are typically half and half, Snowhole and eventually China. Two of the class III+ or maybe IV- rapids are today. After the whitewater corridor the canyon opens up significantly and the views are nothing short of HUGE. Camp tonight is on one of the many very large sandy beaches.
Day 4:
End the trip with the premier canyon, blue canyon. Fun rapids and huge cliffs make this an ideal way to end a river trip. When we hit the confluence of the Salmon and Snake rivers we will strap all of the boats together and drop the kicker motor to start the 3 hour motor out. Put on the sunscreen and kick back to just enjoy the views while we motor along to the boat ramp at Heller Bar where, assuming you set up your shuttle, your vehicle will be waiting.
Where to Meet:
Hammer Creek Boat launch near Whitebird Idaho. There is campground here for those who want to show up the night before and get their boat in the water but it does tend to fill up. We will meet trip morning in the trees up in the main parking lot. Please be float away ready by 9am PST.
Shuttle:
Please make sure you set up a shuttle for your vehicle from Hammer Creek to Heller Bar. We strongly recommend All Rivers Shuttle for the shuttle service. https://allriversshuttle.com/
Stay before the trip:
If you don't want to camp at the put-in the night before you should stay in Grangeville Idaho (if coming from the north) or Riggins Idaho (if coming from the south).
Stay after the trip:
After the trip you may want to get a hotel near the takeout depending on how far you need to drive. If you choose to do this, Clarkston Washington or Lewiston Idaho are the closest towns.
What you need to provide:
Raft with rowing frame including the ability to pack all personal gear. Raft rentals, which come with most of the river related gear listed below, are available. Please just call for details.
Personal dry bags.
3 oars, 2 for rowing and 1
Spare oar lock
Throw rope
Raft repair kit
Pump for your raft
Sand Stake with mallot.
Your own straps and system for making your boat flip ready.
Quality PFD's for each person, helmets are advised but not required.
Personal camping equipment including tents, sleeping bags, pads, etc.
Personal chairs for in camp
Your own snacks and lunches
Personal drinks.
1, 5 gallon water jug for personal use.
Ability to transport all gear to the river and ability to pack up at the takeout.
Small personal first-aid for your boat
If you don't want to bring your raft and gear, we do have rentals available.
Group gear OTT will provide
Kitchen including cooking tools, stove, propane.
Dishing washing system
Group dishes.
Blaster
Water Filter
Kitchen and group area tables.
Firepan for cooking and group fires.
Hand washing stations.
Professional toilet system.
1x Rain fly for kitchen
1x Rain fly for group area.
Expedition first aid-kit
Satelite communication device for guide emergency use.
Additional gear to consider packing
Inflatable SUP
Inflatable kayaks (call to discuss)
Hardshell kayaks
Snorkel gear