The Lower Salmon River in Idaho just might be the perfect family vacation. Warm water, great weather, white sand beaches and lots of thrilling activity to keep everyone entertained. It's the full package for family fun. No lines to stand in, no hidden costs to pay upon arrival, no crowds, no internet, no cell service. If you're family is looking for the adventure they will all remember forever, this is it.
On the river: River time in the gorges of the Lower Salmon River is spent splashing through rapids, surfing the kayaks, swimming in the pools, and maybe throwing the football on the beach at lunch. It's filled with awe inspiring scenery, quiet conversations with your kids and lots of laughter. A good Lower Salmon river day includes more than one cheer of accomplishment at the bottom of a rapid and a priceless smile on your daughter or son who just paddled through a rapid they did not think they could. It's about traveling as a family, succeeding as a family, reconnecting as a family or group of friends.
In Camp: And then you arrive in camp! White sand beaches fronted by amazing swimming holes where almost everyone grabs a drink and relaxes in the water. Kids can grab the standup paddle boards and paddle around the eddy while the guides set out the snacks and appetizers. Grab your kids and get a football or bocce set for a game on the beach or relax under the shade fly with a book while your kids play in the river with other kids on the trip. As the sun sets lower in the sky the guides will bring out dinner where everyone gathers and reflects on the stories of the day and hears what adventures tomorrow has in store. Finally climb into a tent on your cot and pad, or bring your cot out under the stars and sleep under a sky so beautiful you will probably fall asleep trying to stay awake just to see it.
The Lower Salmon is about spending time with your family or friends experiencing adventure, beauty, and more importantly, each other. Grab the kids, the sunscreen, and sign up today for what will certainly become your new family tradition.
3-day Version: We do offer a 3-day version of this trip for anyone wanting to book out a full trip. For those who can only escape for Friday-Sunday this is a great option.
Land Acknowledgement
At Orange Torpedo Trips, we recognize and honor the deep history and cultural significance of the lands on which we operate. The Lower Salmon River and its surrounding areas are the ancestral homelands of the Nez Perce people (Nimiipuu). Their rich heritage and connection to this land have shaped the landscape, and their resilience and resourcefulness continue to inspire us today.
As we embark on our adventures through this remarkable region, we acknowledge that we are privileged to explore and appreciate the beauty of these lands, which have been stewarded by the Nez Perce for countless generations. We are committed to respecting their traditions, honoring their contributions to the history of this land, and fostering an environment of learning and appreciation for the diverse cultures that have shaped the story of the Lower Salmon River.
We encourage our guests to join us in recognizing the Nez Perce's enduring presence, acknowledging their history, and celebrating their vibrant culture as we embark on our journey through their ancestral lands. By doing so, we deepen our connection to the land, enrich our experiences, and contribute to a greater understanding and respect for the indigenous peoples who have called this region home.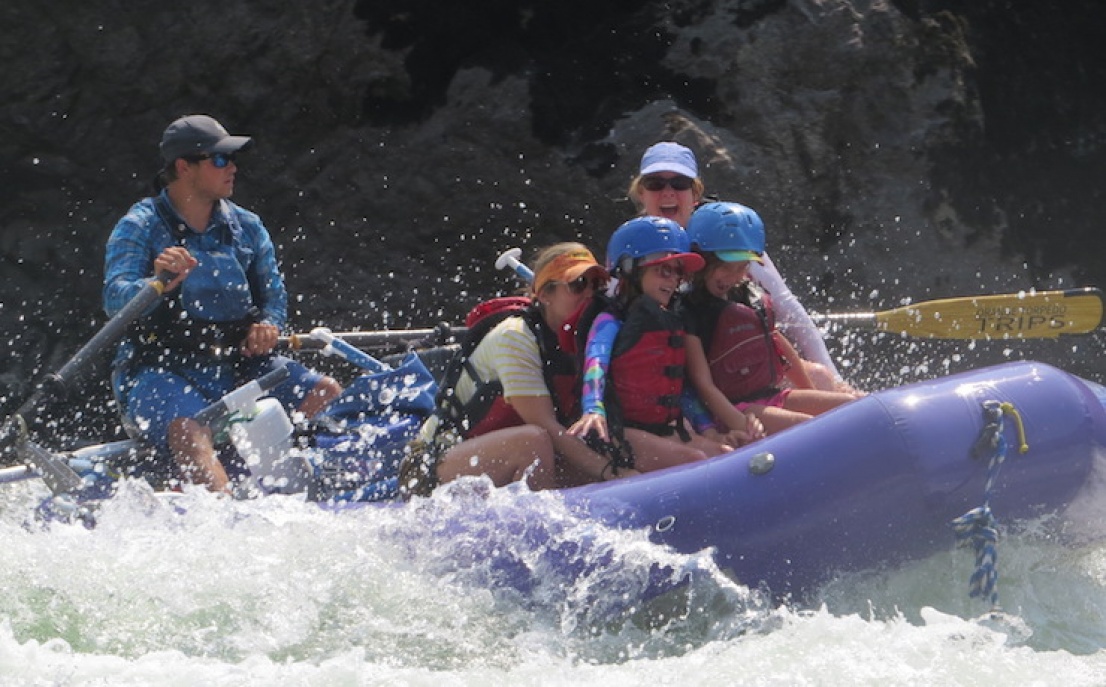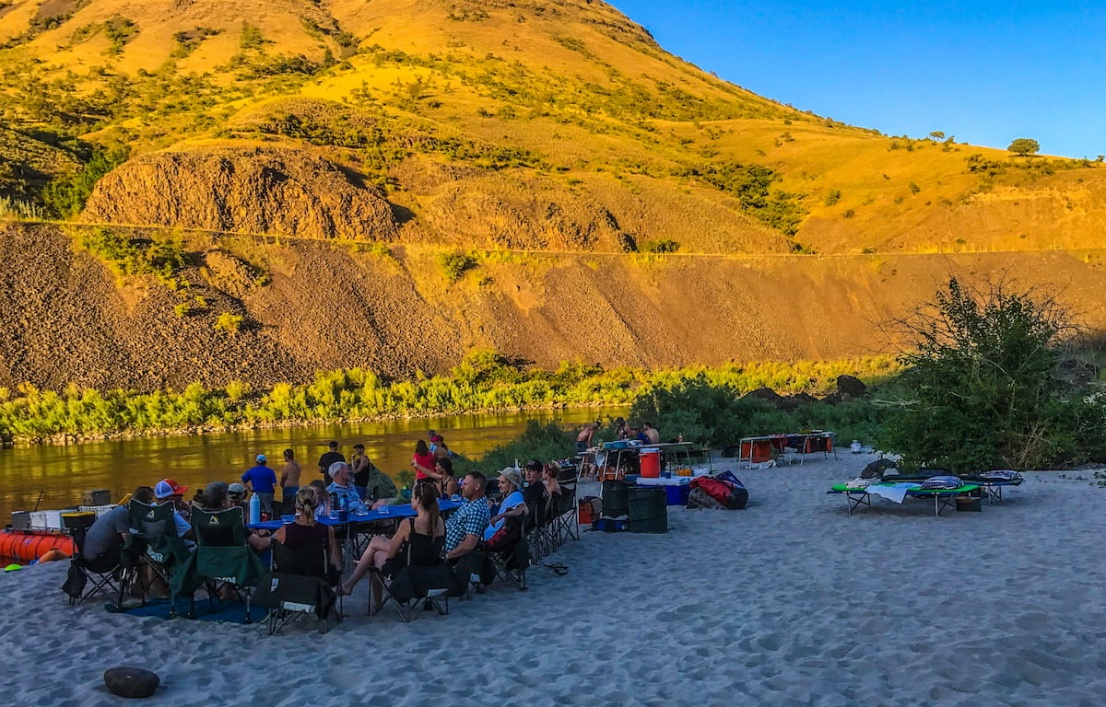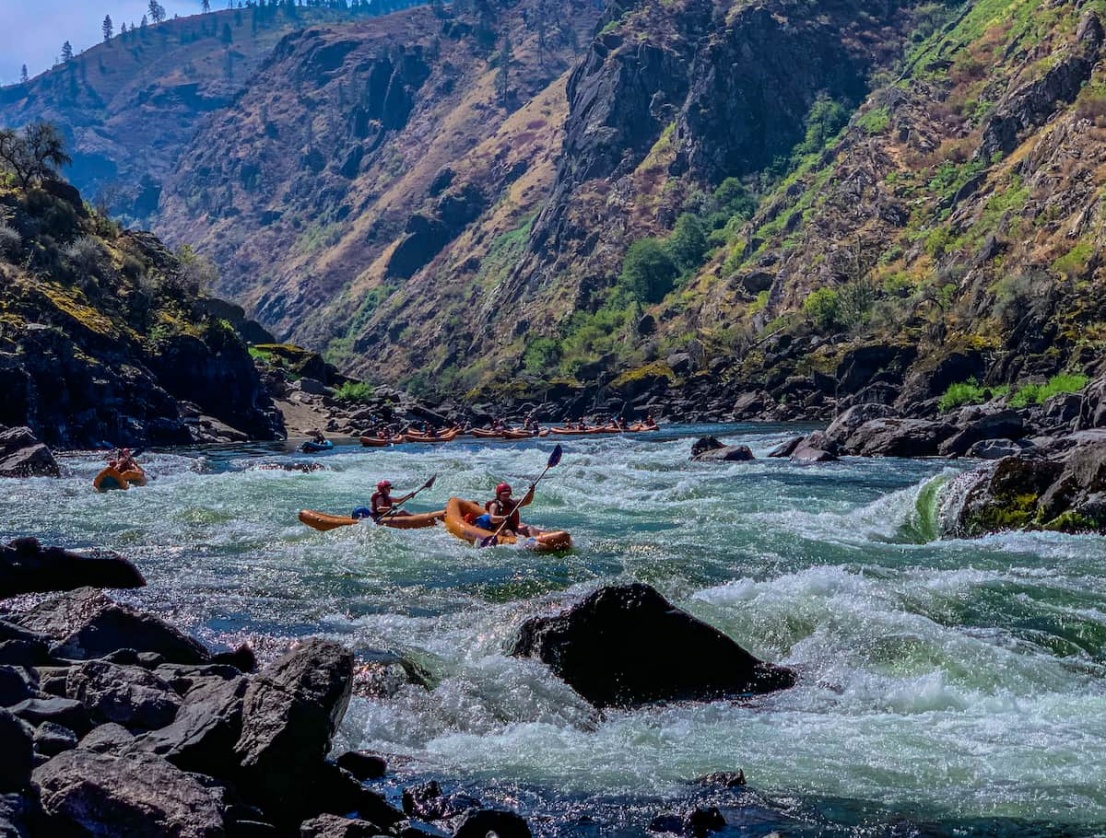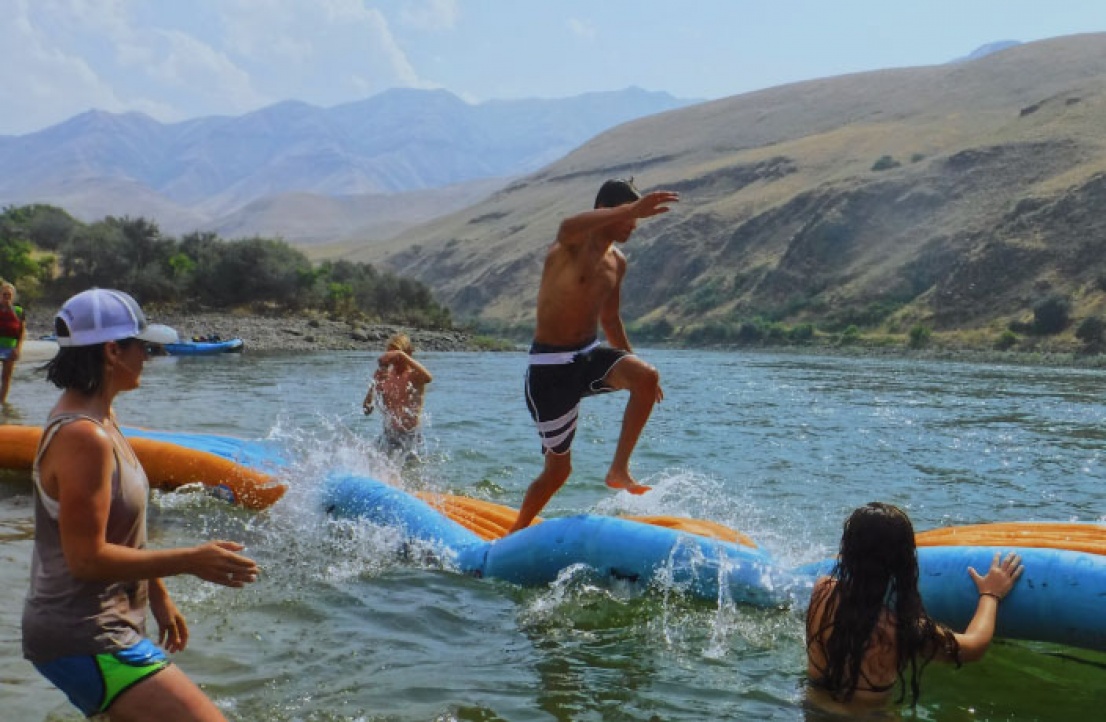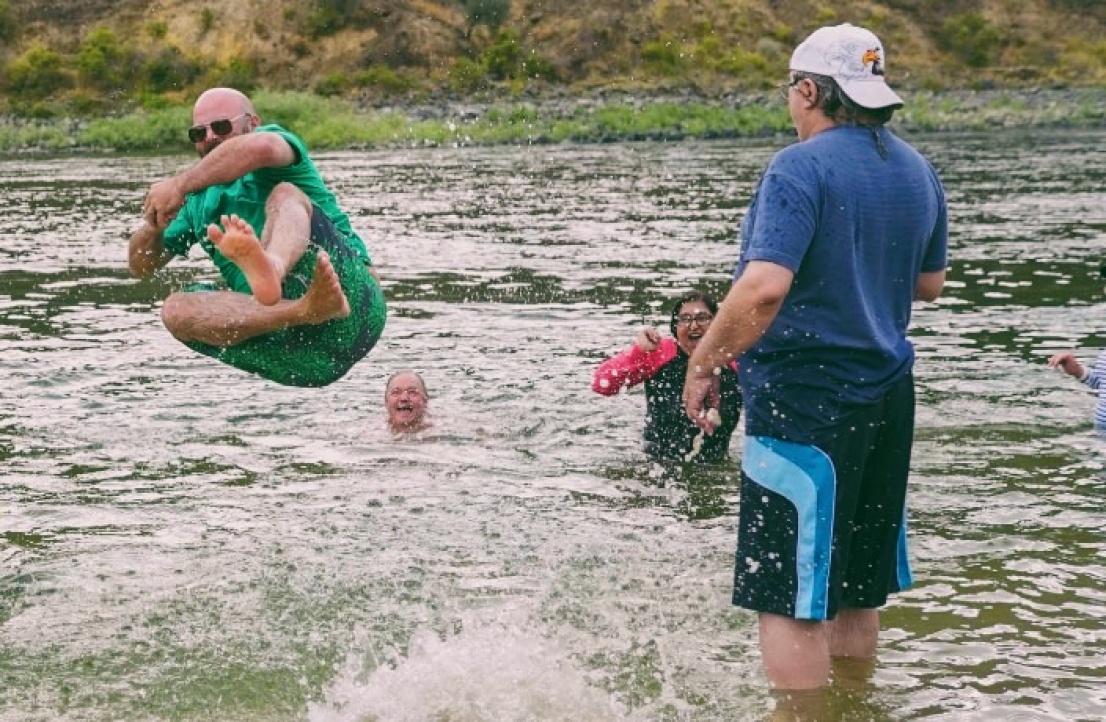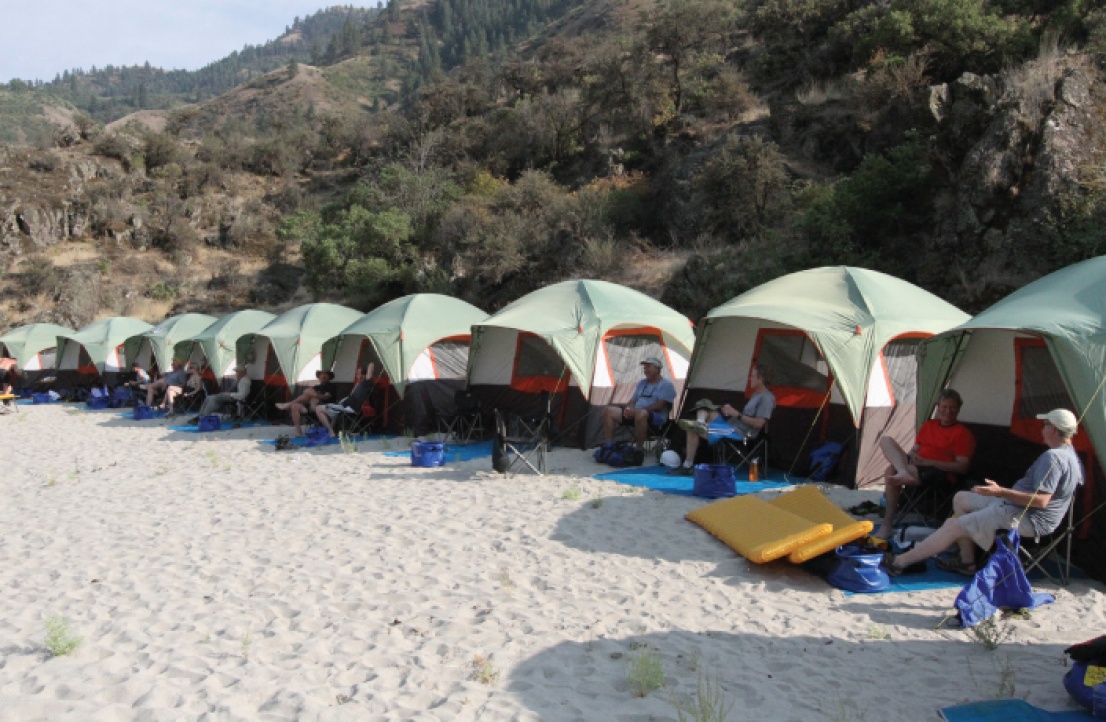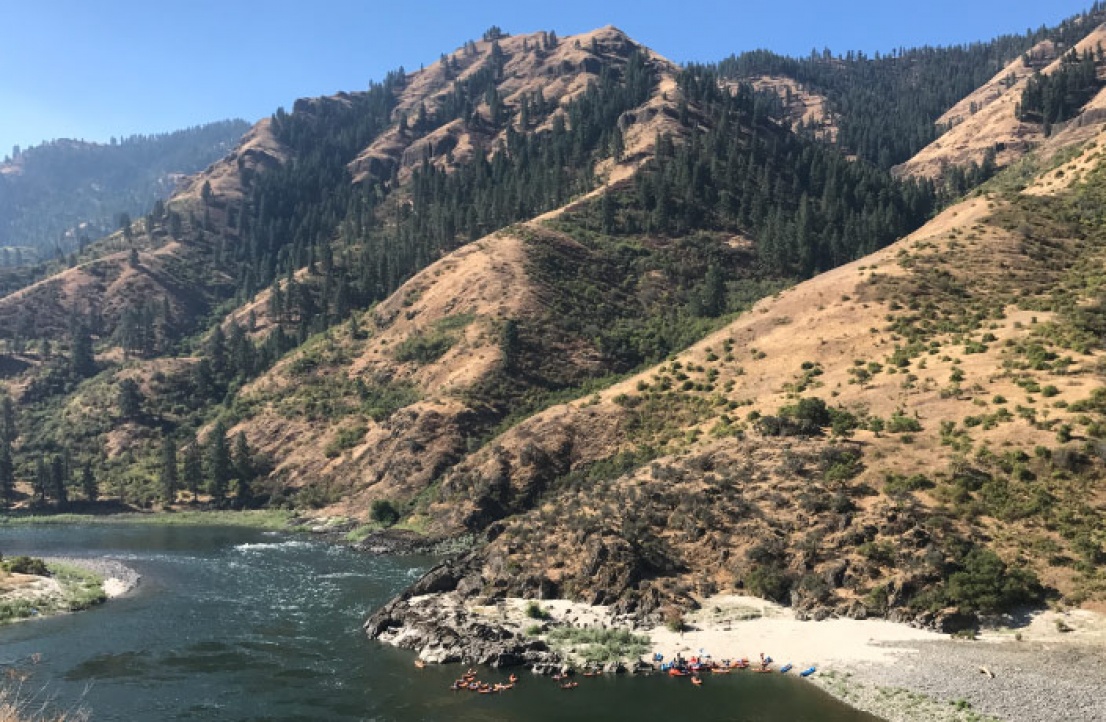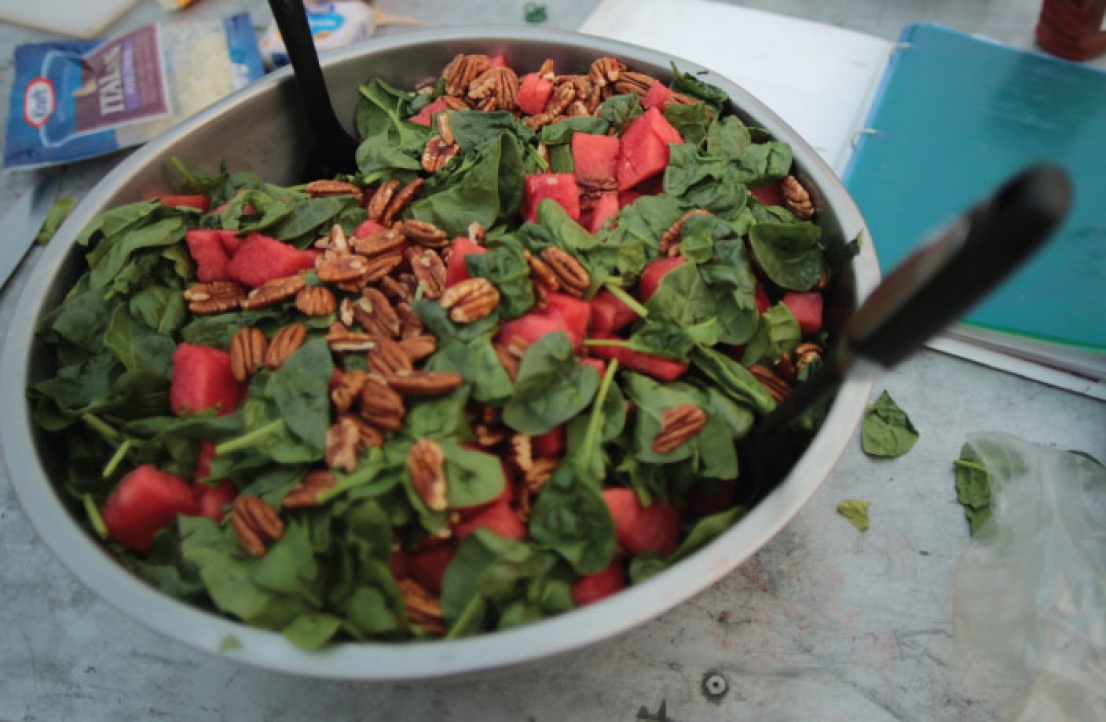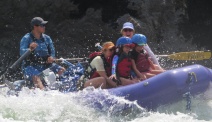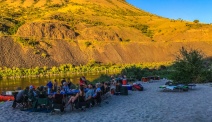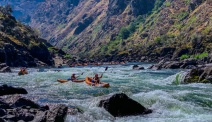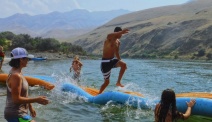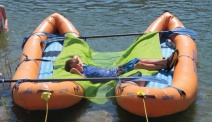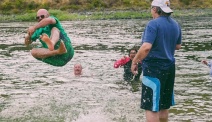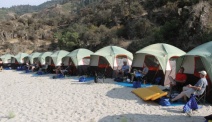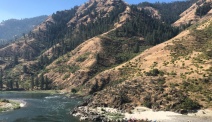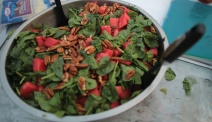 Dates / Rates
4-day trips
Price:
Adult - $1499
Youth (17 and under) - $1399
Trip Start Dates - Trips launch every Thursday in July and August.
Custom dates may be available in July/August for groups - call for details.
Charter Group - Book out the entire trip as an exclusive for $31,449.00 for up to 23 people.
3-day trips
Price:
Charter trip - $29,449 for up to 23 people.
Trip Start Dates: - Trips start on Fridays July-August
Available for July and August launches on Fridays.
Trip Logistics Overview
For this trip we will meet you at the Hells Canyon Grand Hotel in Lewiston Idaho. We will meet you the night before your trip and to hand out the dry bags for the trip and have a quick orientation and answer any questions you might have about your upcoming adventure.
Hells Canyon Grand Hotel,
621 21st Street,
Lewiston, ID, US, 83501
+1 (208) 799-1000
Detailed Itinerary for the Lower Salmon Canyons 4-Day Trip
Day before start date: Fly into Lewiston, Idaho. From the airport take the hotel shuttle to the Hells Canyon Grand Hotel where you should have made a reservation previously. When you book your hotel tell them you are with Orange Torpedo Trips. We have room blocks and a group rate. You should plan to arrive and check in prior to 6 PM the night before the trip starts. At 6 PM we will have an orientation meeting in the lounge area of the lobby. At the orientation the Head Guide will talk about what to expect, give some river history, answer any last minute questions, and hand out your equipment, including your clothing bag. As the meeting concludes the Head Guide will inform you when to meet the following morning.
Day 1: Meet your Head Guide in the lobby at the assigned time. It's important to eat breakfast prior to meeting as it will seem like a long time until lunch. It is a two-hour bus ride to the put-in for the trip. When the group arrives at the put-in, the remaining guides and all of the river equipment will be waiting to meet you. Hop out, load on the sunscreen and get ready for some Lower Salmon fun! The Head Guide will give you a thorough safety and paddling orientation before you climb in your river craft and take the first strokes down stream.
We begin the Lower Salmon with great rapids like Roller Coaster and Big Foot Island before your first riverside lunch prepared by the guides. After lunch, we enter Green Canyon and the biggest whitewater so far. Rapids like Demons Drop and Right Way are a great introduction to what the next three days have in store. Camp will be on one of the many big Lower Salmon beaches where you can swim, throw the Frisbee, or just relax with a drink while your guides prepare a delicious three-course meal. After your fresh baked dessert, play a game of cards with the kids, or relax with a glass of wine, before lying back under a sea of stars to catch some shut eye.
Day 2: Start the day off right with a hot breakfast and fresh baked cinnamon rolls. Then take your time, pack your gear, load up on sunscreen, and get ready for another great day on the Lower Salmon river. A nice morning with some fun rapids leads to Cougar Canyon, where more whitewater awaits. After navigating Upper and Lower White House, the group will pull to shore and spend the rest of the day re-running, swimming through, and trying to surf the waves of Lower White House rapid. This is a great time to shoot video of the kids trying to surf or swim through their first rapid. If you have youngsters who have been riding the raft, this is a perfect opportunity to let them go in the front of your inflatable kayak or a guides and hit some waves from a Torpedo.
When you're done surfing you can float around the corner to camp. Camp will provide another great time to relax with your family or friends, relive the highlights of the day and take in the stunning scenery.
Day 3: Wake up and get ready for whitewater! Today boasts the most exciting whitewater of the Lower Salmon including two Class IV rapids. The morning starts right off with Bodacious Bounce, Half and Half, Gobbler, and climaxes with the thrilling Snowhole! After the whitewater morning, the afternoon will seem like a breeze with fewer rapids and lots of time to swim and enjoy the hot weather. Camp tonight will be another large beach where games of capture the flag and ultimate frisbee have been known to happen. Look forward to more delicious food, good wine, and plenty of time to relive the highlights of the day with your new friends, old friends, family, and the guides.
Day 4: The final morning of paddling. A quick breakfast and you'll be on the water headed towards civilization. As we continue down river the walls start to rise as we enter Blue Canyon, the steepest and deepest gorge of the trip. The Slide and Sluice Box will give you a great ride before you get to Eye of the Needle and the end of the Lower Salmon River. We meet the Snake River at the bottom of Hells Canyon, the deepest gorge in the country.
At the confluence of the Snake and Salmon River say goodbye to your torpedo it's time to load up on the jet boat. This two-hour ride, gliding down the river skimming past rocks and flying over waves, is the perfect end to an exciting vacation. The jet boat will drop the group in downtown Clarkston where a shuttle awaits to drive you the five minutes back to the Hells Canyon Grand Hotel.
3-day trips: Everything is the same except you join on the morning of day 2 at the Pine Bar boat launch. We will meet you at the Red Lion hotel the night before you launch on the river and drive out to the river on the morning your trip starts. You then paddle days 2, 3 and 4 of our standard agenda.
Food - Sample Menu
We do adjust our menu to accommodate almost all dietary restrictions and requests but here is a sample of our base menu so you can get sense of what you might eat on a trip.
Every day:
Snacks of a variety of types are always available upon arrival in camp.
Breakfast always has fresh coffee, a variety of tea options and a fruit juice. We will also have some fresh fruit available at every breakfast.
Lunch: Lunch varies throughout the trip but sandwich options are always available in addition to main lunch options such as: grilled chicken sandwiches, chicken pasta salad, Avocado, black bean and corn salad etc. Lunch always has cookies, chips, fruit, and some other tasty treats.
Dinner: Sometimes kids simply need mac & cheese or a grilled cheese sandwich. Not a problem, just let us know.
Day 1:
Dinner:
Appetizer – cheese, meats, crackers, hummus and pita.
Entree – Pesto-stuffed grilled portobellos, grilled tri-tip, spinach-watermelon-mint salad, and dutch oven scalloped potatoes.
Dessert: spicy dessert role-ups
Day 2:
Breakfast:
Yogurt and fruit parfaits, egg/cheese/sausage/veggie scramble, fresh cinnamon rolls.
Dinner:
Appetizer – Stuffed mushrooms.
Entree – Dutch Oven roasted vegetables, dutch oven baked "lynn's chicken," grilled asparagus, and bbq shrimp.
Dessert – Freshly baked german chocolate cake .
Day 3:
Breakfast:
Chorizo breakfast burritos, "crack buns" from the dutch oven, oatmeal pancakes.
Dinner:
Appetizer – Roasted brussel sprouts with apples, raisins and walnuts.
Entree – Summer Salad, grilled yams, biscuits made from scratch and baked in the dutch oven, and grilled pork tenderloin.
Dessert: Hot fudge cake from the dutch oven.
Day 4:
Breakfast: Croissant french toast, bacon, oatmeal with fruit.
Where to Meet Orange Torpedo Trips
The Lower Salmon River trip begins and ends at the Hells Canyon Grand Hotell in Lewiston, Idaho. You will need to make a reservation for the night before the trip and we advise staying at the hotel the night the trip concludes. Call 208-799-1000 to make your reservation. Please identify yourself as an OTT customer when making your reservation. They should have a group rate for you that includes breakfast.
Accommodations
Camping
There are no great camping options for people meeting us in Lewiston. If you are looking to spend time in the Idaho area before or after your trip plenty of great camping options exist in the area surrounding Riggins Idaho.
Flying In
It's recommended you fly into Lewiston Idaho. The Red Lion Hotel offers a complimentary shuttle from the airport to the hotel.
Typical Weather
Weather on the Lower Salmon is generally hot. Being in a high dessert climate it's not uncommon to get the occasional afternoon thunderstorm in late July and August. They are typically short lived and it's back to hot weather after.
Averages are:
June · High (F) 81 Low (F) 52 Avg. Rainfall 1.80 in.
July · High (F) 90 Low (F) 58 Avg. Rainfall 1.08 in.
August · High (F) 91 Low (F) 57 Avg. Rainfall .91 in.
Everything going downriver will go into the supplied dry bag. The dry bag (18″x36″), is about the size of a medium duffle. This is where all of your personal items for the trip will go, including your sleeping bag so pack conservatively. When sealed correctly, they will not leak. However, if sealed incorrectly, they may let water in. We strongly suggest that all items of significant value, such as expensive jewelry, be left at home. We will also supply a day bag to store items like cameras for easy access during the day.
What to pack
On the River
2 or 3 swimsuits or shorts and top (cotton not recommended)
Sports sandals or hard-soled wetsuit booties
Synthetic paddling gloves (if paddling an inflatable kayak)
Wide rimmed hat or ball cap (ball cap fits well under helmet)
Polypro, synthetic or hydro-skin shirt (nice for mornings and chilly days)
Water Bottle (1 liter) with carbiner
Waterproof sunscreen
Sunglasses with strap (consider bringing two pairs)
OTT will supply splash-tops for chilly mornings
In Camp
2 pair pants & shorts
3 shirts
Fleece jacket or sweatshirt
Light rain jacket
Sleeping bag (synthetic material recommended - rated to 45F - IF YOU NEED ONE just let us know and we an provide)
A pack pillow.
Headlamp or flashlight
Beanie
Camera with extra film or memory cards and batteries
Personal hygiene items
Sleep mask - On a full moon night if sleeping outside OR in a tent this can be helpful.
Sleep Kit
A sleep kit is available for rent. This includes a sleeping bag and pack pillow.
FAQs
As on most of our trips we offer a variety of river craft to choose from. Orange Torpedo Trips is best known for inflatable kayaking with 80% of our customers choosing this as the way to go down the river, but on this trip we offer 3 types of river craft on this trip. Watch the video to learn more about our 3-boats.
Orange Torpedo
Learn to paddle your own inflatable kayak (Torpedo). We have guides in Torpedo's teaching you how to paddle and leading you through the rapids in a 4 to 1 ratio. If you happen to fall out the guides have you out of the river in seconds. 45+ years of doing it on the Rogue River and tens of thousands of satisfied returning customers prove that it is extremely fun.
Paddle Raft
A more traditional type of rafting, paddle rafts are a great way to go if you still want to do some work, but think the torpedo is just a little to much. Work with a team of your friends paddling the big boat through the rapids as the guide sits in the back to help navigate.
Oared Raft
Hop on an oared raft and ride in luxury. This is the relaxed way to travel. If taking in the scenery and letting the guide do the work is how you vacation then hop on board. This is how kids 4-11 years old will usually travel.
An Orange Torpedo is our custom-designed inflatable kayak. We took our 50 years of inflatable kayaking experience and worked with one of the countries premier raft builders to design a new proprietary boat for us.
Yes, but with some limitation. If you start in an inflatable kayak and decide quickly that it's not for you. We will get you out of the kayak. If you start in a raft and decide you want to kayak, we cannot always guarantee that ability. Based on what people tell us they want to do we pack a specific amount of equipment and bring an appropriate number of guides for a trip. Sometimes that does not leave much room to add kayakers mid-trip. People will often be willing to switch out throughout the trip, but if someone signs up to tackle the river in an inflatable kayak, we want to make sure they have chance to paddle the entire trip if they want.
Everything for the trip will go down the river. When you pack a dry bag at the put-in, that will be all of your stuff for the duration of the trip. All food, drinks, and camping equipment will be transported on our rafts for the entirety of the trip.
Gratuity is certainly appreciated but by no means required. At the conclusion of a trip please just give any gratuity to the head guide who will divide it evenly among the crew. Standard restaurant gratuity percentages tend to apply on these trips but again, anything you choose will be appreciated.
On all of our multi day rafting trips we do not offer refunds on deposits or balance payments. We strongly encourage all customers to purchase travel insurance through travel guard to help protect your travel investment against the things that come up in life. It's a small additional price for the comfort to know that if something comes up (illness, work change, etc) you will have the ability to recover your significant travel investment. Get a Travel Guard Quote Here.
For all OTT trips we require a 30% deposit. The remaining balance is due 30 days before the trip launches. Upon making your reservation you have the option to set up your credit card to automatically run the balance on the due date.
Orange Torpedo Trips was founded on the Rogue River in 1969 by rafting visionary, Jerry Bentley. Within just a few years OTT had spread to numerous rivers throughout the Northwest including the Klamath River, the Main Salmon River and Snake Rivers.
NOPE. One of the best parts of a wilderness river trip is that your phone will not work. No cell service, 5G, wireless or any of the above. It's a beautiful thing.
On our trips we bring a fully enclosed pack in/out toilet system. The best way to imagine this is like a portable toilet at an outdoor event (honey bucket) but without the walls. We take this sealable system out of camp and set it up somewhere private for use while we are in camp and then pack it up in the morning and take it with us. The "toilet issue" is a big concern to a lot of people before their first trip but most folks find the system sanitary, comfortable, and easy to use; making it a non-issue for them on the trip.
A sleep kit is available for anyone who wants to rent. This is a sleeping bag and pack pillow in a dry bag for you to use during your trip.
We have found over the years that most people like choosing where they want to sleep. We have also found that many people really enjoy sleeping out under the stars. So instead of setting up all of our tents prior to your arrival we will set up one or two tents as changing areas and then happily help set up tents where you want them; should you choose to sleep in one.
When you show up we will have cots set up and your sleeping pads ready to go where ever you choose to sleep.