Time spent with your loved ones away from the distractions of the modern world engaging in a group adventure is often the richest and most memorable time spent. The Wild and Scenic Rogue River of Oregon is an incredible place to escape with your favorite people to re-connect and build memories that will last a life time. On this 4-day whitewater journey into the wilderness you and your tribe will spend days paddling through thrilling class III rapids during the day and then relaxing on scenic river-side beaches in the evenings where you can take in scenery, watch wildlife and generally just enjoying the distraction free time with your favorite people. Here there is no distractions like TV to watch, but you can take in a sunset together. No cell phone apps to scroll but you can play a card came, go on a hike, or swim in the river. This is time spent with your loved ones building common memories and experiencing something rich together on the banks of the world renown Wild and Scenic Rogue River.
The Wild and Scenic Rogue River is a great river trip for just about anyone. The whitewater is challenging enough that our seasoned guides with over 4 decades of experience still find it thrilling, while being manageable enough for first-timers to paddle themselves down in our inflatable kayaks or paddle rafts. This section of the Rogue River cuts through the coast range of mountains, carving its way through deep gorges including the famous Mule Creek Canyon which might be one of the most incredible river canyons in the United States. Finally, the rich human history of the canyon combined with the robust wildlife simply makes it feel like one is floating into history and a time prior to humans overtaking their surroundings.
Space is very limited on these camp trips so sign up today and experience the Wild and Scenic Rogue River, one of America's most loved river trips.
Trip at a glance
Who is this trip for?
Incredible family camping trip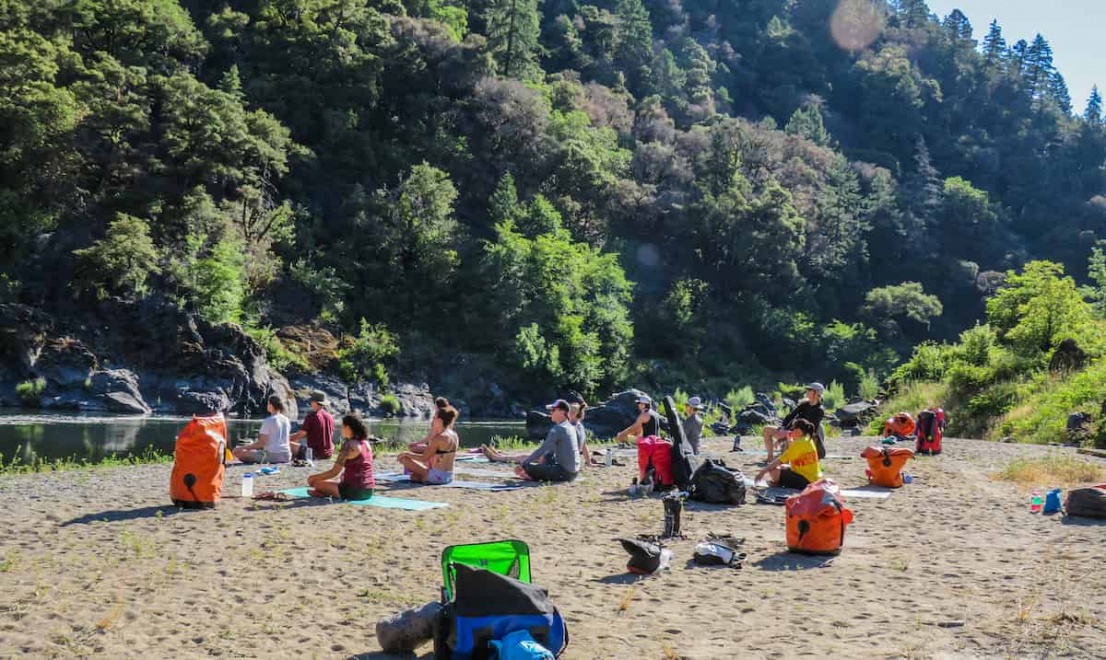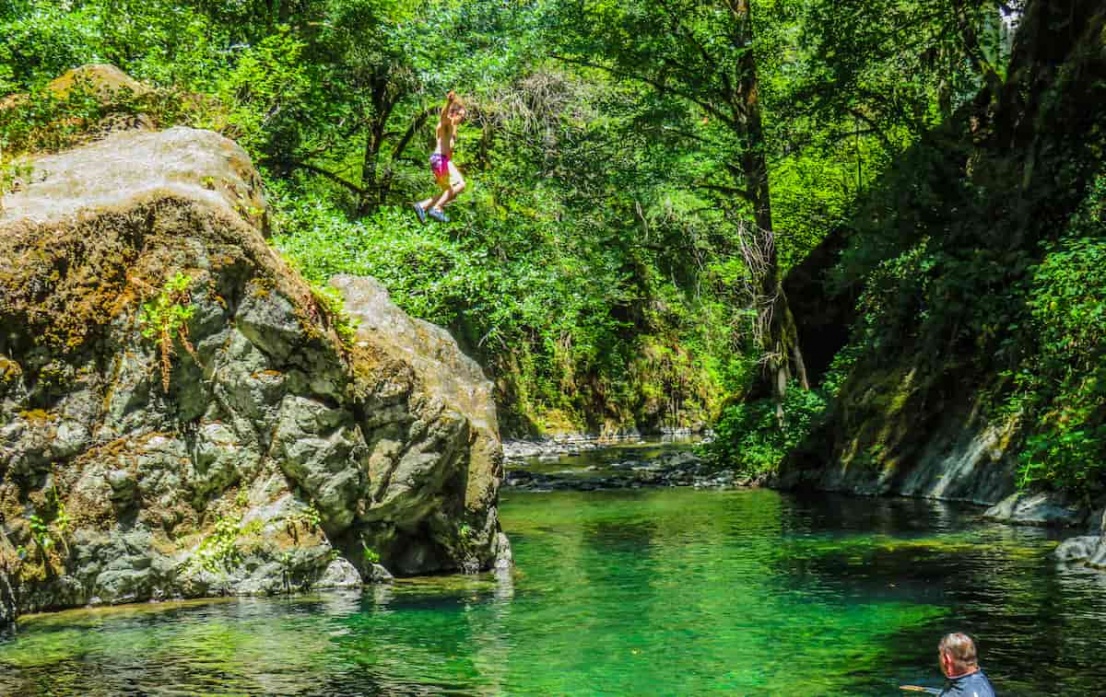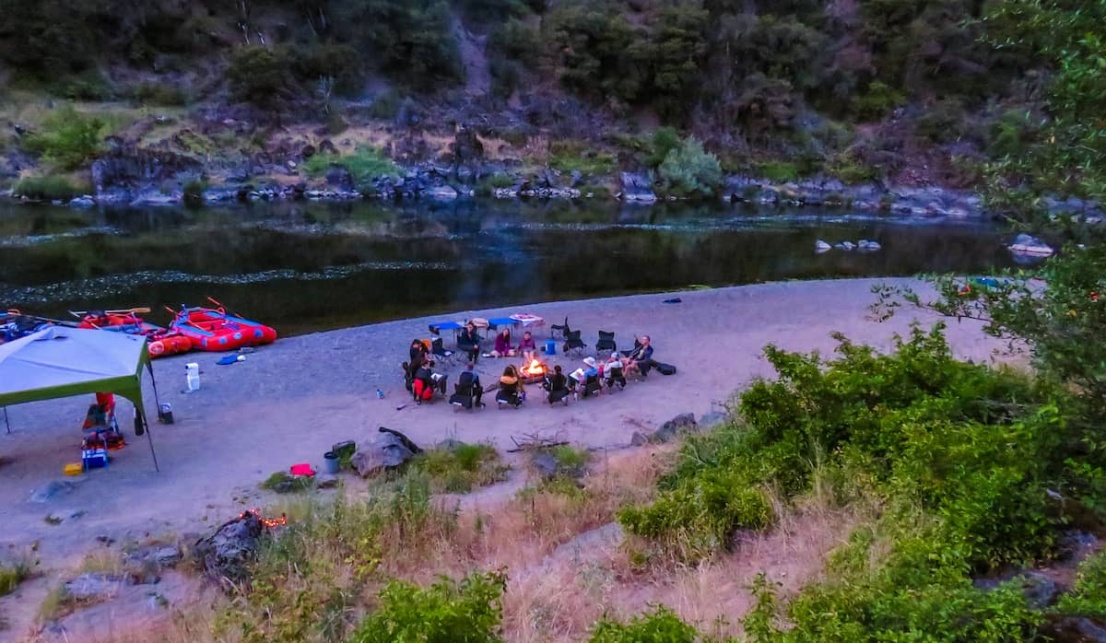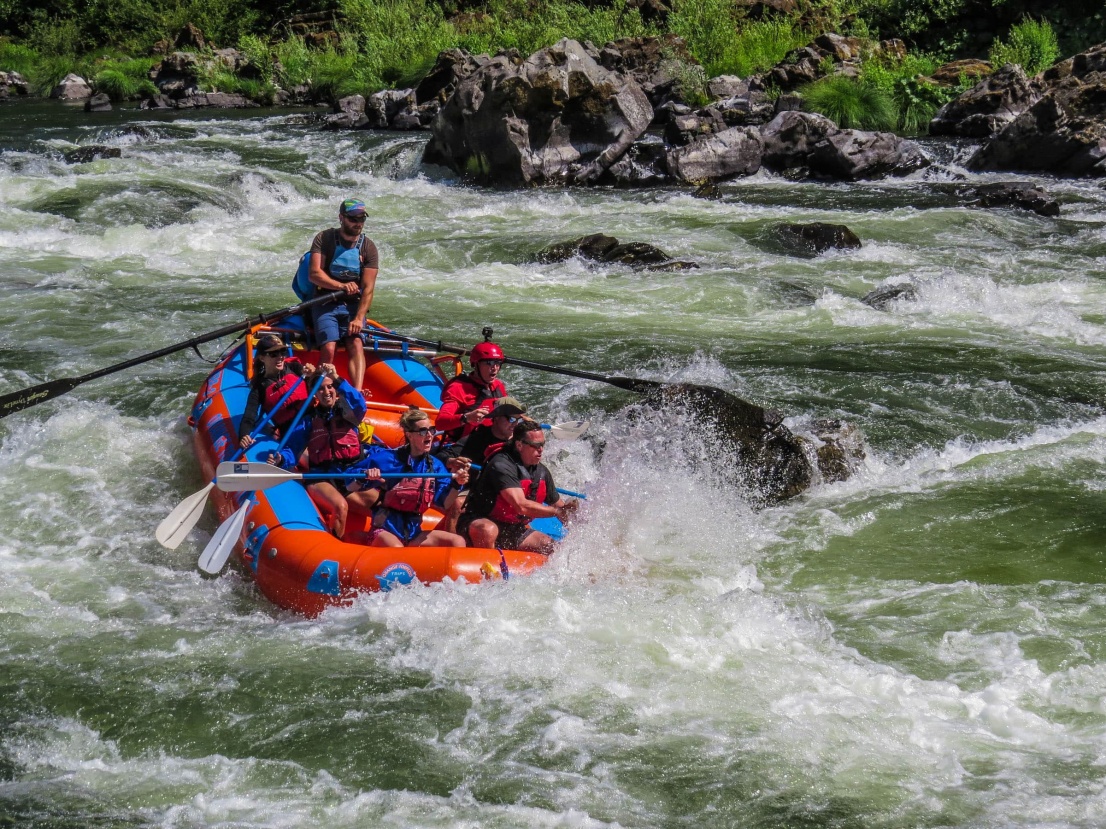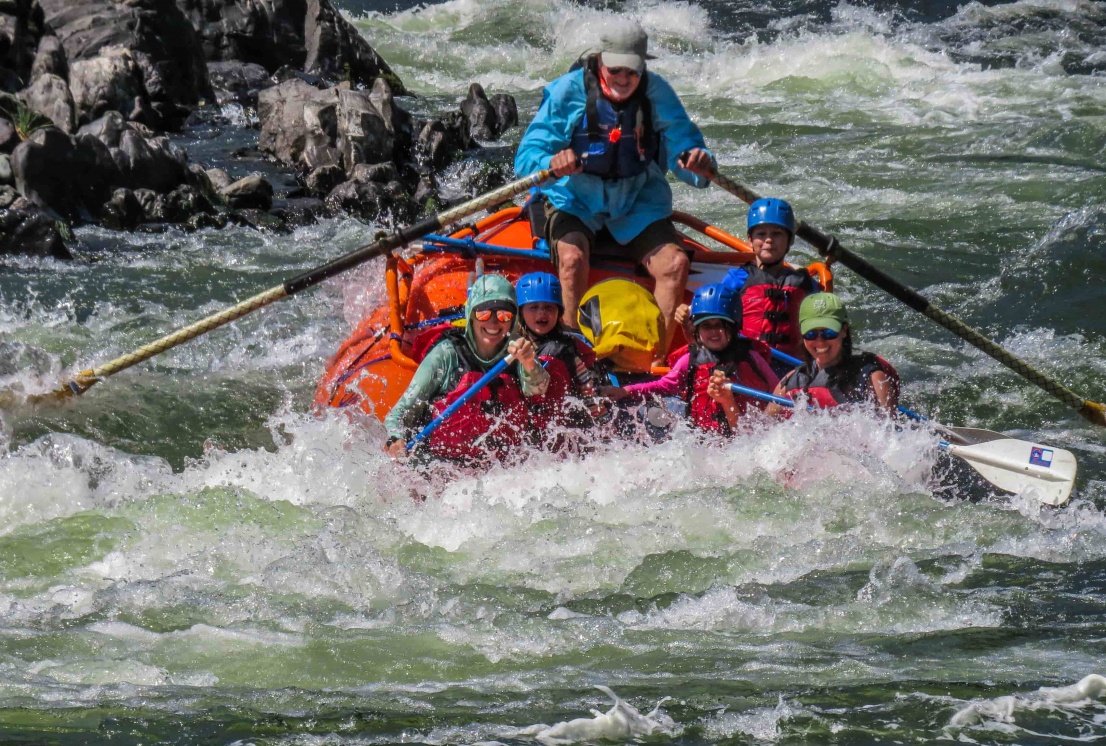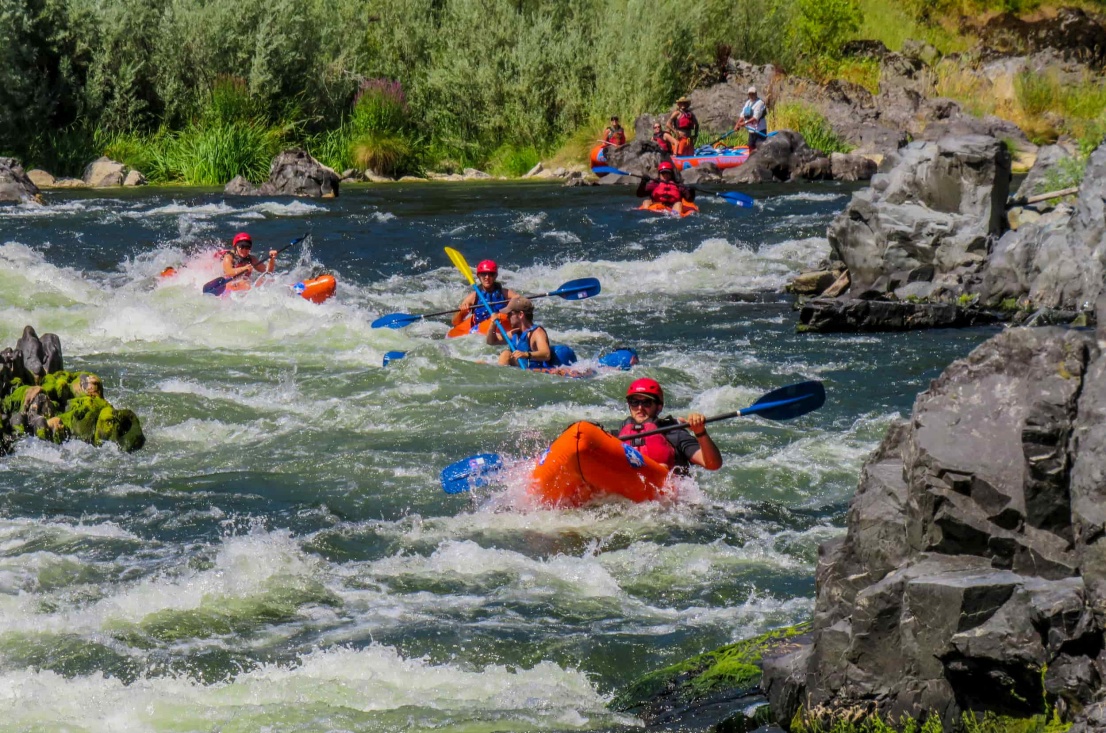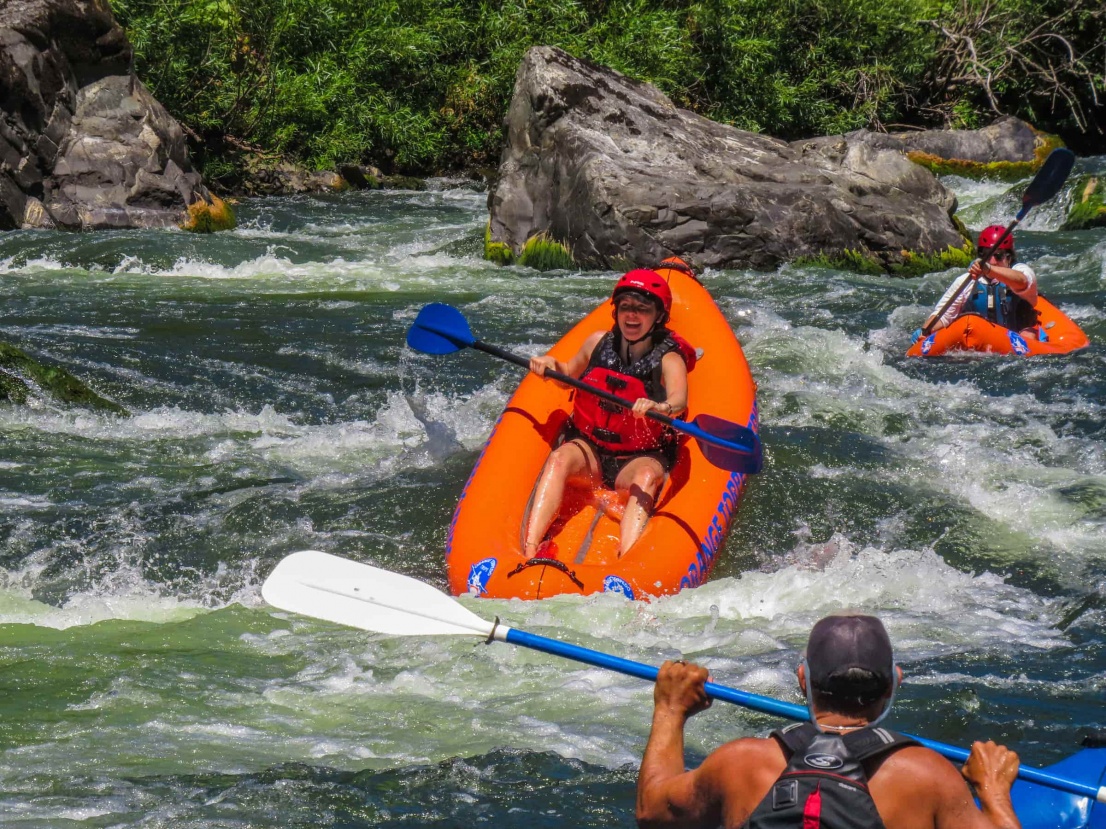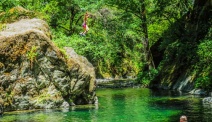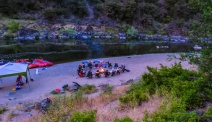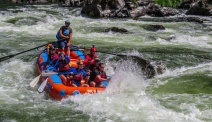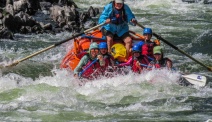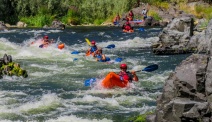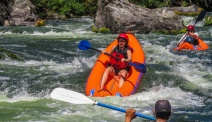 Dates / Rates
2022
Launches:
Trips start every Tuesday June through August
Rate
Adult $1249
Youth $1149
Youth is anyone 17 and under.
Meeting
8:00am Trip start date:
Meet at our shop at 210 Merlin Rd In Merlin Oregon. Please park inside the gated lot and come inside to check-in for your trip. You will be handed a dry bag to start packing your gear for the trip into. This is the bag you will base your camp stuff out of for the trip. Items you want for the day-time will go into a separate bag.
8:45am
Group will start our pre-trip orientation. During this orientation you will hear about the general itinerary of the trip, how basic camp things work, what to expect in camp, around meals, etc. Here is also when you will be fitted for you PFD and other needed river gear before receiving a river orientation. This is when we will go over boat types and basics for what to expect and what you are needed to do on the river. You should also have watched the orientation videos found on our website prior to arrival.
9:30am
Load up and head for the put-in where you meet the rest of your guides for the trip and you river crafts will be waiting.
10:15am
Start floating away from Almeda boat ramp and into your escape from society. This morning will include 4 miles of class II warm up rapids before arriving at Grave Creek and the first two class III rapids. After making it through those rapids the group will head down and have lunch somewhere above Rainie Falls, a class V waterfall the group portages around while the guides run the gear down the class IV middle chute or Fish ladder.
After a wonderful lunch it is an afternoon of amazingly fun class III rapids before arriving at camp for the evening. When you arrive in camp you can spend the afternoon swimming, relaxing with a beverage, reading a book, playing cards with your kids or any other way you choose to relax. The guide will have snacks, appetizers, and before long dinner ready for everyone to enjoy.
After dinner sit around the campfire reliving stories from the day before sitting back and taking in the sky full of stars shining bright and un-oppressed by surrounding light pollution. Get a good nights sleep, the next day has some fun adventures ahead.
Wake up to fresh coffee and a delicious breakfast to help get the day rolling along. Around 10am the group will hit the river for another fun day of whitewater. Today will likely include re-running the famous "Mary's Pothole" where the group can try their inflatable kayak skills re-running this large single wave. This is usually a highlight of the trip. When everyone is tired from challenging this monster wave the group will head downstream towards lunch and more whitewater before eventually arriving in camp for the evening.
The next day wake up and great ready for one of the most unique and exciting sections of whitewater in the country. Mule Creek canyon is a thrilling gorge where the river funnels down to less than 15 feet wide between vertical rocks walls. There is simply nothing like this high paced and exciting canyon. Not long after Mule Creek Canyon the group will arrive at Blossom Bar. The Rogue River's most well known class IV boulder garden. Those in the inflatable kayaks will portage around the very upper portion of this rapid and paddle the bottom 90% while those in the paddle rafts may opt to ride with their paddle team through the entire labyrinth.
When the group is done navigating this rapid it is on downstream to the lower canyon and what many view as the best camps on the river. Another afternoon of swimming, playing, relaxing and enjoying the stars awaits.
The final day the group will head towards the boat ramp at Foster Bar. At the takeout everyone will load into our van for a 2 hour drive back to our shop in Merlin where your vehicle is waiting for you.
Where to Meet Orange Torpedo Trips
Take exit 61 off of Interstate 5. Exit is approx. 3 miles north of Grants Pass. At exit turn left (west) and follow Merlin Rd 3.2 miles until you see Orange Torpedo Trips on right. We have a secure fenced parking lot where your car can be stored during your trip.
Accommodations
To make sure you get a good nights rest before the trip we recommend staying locally the night before your trip. Here are a few of the local accommodations in the Grants Pass area.
Camping
If you plan to camp while you're here, we recommend Indian Mary Park (541-474-5285). The nearest RV Park is Beaver Creek RV on Merlin Rd., although Indian Mary Park also provides full RV hook-ups. We have a parking lot that will accommodate RVs while you are on your trip.
Flying In
The closest commercial airport is in Medford, Oregon (airport code MFR), 34 miles southeast of our shop in Merlin. In the Medford Airport there are four car rental companies (Budget, Avis, National, Enterprise, and Hertz). At this time we do not offer transportation to or from the airport, but we can pickup and drop off at any Grants Pass Hotel the morning of a trip and at the conclusion of a trip. If you plan to not rent a car, you can call Double D Shuttles at 541-476-7773 and hire them to transport you from the Medford Airport to a Grants Pass Hotel. Please note: Our trips return too late in the day for us to ensure you will make a flight out of Medford same day. We suggest making reservations for the next day after the trip concludes.
Typical Weather
Southern Oregon is known for its great summer weather. Weather here is generally so nice that the local tourism board has adopted the slogan "its the climate" to describe what makes Southern Oregon so desirable. While rain does occasionally sneak in during the summer months it is rare and usually only stays for a short time.
You will be able to leave your luggage and any unwanted items in your vehicle at our shop. Everything going downriver will go into the supplied dry bag. The dry bag (18″x36″), is about the size of a medium duffle. This is where all of your personal items for the trip will go, including your sleeping bag so pack conservatively. When sealed correctly, they will not leak. However, if sealed incorrectly, they may let water in. We strongly suggest that all items of significant value, such as expensive jewelry, be left at home. We will also supply a day bag to store items like cameras for easy access during the day.
What to pack
On the River
2 or 3 swimsuits or shorts and top (cotton not recommended)
Sports sandals or hard-soled wetsuit booties
Synthetic paddling gloves
Wide rimmed hat or ball cap (ball cap fits well under helmet)
Polypro, synthetic or hydro-skin shirt (nice for mornings and chilly days)
Water Bottle (1 liter) with carabiner
Waterproof sunscreen
Sunglasses with strap (consider bringing two pairs)
OTT will supply wetsuits and splash-tops for chilly mornings
In Camp
2 pair pants & shorts
3 shirts
Fleece jacket or sweatshirt
Light rain jacket
Sleeping bag (synthetic material recommended - rated to 45F) We also can supply these so just let us know if that is easier.
Small towel
Headlamp or flashlight
Beanie
Camera
A good book
Personal hygiene items
FAQs
Anyone 17 and under is considered Youth. This trip is appropriate for most kid ages 5 and up.
We run a full pack-in/pack-out operation including an enclosed toilet system. We will set up our toilet system out of camp for use. In the morning we pack the system up to move to the next camp. It is very similar to a porta-potty except generally with far less odor and with an incredible outdoor view. They system is sanitary and many folks find it enjoyable.
As on most of our trips we offer a variety of river craft to choose from. Orange Torpedo Trips is best known for inflatable kayaking with 80% of our customers choosing this as the way to go down the river, but on this trip we offer 3 types of river craft on this trip. Watch the video to learn more about our 3-boats.
Orange Torpedo
Learn to paddle your own inflatable kayak (Torpedo). We have guides in Torpedo's teaching you how to paddle and leading you through the rapids in a 4 to 1 ratio. If you happen to fall out the guides have you out of the river in seconds. 45+ years of doing it on the Rogue River and tens of thousands of satisfied returning customers prove that it is extremely fun.
Paddle Raft
A more traditional type of rafting, paddle rafts are a great way to go if you still want to do some work, but think the torpedo is just a little to much. Work with a team of your friends paddling the big boat through the rapids as the guide sits in the back to help navigate.
Oared Raft
Hop on an oared raft and ride in luxury. This is the relaxed way to travel. If taking in the scenery and letting the guide do the work is how you vacation then hop on board. This is how kids 4-11 years old will usually travel.
An Orange Torpedo is our custom designed inflatable kayak. We have been offering trips in inflatable kayaks on the Rogue River for over five decades. Eventually we chose to work with one of the countries premier raft builders to design our own inflatable kayak as we felt nothing on the market was matching the performance we wanted. Now you can paddle one of our proprietary inflatable kayaks on the river it was designed for.