The Wild and Scenic Rogue River in Southern Oregon, is the oldest and most popular whitewater rafting trip at Orange Torpedo Trips. 2019 was our 50th year running this trip! The Wild and Scenic Rogue River is consistently regarded as one of the top five rafting trips in the country, and is the perfect vacation for families or adventurers who value a hot shower and a bed after their day running world-famous whitewater. The ability to float lodge to lodge on a "Wild and Scenic" river is just one of the many unique characteristics that separate rafting on the Rogue River from anywhere else. Spectacular wildlife including: bears, deer, eagles, and otters, along with world-class technical whitewater and plenty of thrilling history, makes a few days in the canyon a truly unique all-around experience. Trips down the remote gorge become the getaway with your spouse, time with your kids, or exciting vacation with friends you talk about for years.
On this wilderness trip, discover how much fun the class II and III+ rapids can be for everyone in your family. Challenge yourself in the whitewater, expand your knowledge with stories of local indigenous tribes, reconnect with your kids as you float in the calm pools and catch up on their lives. Get all of this incredible wilderness experience but still end the day with a hot shower, soft bed and home cooked meal. Only on the Rogue River can you find this mix of wilderness escape and night time comfort.
We offer this trip in both a 3-day, 2-night option and a 4-day, 3 night option. On our 4-day trip we lay-over at the second night lodge so you have a full day to sleep in, hike, fish, swim, read and generally relax before hitting the river again on the 4th day.
Trip at a glance
Who is this trip for?
Families and those who love nature but like a hot shower and soft bed. Really, this is a perfect trip for anyone.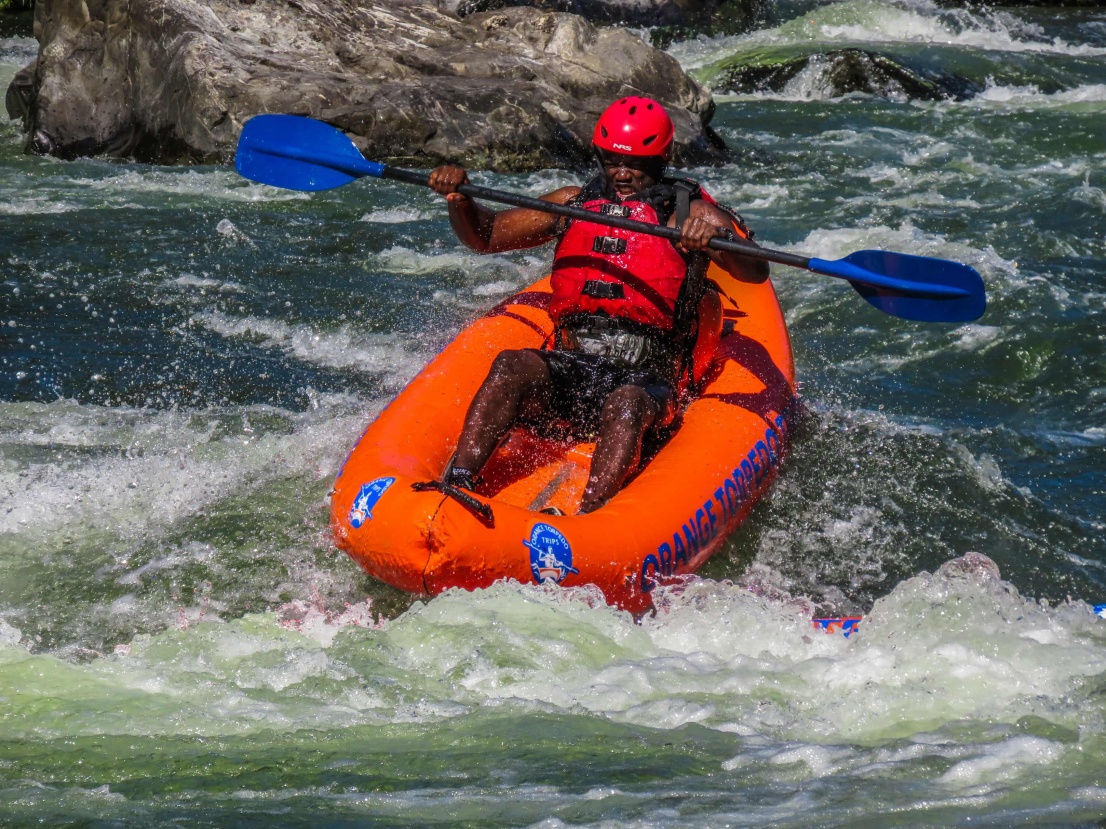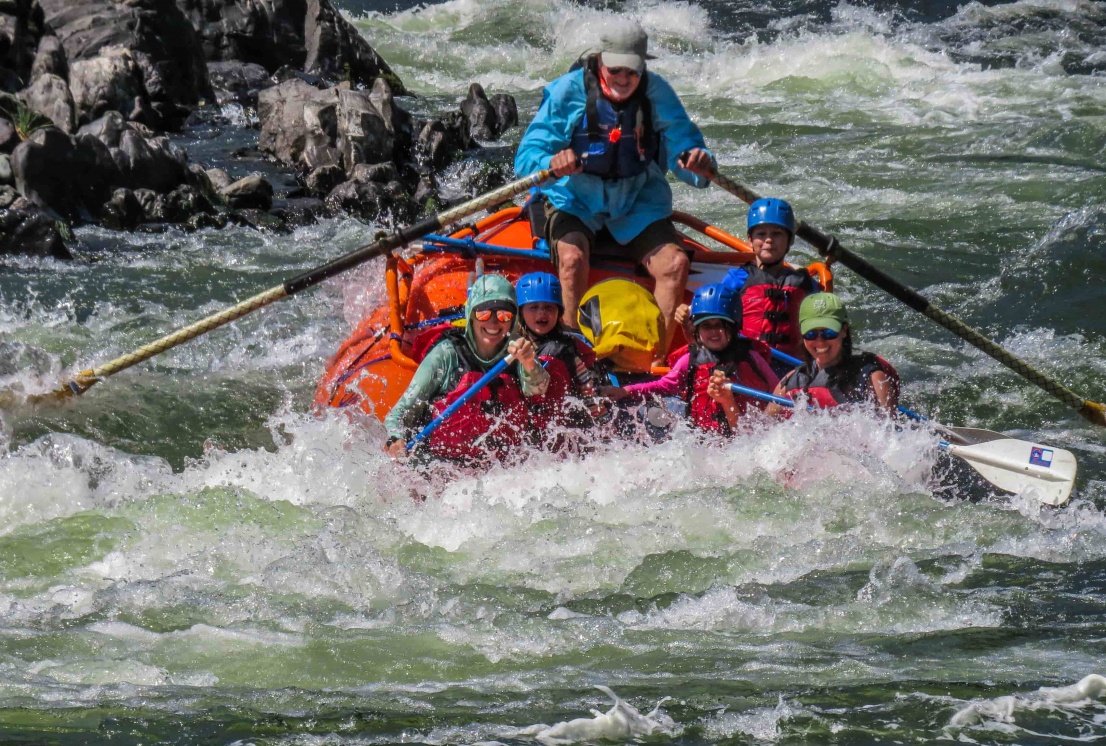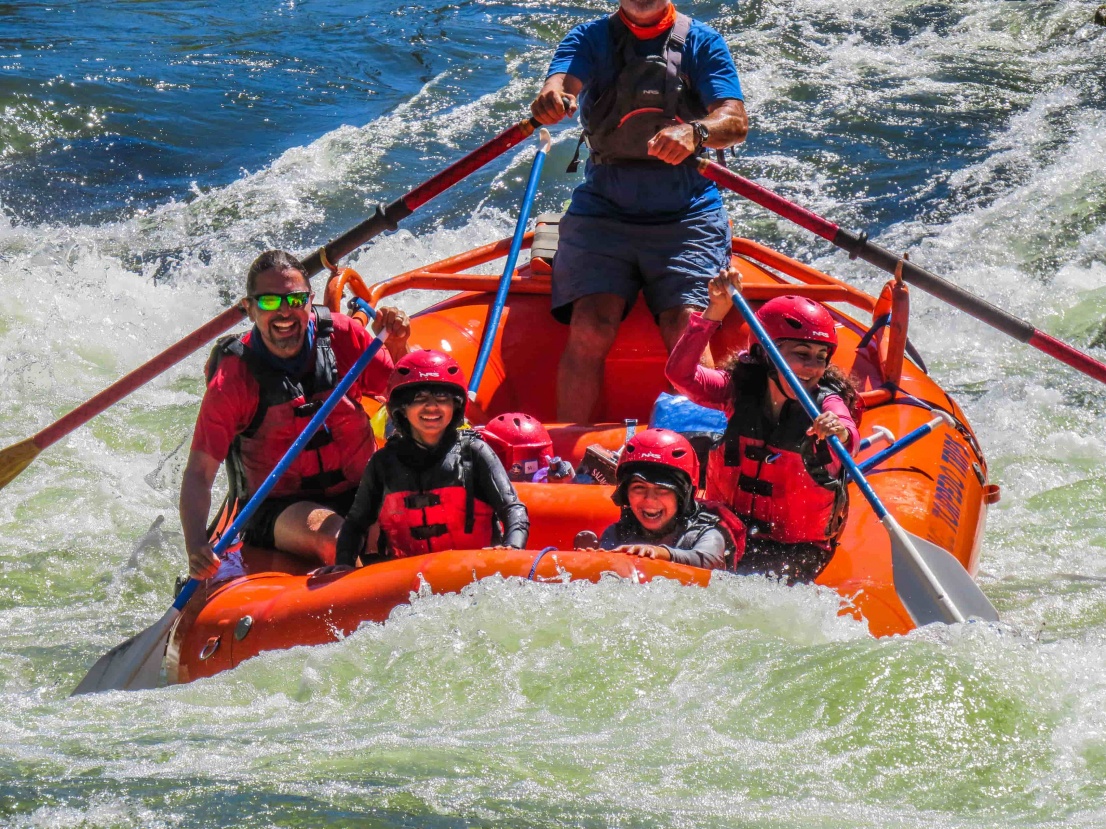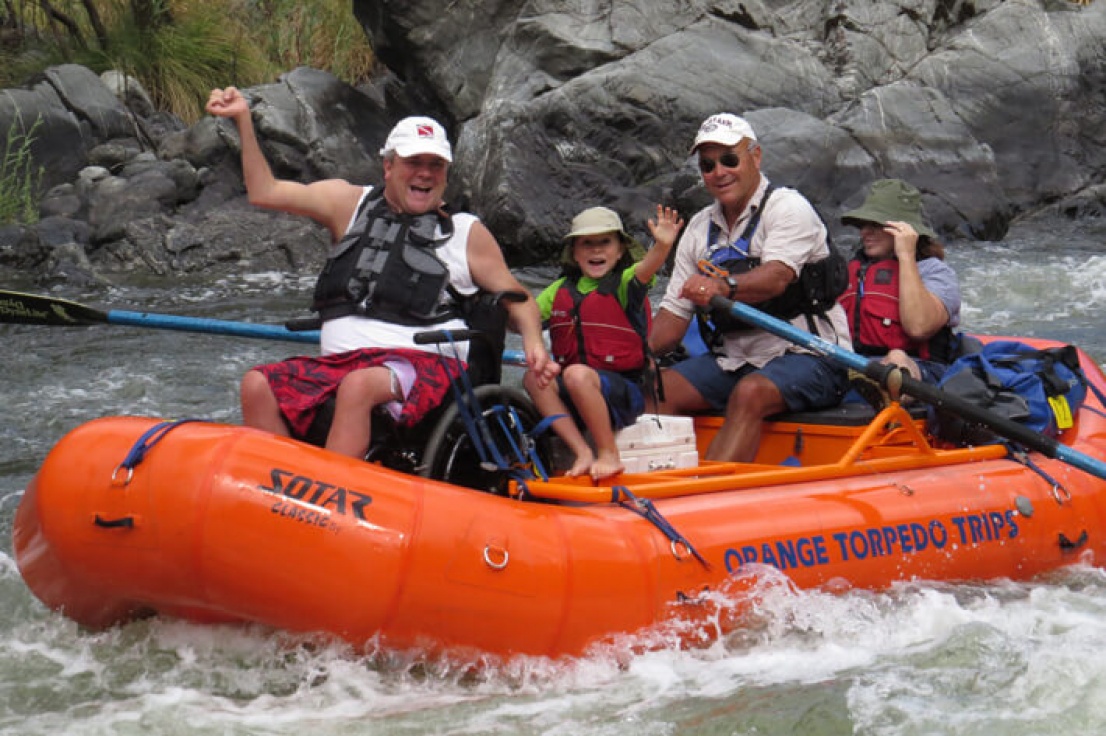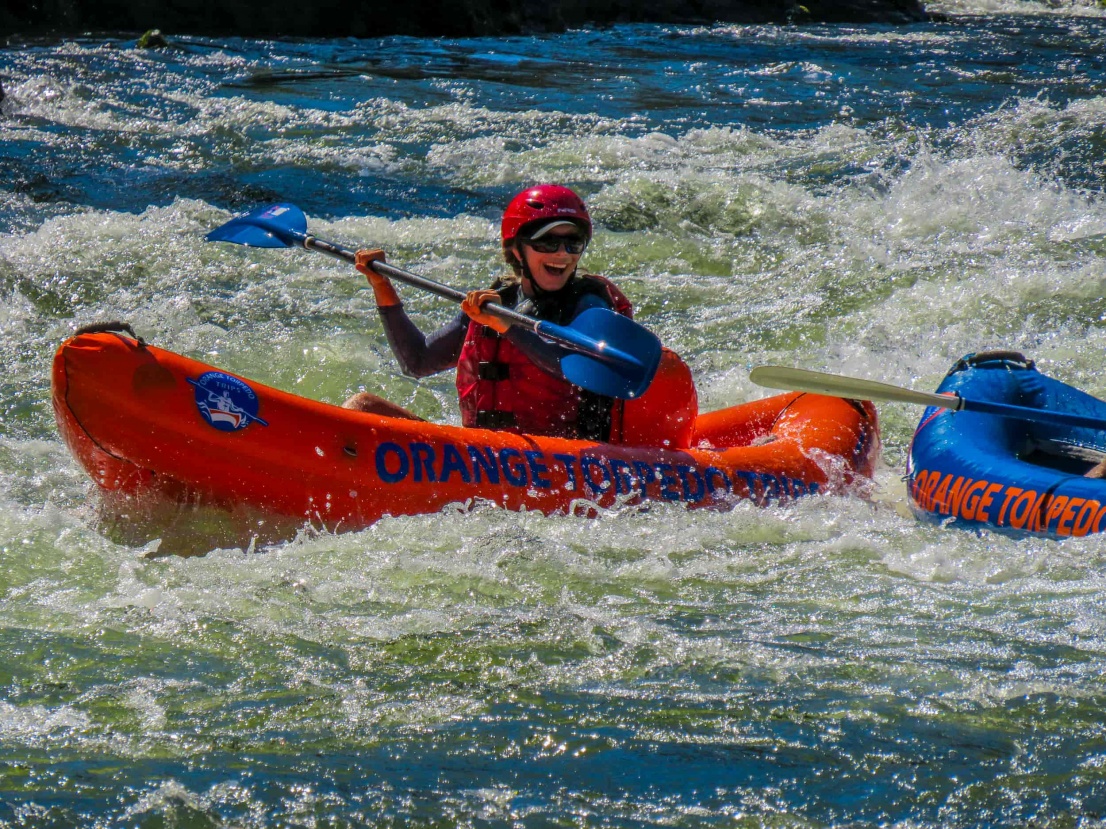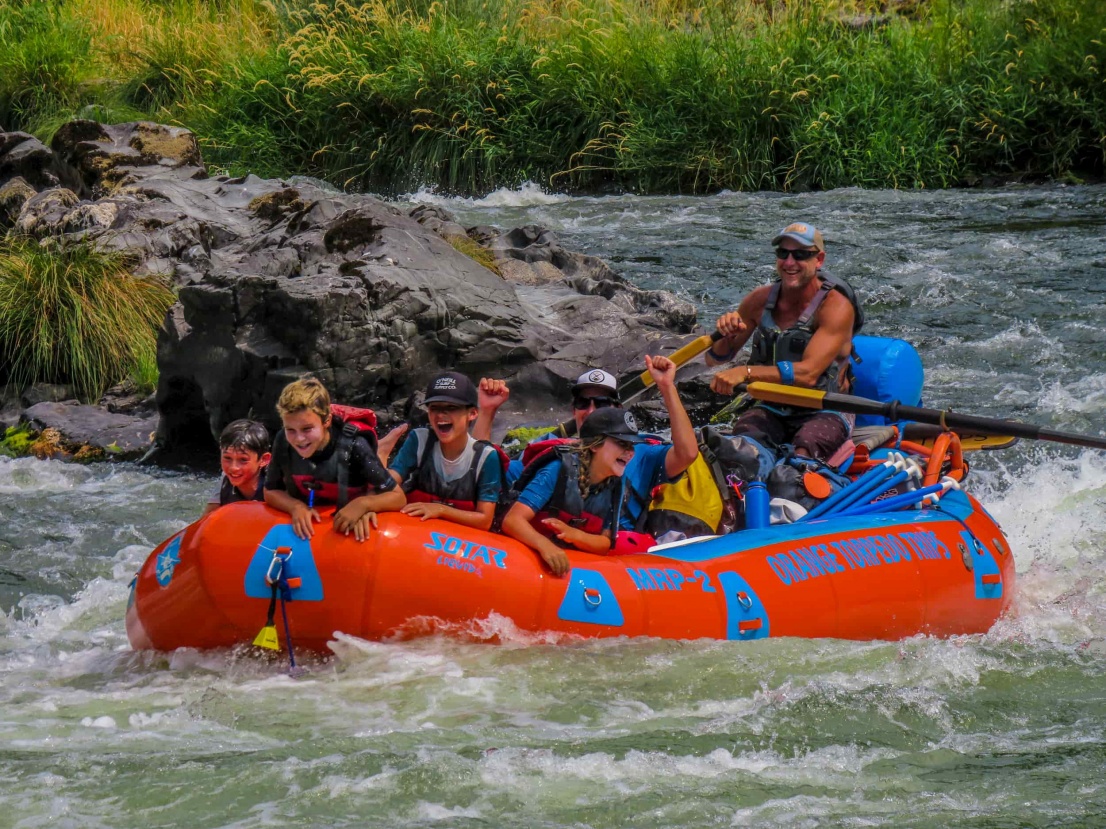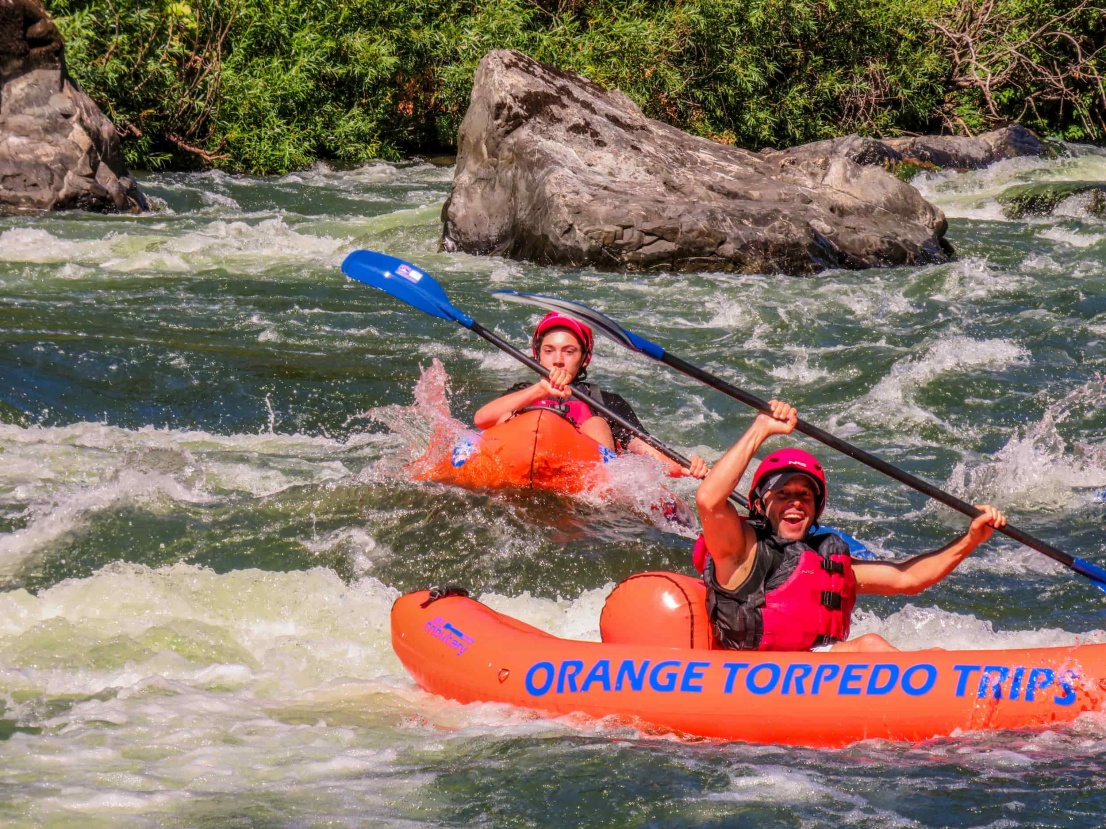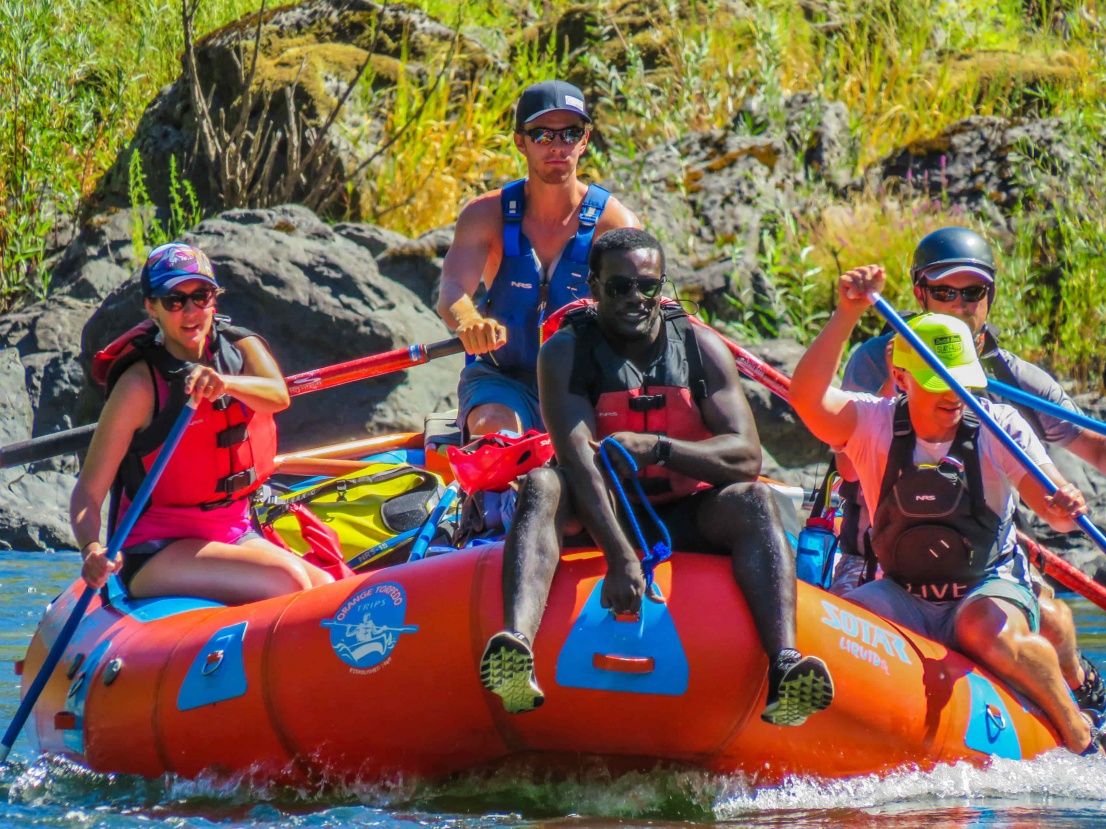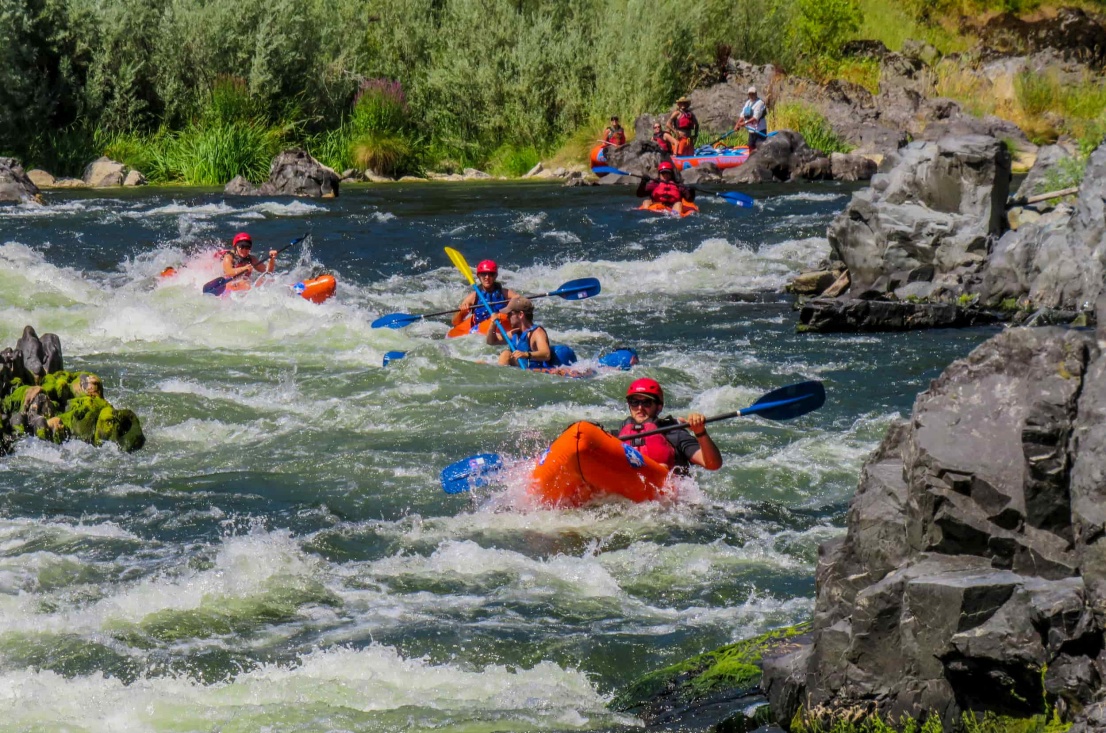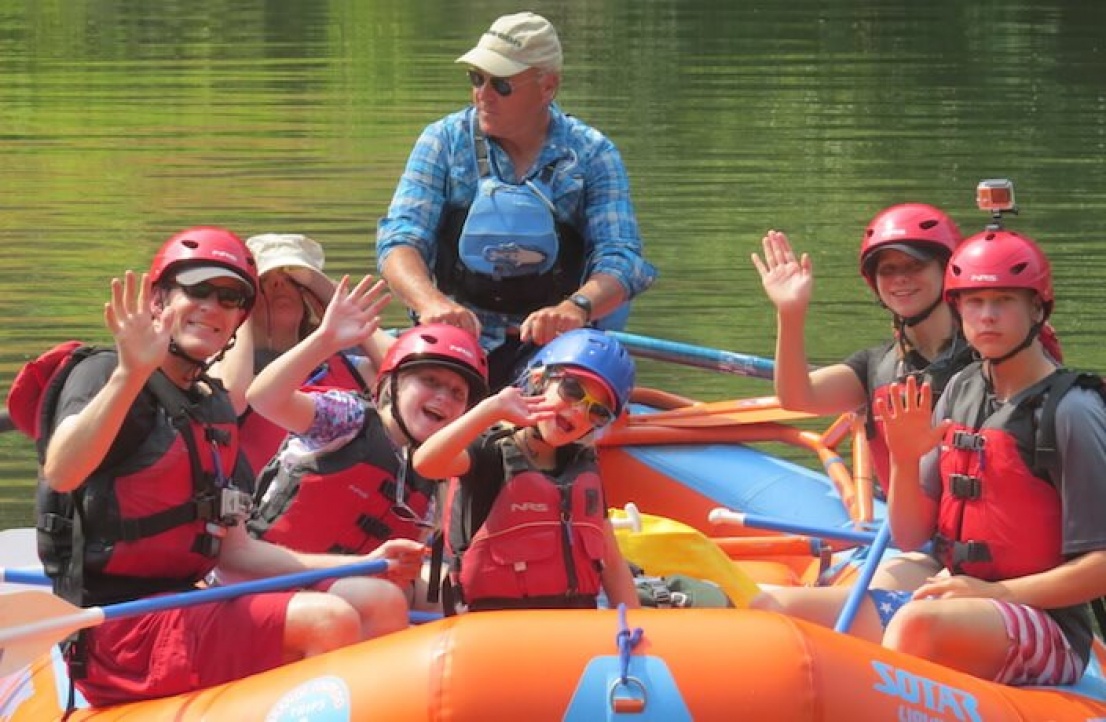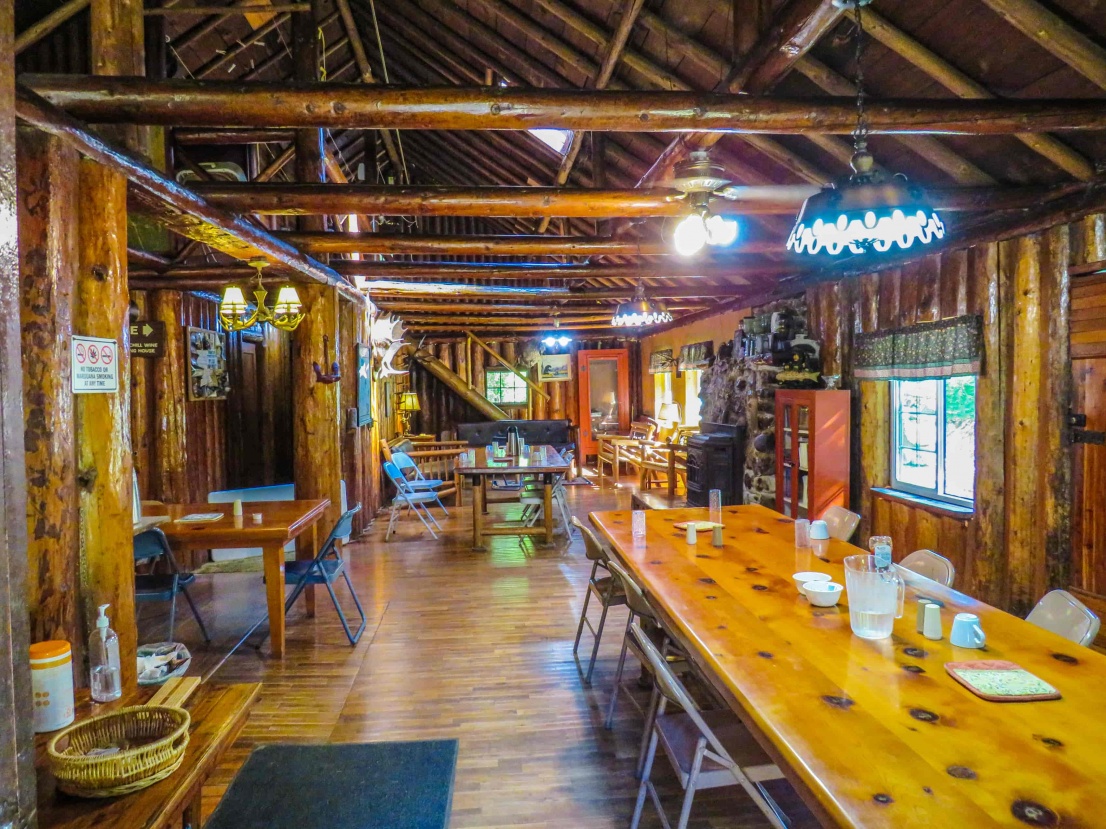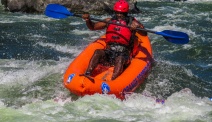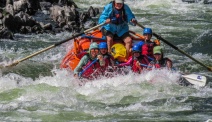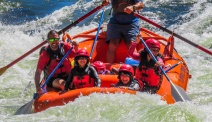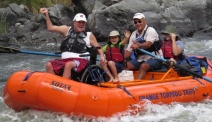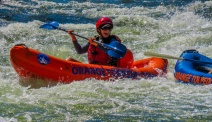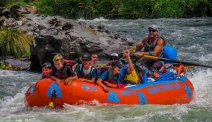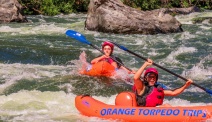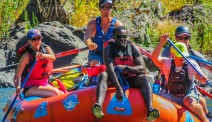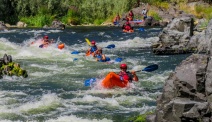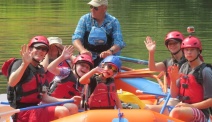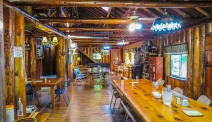 Dates / Rates
Rogue River 3-day Lodge Trips
Price
$1499 per adult
$1399 per Youth
Single Occupancy - $250
Start Date
Trips start every Monday and Friday June-August
Rogue River 4-day Lodge Trips
Price

Adult $1799
Youth $1799
Single Occupancy - $350
2024 Start Dates
June
July 15, 22
August 12
Trip Logistics Overview
The day your trip starts you need to arrive at our shop at 210 Merlin Rd, Merlin Oregon at 8 AM. If you are driving head west off of Interstate 5 at exit 61. At our office you will transfer your clothing for the trip into a supplied dry bag for the entirety of the float. Your vehicle will be parked inside the locked gate at our facility until you return. At the conclusion of the trip a van will pick you up at the takeout and return you to our storefront in Merlin. If you plan on driving to the coast after your trip it will be more convenient for you if your vehicle is shuttled from our facility to the rafting takeout at Foster Bar. There is a small fee associated with this so call for details. For additional travel information please refer to the travel information page for flight and hotel details.
Detailed Rogue River Wild and Scenic 3-day rafting trip itinerary
Day 1: Arrive at 8 AM at our storefront. (210 Merlin Road, Merlin, OR) to meet your head guide and receive your trip orientation. (Arrive early to purchase any last-minute items.). While at our shop your head guide will spend about 45 minutes discussing safety, river history, and paddling techniques. You will be supplied with all the equipment you need, including a life jacket, helmet (required for anyone kayaking or optional for anyone over 12 in a raft), wet suit, splash-top, a dry bag for your personal items, and a community dry bag to store items you wish to access during the day like a camera. When everyone is geared up and river ready, vans will be loaded and driven 20 minutes to the put-in at Almeda boat ramp. At the put-in you will meet the rest of your guides and prepare to head down the river.
The trip starts off with a few warm up rapids before entering the Wild and Scenic section of the Rogue River at Grave Creek. This is where the adventure really begins as the roads and civilization fades into the background. You will learn your boating skills navigating famous Rogue River rapids such as Grave Creek Falls, Tyee, and Wild Cat on this first day. Sometime in the late afternoon the group will float into the first nights home, Black Bar Lodge. Expect beautiful scenery, abundant wildlife, and delicious food as you relax into the evening.
Day 2: The second day is filled with plenty of rapids, history, and learning how to surf your torpedo. After a delicious breakfast the group will meet around 9:30 AM to prepare for the river. You will navigate Horseshoe Bend before arriving at the famous Mary's Pothole. The group will stop at this rapid so everyone can re-run the rapid until they have had their fill. This is an opportunity to shoot photos and video of your family and friends trying to run this exciting wave in the inflatable kayaks. It's not un-common to see families of 3 or more trying to run this together. After lunch the group may make a quick stop at Zane Greys historical cabin. After this historic stop the group paddles to Slagles's Hole, where you can try your hand at surfing. This friendly hole is an ideal spot to learn how to ride the waves and perfect your great surfing moves like the paddle spin! When you are all surfed out, end the day at Marial Lodge. With its delicious home style food, hiking, scenery and atmosphere, you may never want to leave this historic Rogue River hideaway.
Day 3: The last day on the water starts off with a bang! Just around the corner from the lodge is the exhilarating Mule Creek Canyon, a whitewater gorge that is truly unique. At well over a mile of almost non-stop action, the whitewater of the gorge culminates at the famous "Coffee Pot" known for it's unique boils and whirlpools. After the pot is an unbelievable float between vertical cliff walls with stair case waterfall cascading in on the left. About 20 minutes later comes the Rogue River's most famous rapid, Blossom Bar. Here we take a short portage around the upper part of the rapid before putting back in and running the fun lower section. A challenging rapid for the rafts, you will find your Torpedo slides right between the boulders with little difficulty. After more rapids and a riverside lunch, the group arrives at the takeout at Foster Bar, early in the afternoon. Change out of your river clothes while the guides de-rig the rafts. After loading the vans it's a 2-hour drive back to our shop in Merlin.
Detailed Rogue River Wild and Scenic 4-day rafting trip itinerary
We have replaced our old 4-day trip with a new "in the canyon" 4-day trip. On this trip the first two days are identical to our 3-day trip, but on the third day when everyone on the 3-day is waking up early and heading for the river you will be able to sleep in and have a lazy morning with a cup of coffee and a good book. Today you layover at the lodge so you have the whole day to relax, nap, read, hike and swim. Many people enjoy hiking down the trail to experience one of most unique trails in Oregon as the Rogue River Trial navigates the cliffs above Mule Creek Canyon. Another great hike is up Mule Creek to the gorge on the creek which can provide some great swimming. No matter what you choose, this day of relaxing in the wilderness ends with another great night at Marial lodge where delicious food is always served and fun card games lead to laughing into the night. The fourth day is identical to the third day on the 3-day itinerary.
Where to Meet Orange Torpedo Trips
Take exit 61 off of Interstate 5. Exit is approx. 3 miles north of Grants Pass. At exit turn left (west) and follow Merlin Rd 3.2 miles until you see Orange Torpedo Trips on right. We have a secure fenced parking lot where your car can be stored during your trip.
Accommodations
For 3-day raft trips please plan on meeting us at 8:00 AM. Due to the early hour of the day we strongly recommend staying locally the night before your trip. Here are a few of the local accommodations in the Grants Pass area.
Camping
If you plan to camp while you're here, we recommend Indian Mary Park (541-474-5285). The nearest RV Park is Beaver Creek RV on Merlin Rd., although Indian Mary Park also provides full RV hook-ups. We have a parking lot that will accommodate RVs while you are on your trip.
Flying In
The closest commercial airport is in Medford, Oregon (airport code MFR), 34 miles southeast of our shop in Merlin. In the Medford Airport there are four car rental companies (Budget, Avis, National, Enterprise, and Hertz). At this time we do not offer transportation to or from the airport, but we can pickup and drop off at any Grants Pass Hotel the morning of a trip and at the conclusion of a trip. If you plan to not rent a car, you can call Double D Shuttles at 541-476-7773 and hire them to transport you from the Medford Airport to a Grants Pass Hotel. Please note: Our trips return too late in the day for us to ensure you will make a flight out of Medford same day. We suggest making reservations for the next day after the trip concludes.
Typical Weather
Southern Oregon is known for its great summer weather. Weather here is generally so nice that the local tourism board has adopted the slogan "its the climate" to describe what makes Southern Oregon so desirable. While rain does occasionally sneak in during the summer months it is rare and usually only stays for a short time. Averages are:
Averages are:
May · High (F) 73 Low (F) 41Avg. Rainfall 1.21 in.
June · High (F) 81 Low (F)45 Avg. Rainfall .53 in.
July · High (F) 89 Low (F)49 Avg. Rainfall .37 in.
August · High (F) 89 Low (F)49 Avg. Rainfall .45 in.
On this trip everything for the duration of the adventure goes down the river with the group. When you arrive at our shop the first morning of the trip you will be supplied with a dry-bag for you to use throughout the duration of your Rogue River float trip. This dry-bag is where almost everything you want to take on the trip will go. It's approximately the size of a medium size carry-on duffle bag.
Dry Bag Dimensions: 20″L x 12″D, 2,262 cu. in., 37 L
What to pack
On the River
2 swimsuits or shorts and top (cotton not recommended)
Sports sandals or hard-soled wetsuit booties (ideally something that does not come off when swimming)
Synthetic paddling gloves (only if kayaking and even then not required but they do help with blisters) - Available at our shop
Wide rimmed hat or ball cap (ball cap fits well under helmet) - Available at our shop
Polypro, synthetic or hydro-skin shirt (nice for mornings and chilly days - not required but can be comfortable) - Available at our shop
Water Bottle with carabiner (1 liter) - Available at our shop
Waterproof sunscreen - Available at our shop
Sunglasses with croakies or chums strap (consider bringing two pairs)
At the Lodges
1 pair pants
1 pair shorts
2 shirts
Fleece jacket or sweatshirt
Insect repellent - Available at our shop
Personal items (medications, hygiene; keep personal grooming items to a minimum)
Travel size soap and shampoo
Headlamp or flashlight
Camera with memory cards and batteries
Phone charger and battery pack. You can charge at the second lodge but the first is tough. YOU WILL HAVE NO CELL SERVICE OR WIFI FOR THE ENTIRE TRIP.
Fishing equipment and valid state fishing license (Not lots of time to fish, but can be fun in the morning and evening at the lodges, especially in later August)
FAQs
Yes. On this trip you are required to sign a "release of liability" form. You can see the full form on our reservation policies page
As on most of our trips we offer a variety of river craft to choose from. Orange Torpedo Trips is best known for inflatable kayaking with 80% of our customers choosing this as the way to go down the river, but on this trip we offer 3 types of river craft on this trip. Watch the video to learn more about our 3-boats.
Orange Torpedo
Learn to paddle your own inflatable kayak (Torpedo). We have guides in Torpedo's teaching you how to paddle and leading you through the rapids in a 4 to 1 ratio. If you happen to fall out the guides have you out of the river in seconds. 50+ years of doing it on the Rogue River and tens of thousands of satisfied returning customers prove that it is extremely fun.
Paddle Raft
A more traditional type of rafting, paddle rafts are a great way to go if you still want to do some work, but think the torpedo is just a little to much. Work with a team of your friends paddling the big boat through the rapids as the guide sits in the back to help navigate.
Oared Raft
Hop on an oared raft and ride in luxury. This is the relaxed way to travel. If taking in the scenery and letting the guide do the work is how you vacation then hop on board.
An Orange Torpedo is our custom-designed inflatable kayak. We designed these boats with a premier raft/inflatable builder to be high performance but also beginner friendly and they are exclusive to us.
Yes, but with some limitation. If you start in an inflatable kayak and decide quickly that it's not for you. We will get you out of the kayak. If you start in a raft and decide you want to kayak, we cannot always guarantee that ability. Based on what people tell us they want to do we pack a specific amount of equipment and bring an appropriate number of guides for a trip. Sometimes that does not leave much room to add kayakers mid-trip. People will often be willing to switch out throughout the trip, but if someone signs up to tackle the river in an inflatable kayak, we want to make sure they have chance to paddle the entire trip if they want.
Gratuity is certainly appreciated but by no means required. At the conclusion of a trip please just give any gratuity to the head guide who will divide it evenly among the crew. Standard restaurant gratuity % based off your per person rate tends to apply but while it is very much appreciated by the staff, please do not feel obligated. Also, when thinking about gratuities, please feel free to tip the staff at the lodges during your stay there.
Everything for the trip will go down the river. When you pack a dry bag at the put-in, that will be all of your stuff for the duration of the trip. All food, drinks, and camping equipment will be transported on our rafts for the entirety of the trip.
On all of our multi day rafting trips we do not offer refunds on deposits or balance payments. We strongly encourage all customers to purchase travel insurance through travel guard to help protect your travel investment against the things that come up in life. It's a small additional price for the comfort to know that if something comes up (illness, work change, etc) you will have the ability to recover your significant travel investment. Get a Travel Guard Quote Here.
Orange Torpedo Trips was founded on the Rogue River in 1969 by rafting visionary, Jerry Bentley. Within just a few years OTT had spread to numerous rivers throughout the Northwest including the Klamath River, the Main Salmon River and Snake Rivers.
We are proud to have a very high average head guide tenure on our multi-day trips in Oregon. The majority of our multi-day trip guides are teachers in the off-season. This off river profession makes them naturally great guides with a desire to teach our customers about the rivers, but it also makes them stable year to year guides. The average tenure, with our company, of our head guides on the Wild and Scenic Rogue is over 20 years.
On the River we typically have one guide for every three to four guests on a trip
As on all OTT trips, this trip requires a 30% deposit. The remaining balance is due 30 days before the trip launches. Upon making your reservation you have the option to set up your credit card to automatically run the balance on the due date.