Escape your cell phone and fast paced life for two days on the famous Rogue River. On this adventure learn the basics of paddling inflatable kayaks or bring the younger kids and float together in a paddle raft as a team. In either craft this trip includes plenty of swimming, wildlife, fun and amazing scenery. The 2-day section of the federally protected Rogue River is home to numerous scenic gorges which have left many a paddler awestruck by their rugged beauty and excited by their thrilling whitewater.
This trip starts off with a day of warm-up rapids allowing paddlers to gain confidence and hone their skills in our inflatable kayaks or a raft. By the end of day-one paddlers often feel like the paddle in their hand is a natural extension of their arm, and their boat, an extension of their body. As the trip progresses and paddlers skills improve the whitewater also becomes a little harder (more robust class II) making it the perfect first time river trip.
As day one on the river comes to a close, float into camp and prepare for a relaxing evening riverside. There should be plenty of time for swimming, playing beach games, cards and relaxing around a campfire. Dinner is prepared by the guides and the night sky is better than any Netflix.
Day-two is the whitewater day with class II rapids that will certainly challenge your skills, but ultimately just build your confidence. Most find themselves cheering with joy and laughing with excitement as they paddle their individual boats crashing through the waves.
Sign up today for the ideal 2-day trip to introduce your family and friends to the joy of river-running. Come and experience the world famous Rogue River without having to make the bigger three or four day commitment.
Trip at a glance
Who is this trip for?
Anyone looking to get their feet wet and learn how to paddle a boat down the river.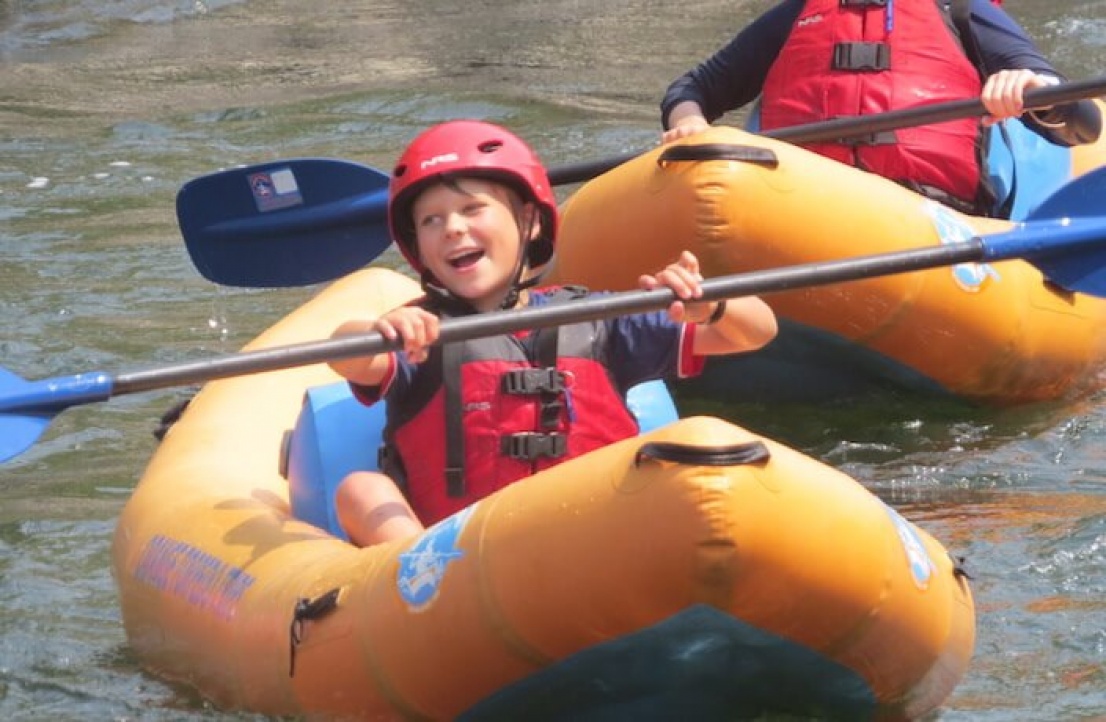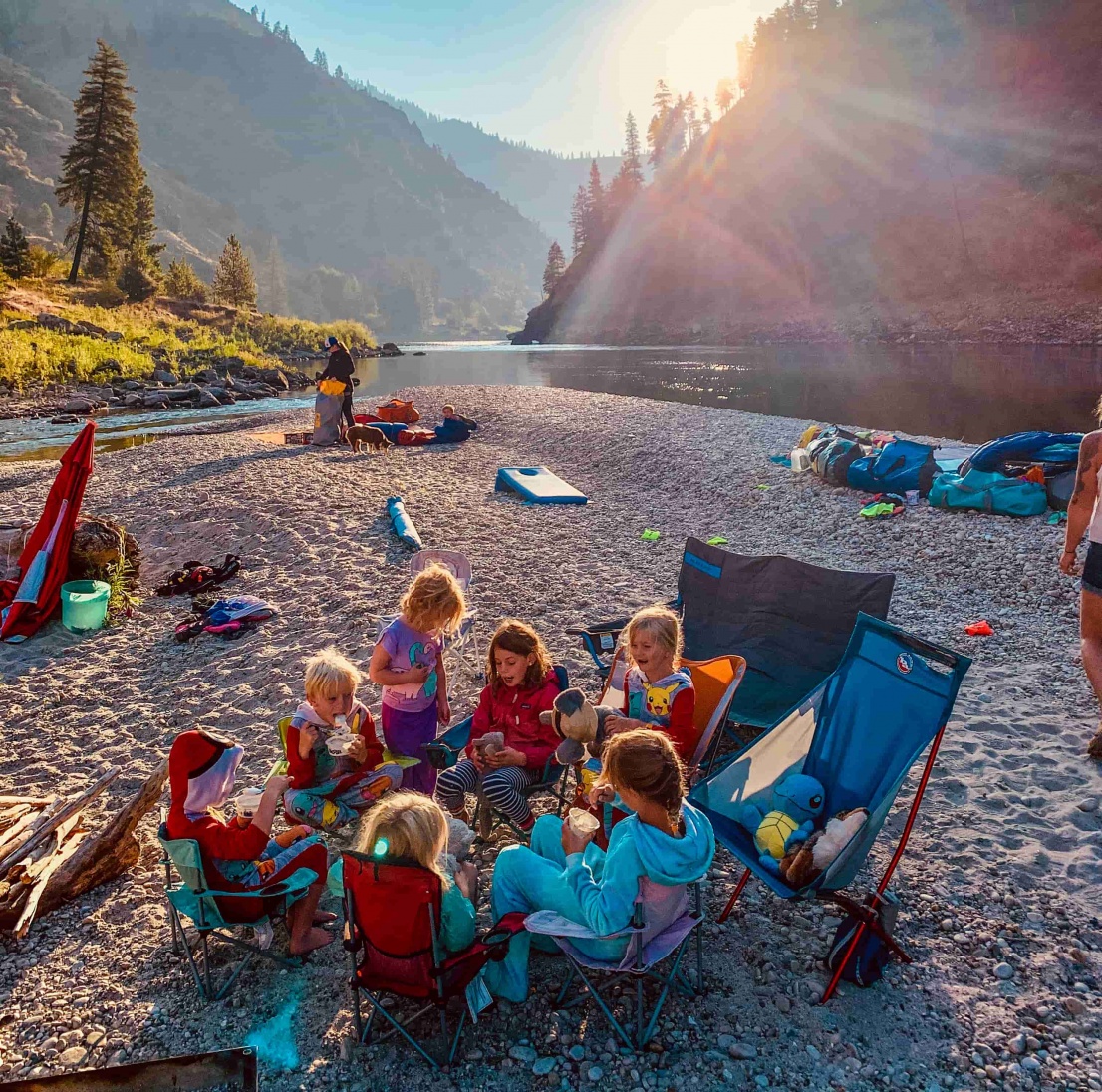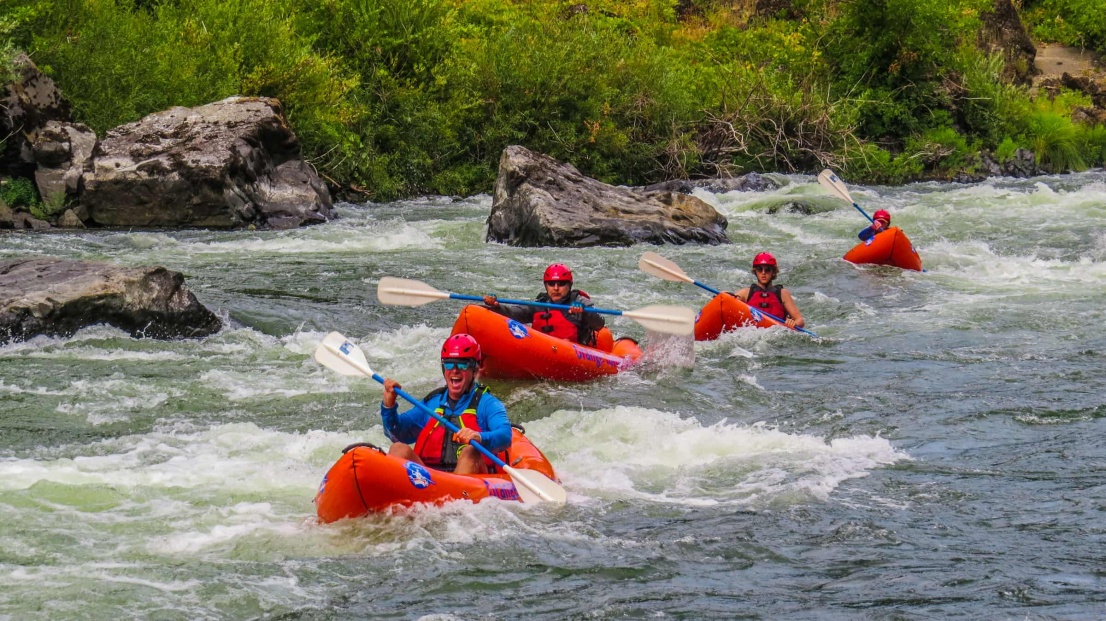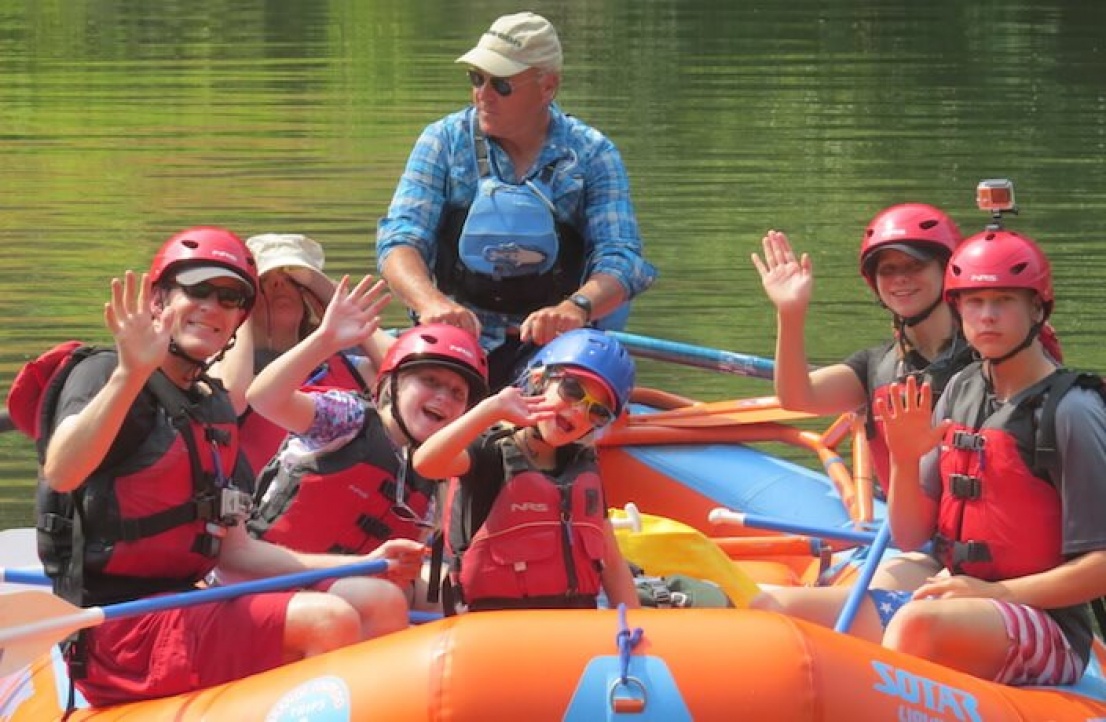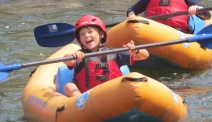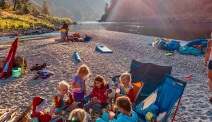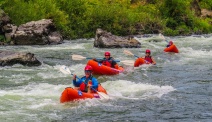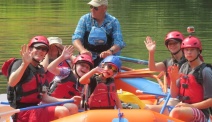 Dates / Rates
2022 Rogue River 2-day Trips
Price:
Adult - $499
Youth - $449
Trip Start Dates:
Monday and Saturday Starts June through August.
Other start dates may be available for groups of 8 or more.
Summary
When you arrive at our store in Merlin we will have you transfer your overnight gear into a dry bag that will join you in camp for the evening. We will also have a separate "day bag" for the stuff you want access to during the paddling day.
After transferring your luggage and going through a paddling orientation we will drive you to the river to start your float. Day one is mostly class I and two class II rapids perfect for building those skills. Sometime in the early afternoon you will arrive in camp for the evening.
Day two usually has groups on the river sometime around 10:30 am and quickly moves into some more substantial whitewater. After a riverside lunch the group should arrive at the takeout around 4pm where a van will be waiting to drive everyone the 30 minutes back to our shop where you can choose to keep the good times going with dinner and a beverage at the Torpedo Bar.
Detailed Rogue 2-day Intro to River Running Itinerary
Day 1: please arrive at our shop at 10 am. When you arrive we will get all of your gear for the night loaded into our van headed to the lodge so we can drop it off while you are floating. When everyone on the trip is geared up it's into the van for the five minute ride to the put-in.
At the put-in the guide will give a thorough paddling orientation preparing you for the day. All the basics from paddling techniques to seating position to hand signals for going down river. You will feel ready to start floating. The morning is mostly calm pools and small riffles allowing plenty of time to take in the scenery and practice your paddling basics. Sometime before lunch the river we will start to feel like it's picking up as the group approaches Hellgate canyon. This canyon marks a shift in the Rogue River as it starts it's way through the coast range of mountains and quickly picks up in gradient. This rock gorge is a great place to eat lunch and relax for an hour of swimming and simply enjoying the scenery.
The afternoon holds a new level of whitewater with the trips first class two rapids. Both Dunn Riffle and Rooster Tail will provide exciting challenges and test your newly acquired paddling skills. After these class II's a little more relaxing brings the group to Rainbow riffle which has a sneaker wave many people underestimate. If you are still in your boat it's a float into Taylor Creek gorge, a stunning bedrock canyon that ends with your picturesque lodge for the night. When we pull up to the beach where the group will camp for the evening it is time for one of the best parts of the trip, relaxing. Swim in the big eddy in front of camp, play cards or bocci ball with your kids, catch up on that book you never have time for or just enjoy a beverage while you sit with your feet in the water and watch the Osprey above you fishing the river.
Day 2: A leisurely wakeup and breakfast will have you river ready around 10:15 ready to take on the days challenging whitewater. Not long after launching it's into Ennis Riffle, the first class II and then shortly after that Upper and Lower Galice, two of the larger and more challenging rapids of the trip.
After lunch the Class II rapids start stacking up with Chair, island the very long Almeda bar. These all help prep you for the biggest rapid of the trip Argo. The big waves and required maneuvering will show you how far your skills have come over the last two days. About an hour after Argo the group floats into Grave Creek and the end of the floating. From here you can look downstream and see the first two class III rapids of the 3-day Wild and Scenic section and start planning your return trip next season.
Where to Meet Orange Torpedo Trips
Take exit 61 off of Interstate 5. Exit is approx. 3 miles north of Grants Pass. At exit turn left (west) and follow Merlin Rd 3.2 miles until you see Orange Torpedo Trips on right. We have a secure fenced parking lot where your car can be stored during your trip.
Accommodations
To make sure you get a good nights rest before the trip we recommend staying locally the night before your trip. Here are a few of the local accommodations in the Grants Pass area.
Camping
If you plan to camp while you're here, we recommend Indian Mary Park (541-474-5285). The nearest RV Park is Beaver Creek RV on Merlin Rd., although Indian Mary Park also provides full RV hook-ups. We have a parking lot that will accommodate RVs while you are on your trip.
Flying In
The closest commercial airport is in Medford, Oregon (airport code MFR), 34 miles southeast of our shop in Merlin. In the Medford Airport there are four car rental companies (Budget, Avis, National, Enterprise, and Hertz). At this time we do not offer transportation to or from the airport, but we can pickup and drop off at any Grants Pass Hotel the morning of a trip and at the conclusion of a trip. If you plan to not rent a car, you can call Double D Shuttles at 541-476-7773 and hire them to transport you from the Medford Airport to a Grants Pass Hotel.
Typical Weather
The area around Grants Pass and the Rogue River is known for its great summer weather. Weather here is generally so nice that the local tourism board has adopted the slogan "its the climate" to describe what makes Southern Oregon such a desirable place to live and travel. While rain does occasionally sneak in during the summer months it is rare and usually only stays for a short time. Averages are:
Averages are:
May · High (F) 73 Low (F) 41Avg. Rainfall 1.21 in.
June · High (F) 81 Low (F)45 Avg. Rainfall .53 in.
July · High (F) 89 Low (F)49 Avg. Rainfall .37 in.
August · High (F) 89 Low (F)49 Avg. Rainfall .45 in.
This is just a suggested list. Everything for in camp will go into a dry-bag around the size of a duffle bag so plan accordingly. We advise against bringing electronics if possible. While things are in a dry bag, those bags are only dry if rolled correctly so please consider leaving those devices at home.
What to pack
For on the River
2 swimsuits or shorts and top (cotton not recommended)
Sports sandals or hard-soled wetsuit booties (ideally something that does not come off when swimming)
Synthetic paddling gloves (Not required but they do help with blisters) - Available at our shop
Wide rimmed hat or ball cap (ball cap fits well under helmet) - Available at our shop
Polypro, synthetic or hydro-skin shirt (Not required but can be comfortable - nice for mornings and chilly days) - Available at our shop
Water Bottle (1 liter) with carabiner - Available at our shop
Waterproof Sunscreen - Available at our shop
Sunglasses with croakies or chums strap (consider bringing two pairs)
In camp
1 pair pants
1 pair shorts
1 shirt
Headlamp
Sandals or shoes
Fleece jacket or sweatshirt
Sleeping Bag (Let us know if you need one, we have them if needed.)
Insect repellent - Available at our shop
Personal items (medications, hygiene; keep personal grooming items to a minimum)
Fishing equipment and valid state fishing license (Not lots of time to fish, but can be fun in the morning and evening at the lodges, especially in later August)
FAQs
As on most of our trips we offer a variety of river craft to choose from. Orange Torpedo Trips is best known for inflatable kayaking with 80% of our customers choosing this as the way to go down the river, but on this trip we offer 3 types of river craft on this trip. Watch the video to learn more about our 3-boats.
Orange Torpedo
Learn to paddle your own inflatable kayak (Torpedo). We have guides in Torpedo's teaching you how to paddle and leading you through the rapids in a 4 to 1 ratio. If you happen to fall out the guides have you out of the river in seconds. 45+ years of doing it on the Rogue River and tens of thousands of satisfied returning customers prove that it is extremely fun.
Paddle Raft
A more traditional type of rafting, paddle rafts are a great way to go if you still want to do some work, but think the torpedo is just a little to much. Work with a team of your friends paddling the big boat through the rapids as the guide sits in the back to help navigate.
Oared Raft
Hop on an oared raft and ride in luxury. This is the relaxed way to travel. If taking in the scenery and letting the guide do the work is how you vacation then hop on board. This is how kids 4-11 years old will usually travel.
Gratuity is certainly appreciated but by no means required. If you choose to provide gratuity for your trip standard restaurant percentages based off of trip fee is the range folks tend to consider. At the conclusion of a trip please just give any gratuity to the head guide who will divide it evenly among the crew.
An Orange Torpedo is our custom-designed inflatable kayak. We used over 5-decades of river experience to work with one of the nations premier raft builders to design these incredible boats.
As on all OTT trips, this trip requires a 30% deposit. The remaining balance is due 30 days before the trip launches. Upon making your reservation you have the option to set up your credit card to automatically run the balance on the due date.
Yes, but with some limitation. If you start in an inflatable kayak and decide quickly that it's not for you. We will get you out of the kayak. If you start in a raft and decide you want to kayak, we cannot always guarantee that ability. Based on what people tell us they want to do we pack a specific amount of equipment and bring an appropriate number of guides for a trip. Sometimes that does not leave much room to add kayakers mid-trip. People will often be willing to switch out throughout the trip, but if someone signs up to tackle the river in an inflatable kayak, we want to make sure they have chance to paddle the entire trip if they want.