Meet your guide - Benito
Benito, someone who is loved by both guests and guides for his easy going demeanor, vast experience, and deep interest in others. I regularly answer phone calls with folks who were on the Lower Salmon15 years ago and ask if Benito is still guiding.  Anyone who has been on the Rogue in the last 10 years and was fortunate enough to have Ben as a guide remembers him.  He is one of those unassuming and easy going people who naturally feels like the river is their home environment and whom everyone inherently  loves.  Ben was kind of enough to answer some of my questions, so here you go.
How long have you been guiding? - I have guided for 16 seasons. This upcoming season will be number 17.
Why have you stuck with it? There are a lot of reasons why I stuck with it, but guiding becomes part of who you are. The river and being outside in wilderness is a huge part of it. The people I get to work with is the another huge factor that keeps me coming back every year. Also, being able to paddle the inflatable kayaks and the whole experience it provides for guides and guests. There is no better way to experience a river in my opinion. Paddling out and making a great save in the middle of a rapid is a pretty cool feeling.
What do you do in the off season?  I teach middle school science.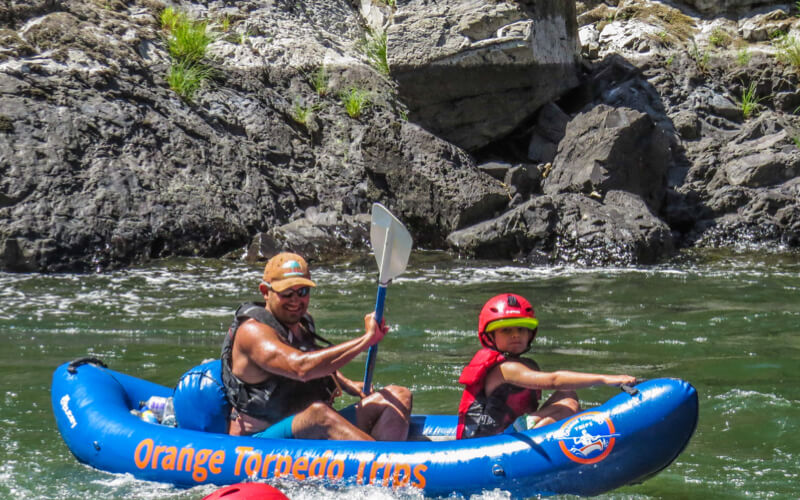 Do you have a favorite memory or moment from your guiding career? There are a lot of great moments. Some of the highlights: being on a trip with a guest who was blind and being able to see how much he enjoyed the experience. Multiple trips with Gary who is a quadriplegic and seeing him row in our custom frame, and probably a time in Elkhorn when I pulled something like seven inflatable kayaking guests out of the water throughout the rapid...it was carnage and great fun.
Why do you think river trips are such a great thing for people to choose as a vacation? I think its a great opportunity to disconnect. We get to see wilderness places that only a limited amount of people ever get to see. Also, the experience that we provide is great. People build confidence as they become better paddlers.
How has guiding changed you? I have guided since I was 18 so its been a large part of my life. I think it has made me a better coach, teacher and communicator in general, because as a kayak guide you spend a lot of time teaching people how to navigate a their own boat down the river. You get people who are scared and some that are over confident and everything in between. Its my job to give them all a great experience so I have had to learn to communicate with a variety of people. I also have some of my best friends that I have made through guiding. So those life long relationships have shaped who I am as well.
What piece of advice would you give to a new/young river guide? To work hard and listen. A lot of people want to be guides, but it isn't as easy of a job as it might seem. The best young guides ask questions, they watch and are open to constructive criticism and learning how to get better. Just being able to get your boat down the river is a small part of what we do, so just because someone is a good boatman or has boating skills that is just a start to being a good guide. Our trips are mostly about providing great experiences.
What are you most excited for this next season?  Getting back on the river and reconnecting with people I just spend time with during the summer.  I hope the restrictions we are living with are decreased by then.  I am already itching to get back out there.