First Rivers | An OTT Guide Series | Tanner "Bub" Marvel | The River of No Return
Guides' First Rivers Series
River guides are notorious storytellers. And whether they be true or tall or somewhere in-between, the stories we tell about the river are a part and reflection of our own story. They are a part of who we are and we will be. (Deep water, brother...)
So, in this spirit of storytelling and in homage to rivers everywhere, we've asked our guides to recall a notable "first" paddling experience, broadly defined, and to tell a story about that experience. 
Return to the River of No Return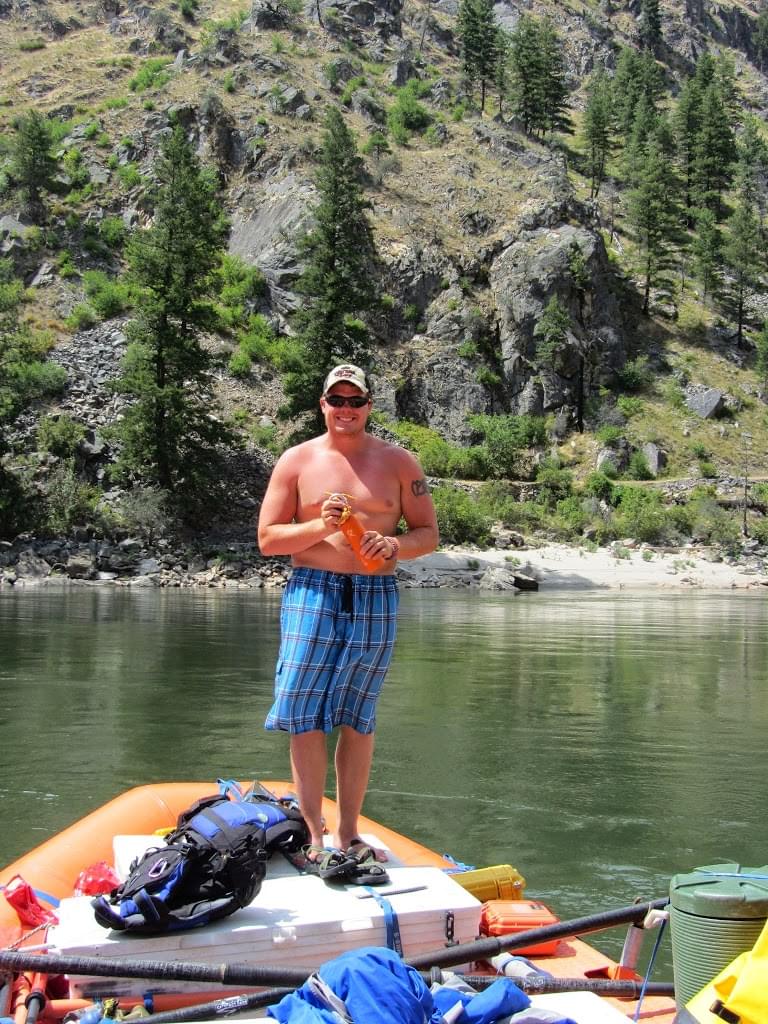 Corn Creek Launch Site
I am not exactly sure when my fascination with wildlife and nature began--could've started while exploring the Oregon Caves, rafting down the river with my and Travis Tocher's family or even while stuck in LA rush hour traffic heading to Disneyland. However, I do know that the outdoors, especially the simple view of rocks and water, has become a significant part of my life. The river, for its part, has become the bloodline of my life.
I started with Orange Torpedo Trips in June of 2008. At the time I was only able to work part-time due to another job at a local mill. Throughout that summer I would listen to the stories (whether true or tall) about the magnificent
Main Salmon River
, the
River of No Return
.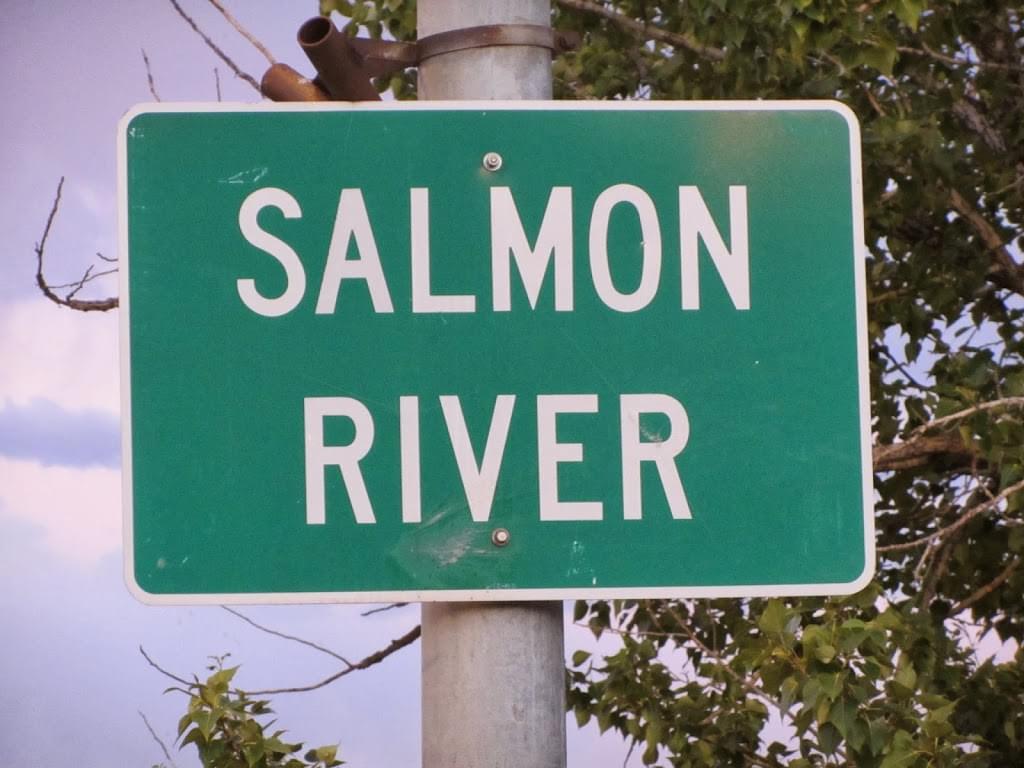 My first trip on the Main Salmon River came late in June 2010. When I first came to learn about this opportunity, I thought only about the river and the excitement of guiding in Idaho. I had no idea the number of hours we would be playing Tetris with our gear and a 16' trailer, and hadn't really processed the fact that we'd be working (and to some extent, living) completely out of a Suburban we call the "G-Ride."
It became real when, stuffed in like a pack of sardines, we made our way East to Idaho.
The last time I was in Idaho, I was traveling to Pocatello, where I would represent the State of Oregon at the 2000 Freestyle and Greco-Roman Regional Championship. At the time, I was cutting a couple extra pounds to make my weight, so I don't remember much of the landscape except for it being unbelievably brown. Little did I know the beautiful parts of Idaho I would soon see.
For my first trip out to Idaho, my boss, Erik "NG" Weiseth, decided to come out and train a couple of us first-timers to Idaho. His goal was for us to make the 734-mile trip (15.5 hours non-stop) in a single day. During the drive we made a quick stop in a small city of Stanley, ID. A single paved highway travels through this small mountain town. Dirt roads branch off of the highway, and looking down them you feel like you're traveling back into time, with images of famous cowboys, outlaws and sheriffs like Wyatt Earp, Billy the Kid, Wild Bill Hickok or Jesse James. Most impressive of all, though, is the stunning backdrop of the Sawtooth Mountains against which these dusty tributaries to the main road are set.

View of the Sawtooth Mountains near Stanley, ID, shot by Frank Kovalchek from Anchorage, Alaska,
As we continued along our last 116 miles to Salmon, ID, we came up to a small problem in our plan…gasoline. For some reason we thought that the G-ride, a vehicle that gets roughly 9-12 MPG when partially loaded, could make it with no problem. We were on the edge our seats watching as the line dropped below red with the "No Fuel" light turning on. We watched as the gas monitor slowly dropped from one mile to the next, while in the far off distance, we could see the shimmering lights of Salmon radiate off the night sky. We entered the city with the monitor reading "1 mile left" for fuel. A huge sense of relief came over us as we filled up the G-ride and made our way to the famous De Luxe hotel.
As the next day came, we quickly shopped, re-packed and made our way to Corn Creek, the put-in for the Main Salmon River. On the long drive down the graded dirt roads to the put-in, I began to read the stories from the Corps of Discovery Expedition. Several miles down, I read about the point, which we were then then passing, where William Clark writes to Meriwether Lewis about this treacherous passage through the river canyon, with mountains to steep for their horses to keep their balance or to climb and the Nez Perce Indians warning of the dangerous waters that lurk around every bend within the tall canyon walls. Clark grew extremely concerned about the safety of his group and insisted that Lewis make the expedition move North. This is where my younger self began his very own expedition into what was once the unknown, exploring an area in which the very Corps of Discovery deemed unnavigable.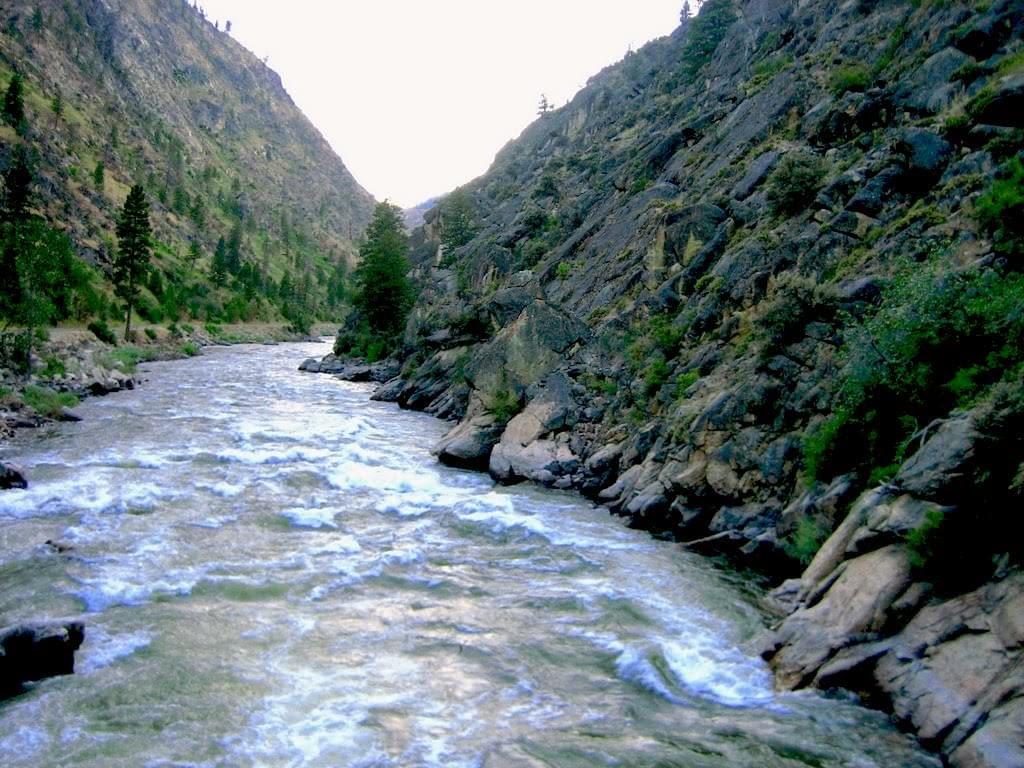 Pine Creek Rapid,  the supposed point where Clark lost hope of navigating the Salmon west (Photo Credit: Layne Parmenter)
For my first trip down the Main Salmon river, we were lucky enough to stay in beautiful and rustic lodges along the river. The rain/snowfall for the Idaho area was well above the average rate, making for a big water season. We pushed off for our first day with the level at 5.5' at the "Shoes" (that's roughly 18,500 cfs or 135,000 gallons of water moving per second). The sheer volume of water within the tall canyon peaks would make for an intriguing trip. Through each rapid I watched and quickly studied NG in the lead raft--how he dropped into each rapid, spun the raft, took forward or backward strokes, watching what rocks to sit behind or what rocks not to sit behind. Before I knew what was happening, I was sipping on an Arnold Palmer (it might possibly have been a John Daly) while playing pool at the River of No Return Lodge - North.
At the start of our second day on the river, I was told that we were going to experience some of the biggest, most fun rapids on the river. Not only would this be an extremely special trip (being my first trip down the
Main Salmon
), but, though we didn't know it at the time, this would be the last season that one could witness the astonishing Salmon River Falls in the magnificent Black Canyon. By that same time next year, Black Creek would blow out a half-mile down river, creating a new rapid that would back the river up and cover the Salmon River Falls.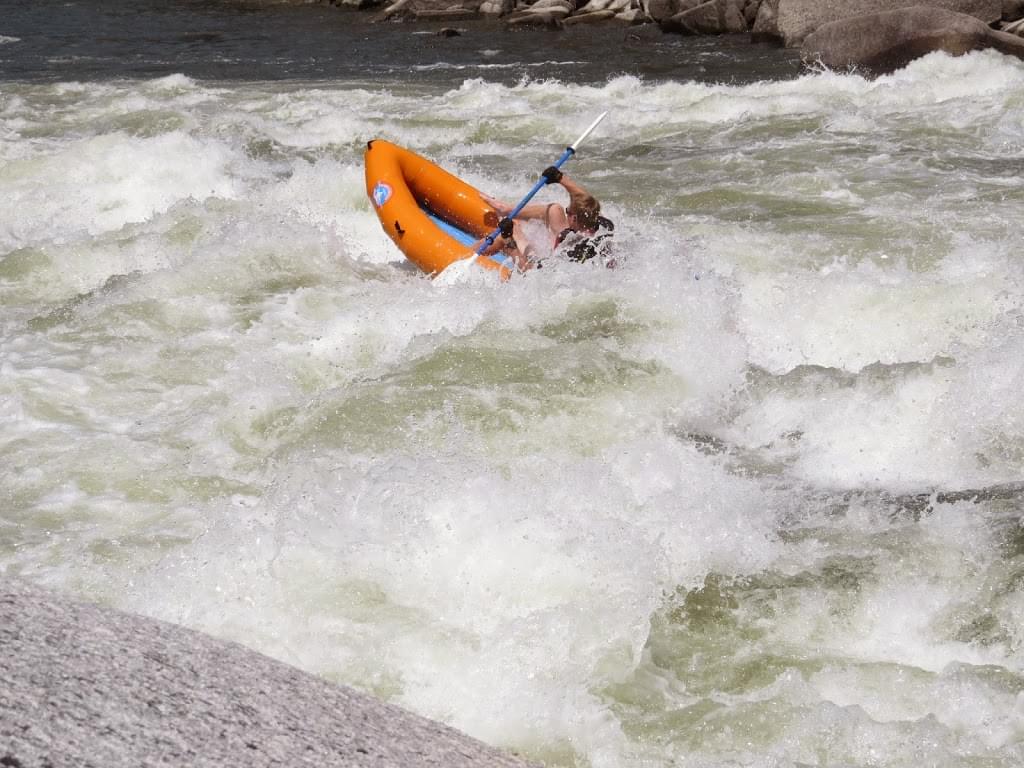 A look at Black Creek Rapid, which came to replace Salmon River Falls
We began to push further down river that second day and reached a place called Bailey's Rapid. Normally, this rapid has a large rock with a small, raft-flipping hole on the back side. However, with the kind of flow we had for this trip, those in the know knew that the rapid would be significantly altered. As we crept closer to the rapid, I saw NG stand up to get a better view of the rapid and scout any dangers. After a quick glance, NG turned back with a smile from ear-to-ear, like a little boy seeing Disneyland for the first time. He quickly gave me the "Good to Go" sign as he grabbed his "sticks." As his bright orange raft entered the rapid, you could see the raft drop a couple feet in elevation only to quickly rise as he hit his first wave. I was a few feet away from entering the rapid when I noticed that he reached the peak of the first wave only to quickly disappear. I remember that I was completely enthralled by the idea that his raft could simply disappear. It seemed like an episode of the Twilight Zone came to life; all I could feel was adrenaline pumping through my veins and a smile spreading across my face. In all my life, I could never have imagined seeing a rapid this big. It was simply a dreamlike experience.
A little over a mile later, my dreams of
"Big Water"
would come again. With the high volume of water on this trip, the rapids Five Mile, Split Rock and Little Stinker create one large rapid, which I like to call
the Triple Threat
. The beauty of this one large rapid is that it creates these enormous, smooth, natural-rolling waves--one after the other. With each pull and push of the "sticks" I maneuvered the boat to take each wave straight on.
After successfully finishing the first part of the rapid and entering the Split Rock section, I glanced back to watch the inflatable kayaks come through. What I witnessed included impressive paddling and selfless guiding on the part of our
Torpedo
 (IK) guides: Kim "Kimbo" Gonzales, Patrick "Patty G" Gescheidle and "Pretty" Richard Alves. One after the other would paddle from bank to bank, across these massive rolling waves picking up gear and guests alike (though not in that order!), getting people back into their boats and returning to their respective positions. I could not believe how effortlessly they worked to make sure each and every guest was as safe as possible. No matter what Mother Nature threw at them, their efforts could not be matched. A few bends down the river and we were finally resting at the beautiful White Water Ranch, with clear skies that gave way to an unequaled view of the vibrant stars.
Throughout the rest of the trip, I felt like a little kid again, playing Lewis and Clark on a great expedition. Going through rapids like Elkhorn (with a 20' wide hole) or watching rafts get vertical through Chittam Rapid, I couldn't imagine a better dream, let alone one come true. Not only are there spectacular rapids on the Main Salmon, with 10'-15' rolling waves, there is amazing scenery, wildlife and hikes that take you to the peaks of canyons at points one-mile taller than those of the Grand Canyon.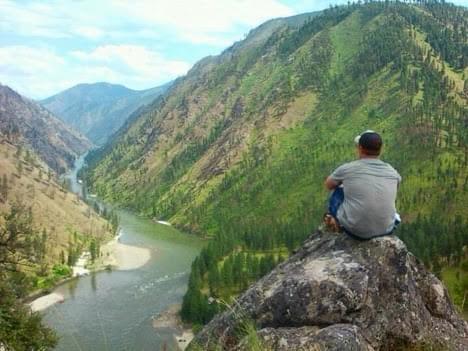 Well worth the hike
But what I love most about this river is the amount of history that has unfolded along this river, even after the Corps of Discovery choose not to pass through. I feel myself part of this rivers' history now, and have learned much about myself by way of facing its challenges and absorbing its lessons.The late Hendri Coetzee explains it best when we writes, "Either I find something better, or I die on the river. Either way I have nothing to worry about. The worst possible scenario is that I don't let go when the time comes, that I live out my life by an empty well, depressed and chained to a dead passion." As I come around each bend in the river, just as in life, I am faced with new challenges. Through each challenge I change, just like the raging water across the Earth, moving and ever-changing itself through its unstoppable journey toward the ocean.
Working as a river guide over the past few years, I have learned to live with the simplest things in life. At the end of every trip I am left with a quote from James A. Michener's book Centennial:
"We can't choose the times we live in. We can only try to change the way they are a little while we are here...Men come and go; they talk about my this, my that, my land, my part of the river, my range, my crops, my town. The truth is it never belongs to any of us. It can't. Man can never claim the land, but the land always claims man in the end."