First River Rafting Trips | an OTT Guide Series | Erik | The Generations of a Willie Boat.
In this weeks edition of a guides first rafting trip our General Manager and fellow river guide shares how the Rogue River and an old Willie boat live deep into the traditions of his family.
The Generations of a Willie Boat
By Erik Weiseth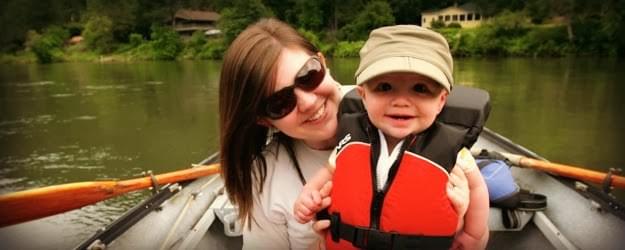 Nish and Rowan during Rowan's first day on the river.
I like to believe I was born into a life on the river. Loving the Rogue River is built into my DNA - the same way my brown eyes and a tan complexion are something I was bestowed by the genes of my parents; not a choice, just is. My father grew up exploring the Rogue River in the days when it was a bit more wild but, just as scenic. Many of his summers were spent barefoot, hopping from rock to rock or floating in pursuit of fish and adventure. As childhood became adult responsibilities, my fathers' career eventually allowed him to return to the banks of his childhood and his long lost friend: the Rogue River. With his return, my dad needed a craft capable of navigating the rocky upper Rogue and gliding silently into the fishing holes he aimed to empty. He eventually decided on a locally-built Willie-brand, Mckenzie-style drift boat. This boat glided him into many a full fishing hole and was his home for numerous cold Saturdays spent suffering the Southern Oregon weather in pursuit of the infamous Rogue River winter Steelhead. Eventually, his fishing was, at least temporarily, put on hold by the arrival of his first child - me. But as any passionate angler or good river guide would attest, "Don't let something like having a kid stop you from going on the river."  So, at around 6-months-old, I was packed up, zipped into a little orange PFD and taken for my first of countless floats on the Rogue River.  Looking back, the bulk of my young childhood memories are associated with the front of that drift boat or, a few years later (about 7-years-old), with my own tahiti, following my dad's drift boat down river. The important part of this story arrived about 26-years later with the birth of my own son, Rowan. By this time, my dad's boat had passed to me, after he decided to move on to a jetboat for his primary angling craft. Recall that any good river guide (or in this case, terrible angler) would tell you, "Don't let something like having a kid stop you from going on the river." So, at about 6 months old, we packed little Rowan into his tiny PFD and took him for his first float down the Rogue River, in the same drift boat, on the same river, which together had started my river journey 26-years earlier.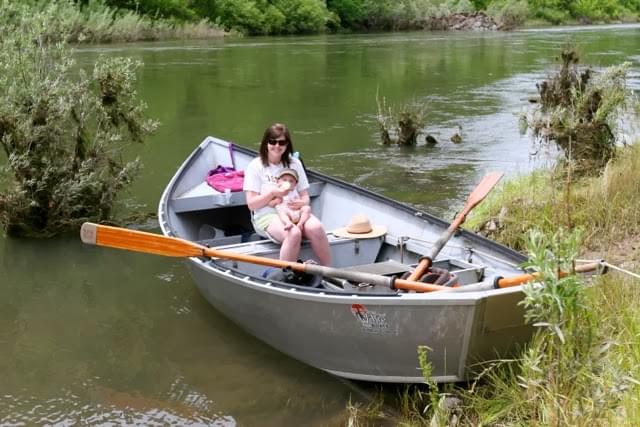 Rowan needed a little food break during our float.
Fast-forward Rowan a few years and over 40 river-days, including a 3-day trip through the Wild and Scenic Rogue River, and our little boater was back in the drift boat again, this time with his 6-month-old sister, Scout, for her first river trip. Back on the Rogue, with the same drift boat in which Rowan had started his river life, and the same one that had changed my life almost 30-years earlier, we were introducing my little girl to the thrill of the waves, the silence of the pools, and the simple tranquility of a life on the river.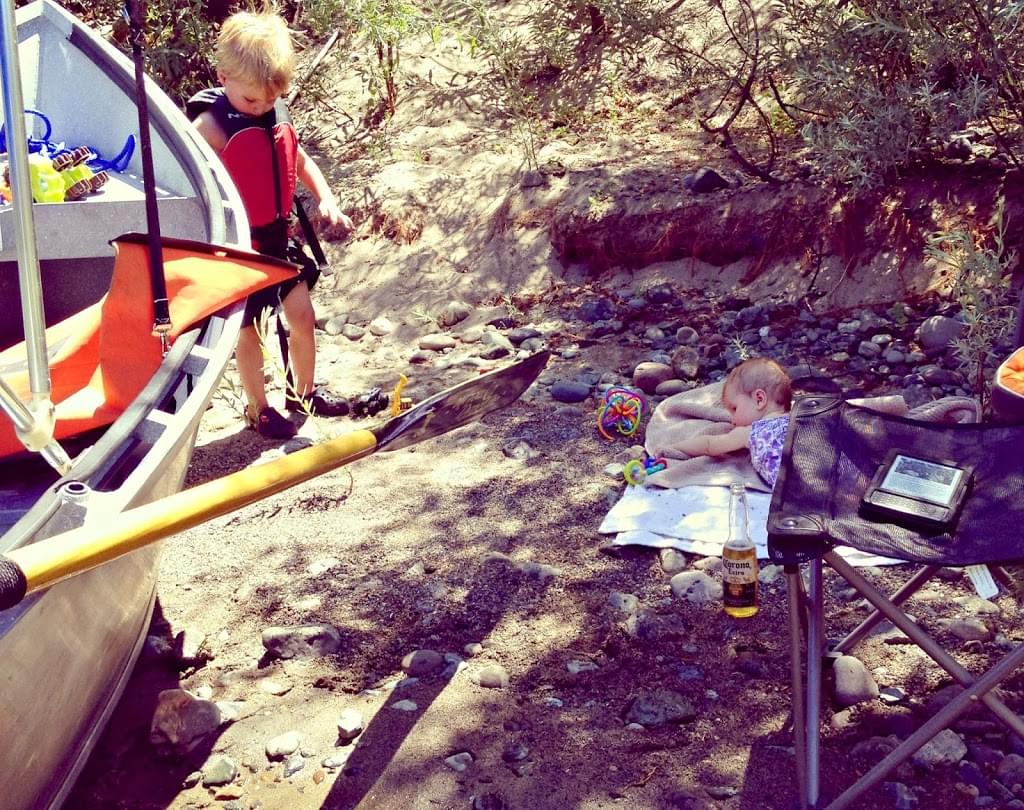 Scout relaxing riverside at a little float break while Rowan arrives back from exploring.
We're now two generations into this Rogue River tradition. A tradition made under the heat of summer sun, barefoot on river rocks and floating towards a setting sun with my wife and kids.  Memories existing to the rhythm of waves, dreams spawned in calm pools, and giggles made splashing water on the shore.  Here, a river does run through it, and hopefully it continues for many generations to come.