Where's Your River Guide? | N.G.
Looking for your river guide?
If you've been following along, you'll have noticed that the previous (and only) two installments of this--the OTT Where's Your Guide--series have followed the more faraway members of our family. So we thought we'd bring it home for a change.
This week we're stalking the the only member of the OTT First Estate (or if you're in need of a more contemporary reference, the OTT 1%): Orange Torpedo Trips' General Manager, Erik Weiseth (affectionately, N.G.).
If you've gone on or booked an OTT trip in the past 10+ years, chances are that you've met, spoken with or heard mention of N.G. (If you haven't yet, but do end up talking to him, be nice; between wrangling  two young kids and a raft* of guides, who admittedly require much more handling than kids, the guy basically never sleeps.)
During the season, you'll find him at Orange Torpedo World Headquarters, where he spends just about all of his time. Currently, N.G. is in Salt Lake City, where he lives during the offseason.
When he isn't working, which he almost always is, you'll probably find him on a mountain somewhere, skiing down things most of us would never consider (i.e.,  shredding gnar pow pow) or else hanging out with his kids and wife.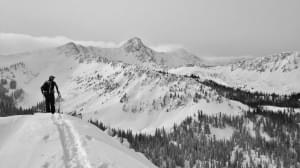 Given his affinity for the mountainous backcountry, N.G. makes for a particularly difficult stalk. But never fear, because soon the Winter will pass into spring, and as the seasons transition, so too will N.G. migrate back to OTT World HQ in Southern
Oregon
, where he rarely leaves the shop, making him painfully easy to follow.
*raft: a group of guides