The River of No Return (1954) - OTT and the Arts
The River of No Return
Among other things, the offseason means finding other ways to slake our river-need, and one of the best ways to get that fix is through the magical world of film.
Now, there are a number of great river-running-related films out there. A River Runs Through It (1992) is an obvious--and choice--example. Likewise, The River Wild (1994). Both are great films (from the river enthusiasts' perspective, if not the film critics'), and if you haven't seen them, we'd strongly recommend doing so.
But while both of these films have and continue to enjoy relative notoriety (at least in the proper circles), there's one river-related film, in particular, which we think deserves more attention: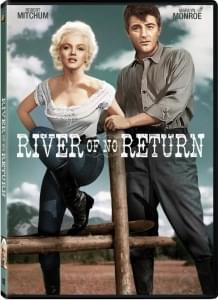 This 1954 classic (starring Marilyn Monroe as
Kay
and Robert Mitchum as
Matt Calder
) takes its name from the actual River of No Return, Idaho's
Main Salmon River
.
The plot revolves around Matt Calder, who lives with his son Mark on a backcountry plot along the river, and Kay, a strong and equally tantalizing saloon hall singer.
Through an unlucky sequence of events--involving predictable backhandedness on the part of Kay's boyfriend, Weston, and a what can only be called a classically offensive Native American threat factor--Matt, Kay, and young Mark are forced to attempt a perilous downriver escape (by way of a sweet sweep boat!).
While interpersonal tension and the aforementioned classically offensive Native American Threat Factor definitely drive this film, there is also, surprisingly, some rad on-the-river whitewater action.
(Lest anyone reading this had been considering running the Main Salmon, it bears mentioning that naught of this movie, including the gnarly whitewater sequences, was actually filmed on the Main Salmon.)
So if you're in the market for an off-season, river-related film, look no further than River of No Return (available for streaming from Netflix and Amazon Instant Video, as well as for download from iTunes).