Is kayaking in Oregon in the winter cold? Maybe. But it's awesome!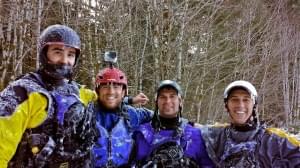 From Left to Right: Josh Makepeace (P.B.), Geoff Stewart (D-Dubs), Richard Alves (Pretty Richard), and Aaron Lieberman (Highside)
A story of wintertime kayaking on the rivers of Oregon
Recently, Me and three close friends--including OTT guides Josh Makepeace (photo left) and Richard Alves (center right), and OTT honorary fellow Geoff Stewart--set out to run an upper stretch of the North Santiam river, located outside of Detroit, Oregon.
For guides in the offseason, the need to get out and paddle can become borderline pathological. This bears mentioning, because it helps to explain why four non-raving individuals would choose to kayak in sub 15-degree temperatures.
I've never paddled in colder weather than we had that day. (The photo above help to give an idea of just what it means to paddle in that kind of cold. Notice the icicles hanging from our helmets and the solid layers of ice covering our PFD's and drysuits.) The rocks down by the riverside at the put-in for the run and in the river itself were all covered with 3-4" thick ice-layers. While we were on the water, we had constantly to rub and scrape our paddle-shafts to keep the persistent layer of ice from taking over entirely. Upon receiving a splash to the face, our eyelids would literally freeze.
After finishing the run and schlepping ourselves and our boats back up the snowy embankment to where our shuttle car was parked, we found ourselves unable to remove our PFD's. Ice had formed in centimeter thick sheets ensconcing the straps and buckles. Like so many frozen cuts of meat, we ended up having to defrost ourselves in our vehicles.
With PFD's off, standing around still in our drysuits, we were all glad we had made a day of this. The Bruno Mountain section had turned out to be fairly tame in terms of whitewater compared with our summer trips on the
Salmon River
, but was still exciting with several great rapids breaking up miles of boogie water.
But what made the run worth it was just being out there, when and where we were, in that winter wonderland.
Yes, it was cold (so very, very cold), but it was still more beautiful, making the fact of the cold secondary. Snow draped over and along the bows of the central-cascade evergreens, which lined the stream, which was itself embanked by banners of ice, as if everything in the world had drawn together around the river. Every once in a while, the river would bend around to reveal the brilliant white pyramid of Mount Jefferson, seeming much closer than it really was.
This day and days like it seem designed to remind us of the importance of doing what we love despite and regardless of our meeker inclinations--despite warm beds and regardless of the cold.
Watch the video of our day: