The North Umpqua River is easily one of, and arguably the best, one-day whitewater rafting trip in the state of Oregon. This river is known for crystal clear water powering through boulder filled rapids, all surrounded by pristine mountain pine forest. Filled with what feels like almost non-stop class II and III rapids, this trip keeps you engaged throughout with just enough rest between cascading rapids to take in the awe inspiring scenery.
The North Umpqua 1-day trip is ideal for families looking to paddle together in paddle rafts with an experienced OTT guide in the back steering and calling commands. Work with your family members to navigate the boulder garden of Boulder Hole rapid and the tight technical squeezes at PinBall rapid. If you really want a challenge try inflatable kayaking and paddle yourself down the river and through the many exciting rapids. If you sign up for the IK (inflatable kayak) it's best to have prior experience or an adventurous spirit and good athleticism.
The North Umpqua River is hidden in a beautiful part of Oregon that makes a great base for larger family vacations. The area is home to numerous hikes, waterfalls, swimming holes, camping spots, hotsprings, and mountain biking. The launch point for our day trip is about 40 minutes from Crater Lake National Park which is a must see stop in Oregon. So plan a longer trip to the area and see everything this beautiful part of our state has to offer. Want us to help show you around? Sign up for one of our multi-day North Umpqua rafting trips and we will show you the local sites in the evenings between days on the river.
Due to permitting we offer a limited number of trips on the North Umpqua River ever year so we suggest reserving your spot as early as you can since it's not usual for us to sell out for the whole summer by early July.
Trip at a glance
Who is this trip for?
Anyone looking for a busy day of whitewater with beautiful scenery, without getting into something over the top serious.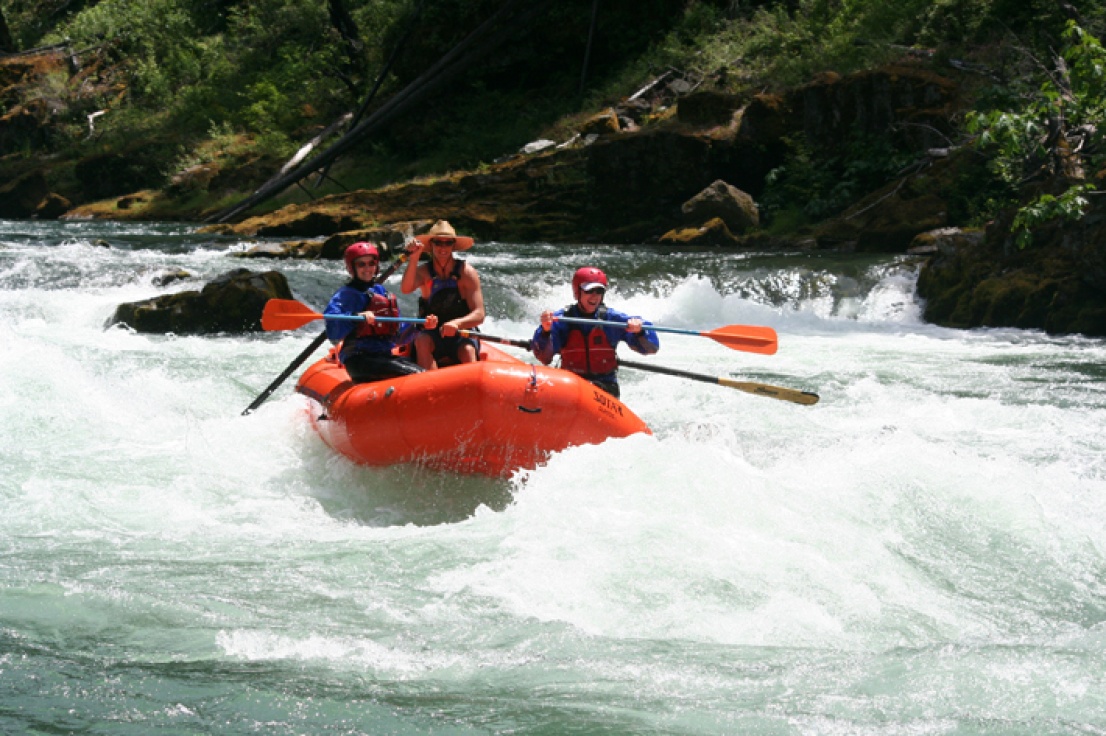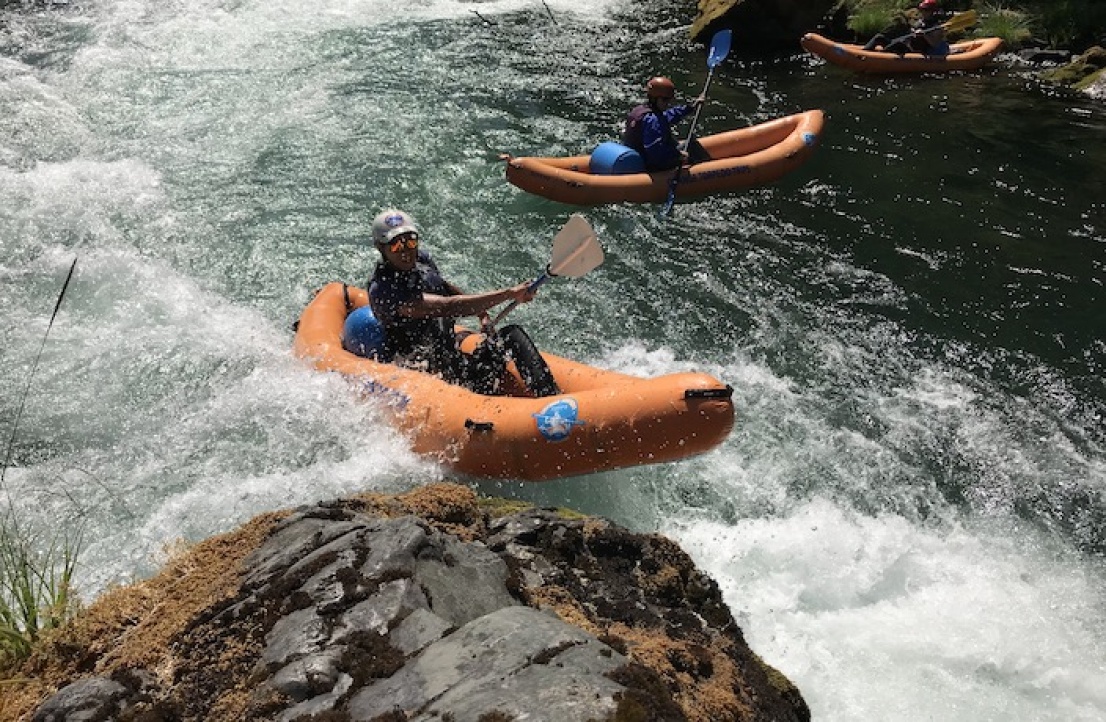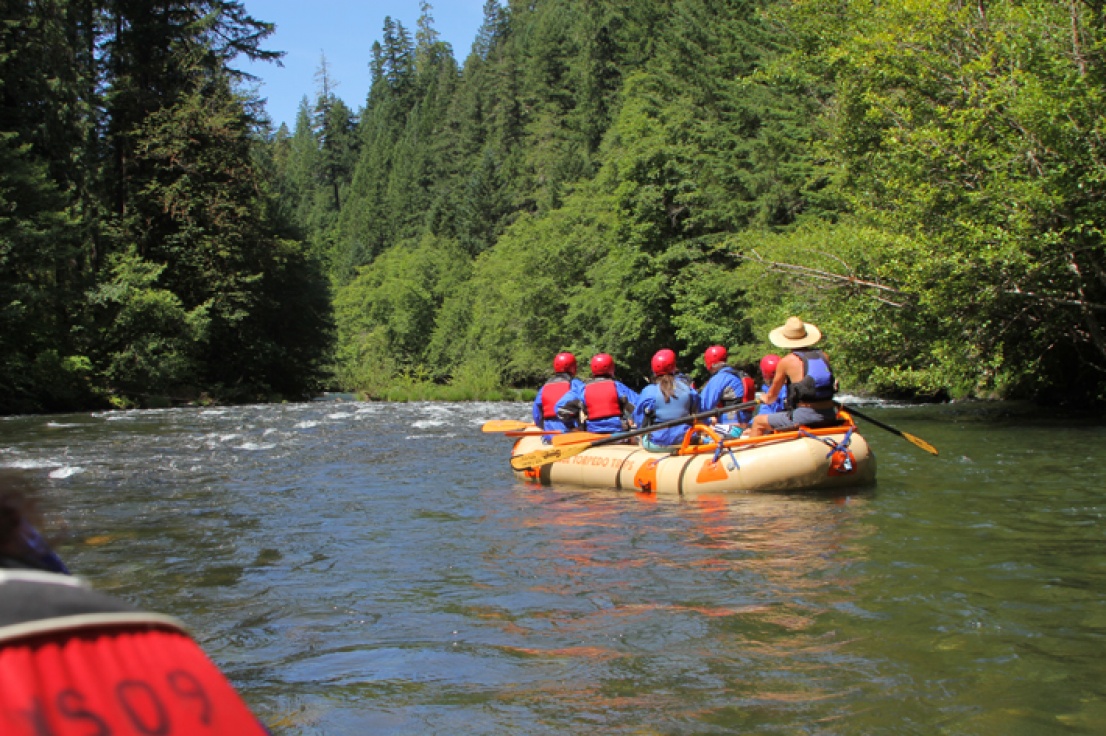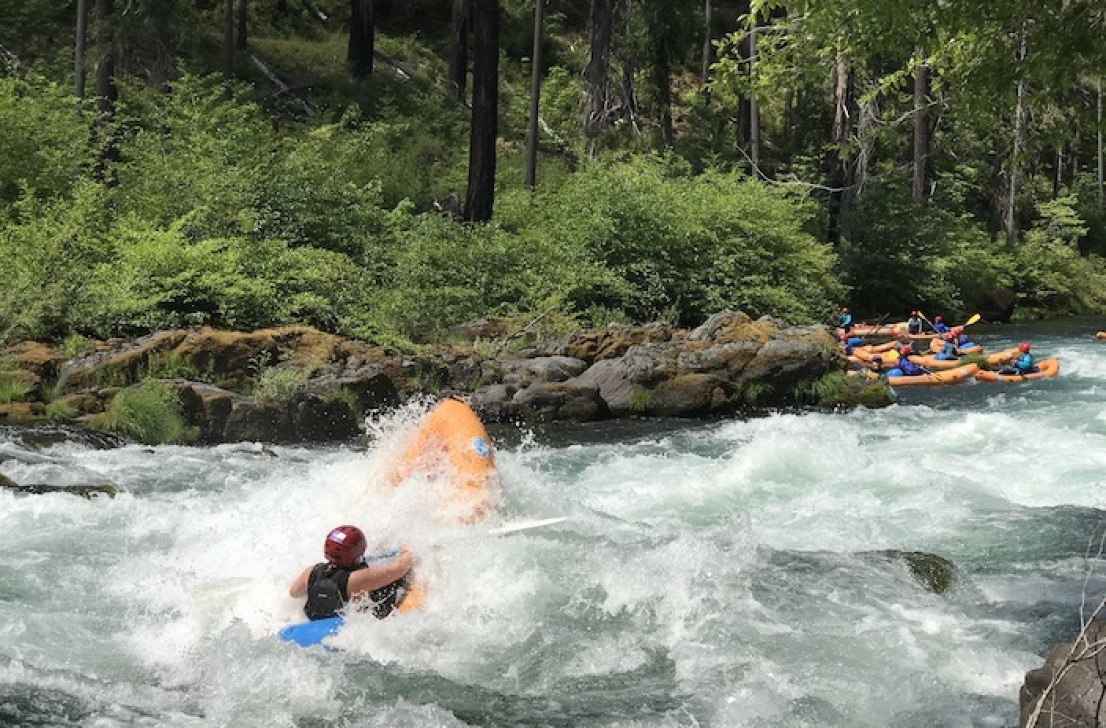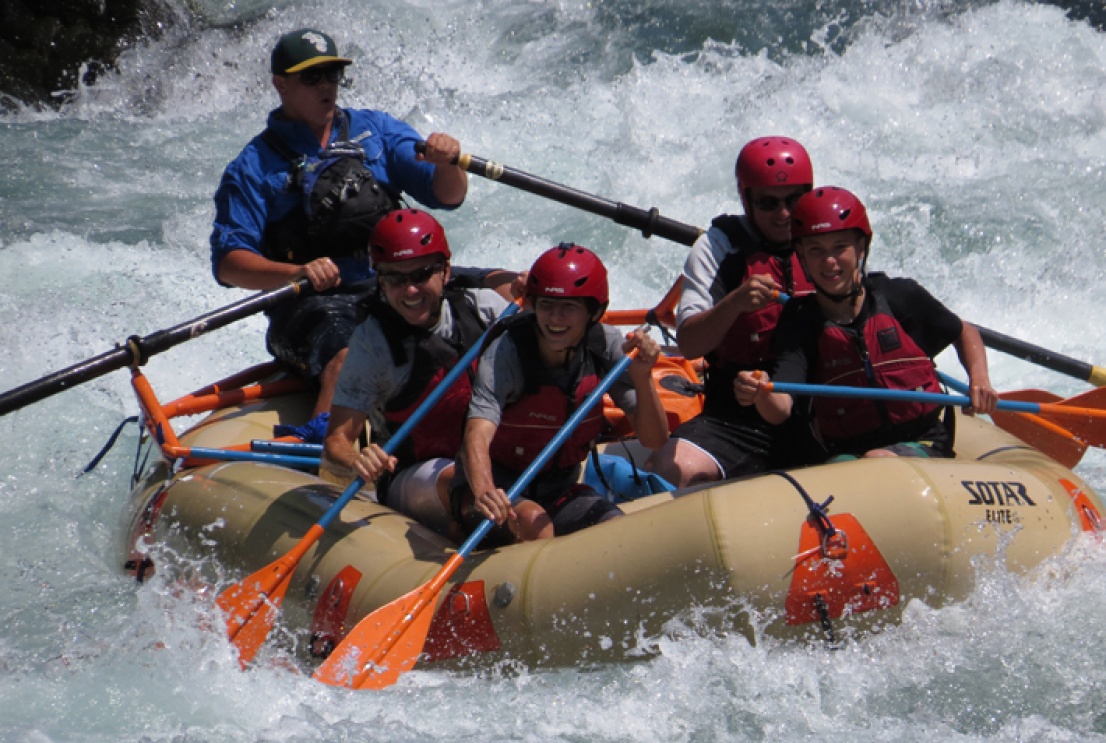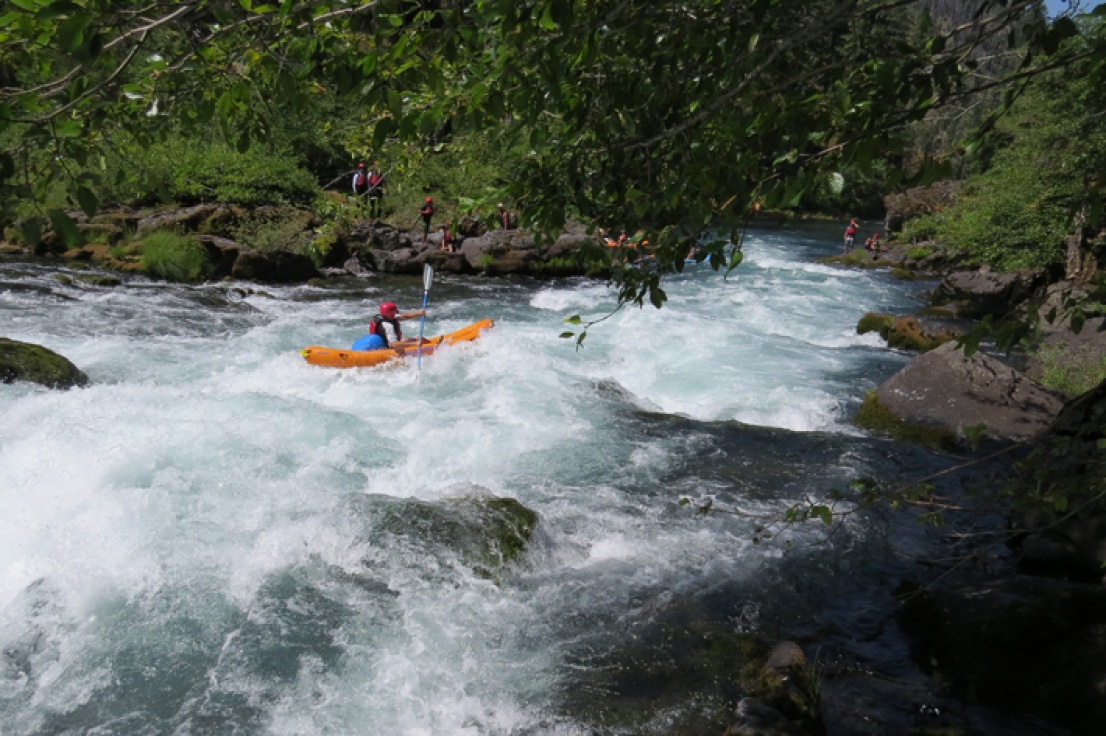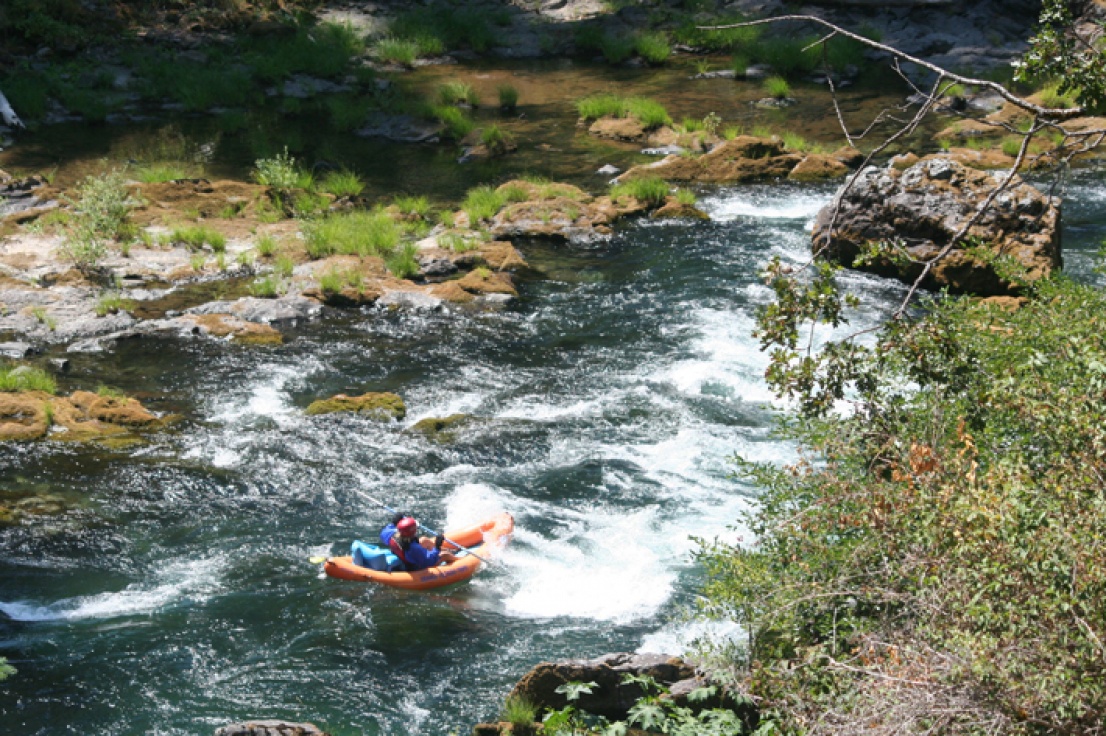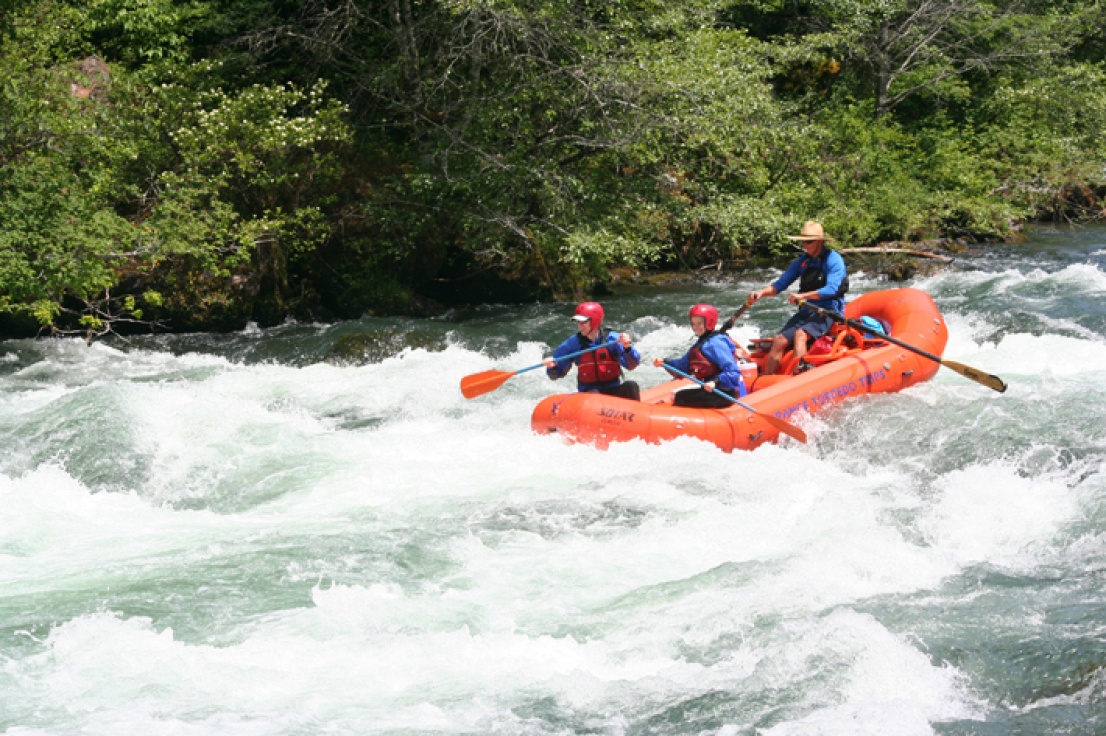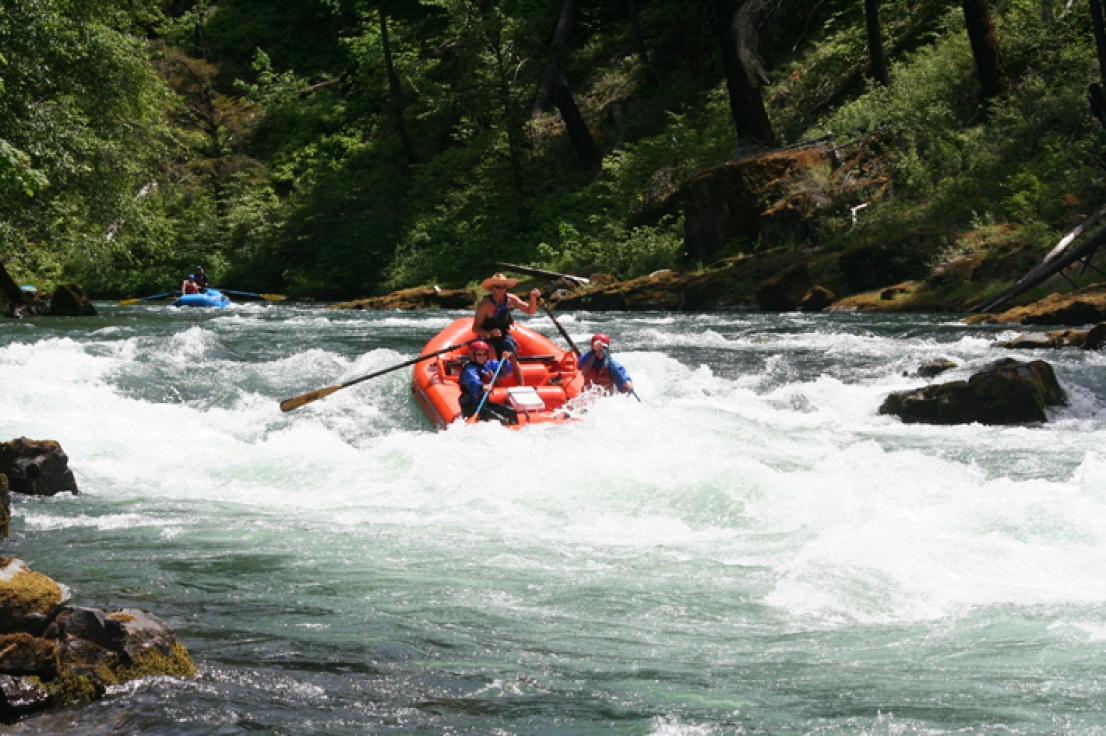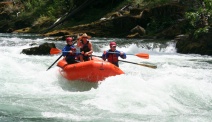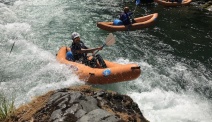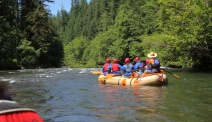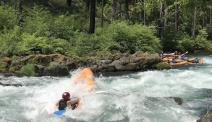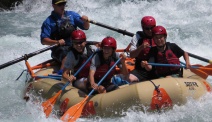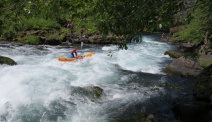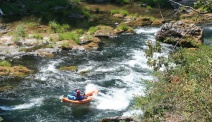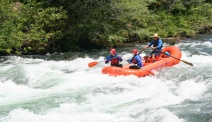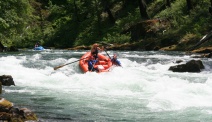 Dates / Rates
North Umpqua 1-day trip
Price:
Wednesday, Friday, Saturday - $149 per person
Trip Start Dates:
May 1 through Sept 10
We regularly run trips on Wednesday, Friday and Saturday. If you have a group of 6 or more people we can run a trip any day of the week for you.
You can meet this trip at one of 3 locations. See the travel info tab for meeting locations and times.
After we meeting for the trip we drive to the trip put-in at Boulder Hole. At Boulder we gear you up and go through a thorough trip orientation. From Boulder it's whitewater almost all the way to lunch. Our riverside picnic lunch will get you ready to take on the adventuresome afternoon. Usually around 3 pm the group will float into the takeout where it's time to change, load back in the van, and start heading home.
The same van we take to the put-in will meet us at the takeout so you can leave a change of clothes in the van if you would like for after the trip.
Detailed Itinerary for this North Umpqua 1-Day Trip
Depending on where you are coming from we have a variety of meeting points to choose from. No matter where you meet us, be sure to eat a hearty breakfast before we meet; you will be very active before lunch.
Our Shop in Merlin Oregon - Meet the guides at our shop in Merlin Oregon, (210 Merlin Rd, Merlin OR. West off of Interstate 5 at exit 61) at 7:15 AM.
Hampton Inn and Suites in Roseburg - If you are coming from the north or are already in Roseburg Oregon, you may find it easier to meet us at the Hampton Inn and Suites, in Roseburg (exit #125), at 8:30 AM.
Gravel Bin Boat Ramp - If you are coming from Crater Lake or camping in the area we can meet you at Gravel Bin boat Ramp around 9:15 AM.
At the put-in, your head guide will give you a thorough safety and paddling orientation while you gear up with helmets and optional wetsuits. Our trip begins with exciting class III white water that will give you a thrilling introduction working on a paddle raft with your team members. Returning guests or more adventuresome guests have the option to paddle an inflatable kayak down this exciting stretch of Oregon whitewater. The morning is very busy with mostly class II rapids leading into the last three rapids before lunch. The last three rapids leading into your food are back to back class III's making for a great conclusion to the morning.
Relax in the sun while reminiscing about the exciting morning as your guides finish preparing lunch. Eat well; the afternoon is a white water extravaganza with many class III rapids and even one exciting class IV, Pinball. Spending the afternoon running famous rapids like Amazon Queen and the Froggers will make you a paddling pro. Late afternoon finds us at the takeout where our van will be waiting to take you back to the Windmill Inn or our Merlin Store.
Where to Meet Orange Torpedo Trips
You can choose to meet us at one of three locations for this trip depending on where you are coming from and where you are going after.
1. Our shop in Merlin Oregon at 7:15 AM. We are located at 210 Merlin Rd. Merlin, OR. 97532. Exit I-5 at exit 61 and drive 3.2 miles. We are on the right hand side.
2. The Hampton Inn and Suites in Roseburg Oregon. The Wildmill Inn is directly off of I-5 at exit #125. We meet here at 8:15 AM.
3. Gravel Bin Boat Ramp: On Highway 138 about 1 mile up river from the Steamboat Inn. We meet here around 9:15 AM.
4. Steamboat Inn: For those staying at the Steamboat Inn we can pick you at 9:15 am.
Accommodations
If you are coming from the South or will already be in Grants Pass Oregon meeting us at our shop in Merlin these are some great spots in town.
If you are coming from the north like Eugene, Portland, or Seattle it will be easier for you to meet us in Roseburg Oregon. If you want to meet us in Roseburg we meet customers in the parking lot of the Windmill Inn at 8:30 AM. You can also choose to stay up on the river at the beautiful Steamboat Inn. If you stay at the Steamboat we can pick you up there around 9:15 AM.
Camping
The North Umpqua River corridor is strewn with incredible camp grounds. If you plan on adding a day of rafting on the North Umpqua River to a family road trip, a night camping in the area will be a great experience. If you plan on camping in the area the night before your trip plan on meeting us at the Gravel Bin boat launch around 9:15 AM. Below is a great site for camping information on the North Umpqua River.
North Umpqua River Camping Information
Flying In
The closest commercial airport is in Eugene, Oregon which is about an hour and fifteen minutes north of Roserburg. If you fly into Eugene you will need to rent a car and meet us at the Hampton Inn in Roserburg.
Typical Weather
Southern Oregon is known for its great summer weather.
Averages are:
Averages are:
May · High (F) 71 Low (F) 46 Avg. Rainfall 1.82 in.
June · High (F) 78 Low (F) 51 Avg. Rainfall .92 in.
July · High (F) 86 Low (F) 55 Avg. Rainfall .44 in.
August · High (F) 86 Low (F) 55 Avg. Rainfall .57 in.
The North Umpqua is a chilly river so not wearing cotton is important. You will be able to leave dry clothes in the van for the ride home if you would like.
What to pack
Swim attire (ideally not cotton) shorts and shirt
Water shoes or sandals
Water Bottle
Sunscreen
Sunglasses with croakies or chums
Camera
FAQs
On this trip you will be required to sign an acknowledgement of risk form. You can find a copy of form here: Acknowledgement of Risk
As on all OTT trips, this trip requires a 30% deposit. Balance payments are due the day of the trip.
Yes, but with some limitation. If you start in an inflatable kayak and decide quickly that it's not for you. We will get you out of the kayak. If you start in a raft and decide you want to kayak, we cannot always guarantee that ability. Based on what people tell us they want to do we pack a specific amount of equipment and bring an appropriate number of guides for a trip. Sometimes that does not leave much room to add kayakers mid-trip. People will often be willing to switch out throughout the trip, but if someone signs up to tackle the river in an inflatable kayak, we want to make sure they have chance to paddle the entire trip if they want.
On this trip, everything for the day typically goes down the river with the group. We will have a "day-bag" to put any items you want to take on the river with you but want to keep dry.
Orange Torpedo Trips was founded on the Rogue River in 1969 by rafting visionary, Jerry Bentley. Within just a few years OTT had spread to numerous rivers throughout the Northwest including the Klamath River, the Main Salmon River and Snake Rivers.
On single day trips your $10 per person deposit is refundable up to 72 hours before your trip. Cancellations within 72 hours of the scheduled trip launch will be subject to loss of their deposit.
As on most of our trips we offer a variety of river craft to choose from. Orange Torpedo Trips is best known for inflatable kayaking with 80% of our customers choosing this as the way to go down the river, but on this trip we offer 3 types of river craft on this trip. Watch the video to learn more about our 3-boats.
Orange Torpedo
Learn to paddle your own inflatable kayak (Torpedo). We have guides in Torpedo's teaching you how to paddle and leading you through the rapids in a 4 to 1 ratio. If you happen to fall out the guides have you out of the river in seconds. 45+ years of doing it on the Rogue River and tens of thousands of satisfied returning customers prove that it is extremely fun.
Paddle Raft
A more traditional type of rafting, paddle rafts are a great way to go if you still want to do some work, but think the torpedo is just a little to much. Work with a team of your friends paddling the big boat through the rapids as the guide sits in the back to help navigate.
Oared Raft
Hop on an oared raft and ride in luxury. This is the relaxed way to travel. If taking in the scenery and letting the guide do the work is how you vacation then hop on board. This is how kids 4-11 years old will usually travel.