The Klamath River in Northern California is one of the best single day trips in Northern California or Southern Oregon. Escape the crowds of other rivers and explore this remote area, hidden between the Marble and Siskiyou mountain. Happy Camp and the Klamath River canyon is so secluded it is thought to be the modern home of big foot. So come down from Ashland and Yreka on the interstate 5 or drive over the hill from Cave Junction and join us for a great day paddling class III rapids and swimming in pristine riverside pools.
The Klamath River is popular for the warm water, incredible scenery, active wildlife, and perfect rapids for first-time rafters. Early in the season the rapids are known for their big and powerful waves where trips later in the season require more technical and exciting maneuvers between mid-stream boulders. First time inflatable kayakers find the Klamath River more challenging than the day trip on the Rogue while still be more approachable than the North Umpqua. It is an ideal trip for the active first-time paddler wanting to try an inflatable kayak. Kids love paddle rafting the Klamath with all the splashy class III rapids and the warm water perfect for enjoying the numerous pools as the group floats downriver. Trips here include all of the needed equipment, a delicious riverside lunch and transportation back to your vehicle at the end of the day. So if you are finding yourself in Northern California or Southern Oregon and are looking for that slightly off the beaten path adventure come and join us on the incredible Klamath River.
Trip at a glance
Who is this trip for?
Families and adventurous Inflatable kayakers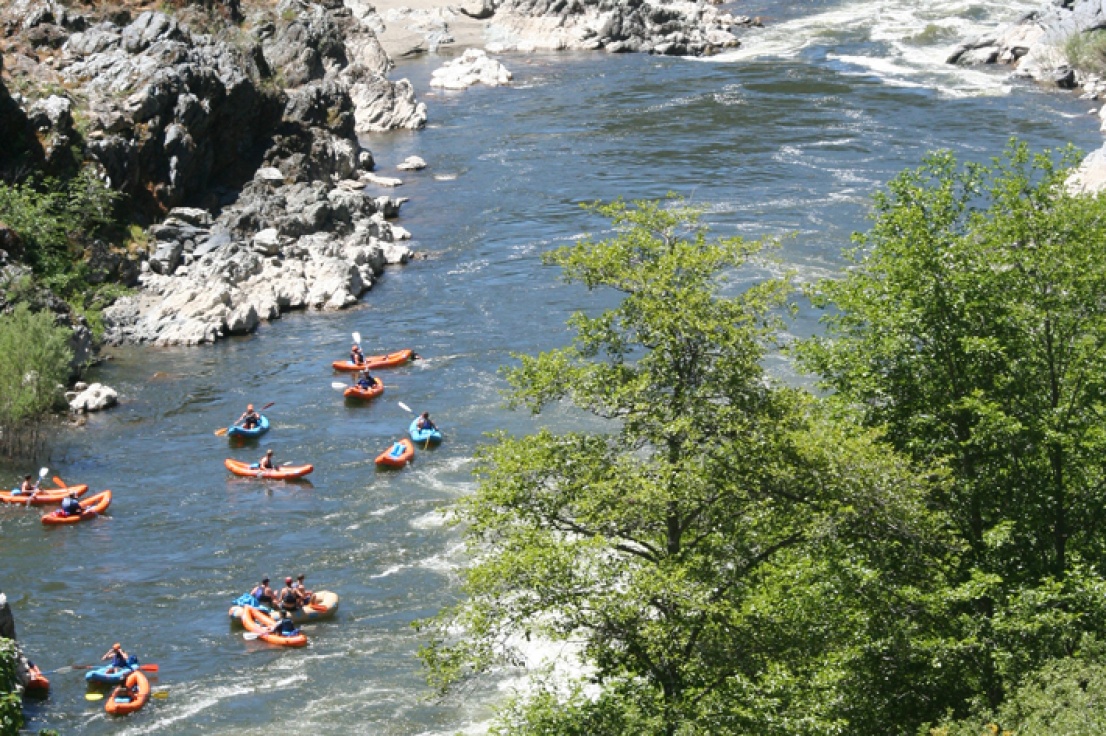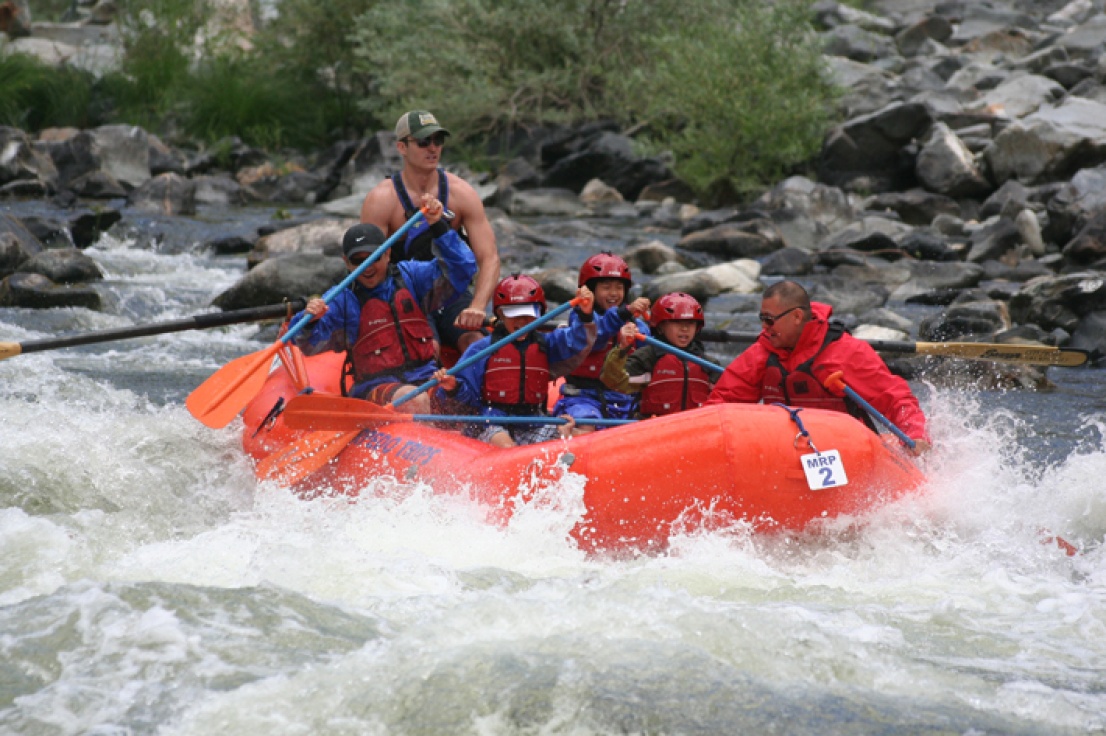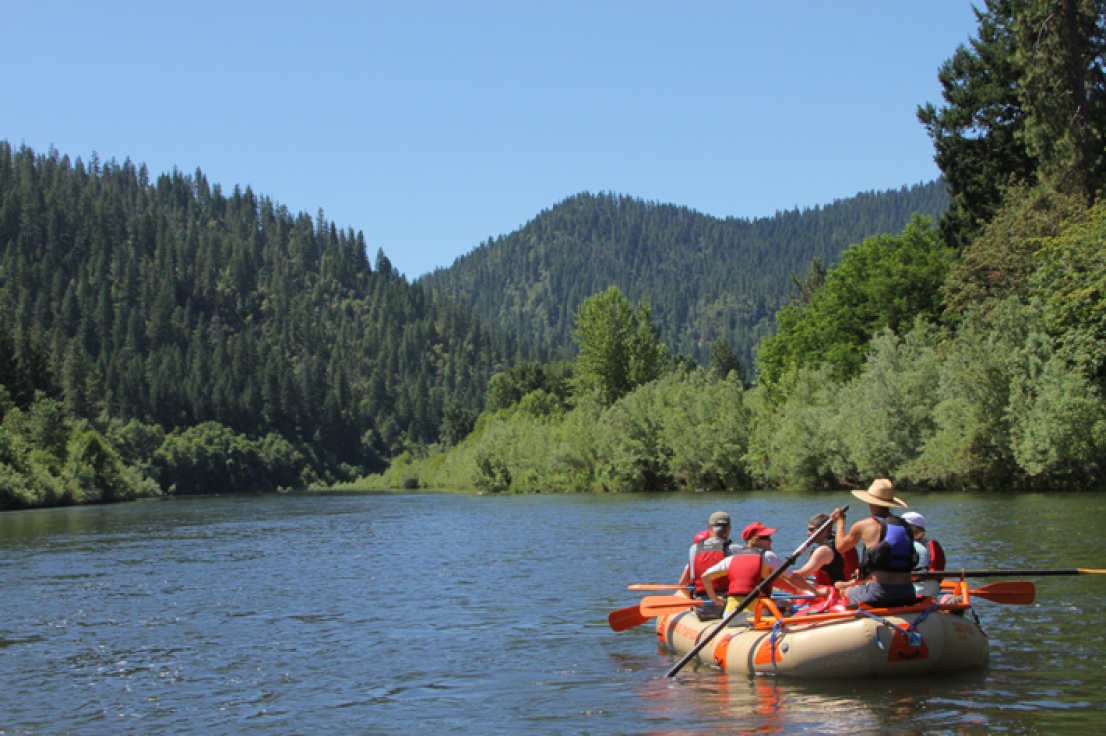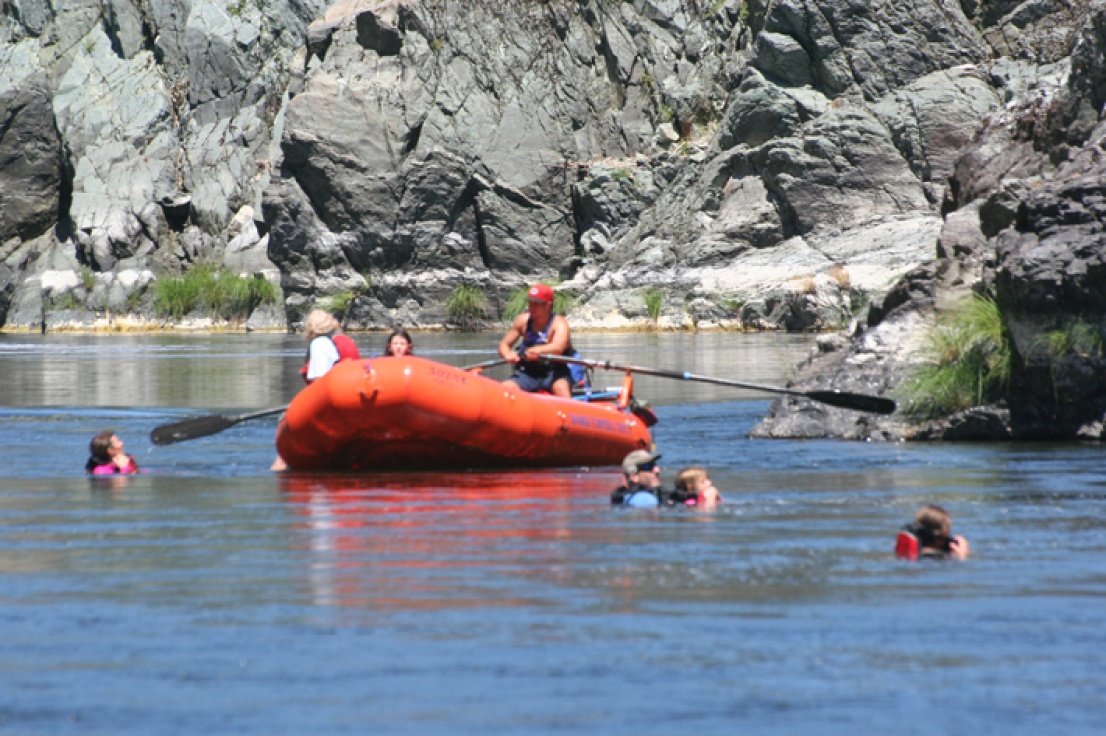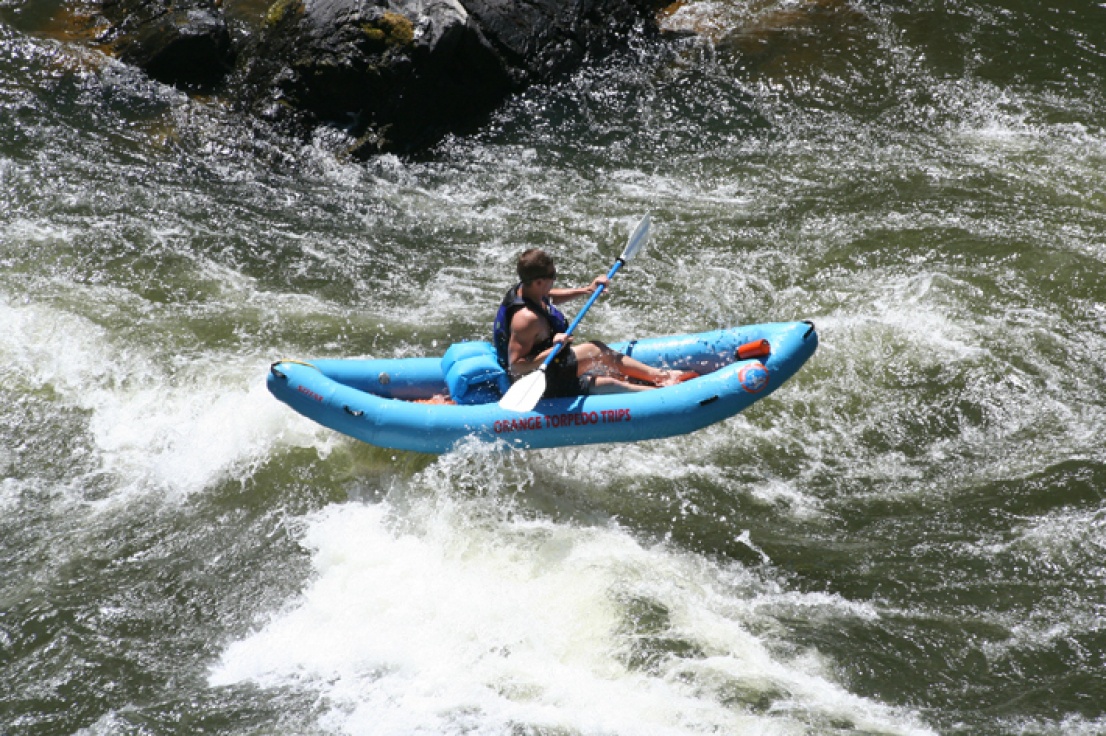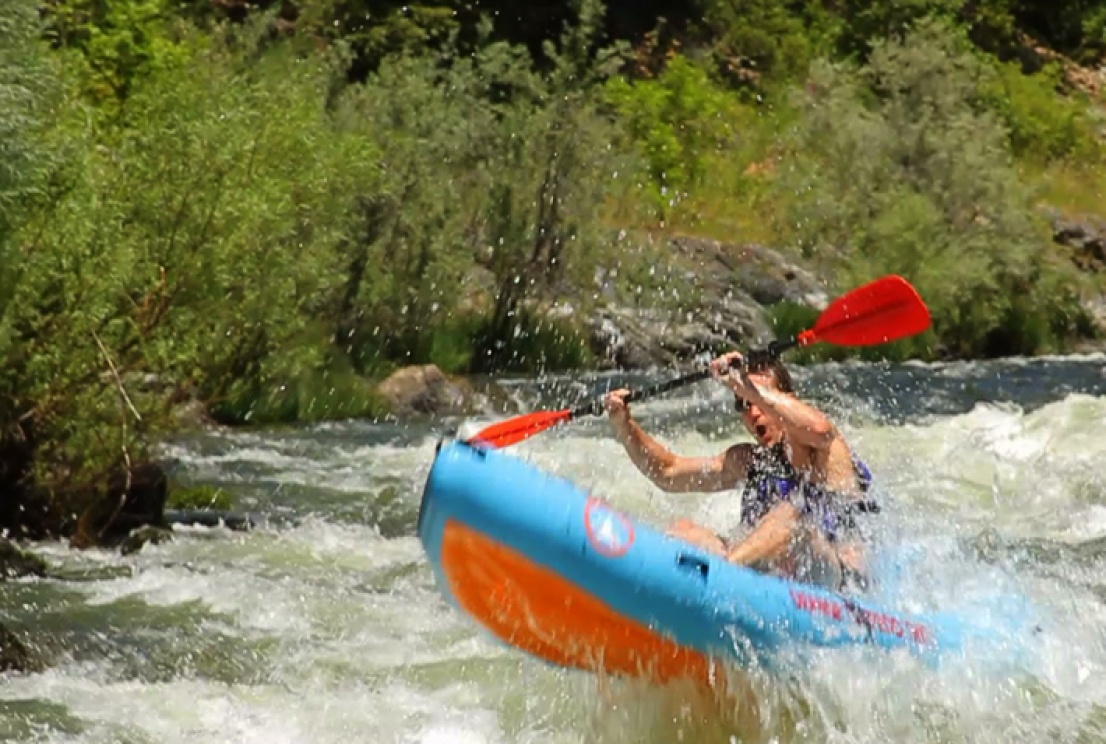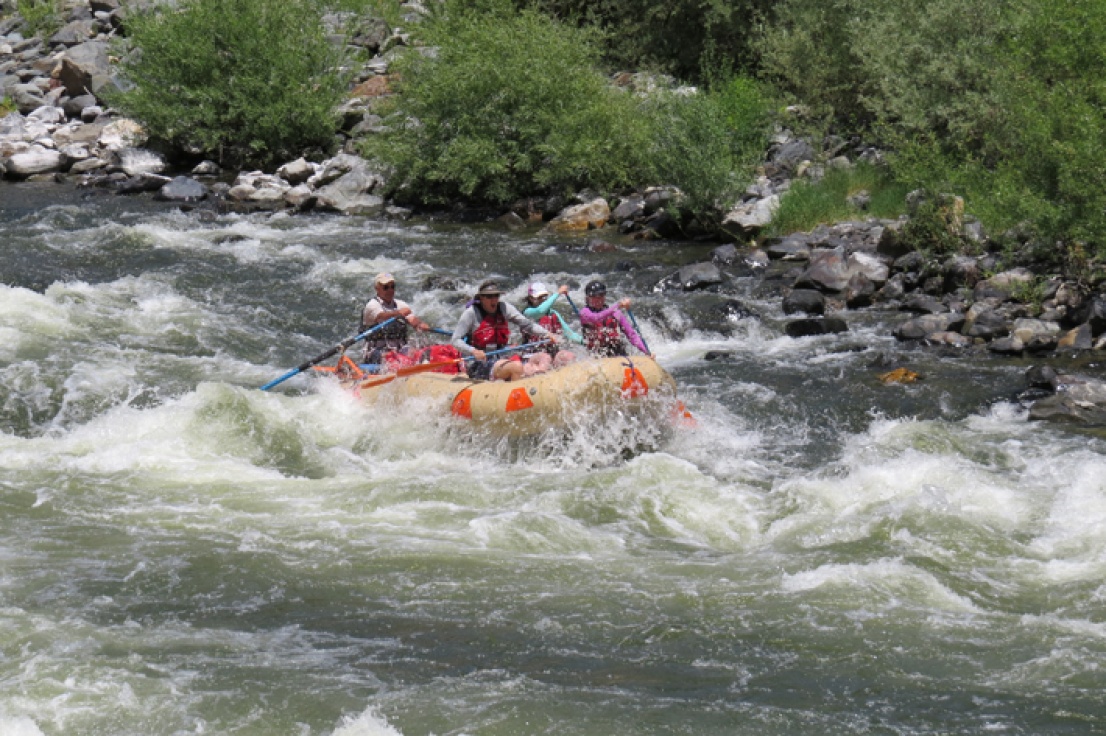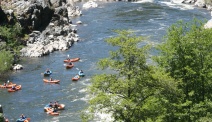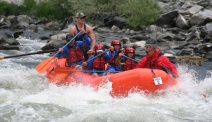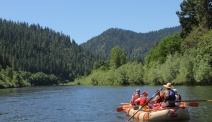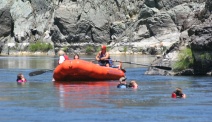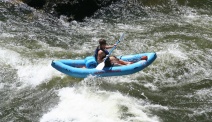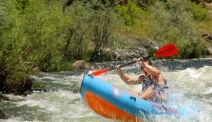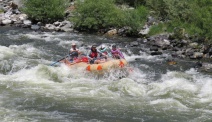 Dates / Rates
2019
Price:
Trips run Friday, Saturday, Sunday - Adult $149, Youth $139
Trip Start Dates:
June, July, August
Other days of the week may be available by request for groups of 8 or more people.
We typically do not run trips the last week of July or First week of August out of respect for river based ceremonies of the local indigenous people.
Klamath River 1-day Trip
Meet us at the Indian Creek Boat Launch in Happy Camp at 10am. Please see the map above for the exact location.
At the put-in we will get you all the equipment you are going to need for the day. On all trips everyone will be given a PFD and have the option of a helmet. Those under 12 and those who paddle an inflatable kayak, will be required to wear a helmet. For everyone else they will be optional. After gearing up the group will go through a 10-15 minute orientation before loading into the boats and heading downstream.
The whitewater starts off easy with a number of fun class II rapids before the first class III (IV) at Kanaka. This rapid is where the action really gets going with a number of fun class III rapids lining up just behind. Rapids like Devils toenail and trench will keep the group on their toes and challenge all the inflatable kayakers to stay in their boats. As the whitewater settles down it will be time for a riverside lunch. At lunch the guides will find a spot to set up their table and the group can enjoy a delicious sandwich bar or some salads prepared by our in-house folks back in our kitchen.
After lunch it is back to the river for some easy class II rapids and plenty of pools to swim. Most groups choose to make a quick stop at Clear Creek to swim in the crystal clear and refreshing waters before heading downstream. As the afternoon approaches the group arrives at one of the largest and longest rapids of the day, Ferry Point. This class III (IV) is always exciting and has challenged some very skilled inflatable kayakers. A couple miles below this outstanding rapid we arrive at Independence and our takeout where the van will be waiting. Load up and head back to your car.
Trip Logistics Overview
https://drive.google.com/open?id=1OgpU5QaTzbaSMeXwz0ER-APd8Jpq6Z84&usp=sharing
Where to Meet Orange Torpedo Trips
Please meet us at the Indian Creek boat launch site in Happy Camp California. We meet here at 10 am. This location is approximately 1 mile west of the USFS ranger station on the main highway.
Accommodations
Happy Camp has a number of small local hotels to choose from. You can also stay in Yreka or Cave Junction and do the 1-hour drive to Happy Camp in the morning.
Miners Inn/Best Western Yreka California 530-842-4355
Camping
Curly Jack Campground is just south of town and makes a great place to camp if you are meeting us to go rafting. We strongly advise making reservations as this can be a popular campground.
Flying In
The closest commercial airport is in Medford Oregon.
Typical Weather
Happy Camp is typically hot in the summers with weather between the high 80's and low 100's F.
Klamath River 1-day items
Sunglasses with chums/croakies
Hat
1-liter water bottle
Sunscreen
Swimwear
Appropriate footwear (Something that stays on your feet if you are swimming)
If you have any questions about what stuff to bring just give us a call.
FAQs
As on most of our trips we offer a variety of river craft to choose from. Orange Torpedo Trips is best known for inflatable kayaking with 80% of our customers choosing this as the way to go down the river, but on this trip we offer 3 types of river craft on this trip. Watch the video to learn more about our 3-boats.
Orange Torpedo
Learn to paddle your own inflatable kayak (Torpedo). We have guides in Torpedo's teaching you how to paddle and leading you through the rapids in a 4 to 1 ratio. If you happen to fall out the guides have you out of the river in seconds. 45+ years of doing it on the Rogue River and tens of thousands of satisfied returning customers prove that it is extremely fun.
Paddle Raft
A more traditional type of rafting, paddle rafts are a great way to go if you still want to do some work, but think the torpedo is just a little to much. Work with a team of your friends paddling the big boat through the rapids as the guide sits in the back to help navigate.
Oared Raft
Hop on an oared raft and ride in luxury. This is the relaxed way to travel. If taking in the scenery and letting the guide do the work is how you vacation then hop on board. This is how kids 4-11 years old will usually travel.
Any group of 10 or more gets 10% off.
On this trip you will be required to sign an acknowledgement of risk form. You can find a copy of form here: Acknowledgement of Risk