Raft the Sun Kosi River in the foothills of the Himalayan mountains and the top of the world. Nepal is a beautiful country ranging in elevation and topography from the cold, steep, desolate mountains of the Himalayas' in the north ( topped by Mt Everest at 29,035 feet) to the Indian plateau and wildlife filled jungles in the south. Join us for this journey down the Sun Kosi River and experience all this beautiful country has to offer as we float 170 miles from the foothills of the grandest mountains on earth down into the jungles near northern India.
Our trip to the Sun Kosi river in Nepal is about so much more than just running one of the worlds premier multi-day river trips. This trip is also about experiencing the amazing culture and history of Nepal. We start the trip with a private guided tour of numerous world heritage sites near the capital of Kathmandu. We trek from our camps on the rivers edge to Nepali villages hidden deep in the remote jungles. We engage with kids and adults who come from their farms in the hills and spend the afternoon in our camps. The group has time to explore Nepal's capital and experience the vibrant culture and delicious food. While we sit in camp at night we watch the monkeys come down out of the trees and curiously watch the inhabitants on what was their previously empty beach. The Sun Kosi offers world-class rafting and kayaking, but the overall experience is so much more than just that.
We work with some incredible local guides to facilitate this trip helping give the experience much more authenticity. For those who want to inflatable kayak, we will have our inflatable kayaks and our experienced Orange Torpedo inflatable kayaking guides. Those on rafts will likely be on a raft with our local Nepali friends who have years of experience on the Sun Kosi River. We run this trip only one time every other year so sign up today for the trip of a lifetime half-way around the world. You can watch a video from the guides perspective on a previous trip here: https://youtu.be/rj4t4ZL309E
Trip at a glance
Who is this trip for?
The person looking for a river based adventure experiencing foreign culture.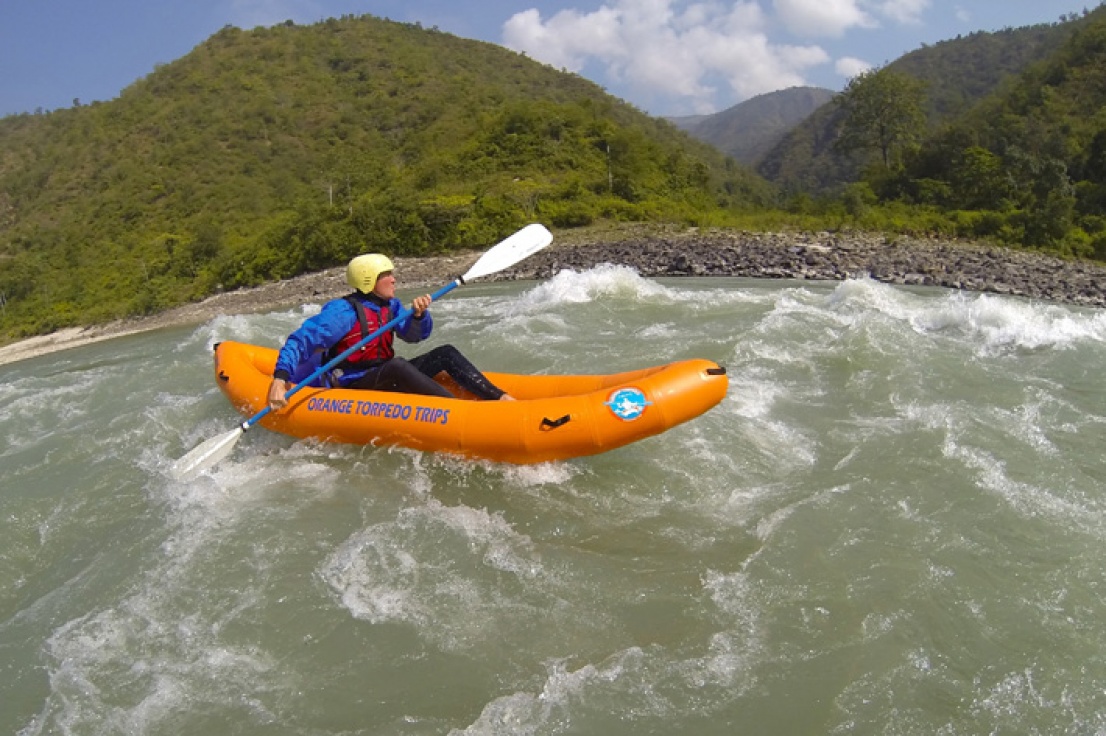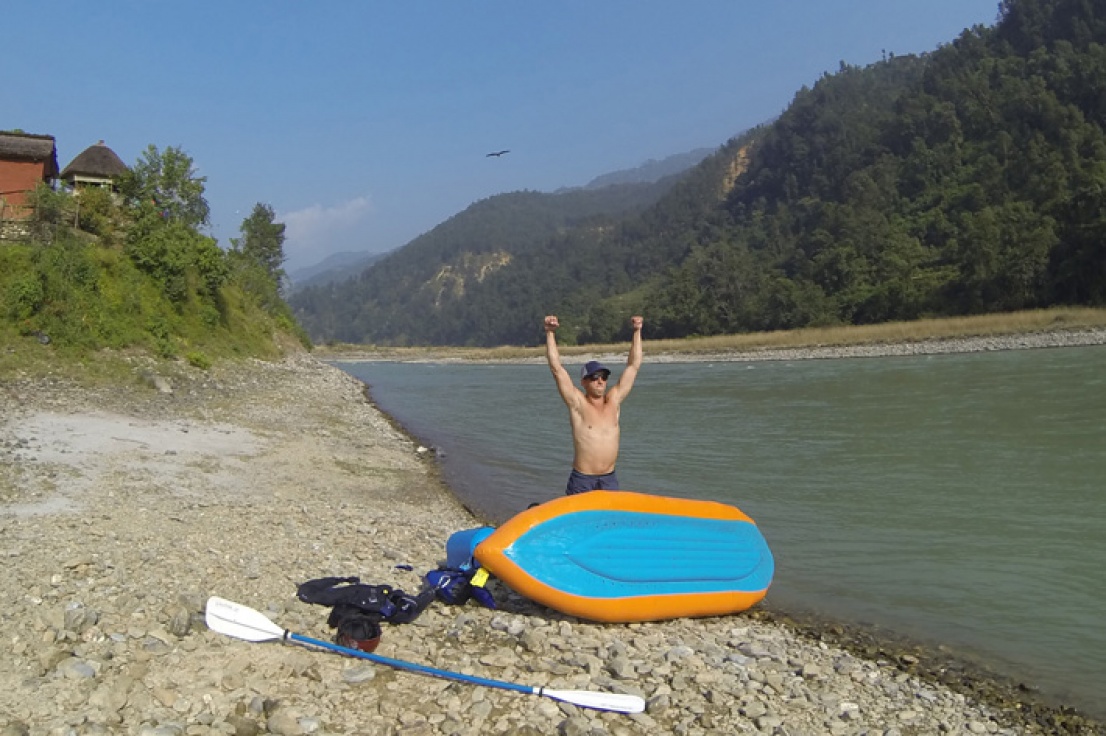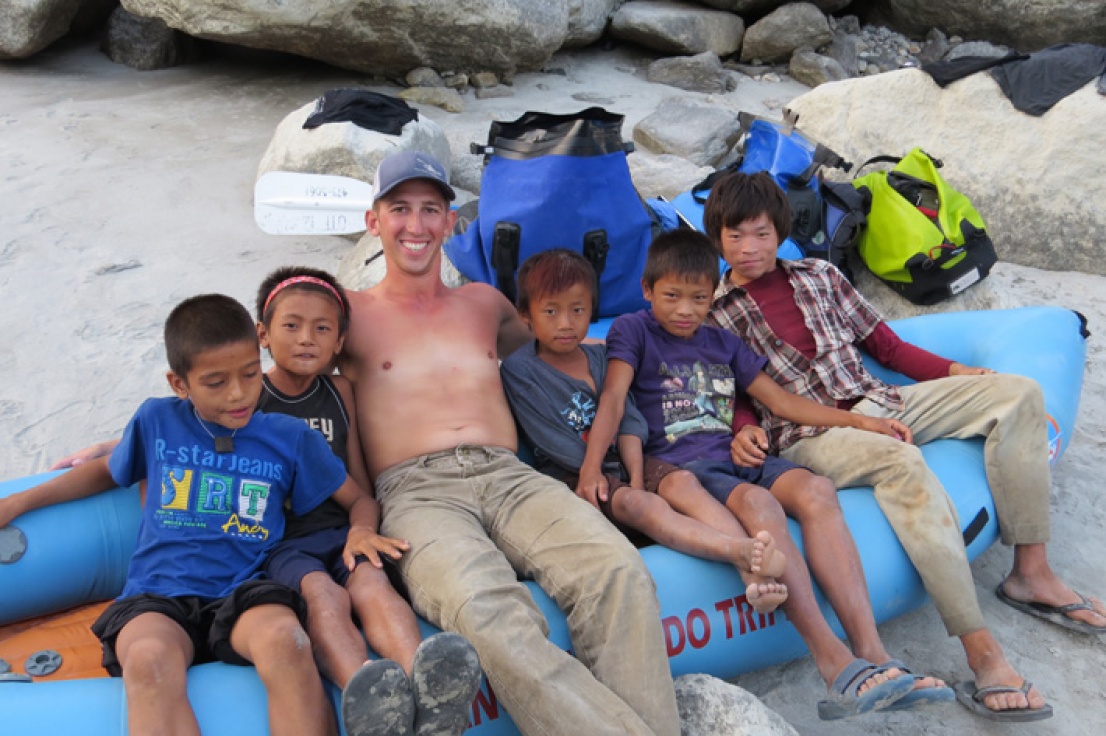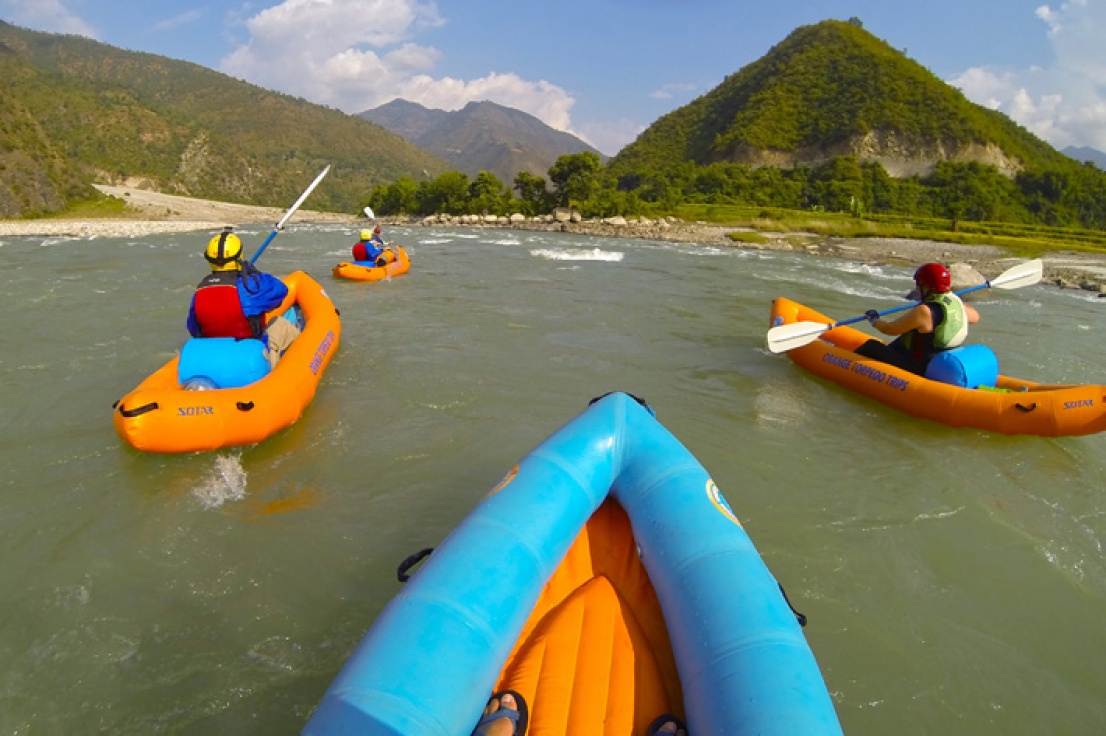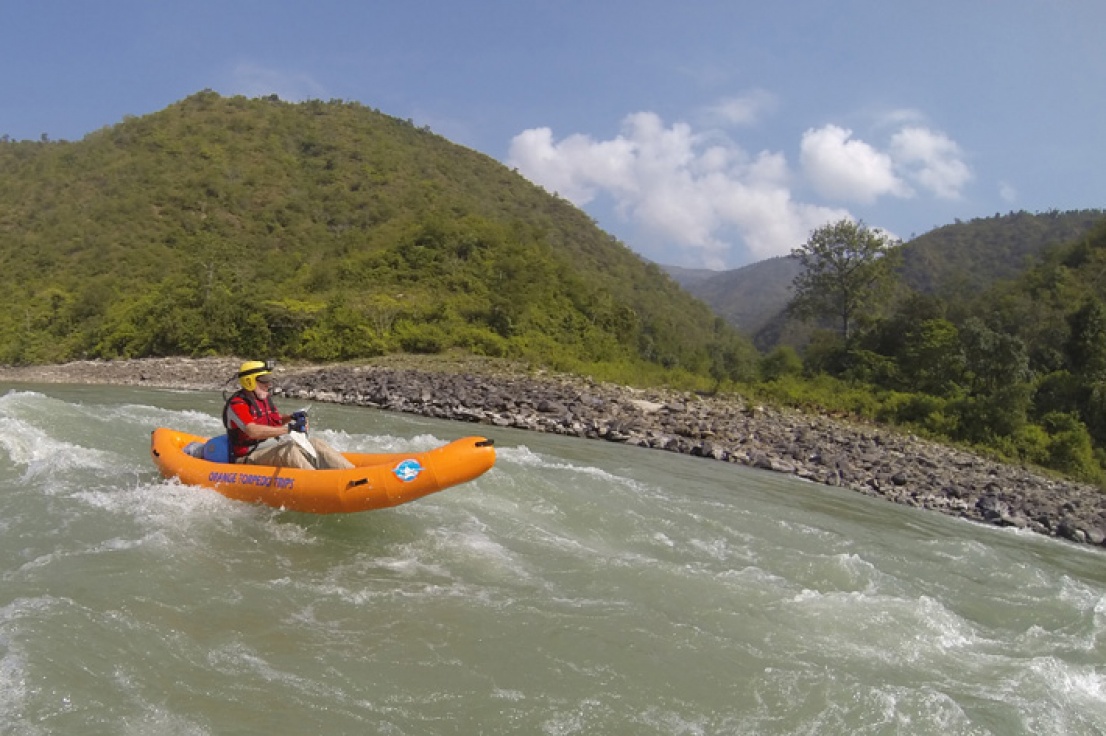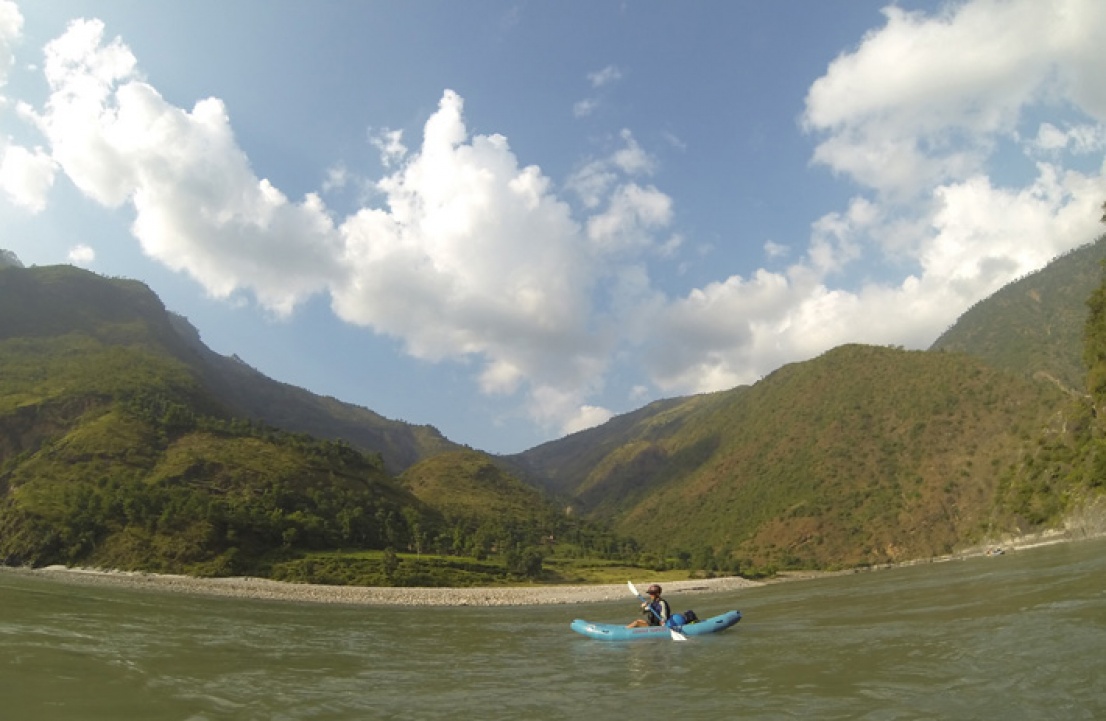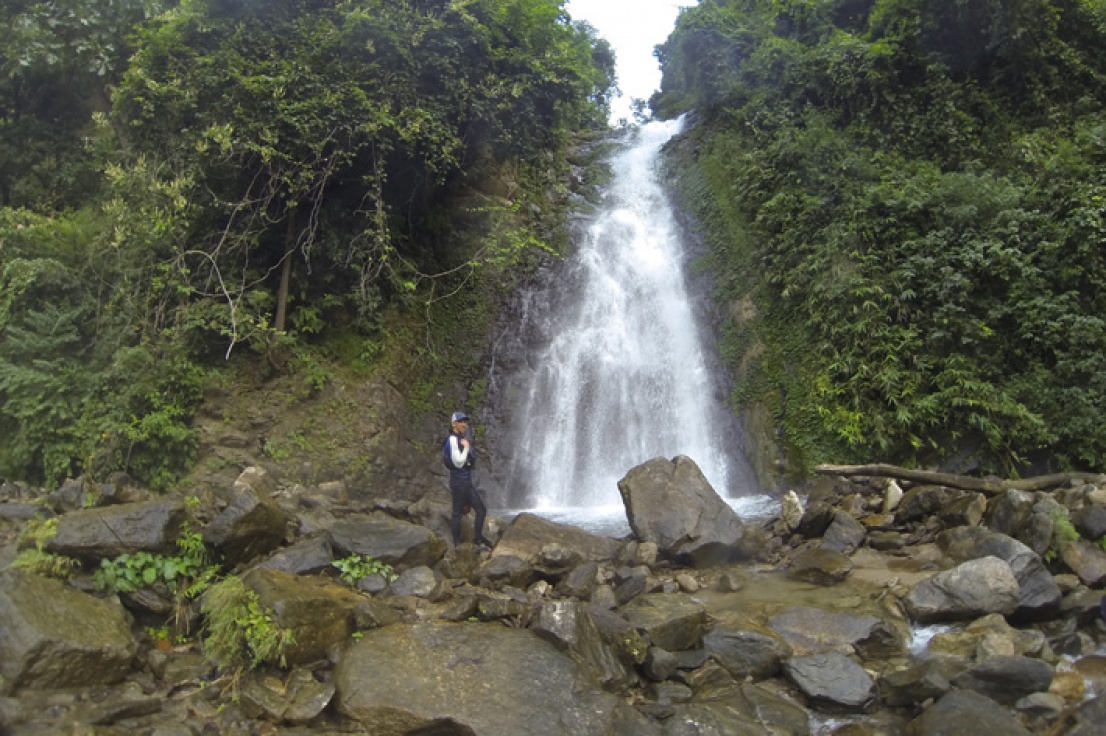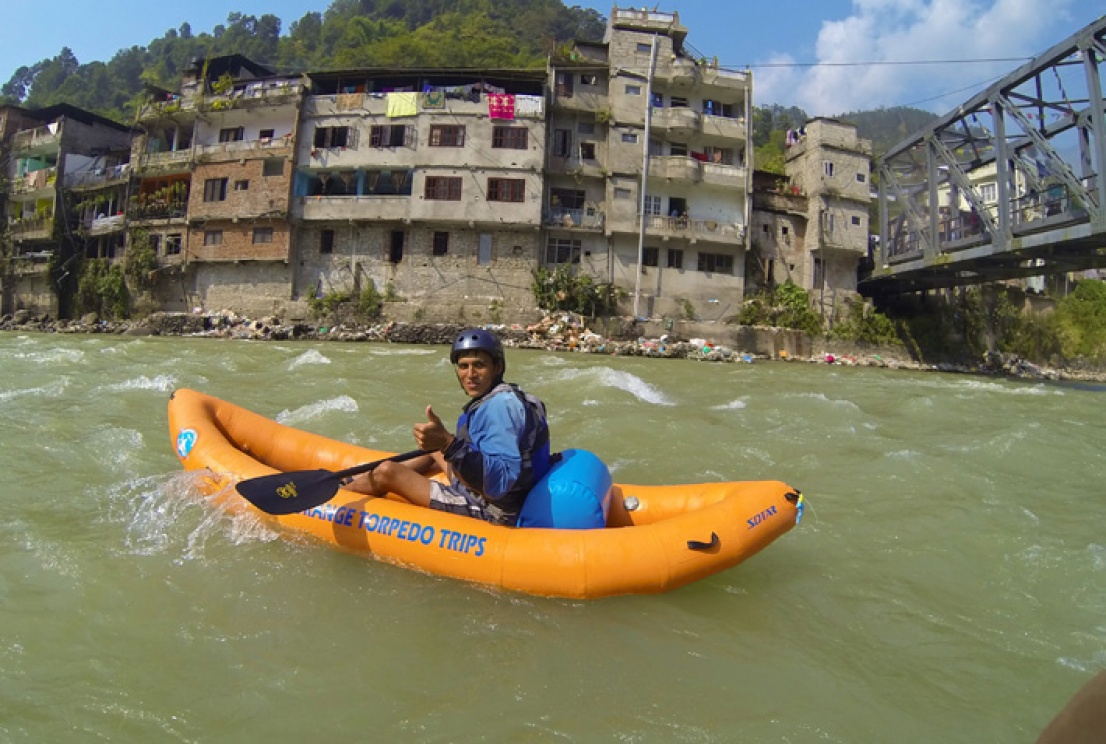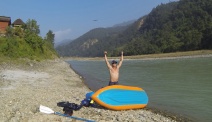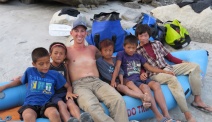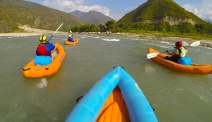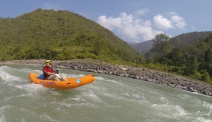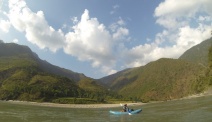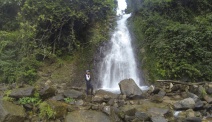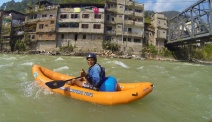 Dates / Rates
2024 Sun Kosi Trip
Price
Adult - $3499
Trip Start Dates
October - 28, 2024
Please fly into the Tribhuvan International Airport, also known as the Kathmandu International Airport. Let us know your flight information and arrival time. We will meet you at the airport and help transport you to the hotel. Please arrive sometime on October 28, 2024. We will provide transportation from the airport and back to the airport at the conclusion of the trip.
Detailed Itinerary for the Sun Kosi River of Gold Trip
October 28, 2024: Arrive in Kathmandu, get through the immigration process. OTT guides will meet you at the airport to help transition you to the hotel in Thamel. Spend the rest of the day roaming this famous part of the Kathmandu exploring the outdoor shops and restaurants.
October 29: Today is pretty full day. The group is picked up at our hotel by a private van and tour guide who will spend the day shuttling us around to numerous world heritage sites around Kathmandu Valley. Sites visited will likely include: Patan, an ancient Kathmandu Valley city-state dating back to 250 BCE. Bhaktapur, the third of Kathmandu Valley city-states and most well preserved dates back to the 12th century. Bodhnath Stupa, Asia's largest stupa and an impressive experience to walk around or sit in a local restaurant and watch the many pilgrims. After today's tour the group is free to find one of the many great restaurants in the Thamel area for dinner.
October 30: Sleep in and spend the day roaming around the near by area and relaxing. We will have a meeting in the afternoon to talk about the river portion of our adventure and prepare for our departure the next day.
October 31: Sun Kosi Day 1: We rise early with our river gear ready and head out to our bus. A scenic 3-hour bus ride takes us east. On a clear day Mt. Everest will be visible during our drive. This is the last time we will ride in a vehicle for eight days. From here on it's down river, camping and exploring the countryside of this beautiful country. We boat the afternoon with a couple great introductory rapids before arriving at the nights first camp on a riverside beach.
November 1st – Sun Kosi Day 2: We will encounter our first class III+ or IV- rapids including "No exit" and " Meatgrinder". We will eventually reach the confluence of the Tamba Kosi and the Sun Kosi nearly doubling the volume of the river. After rafting all day we will camp near a beautiful Shiva temple overlooking the confluence.
November 2nd – Sun Kosi Day 3: Several kilometers below the confluence of the Likhu Khola we negotiate "Anxiety" and the series of rapids that follows, including, pre, post and "High Anxiety". Here we will stop to scout and there are possibilities to take photographs of the torpedo kayaks and rafts going through the rapids (an excellent escape plan for the more timid). We will camp again on a pristine sand beach.
November 3rd – Sun Kosi Day 4: Today we arrive at Harkapur rapid, the largest rapid of the trip. The torpedo kayaks will take on the portage around the boulder strewn river left side while the supply rafts are lined down the rivers edge. Don't worry about choosing to walk around this chunk of whitewater, there is no shortage of great rapids down stream. Lunch after the portage will be near the confluence of the Dudh Kosi which is river that drains the Khumbu icefall of Mt. Everest. Camp tonight is on an incredible white sand beach strewn with enormous boulders and is easily a favorite camp of the trip.
November 4th – Sun Kosi Day 5: Layover day for resting and walking to local villages.
November 5th – Sun Kosi Day 6: Now deep into the wilderness of Nepal the whitewater and scenery pickup. Today the group will scout 3 exciting class IV rapids and run numerous other class III rapids including one of the guides favorite rapids of the entire trip. The day ends on a beach just above the famous Jungle Corridor.
November 6th – Sun Kosi Day 7: This is the day of whitewater ones comes to the Sun Kosi for. The morning is 2 hours of back to back rapids. None of them terribly technical but filled with lots of big roller coaster waves and culminating in Roller Coaster, one of the best rapids of the trip. Depending on the group we may decide this one is worth re-running. Today we stop at a riverside waterfall and swim in the pool at the bottom of the 40ft falls. At this point the whitewater mellows out for the day but the scenery is incredible. Now in the jungle the vegetation is thick and the humidity high. Bamboo trees are a common site now as well as the monkeys inhabiting these jungles.
November 7th – Sun Kosi Day 8: A few great rapids leads to an early camp at the confluence of the Arun and Tamur rivers. A beautiful camp and nice hike up to a local village where one can purchase some cold beers to celebrate the last night on the river.
November 8th – Sun Kosi Day 9: Today is a half-day on the water with 4 or 5 big wave roller coaster rapids making for a perfect end to a great trip. Around lunch the group arrives at the takeout where we will disassemble all of the gear and load it into a truck waiting for the group. One of the guides and all clients load into a private 4×4 for a 2 hour drive into Chatra where the group catches a 1.5 hour flight back to Kathmandu.
November 9th: Spend the day back in Kathmandu with any last minute shopping and just basically taking a last day to enjoy being in the country and relaxing. The group will have a celebratory dinner tonight to mark the conclusion of a great adventure.
November 10th, 2024: Fly out. – Please feel free to stay in the country longer. If you are interested in adding on any trekking or sightseeing trips just let us know, we can connect you with the right people.
Where to Meet Orange Torpedo Trips
Please fly into the Tribhuvan International Airport, also known as the Kathmandu International Airport. Let us know your flight information and arrival time. We will meet you at the airport and help transport you to the hotel. After you pass through immigration, which can take a while, you will collect your luggage downstairs and as you walk outside we will meet you. Look for a sign with your name on it. Please arrive sometime on October 28, 2024.
Accommodations
We will have hotel arrangements made at a hotel in the tourist district of Kathmandu, known as Thamel.
Camping
While in Kathmandu OTT will make arrangements for hotels and then during the river portion of the trip we will be camping riverside. If you plan to do more exploring in country after we finish our trip let us know and we will connect with you with some great local guides for trekking, travel, etc.
Flying In
Visas can be obtained at the airport when landing in Nepal. Cost is $30 USD. and is valid for 60 days. Passengers departing from the Tribhuvan International Airport are required to pay an airport tax of Rs. 1100.00, approx $14 USD.
Typical Weather
We run this trip in the fall after monsoon season concludes. Weather should be in the 80's and generally sunny but bring some clothing for cooler weather and bring gear for rain as it's likely the group will experience some rain at different points during the trip.
Passport
Ensure your passport is current and does not expire within 6 months of the conclusion of the trip.
Visa
You will need a tourist visa while in Nepal. You will get this when you arrive and go through customs in country.
Vaccines
Please check with your physician or local health district. They can help you confirm which vaccines are appropriate to have.
At the hotel you will be able to leave luggage and items you don't want to take on the river portion of this trip. For the actual river portion everything will need to be packed into dry bags, which we will supply upon arrival in country.
What to pack
On the River
2 or 3 swimsuits or shorts and top (cotton not recommended)
Sports sandals or hard-soled wetsuit booties
Synthetic paddling gloves (if paddling an inflatable kayak)
Wide rimmed hat or ball cap (ball cap fits well under helmet)
Polypro, synthetic or hydro-skin shirt (nice for mornings and chilly days)
Water Bottle (1 liter) with carabiner
Waterproof sunscreen
Sunglasses with strap (consider bringing two pairs)
OTT will supply splash-tops and wetsuits
In Camp
3 pair pants & shorts
3 shirts
Fleece jacket or sweatshirt
Light rain jacket
Sleeping bag (synthetic material recommended - rated to 45F)
Sleeping pad
Small towel
Pack Pillow
Headlamp or flashlight with extra batteries
Beanie
Small battery pack to charge with
Personal hygiene items
A Good book or two
FAQs
As on most of our trips we offer a variety of river craft to choose from. Orange Torpedo Trips is best known for inflatable kayaking with 80% of our customers choosing this as the way to go down the river, but on this trip we offer 2 types of river craft on this trip. Watch the video to learn more about our 2-boats.
Orange Torpedo
Learn to paddle your own inflatable kayak (Torpedo). We have guides in Torpedo's teaching you how to paddle and leading you through the rapids in a 4 to 1 ratio. If you happen to fall out the guides have you out of the river in seconds. 50+ years of doing it on the Rogue River and tens of thousands of satisfied returning customers prove that it is extremely fun.
Paddle Raft
A more traditional type of rafting, paddle rafts are a great way to go if you still want to do some work, but think the torpedo is just a little to much. Work with a team of your friends paddling the big boat through the rapids as the guide sits in the back to help navigate.


If you plan on paddling an inflatable kayak on this trip we strongly recommend you have either done a previous trip with us or have previous inflatable kayaking experience. This trip is similar in difficulty to a higher water Main Salmon and is a great trip for the experienced paddler. If you want to run this trip on a paddle raft no previous experience is required.
Everything for the river portion of this trip will go down the river with us.
On all of our multi day rafting trips we do not offer refunds on deposits or balance payments. On international trips travel insurance is required. Get a Travel Guard Quote Here
We require a 30% deposit for this trip with the balance being due 90 days before the trip with proof of travel insurance.
This will be OTT's second expedition on the Sun Kosi but we work with a very experienced local outfitter to help facilitate the trip logistics, provide gear support, and help on the trip.
Yes, we will not run this trip with fewer than 6 participants.
If you are interested in our Nepal trip please just e-mail erik@orangetorpedo.com and we will send you the detailed trip information packet with everything you need to know.