Welcome to the Grande Ronde River, a perfect rafting and kayaking trip to start off the boating season with trips primarily in May and June. The Grande Ronde is known for incredible alpine scenery filled with lush forest, abundant wildlife, amazing camps, world-class fishing, and a steep enough gradient the trip has few flat pools one needs to paddle through.
Trips on the Grande Ronde River last 3-days and cover just shy of 40 miles. Like all classic multi-day river trips we pack everything with us and float into the wilderness where we find our camps on the spacious benches found along the river. Here our guides cook delicious dinners and we all laugh at stories told around the camp fire. The Grande Ronde is a perfect trip for families looking for a quick weekend away or groups of friends wanting to reunite enjoying an adventure in the woods.
The Grande Ronde has a steeper gradient than almost any of our multi-day trips giving it constantly moving water with few flat sections to paddle through, which means one almost constantly has some rapids just around the bend. However, more than any of our multi-day trips, the rapids on the Grande Ronde, all being class II and III, are perfect, "first-timer" rapids making this an ideal trip for the first-time inflatable kayaker.
So grab your friends and family for a a quick trip in the woods, away from your cell phones, with plenty of whitewater, jaw dropping scenery, wildlife and amazing camping. Sign up today and join us on the Grande Ronde River.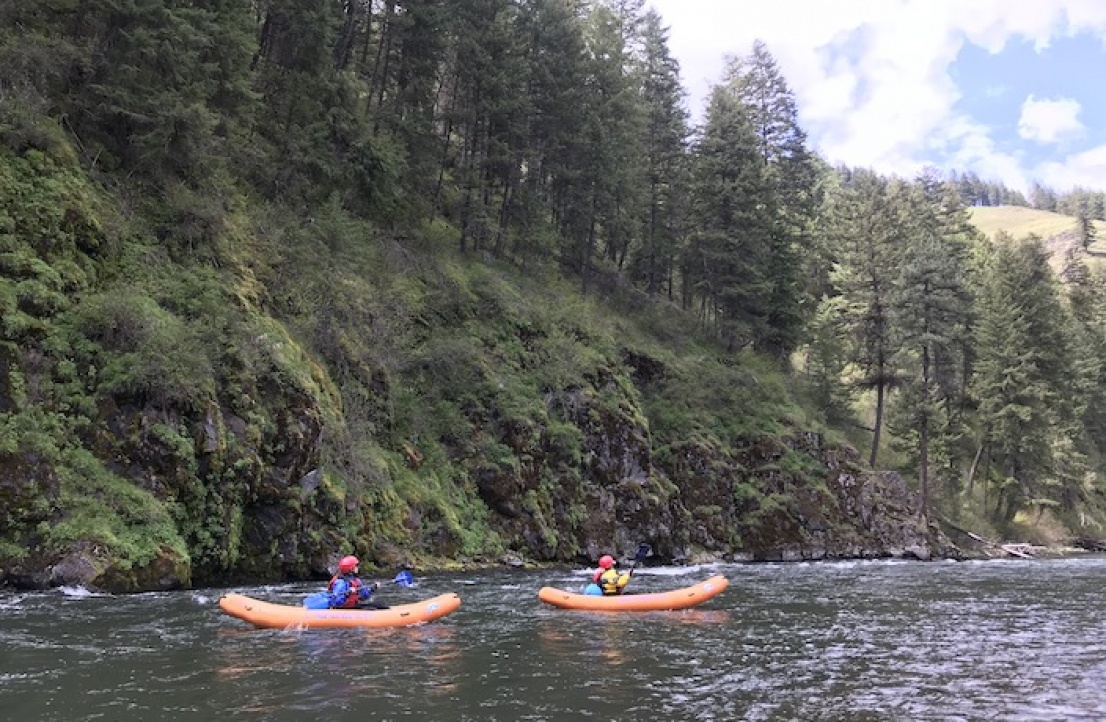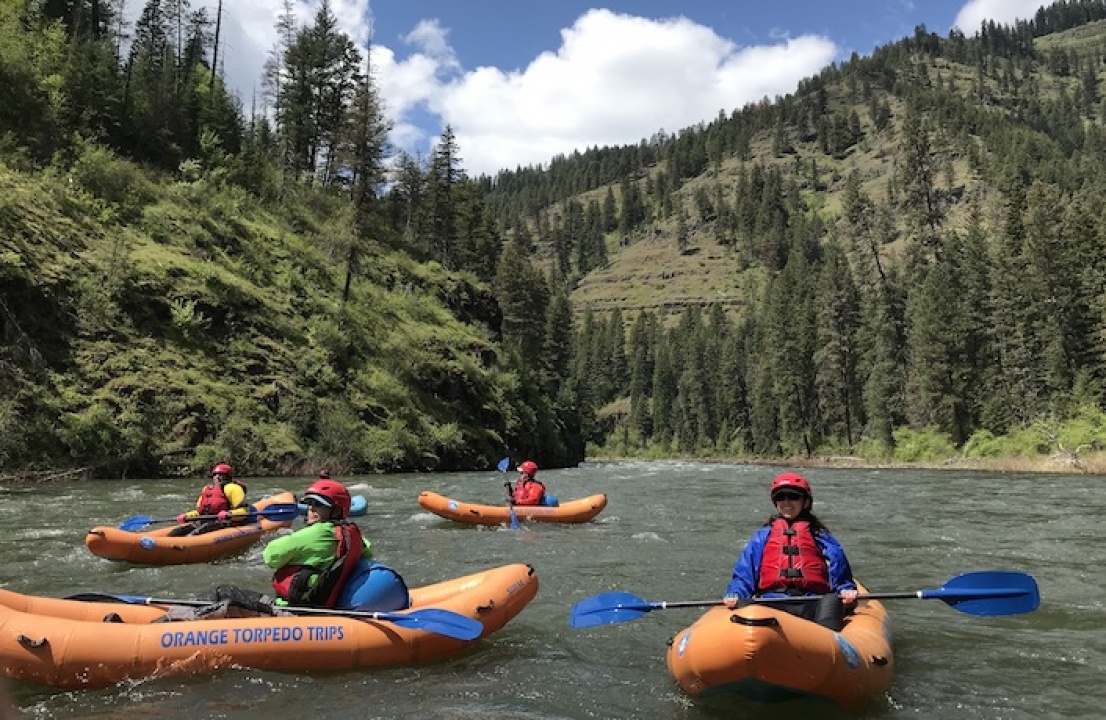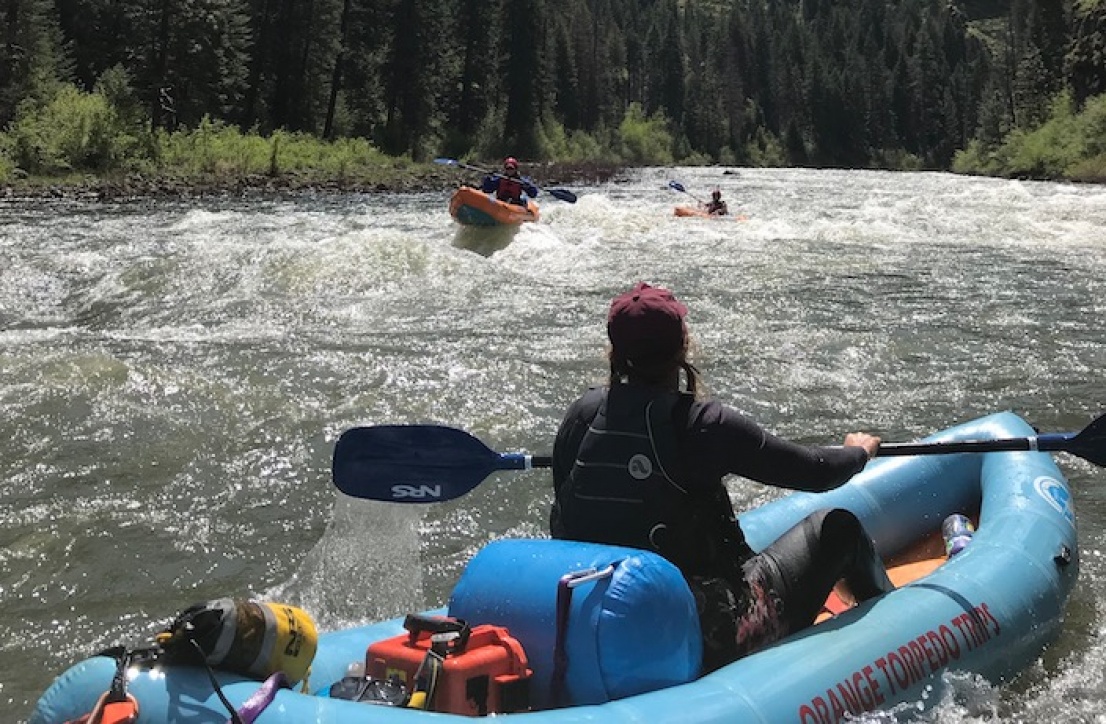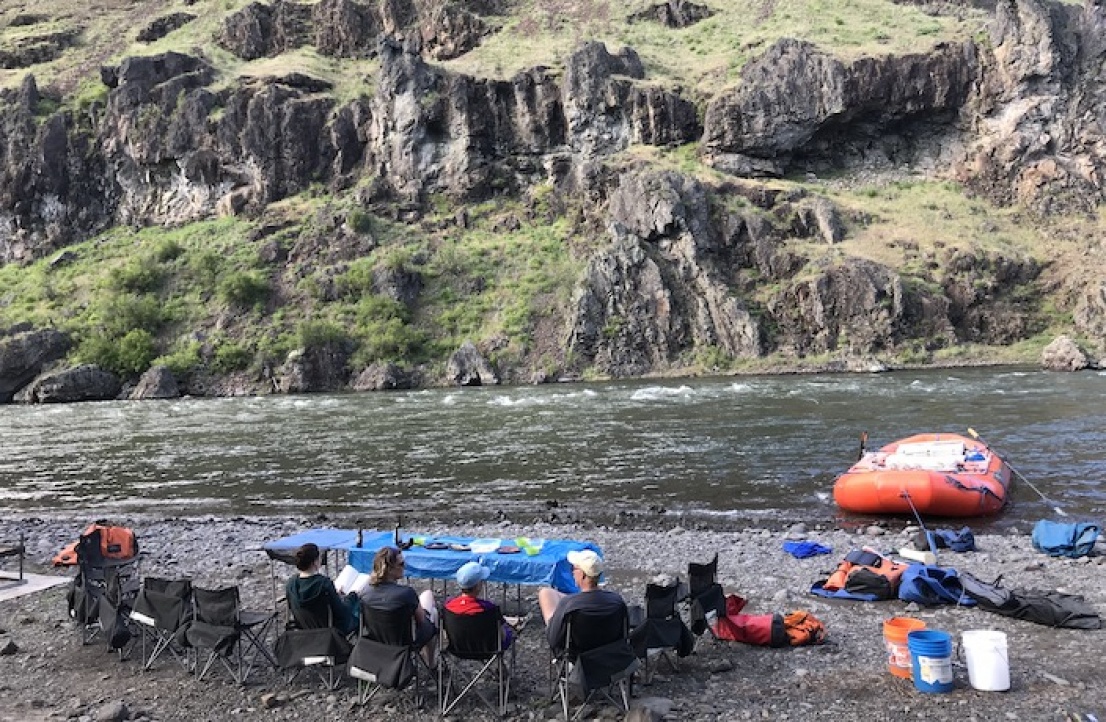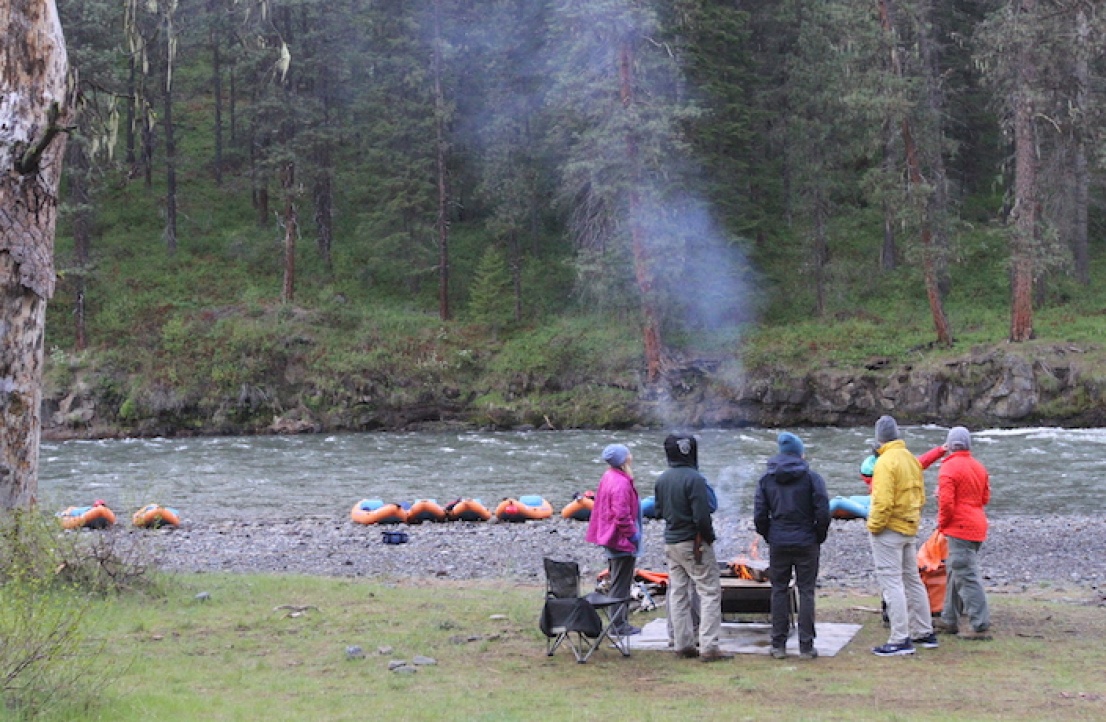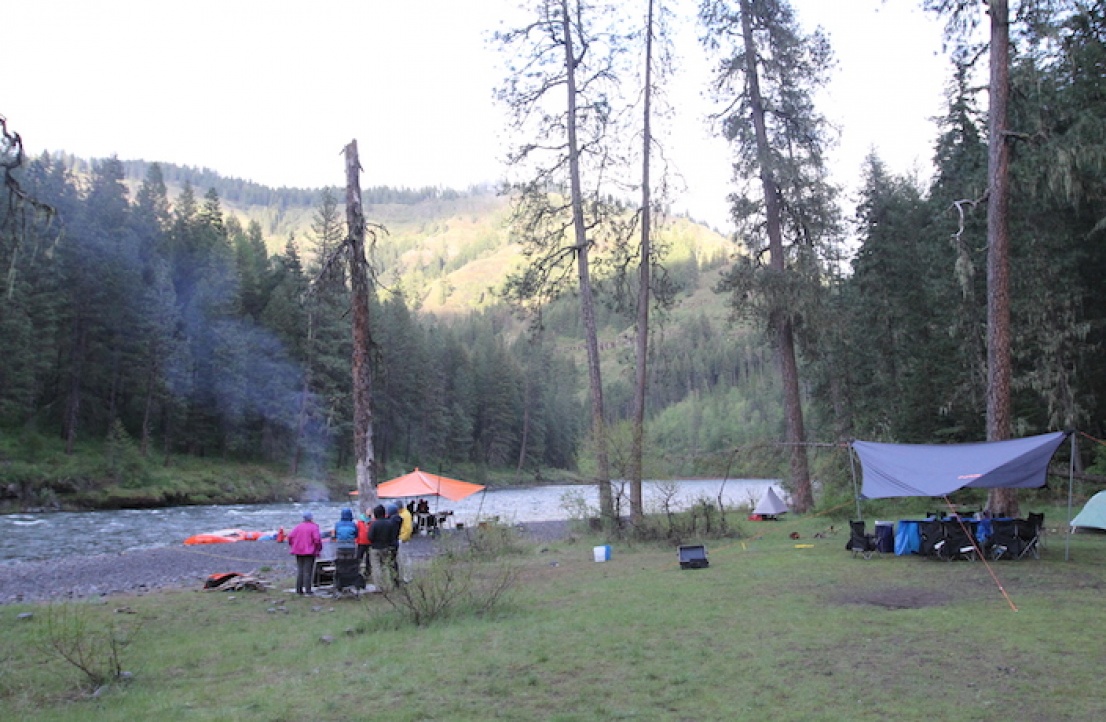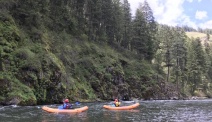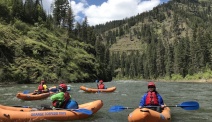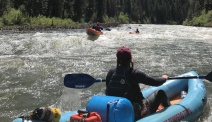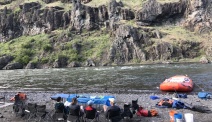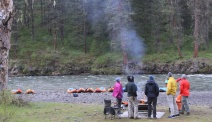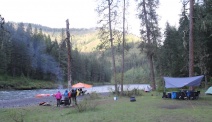 Dates / Rates
2019 Trips
Price:
Thursdays - $899 per person
Trip Start Dates:
May - 16, 23, 30
June - 6, 13
Please meet at the Minam Boat Ramp at 9:00am.
Upon arrival at the boat ramp you will be given a dry bag to pack your items for the trip into. In this bag you will put everything you intend on needing for camp. We will have a separate day bag for you to pack those items you would like access to during the day.
After packing your gear into a dry bag it will be time to get dressed for the day. We supply you with a wetsuit, splash top and booties. Please feel free to bring your own cold water/weather gear as well.
After everyone has geared up for the day the group will receive a thorough orientation for the river craft of their choice as well as an overall orientation on the trip and what to expect. After this we load into boats and start down river.
On this trip we actually float on two different rivers. The first 9 miles of the trip is on the Wallowa River. This first 9 miles has swift moving water and a couple fun rapids such as "Red Rock" and "Blind Falls" to keep the group on their toes. We usually do lunch somewhere on the Wallowa River before the confluence with the Grande Ronde.
After the confluence with the Grande Ronde our floating speed picks up as the water volume doubles or triples and we swiftly head towards camp. Which camp we stay at changes from trip to trip but there are a number of great camps available tonight with big benches percent for games of bocce ball, football and frisbee.
Upon arrival in camp the guides will help you with setting up the tents, cots, and grabbing your sleeping pad while also setting out snacks and starting in on the appetizers for the evening. After a delicious dinner and plenty of stories around the camp fire you can tuck in for a great night while gentle sound of the flowing river near by soothes you off to sleep.
Day two starts with a delicious and filling breakfast complete with items fresh from the dutch oven. After packing up camp the group is in for a great river day with a number of fun rapids and some incredible scenery taking the group to the next camp. Today "Martins Misery Rapid" will have incredible roller coaster waves, "Greys rapid" will keep us on our toes, and a number of other class II rapids will help everyone refine those inflatable kayaking skills before arriving at another great camp for the night.
Day three we wake up for another nice morning in camp before starting the final float back towards civilization. We should arrive at Powwatka Bridge takeout sometime just before lunch. Here the group does some un-packing before eating lunch, loading in the van and heading back towards Minam and your vehicles.
Where to Meet Orange Torpedo Trips
We meet at the Minam Oregon Boat Ramp. There is an area for vehicle parking where we meet on the west side of the Wallowa River (the river we actually launch the trip onto).
Accommodations
Camping
There is a campground at Minam. Just turn into the boat ramp area on the west side of the Wallowa River and follow the signs to the camp ground.
Flying In
The closest airport to Minam is Lewiston, Idaho, a little over 2 hours away.
Trips on the Grande Ronde are all camping trips. When packing please remember these are early season trips with more unpredictable weather than we have in late June, July, or August. As such packing some clothing for camp that has you ready for colder and wetter weather is wise.
What to pack
On river
Neoprene booties (We supply if you don't have any)
2 or 3 swimsuits
1 pair of sandals
Paddling gloves (If kayaking gloves can be nice. Neoprene gloves can be very nice for colder trips)
Hat
water bottle (1 litre minimum)
sunscreen
sunglasses with croakies or chums
OTT will supply wetsuits and splash-tops for kayakers and splash pants and tops for rafters (Renting a drysuit for early May trips can be nice.)
In Camp
2 pair of pants and shorts
3 shirts
1 pair of shoes or boots for camp
Fleece jacket, sweatshirt, or down/synthetic puffy jacket
Rain jacket and pants
Sleeping Bag (synthetic material recommended - rated to 30F))
Towel
Headlamp or flashlight
Beanie
1 pair of light gloves
Camera
Personal hygiene items
FAQs
As on most of our trips we offer a variety of river craft to choose from. Orange Torpedo Trips is best known for inflatable kayaking with 80% of our customers choosing this as the way to go down the river, but on this trip we offer 3 types of river craft on this trip. Watch the video to learn more about our 3-boats.
Orange Torpedo
Learn to paddle your own inflatable kayak (Torpedo). We have guides in Torpedo's teaching you how to paddle and leading you through the rapids in a 4 to 1 ratio. If you happen to fall out the guides have you out of the river in seconds. 45+ years of doing it on the Rogue River and tens of thousands of satisfied returning customers prove that it is extremely fun.
Paddle Raft
A more traditional type of rafting, paddle rafts are a great way to go if you still want to do some work, but think the torpedo is just a little to much. Work with a team of your friends paddling the big boat through the rapids as the guide sits in the back to help navigate.
Oared Raft
Hop on an oared raft and ride in luxury. This is the relaxed way to travel. If taking in the scenery and letting the guide do the work is how you vacation then hop on board. This is how kids 4-11 years old will usually travel.
This trip is offered exclusively in Paddle rafts. Everyone paddles and the guide steers from the rear.
An Orange Torpedo is our custom-designed inflatable kayak. We have brought our 45 years of guided inflatable kayaking experience into our partnership with world renown raft builder SOTAR to introduce an industry leading high performance, beginner friendly inflatable kayak which we exclusively use.
Everything for the trip will go down the river. When you pack a dry bag, that will be all of your stuff for the duration of the trip. Please consider wearing a small backpack or hydration pack on the trail so you can carry a few layers and anything else you may want between raft stops.
Everything for the trip will go down the river. When you pack a dry bag at our shop, that will be all of your stuff for the duration of the trip.
Everything for the trip will go down the river. When you pack a dry bag at the put-in, that will be all of your stuff for the duration of the trip. All food, drinks, and camping equipment will be transported on our rafts for the entirety of the trip.
Everything for the river portion of this trip will go down the river with us.
Throughout your trip the only meal we do not cover is lunch after mountain biking in downtown Ashland. Ashland is a beautiful little town and we will take you down into the heart of the town and recommend a few of our favorite restaurants. You will then have the chance to roam around and find the perfect place to grab a bite before meeting us back at the van and heading for the river.
Yes, anytime one is on a board on the river they must be wearing an approved helmet.
On the Owyhee we require a minimum of six customers for a trip to run. Any trip with fewer people booked would be subject to a cancellation with a full refund.
Yes, we will not run this trip with fewer than 6 participants.
Gratuity is certainly appreciated but by no means required. At the conclusion of a trip please just give any gratuity to the head guide who will divide it evenly among the crew. Standard restaurant gratuity percentages tend not apply on these trips, so what we have seen over the years on the Rogue River 4-day trip is an average of approx: $65 per person in a group. So a group of four would be about $260. That is an average of what we typically see on this trip, please don't feel obligated. Also, when thinking about gratuities, please feel free to tip the staff at the lodges during your stay there.
NOPE. One of the best parts of a wilderness river trip is that your phone will not work. No cell service, 3G, wireless or any of the above. It's a beautiful thing.